Isn't it true that a Content Marketing strategy wants consistent outcomes and leads linked with business differentials? The proper selection of branded keywords will make all the difference in the later phases of your sales funnel.
After all, discovering keywords that closely relate to the company is the best choice.
This is because consumers who use them are already familiar with the brand, product, or service. They are merely searching for extra information or a faster way to make an online purchase.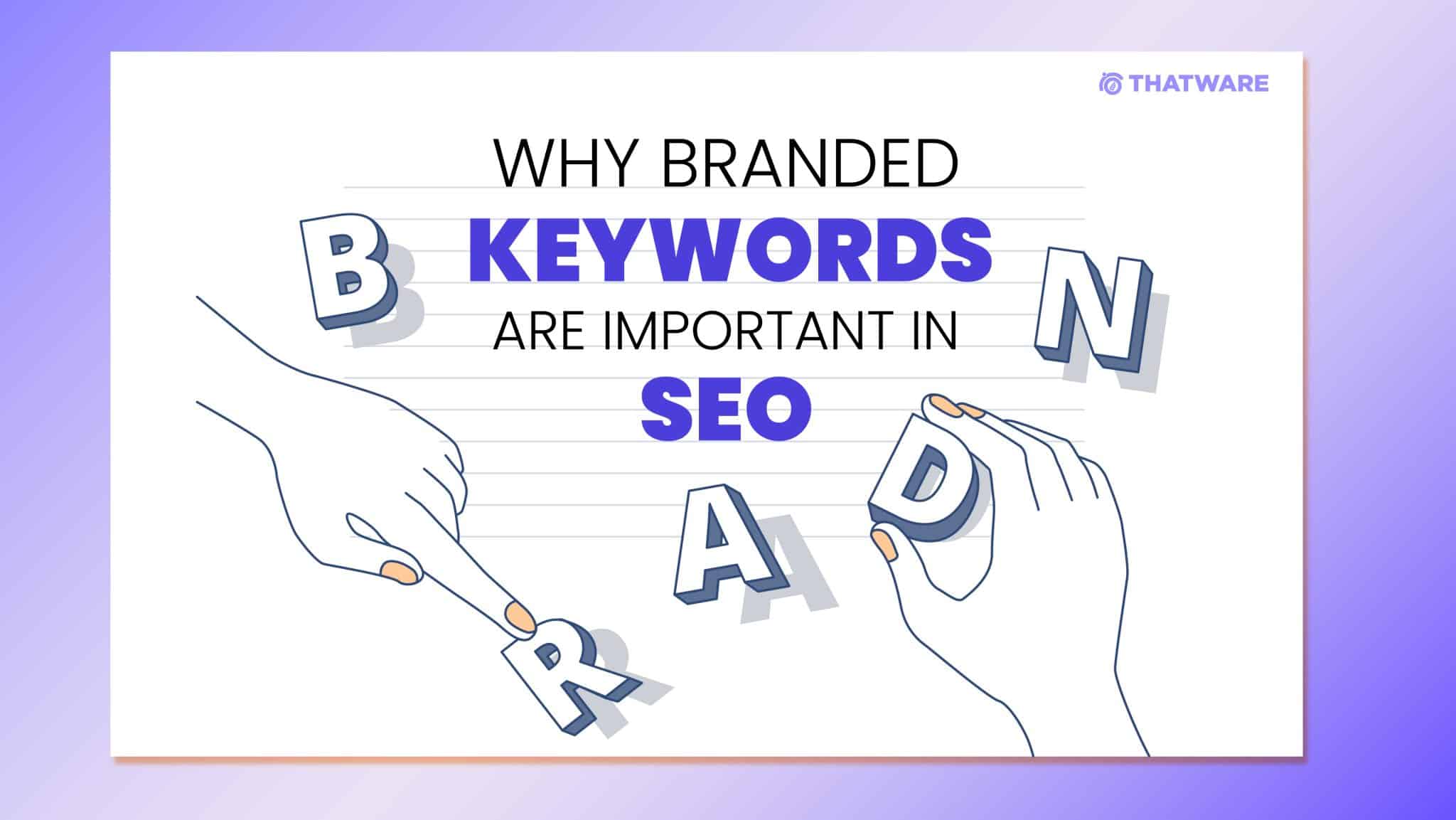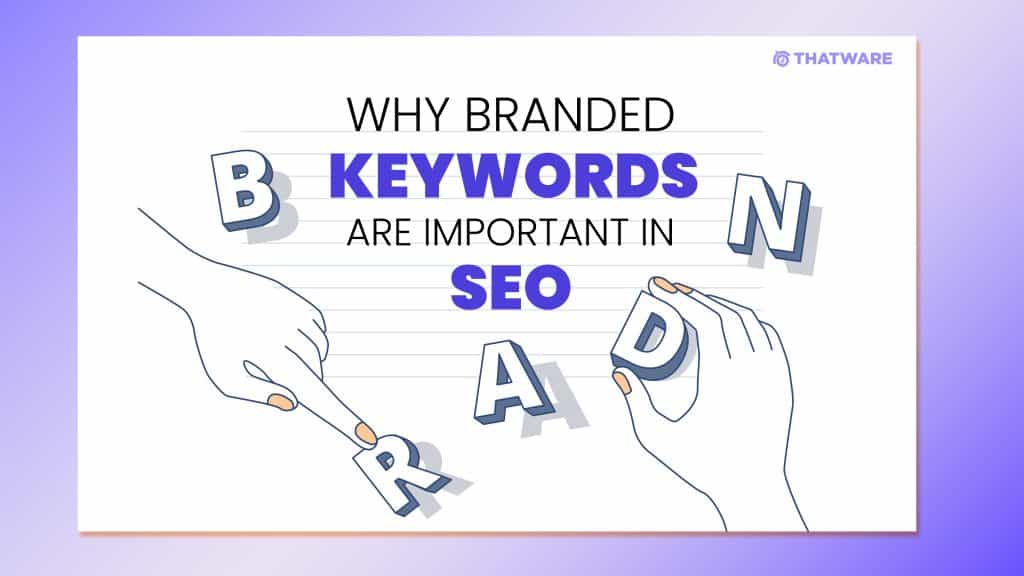 It is critical to exercise caution when selecting branded keywords and the information they will bring up in the results. Also depending on where they will take the user.
Is it worthwhile to sponsor your SERPs or the competition? Suppose you want to know the answer to that question and the concept and significance of these keywords for brand strategy and Content Marketing campaigns. In that case, this article will provide you with the most essential and required information.
What does it mean by branded keywords?
Branded keywords are terms or phrases that potential consumers use to find out more information about a company's products or services.
In other words, consumers already know that the item is part of a company's product mix. They need more information to make a decision, compare it, promote it to third parties, and so on.
As a result, they have great strategic significance for the organization and must be used effectively and balanced with the other keywords and stages of the marketing funnel.
What is the significance of branded keywords?
What is the practical significance of this notion for your strategic planning? The advantages are numerous and might assist in the enhancement of your sites and methods. Here are some persuasive reasons about the importance of branded keywords. Let's check them!
Aim Towards Improvement
Proper targeting is critical for an effective Content Marketing campaign, as well as paid advertising. The more tailored your content, the more probable it will influence your persona. Your message gets more polished and by the expectations of your audience, improving the likelihood of conversion.
Understanding the basic demands of your target audience
To provide a great user experience, it is critical to understand your target audience's demands. Branded keywords allow you to target your audience more effectively. This is because they are more particular terms. This in return generates more traffic to your sites. Which in return keeps your audience happy and makes them more likely to convert.
Gaining access to fresh opportunities
As a result, your marketing team will be able to find new business prospects. For example, if you see an increase in demand from your audience for searches using branded terms, you may develop a new performance section.
Finding weaknesses in products and services
Another intriguing option based on branded keywords is to look for consumer comments and reviews about your products and services. The idea is to determine which issues, for example, are more influenced by criticism and complaints.
It is critical for anyone trying to increase their internet presence—and do it efficiently—to identify which phrases are most linked to their products and services.
Keeping track of competitor performance
It is also necessary to keep an eye on your competitors to develop more successful marketing and plans.
What's better than looking for branded keywords connected to your competitors? It can either because you want to learn the company's best products and services from your audience. Or, track the most wanted attributes in these firms.
Furthermore, it may be valuable for your paid media strategy, assisting you in understanding the most searched phrases in connection to your competition and investing in campaigns accordingly.
Such market monitoring guarantees that you are always up to date and looking for strategies to avoid losing market share in your category.
What are the distinctions between branded keywords and non-branded keywords?
This is a fairly basic distinction. After all, while developing SEO tactics, you must consider how the algorithms assess and process search phrases, correct? More importantly, one should check whether the company is mentioned within the keyword term.
As a result, the other keywords will cover product differences, the requirements they serve, the pains that consumers face before utilizing them, their advantages, trends, and other information that will assist the potential customer in making their selection.
Which is more significant?
From a strategic standpoint, both branded keywords and more comprehensive keywords are critical for the success of Content Marketing, exactly because they achieve various objectives at different phases.
On the other hand, branded keywords are crucial during the advanced stages of lead nurturing. It's when customers realize how potential firms and brands can address their problems.
Is it worthwhile to pay to have search results sponsored?
The right answer is: it depends on the approach, the outcomes gained, and the objectives. Some experts argue that adverts are unnecessary in a search result if the phrase is already contextualized with the company name.
However, it is important to remember that the competition might utilize this resource to acquire clients opportunistically because, in the search experience, users always click on the first results.
Investing in keywords unrelated to the brand, on the other hand, might produce more sales possibilities to be filtered through the remainder of the process.
Where can I find branded keywords?
We've previously shown you how crucial monitoring branded keywords are for your planning. But how can you track them down? Check out our suggestions below!
Make use of Google Alerts.
Isn't Google always a good place to start when it comes to keywords and relevancy to your brand in SERPs? The good news is that Google Alerts can assist you in obtaining such answers.
Google Alerts will freely send you notifications whenever your brand is referenced on the internet. This will help you to gain useful information. Thus, preventing you to look for phrases that relate to your business.
Start exploring social media.
For those seeking branded keywords, social media may be a valuable resource. Twitter is one of the most useful platforms for conducting these searches.
You and your team may use the Advanced Search function to locate exactly what you're searching for. You may narrow your search by looking for an exact phrase, words in the same phrase, or simply a single term.
Make use of specific tools.
Specialized tools can be used to locate branded keywords along with other organic search strategies. Ahref is one such alternative. It has a function that displays keywords related to your business. In addition, tools like SEMRush may help you refine your searches.
How should they be applied while developing a Content Marketing strategy?
The forms for both types of keywords are the same. Their job is to contribute to the lead generation process by directing them to material that will help them progress through the buyer's journey.
So, how do they fit into Content Marketing strategy alongside the other keywords and stages?
When developing your project keywords, remember to include your approach.
As expected, they must be chosen alongside the project's other keywords and adhere to their quality prerogatives, such as:
keyword relevance to the product or service offered, taking into account the inclusion of the brand, product lines, or services offered; and
search volume on major search engines such as Google. Google Ads and SEMRush can help with the completion of this stage;
assess your efficacy for lead searches; and
analyze its long-tail versions.
Ensure that the company's material is segmented.
Suppose a firm offers a variety of products or services. The firm must ensure that it takes into account the various combination of keywords, page URL and brand into strategy. It must also ensure that the visitors are directed appropriately.
It is crucial to work with a comprehensive set of products and a combination of key phrases. Keep in mind to check how frequently they are searched for on relevant search engines like Google.
Boost the exposure of your company's website or blog.
It is also feasible to create content specifically for branded keywords. You may accomplish this by establishing a FAQ that addresses the most common issues that may occur throughout a lead's decision-making process, such as purchase locations, payment options, exchange policies, refunds, shipping methods, and so on.
Monitoring the success of such keywords increases the possibilities of conversion and helps the organization discover the main uncertainties and unresolved questions in the remainder of its content strategy.
Converso
One can use the data to calibrate what was released previously. This can help in developing fresh material centered on the conversion processes.
This will increase the business's exposure, strengthen your content, and provide prominence in search engines, not only for bringing your answers but also for favoring possible interactions and sales conversions in the event of internal links that lead to that aim.
Outperform the competition in search engine content ranking
We discuss the factors to consider when deciding whether or not to sponsor such surveys. Still, it is also vital to examine the quality of the material on the sites and the expenditures made.
As a result, organic traffic will be assured. Using the proper keywords in the meta description of the sites might also help the plan succeed. This is because the summary information in the SERP might assist in route the lead to what they are truly seeking, which is information about your business.
What pointers can help improve the use of branded keywords?
What else can done to increase the use of branded keywords? Check out some of our suggestions!
Make your pages more appealing.
The first step is a typical yet important one in Content Marketing: optimize your pages. Using the correct phrases while developing your strategy is one example, but you should also invest in your site's user experience.
Conduct appropriate searches
It is also necessary to have a goal for your branded keywords strategy to direct your efforts throughout searches. The idea is to avoid wasting time on meaningless phrases. To do this, use the tools we mentioned above to improve this phase.
Create material that includes branded keywords.
One can utilize branded keywords as a source for creating relevant content. Have you noticed that many people have reservations about certain items or services? Why not develop a FAQ that addresses these issues and can help the term operate correctly?
Don't overlook social media.
Social networking sites may also be highly beneficial for branded keywords to improve the effectiveness of your Digital Marketing tactics. Using the most relevant terms in your profile descriptions is just one example of using these keywords to get more results.
Another crucial piece of advice is to monitor to ensure that the usage of branded keywords is beneficial to your organization. As fantastic as the outcomes have been thus far, there is always room for improvement, in addition to not allowing your competitors to close in on you and exploit your faults.
Final Thoughts
A branded keyword's strategic value emphasizes the significance of brand management and branding. It's more than that.
In the digital environment, it assists firms' major difficulties, such as strengthening social networks, SEO tactics, and automation technologies for customer contacts.
Do you want to know how to adapt your digital content strategy to the increasing interactivity? Check out our comprehensive interactive content guide!