One of the most important tools that are offered by Google for completely free is Google My Business (GMB). GMB assists business owners to showcase their business or services in the local areas specifically where they are physically situated and also a great way to communicate with consumers, control your online presence, and generate more leads for your business.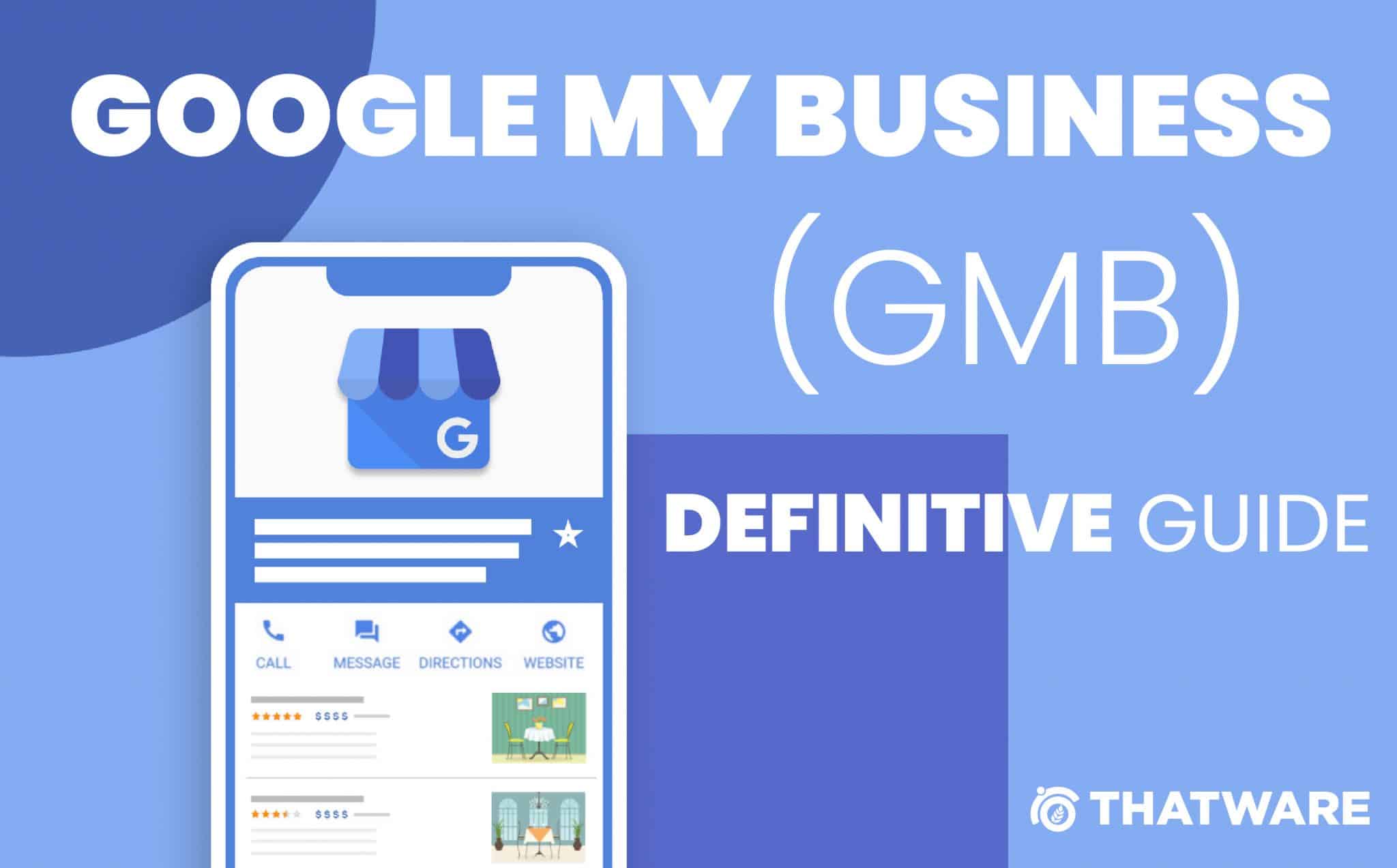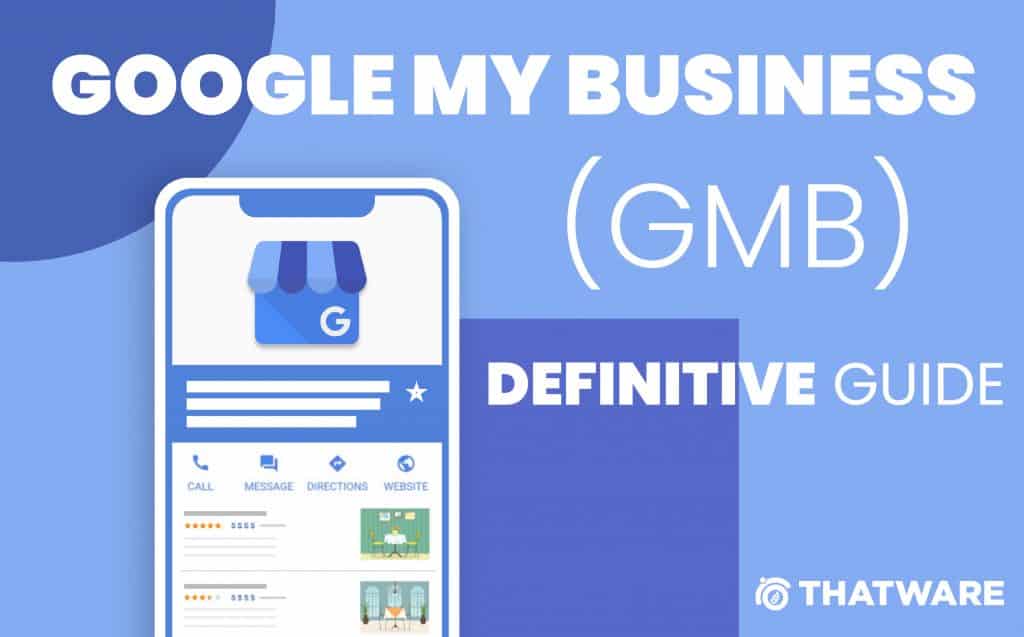 Why Choose Google My Business (GMB)?
If you want to create a unique identifier for your business then GMB is cool stuff to implement for sure. Not only for appearing in Google search, but you can also have your presence by creating a profile on Google Maps results. In this way, your online presence will be stronger for your business. This context basically gives you the steps to set up and optimise of entire Google My Business profile.
Without further chitchatting let's straight dive into the steps to implement Google My Business setup successfully:
How to Create/Claim a Google My Business Profile
There are two ways available to set up your Google My Business Profile. You can use either your mobile and set up your listing through an app, or you can log in to your Gmail account on your desktop and set up the listing on your computer.
The steps are slightly different. On mobile, you will work through an app. On your desktop, you will begin by logging into your Gmail account. In the top right corner search your Google icons and select the Business icon.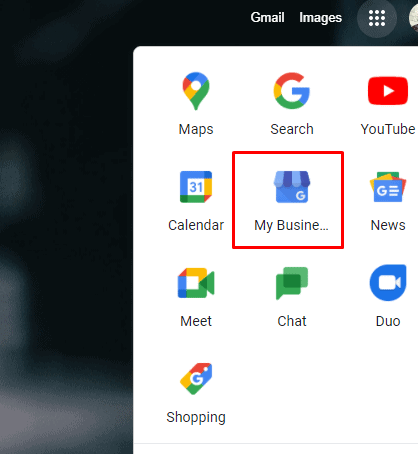 Follow the steps and enter your information in each section
The more information you include the better your listing will be. Currently, there are sections to include your business:
Name, Category, Address, Service Areas, Phone Number, Website, Hours of Operation,
A Short Name, Appointment Links, Products and Services, The year you opened,
A space to add photos, Labels, and so on.
It is crucial that you enter the most appropriate category for your business or either way it could result in wrong search results in Google maps, in this way users may get confused too.
How to get verified in GMB
In order to verify the GMB profile, you need to verify your Google Business Listing by mail. When you verify by mail you will receive a postcard to the address you enter on your listing with a code. Follow the directions mentioned on the postcard.
If your business is already showing up on Google Maps but you haven't claimed the listing, you can verify your listing by claiming it through Google Maps. After selecting Claim this Business > Manage Now > you will see this option: To choose a different business, click I own or manage another business. Simply go through the steps to complete the process.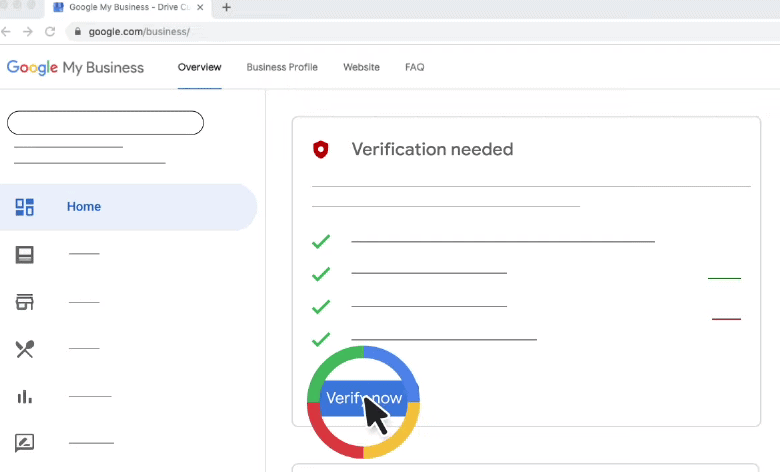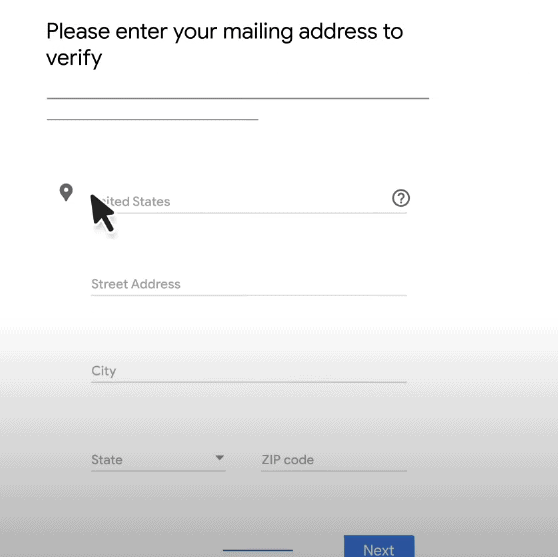 Google states that your postcard should arrive within 14 days. They also warn that making changes to your current GMB profile in the meantime may delay the validation process. After you enter your verification code, your business information will be eligible to appear in Search, Maps, and other Google properties.
There are some ways for GMB verification as follows: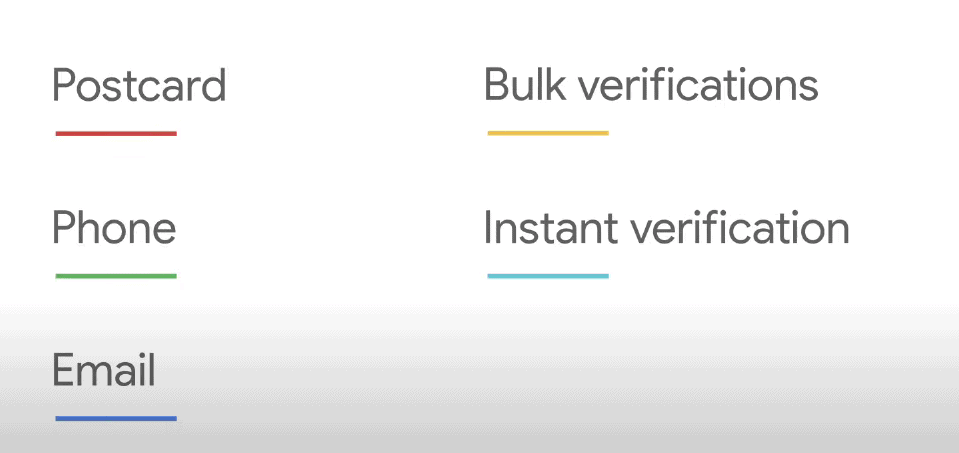 Now once you complete the above-mentioned verification process for your GMB profile, now concentrate on optimizing the other parts as mentioned below:


Especially before starting GMB optimization, you need to complete this percentage as shown above in the screenshot, then it going to be a complete and perfect listing for your business.
Let's dive in the chapters which need to take care:
Chapter 1 : Info Section

This is the most important segment of your GMB profile which needs to optimize from the scratch itself in order to maintain the prominence of the profile.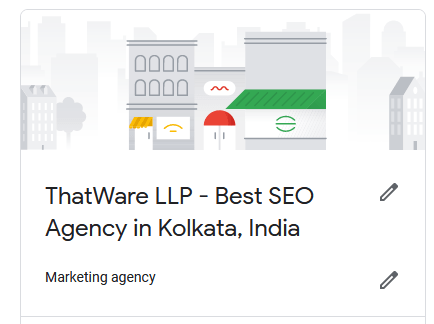 Business Name: First up, you should put the exact business name you want to show up to customers in the real world (in the search result side panel and also in the map search result).
Sidenote: You can also put some of your business keyword with location in the title. (Optional)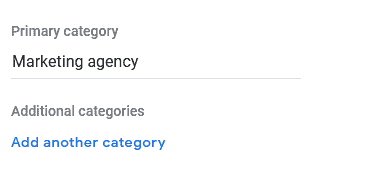 Category: Then you can put your primary category to showcase from what niche your business belongs to.
Sidenote: You can also put additional categories, if applicable. (Optional)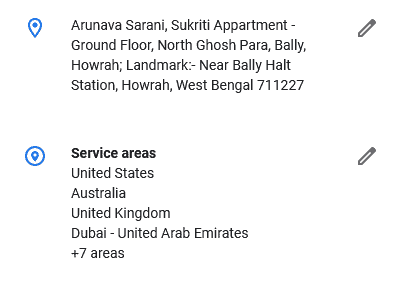 Business Address: While putting the business address ensures that the exact address is put in this field with proper care. Also mention the service areas your business is serving.
Sidenote: Use the Moz Local Listing Score checking tool to discover whether your business's exact NAP (Name, Address, and Phone) is similar or not in all other vital listing platforms. But here is an exception in terms of country, you can check for only (United States, Canada, United Kingdom).
Browse here: https://moz.com/products/local/check-listing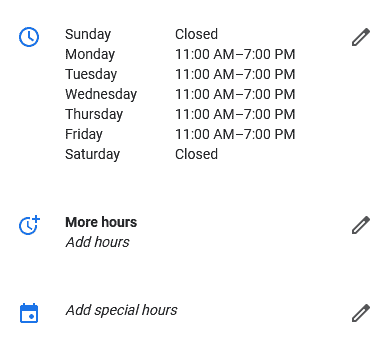 Business Hours: Put your business hours in what time you are serving your customers. More hours section is especially applicable for restaurant, ecommerce, etc type businesses and for special hours you can specifically allow time for any red-letter days or any important events that are coming up in the calendar year.
Business Contact Details:
In order to get calls from your potential customers, you need to provide the exact contact details for your business such as phone number, website URL, appointment links, etc. It would be great if you set your business short name so that customers can remember it easily. Here you can see thatware is set as our business short name.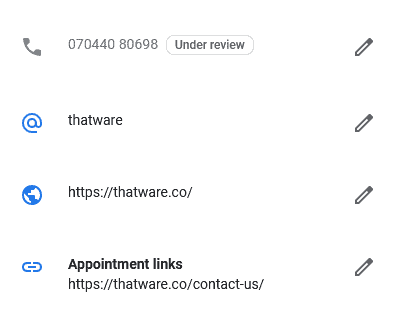 Sidenote: If you make any existing changes it may take up to 3 days to reflect on the Google My Business profile.
Attributes: On Google My Business, you can select various attributes to let customers know details about your business. For example, here we have selected under health & safety segment> Masks required, Staff wear masks to make sure of the availability ahead of COVID situation. Also, online appointments are set as attributes.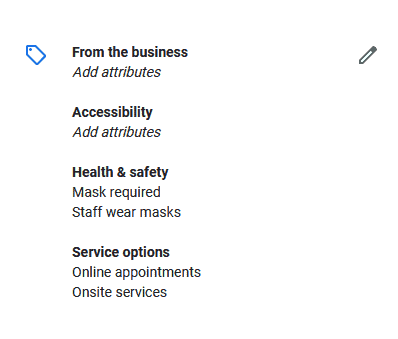 Attributes appear on your Business Profile on Google Search and Maps. Here's how it looks like: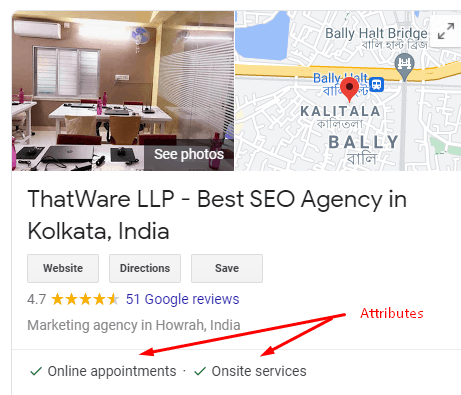 Business Description: Put an enticing business description in details about what your business is all about, about the services you offer, etc. If possible mention the opening date of your business though this will not be shown online. (This field is optional)
Labels: Remember that you can assign a maximum of 10 labels per location, with each label having a maximum capacity of 50 characters. (This field is optional).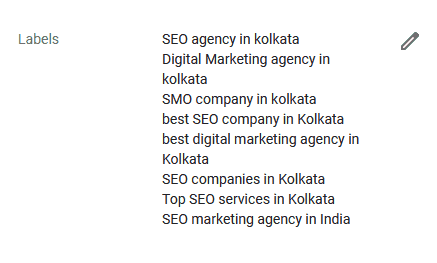 Chapter 2 : Insights Section

Insights assist business owners to find out how their customers are interacting with his/her Google My Business profile.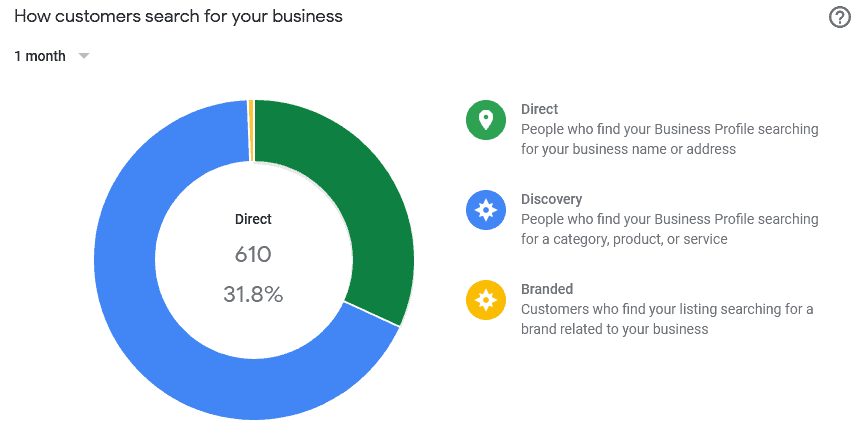 This section of Insights shows how many customers found you and how they found you. Click or tap the chart on the dashboard to see the percentage of all customers that found you via each of these methods:
Direct searches: A customer directly searched for your business name or address.
Discovery searches: A customer searched for a category, product, or service that you offer, and your listing appeared.
Branded searches: A customer searched for your brand or a brand related to your business. This category will only appear if your listing has appeared at least once for a branded search.
Total searches: The total number of direct, discovery, and branded searches.
Sidenote: You can launch Google Smart Campaign by the help of GMB from this segment shown below here: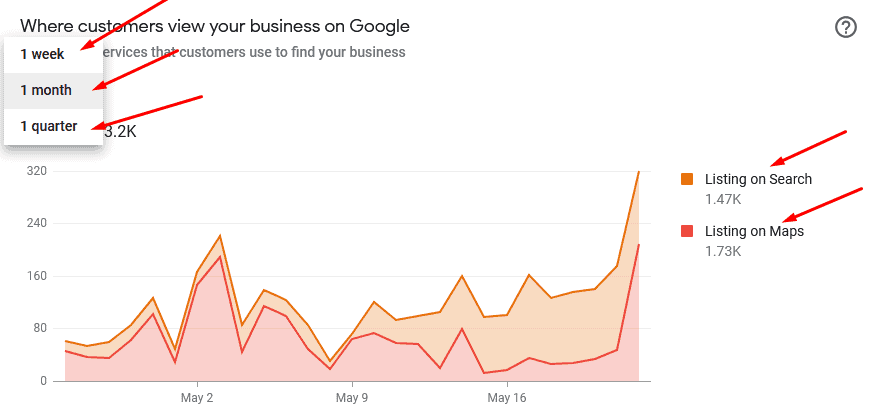 You can also discover from where (listing on Google search, listing on Google Maps) your customers are finding your business. Also, you can track the time for the customer views as 1 week, 1 month, 1 quarter.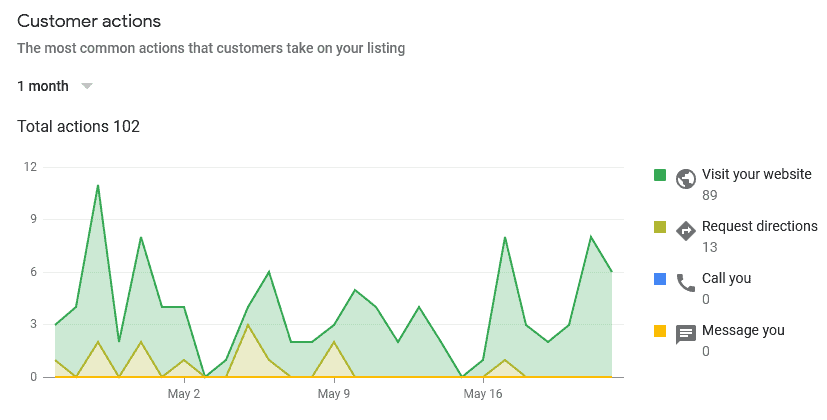 This section shows how customers behave after they found your listing on Google. The graph shows how many customers completed the following types of actions when viewing your listing:
Visit your website: A customer views your website.
Request directions: A customer requests directions to your business.
Call you: A customer calls your business.
Total actions: The total customer actions for website, directions, and phone.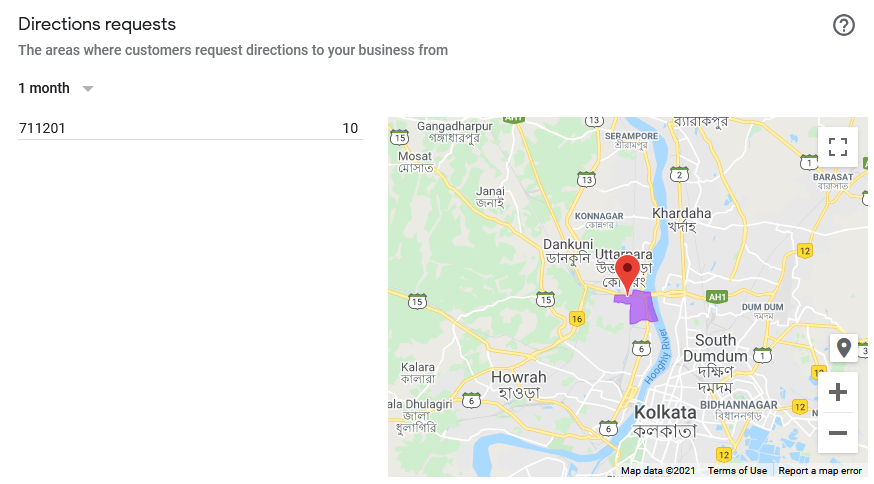 This graph displays the number of unique users in each source location (i.e. postcode, city, and country).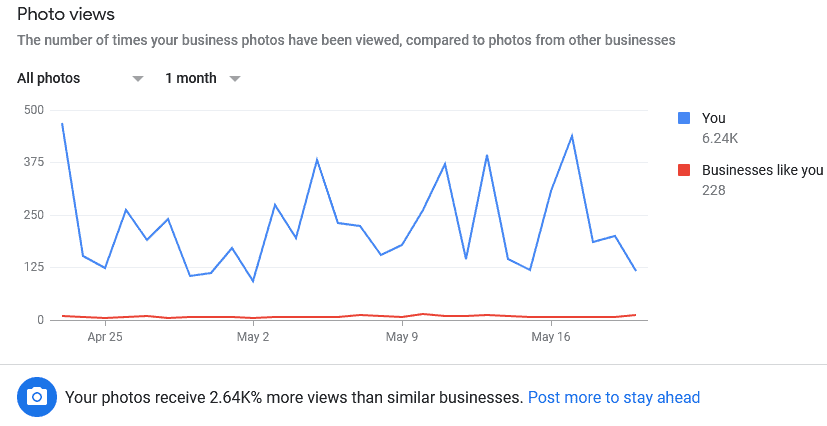 This section displays the number of photos associated with your listing and how often they're viewed compared to similar businesses in the following graphs: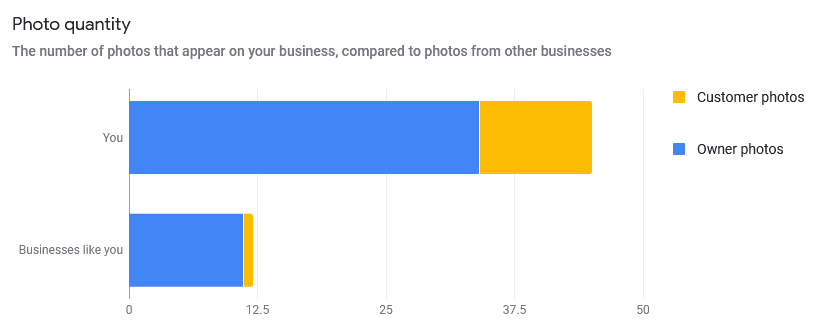 Photo views: How many times your photos have been viewed.
Photo quantity: How many photos you've uploaded to your business listing.
Chapter 3 : Reviews Section
You definitely want your customers to leave online reviews on your business profile.

You can encourage customers to leave reviews by simply asking them and by also responding to reviews that customers leave you. Make sure you're following the rules though.
Note: Don't forget to get reviews across other major online platforms as well.
If a review is positive, thank the customer by replying his/her review.
If they are negative, be kind and attempt to make things right if you possible.
Chapter 4 : Messages Section
Once you turn on messaging, customers will find a "Message" button on your Business Profile, and be able to message you at any time.

Messages will appear in your Business Profile on Google. You'll receive notifications for incoming messages here: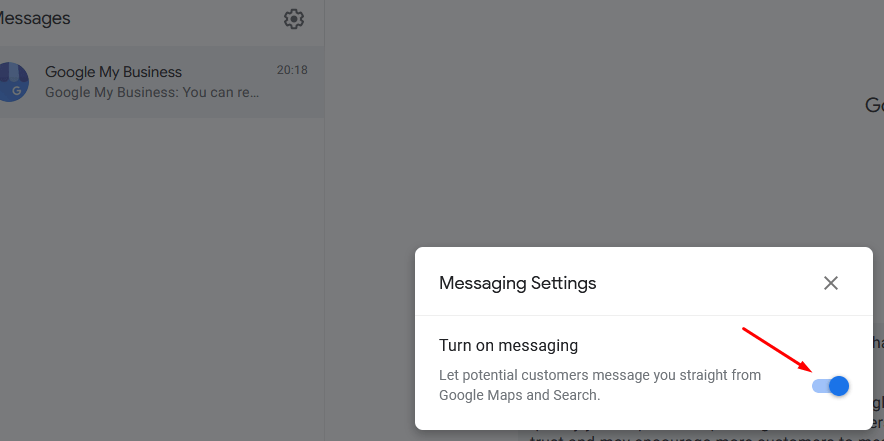 You can customize the automated welcome message that customers will get when they message you.
You can share photos with your customers through messages.
If multiple people own or manage your Business Profile, each one can message customers.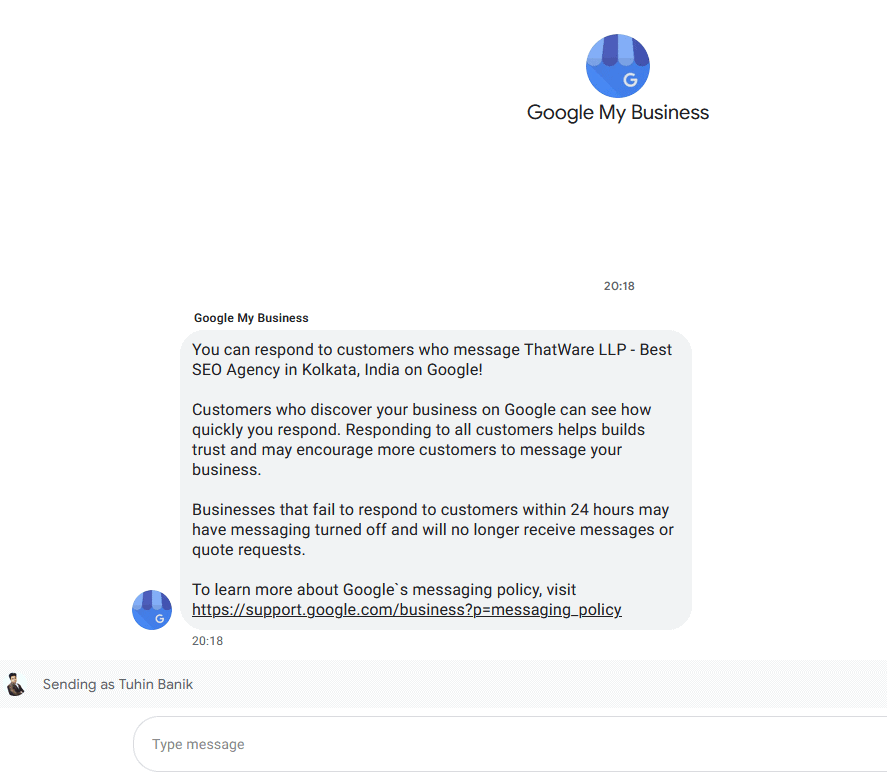 Chapter 5 : Photos Section
There are several types of photos you can add to your Business Profile:

Logo: Make sure to set your Business logo.
Cover photo: Set a cover photo at the top of your profile that best represents your business. In some instances, this action doesn't guarantee the cover photo will show up as the first image for your business.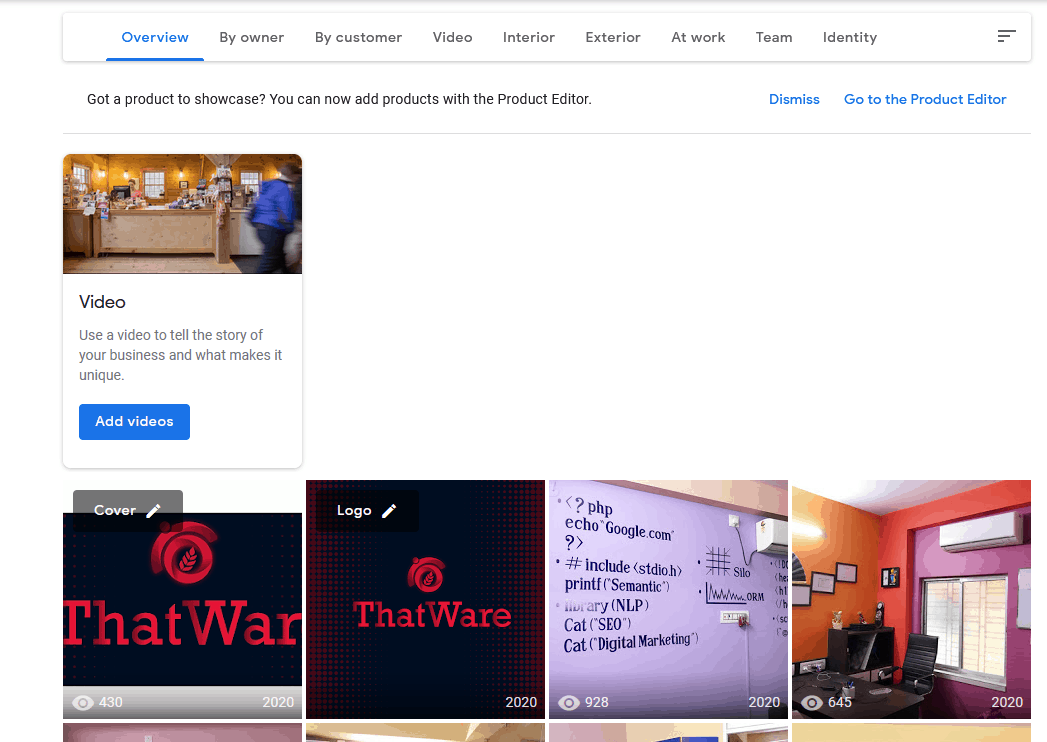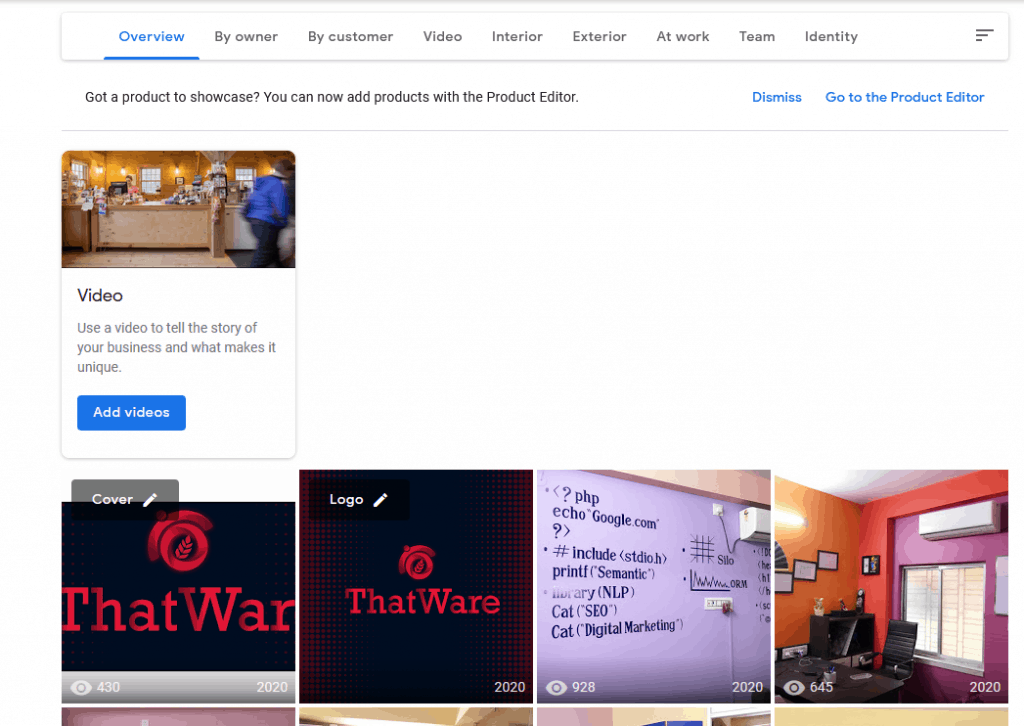 Business photos: Add different photos to highlight features of your business to attract and inform customers. You can add an interior, exterior, at work, team photos all at a different segment.
Chapter 6 : Services Section

You can specify your service offerings by adding them one by one according to your business niche like below: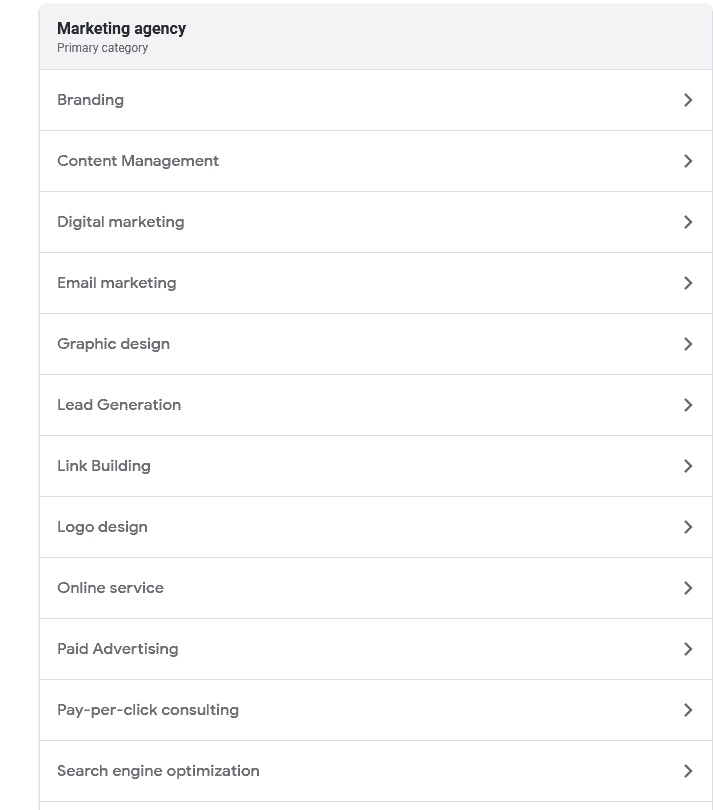 Chapter 7 : Posts Section
Keep your customers updated by sharing what's new on your business, reach beyond just your followers – give everyone searching for your business a reason to come in by posting updates and offers directly to your local listing on Google.

You can post the aforementioned things for your business to notify the potential customers who will be visiting your GMB profile.
Miscellaneous Concepts of GMB
1. Website Section:

You can also publish a different site consisting of posts, reviews, photos and the entire details that your GMB profile currently has, and with the course of time once you publish something on your GMB it gets automatically updated on the site as well.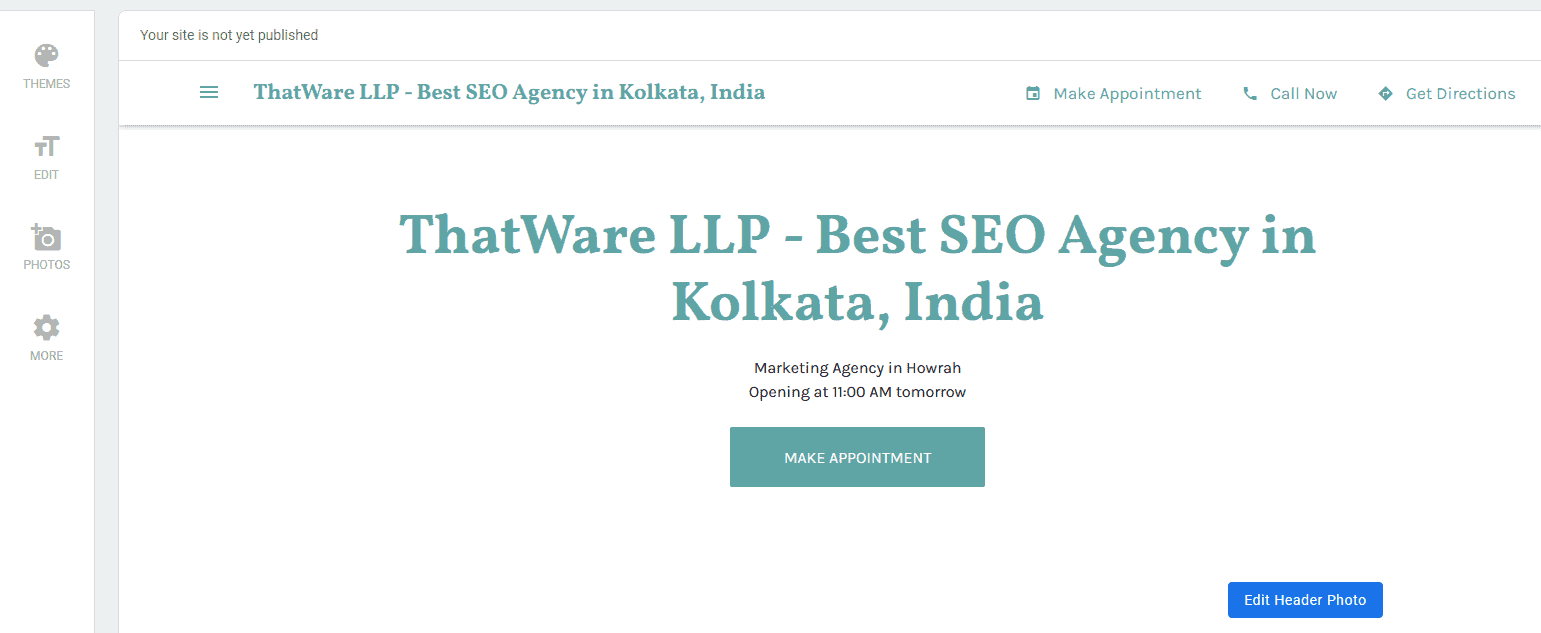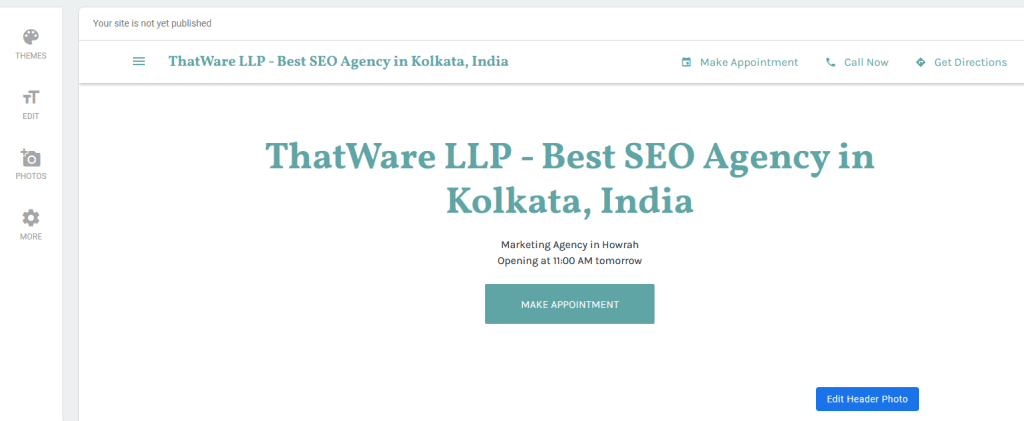 You can customize this site as per your requirement as well.
2. Ad Creation:
You can also launch Google Smart Campaign for your business directly from here to drive more customers.

3. Businesses Section:
If you have multiple businesses to manage from one account, you can easily track those profiles by browsing the businesses from here.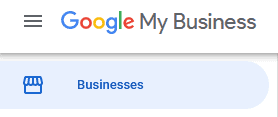 Bonus Tips for GMB
If you are willing to manage your business from your phone itself Download the Official Google My Business App from the Play Store or IOS store.
It will allow you to edit your listing, respond to messages, review insights, and create posts and a lot more.
Download Link for iPhone
Download Link for Android
Hope this 2022 definitive guide make your Google My Business account stand out from the crowd of all available guides out there.