Welcome to Thatware – A PR agency. Thatware is a global PR services company offering digital media planning and Online branding services. We are experts in delivering branding packages and converting change into opportunity through our paid search services. We undertake media planning as a branding agency and use concepts like creative thinking and neuroscience to convert our branding services into a success. Amongst all other online branding companies, we differentiate ourselves as a PR company by creating quality brand strategies and identities. Our online branding agency also extends small business branding services through paid marketing.
Thatware is a successful press release company offering press release services as a part of business branding services. As a paid marketing company and a well-known PPC services agency, we apply our creativity clubbed with technical skills to develop online branding from scratch. This branding services agency is well-versed with change management and can handle its client's online brand image through churning processes of M&A activities, implementing new organizational models, market penetration, product positioning and maintaining relevance in shifting cultures.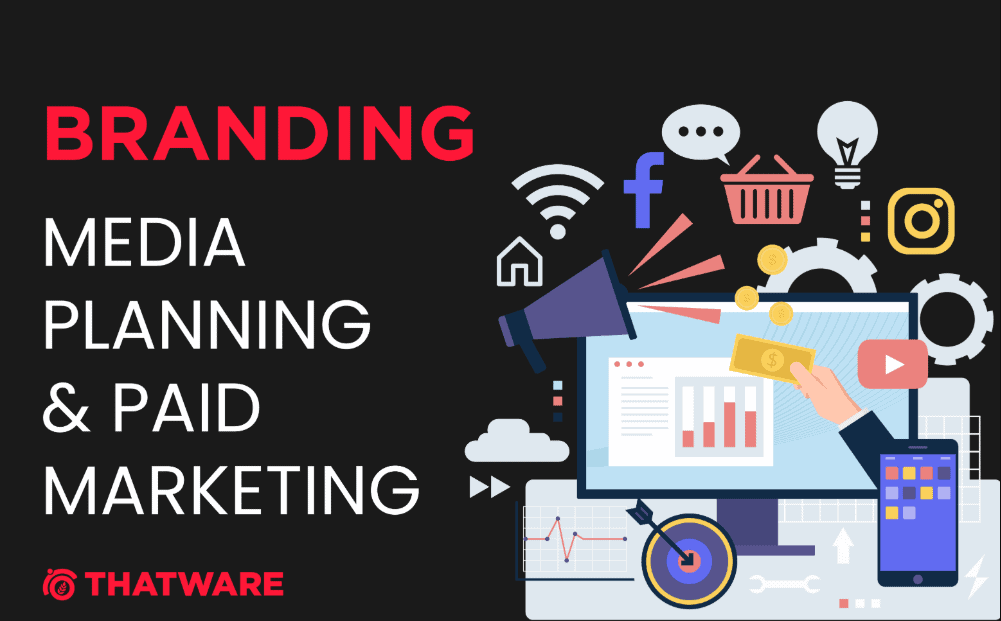 Our clientele is diverse. We have made it a point to reach the maximum possible people in our target market. As a paid search agency we work for individual freelancers to mid and large-sized firms. We also offer Branding Services for Small Business. Since we position ourselves as a branding agency services provider, we take care of clients from all backgrounds and industries.
WHY CHOOSE US?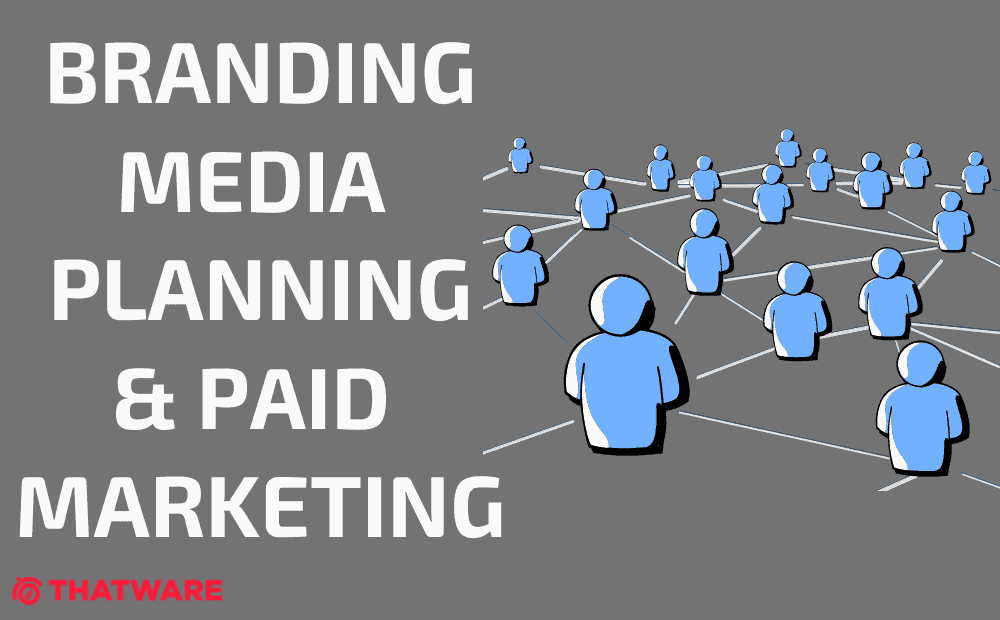 Flexibility:

Whatever your requirements are, ranging from brand positioning and DNA, Changing your name, revisiting your architecture, launching innovation or simply redesigning your identity – We would help you respond swiftly, creatively and smartly.
Understanding:

We understand decision making. It's important to get to the heart of people and understand their priorities. We decode user patterns and differentiate customer behaviour. Our wisdom, gained through experience, allows us to apply our neuroscience knowledge to brand creation and design.
Visual advantage:

Our research suggests that to be a successful brand, an organization needs to "lure" users. By this, we mean working around concepts like the "instinctive" and "intuitive" part of human. Once we are able to develop a strategy to attract consumers, we move ahead a step further to "convince" them to make a purchase decision. This is the most reflective part of our branding. Hence to crack this, we have developed hybrid strategic methods using contemporary concepts of design thinking and practical learning-by-doing neuroscience methodologies.

Our concepts and understanding make our visual planning step a success. This visual advantage approach of brand development, which is based on agile visual thinking approaches, comprises a suite of tools that takes our clients through a process of market understanding, brand design and testing. This process is quick, bespoke and collaborative. Also, we have observed that 99.98% works and leads to richer brand ideas and better performance in the real world.
Affordable:

Thatware makes its services pocket friendly as it caters to a wide range of users from freelancers to large-sized organizations. We have custom packages according to client needs. Feel free to get in touch with any of our consultants to know more.
Foolproof strategies:

Thatware offers customized solutions to its clients and business needs. Our PR and PPC experts focus on technically winning higher ranks for your website so that there is a constant flow of consumers and increased revenue. Our experience in this industry is vast and differentiated by handling a variety of clients from individual freelancers, to mid and large-sized organizations. This has made us learn over the years and our solutions are foolproof and market-tested. You can definitely rely on us!
Local and global exposure:

We provide geo-targeted services based on PPC. This helps you gain visibility both globally as well as in the local market. Our careful analysis and in-depth understanding of markets would help you attain your goals in a constructive manner. Get in touch with any of our consultants to know more!
Building Brand Image:

We aim at increasing your rankings on search engines and fetching you as much visibility as possible through our PR services. The team at Thatware is qualified enough to deliver laser-specific content according to the taste of your target market. We understand the fact that searchers on search engines look for solutions to their problems or pain points rather than marketing.

Hence we address and locate and these points effectively. Once you have a strong reputation in the online space, search engines do not fail to rank you at the top because you become the go-to website of users. This contributes a lot towards building your brand image in the eyes of users.
Increased ROI:

With Thatware be rest assured about your choice of the best PPC agency to depend upon for your PR needs. We extend our PR and paid ads services not only in India but across borders, in such a standard manner that we have always won our client's hearts with our services. Your minimal investment in SEO with us would lead you to generate quality leads and maximum inflow of traffic.

We highly recommend clients not miss their presence in the digital marketing space because it's the future. With high traffic, your lead conversion increases into sales and hence this interrelationship is what we target to improve. Blindly we can conclude that ROI increases. For data on our successful projects, get in touch with our consultants.
Resolve problems instantly:

Thatware team works with the concept of the lowest turnaround time in service delivery with zero compromises on quality. Once we list your business online and hunt for leads on social media, we also conduct a deep analysis of your target market. This leads us to understand and analyze reviews and feedback of customers who have already used your service or product.

90% of clients and customers go through your reviews online before making a purchase decision. We let you know immediately if there is a loophole to be sealed. This gives you the opportunity to provide great customer service and win the hearts of your clients. Also, this would lead you to gain referrals.
Stay in competition:

The world of digital branding is absolutely dynamic and complex. However, ThatWare makes it simple through its handholding process while client onboarding. 98% of brands utilize social media for advertisements and promotion. Hence we strongly recommend clients to stay updated with the market in terms of digital trends and do not let their share of the pie slip because of lack of knowledge regarding it.
SMALL
$199
per month
1 PR Syndication
1 Major PR on High DA channel
PPC on Target CPC = 3 targeting
PPC on Target ROAS = 3 Targets
PPC on enhanced CPC = 3 Targets
PPC on manual CPC = 3 Targets
Custom branding idea for 1 topic or USP
MEDIUM
$249
per month
3 PR Syndication
3 Major PR on High DA channel
PPC on Target CPC = 5 targeting
PPC on Target ROAS = 5 Targets
PPC on enhanced CPC = 5 Targets
PPC on manual CPC = 5 Targets
Custom branding idea for 3 topic or USP
LARGE
$349
per month
6 PR Syndication
5 Major PR on High DA channel
PPC on Target CPC = 8 targeting
PPC on Target ROAS = 8 Targets
PPC on enhanced CPC = 8 Targets
PPC on manual CPC = 8 Targets
Custom branding idea for 6 topic or USP
GET IN TOUCH
Fill out the contact form to reach out to our SEO experts in our company. If you want to enquire about affordable seo packages and any other customized needs. Please get in touch, we value and respond to each and every request which come across us.
FREQUENTLY ASKED QUESTIONS
Branding is an integrated process of many steps which results in providing meaning to an organization's existence through its products and services. Branding aims at customer perceptions and building an image of an organization in the minds of consumers.
An organization that specializes in creating, launching brands and re-branding is called a branding agency. They plan, measure and apply strategies to develop the image of clients they work with through promotions and advertising. A small business branding agency primarily focuses on startups business that does not have large scale operations.
PR services refer to public relations services. Firms who professionally conceive, produce and manage un-paid messages to the public through media on behalf of clients are called PR agencies. This is done with the objective of generating informed customers, increasing sales and influencing public opinions.
Any short, crisp, informative and compelling news story written by a professional PR agency is known as a press release. It is a highly targeted piece of content.
The best way to weigh your options of PR agencies is through a simple search engine search. You would land upon many options. However, we suggest you choose wisely by checking the authenticity of agencies. Once you figure out the agency you wish to partner with, they would provide you with their rates and further start the process.
Thatware has a simple process of onboarding clients with minimal contractual and legal works. Once we receive your enquiry, we dedicate an account manager who is solely responsible for your service. Since we a paid marketing agency, we have set rules of onboarding and delivery. This manager would understand your needs and set the basics right by managing expectations, helping you understand our services and setting up milestones for your success. We would handhold you throughout the process with complete transparency. Get in touch with us today!
Online branding is a very popular concept in the digital marketing industry. It increases brand knowledge and familiarity amongst customer connections. It also induces customer loyalty and long-lasting relationships with customers. It is Highly suitable for targeted marketing with real-time results, builds and gains the trust of customers. It has a Global reach without any geographical or time limits, builds credibility and highly cost-effective.
Online branding aims to generate content around:
Tutorials
Infographics
Videos
Industry Interviews
Blogs
Articles
Self-help Guides
Guest blogs
Information overload:

Internet is a very complex environment. It has numerous listed websites and each has an ocean of information. Also, it's an open platform for organizations to list themselves and differentiate through brand image. However, they all use the same communication channel. Hence there are many failed cases of organizations who were unsuccessful in exploring this amazing opportunity of online branding because of a lack of technical knowledge and skill.
Management of multiple communication channels:

Consistency in branding is extremely is important and hence online branding agencies work technically to ensure the same. However, since social media is diverse, companies need to optimize their presence everywhere which sometimes becomes a challenge if it's not handled professionally.
Security risk:

Online branding is highly dependent on reviews and feedbacks collected from users. Sometimes there are fake reviews created to downgrade brands on the internet and hence this poses a threat to organizations. Also, security breach happens when fake news or press release is circulated. The creation of bad or unhealthy backlinks to your websites using black hat SEO practices also poses a major threat to online brand images.
Manipulation:

Some organizations bag good feedbacks by manipulating reviews of their organizations through partner websites, paid bloggers etc. This creates a fake image of their products in the eyes of their customers. However, they are not able to sustain long in the market because they fail to create value or provide solutions to the market needs.
Facebook
 LinkedIn
Instagram
Twitter
YouTube
Our core team is em-panelled with professionals from different backgrounds. It comprises writers, strategists, designers, researchers, techies. There are both fresher's and experienced candidates. Our differences get dissolved when we work together with PASSION and love of what we do!
Well, there is no secret formula to our success and quality delivery except that we believe in constant technological update and strive to get our clients satisfied.
Thatware gives you a list of services we can do for you. However, if you are a fresher in the digital marketing space and haven't been much around, we analyze your current position and suggest to you what you can do. These solutions are holistic and integrated. If you know what you are looking for and don't need our assistance on the basic front, feel free to choose any service from our basket and we promise you won't be disappointed.
CASE STUDIES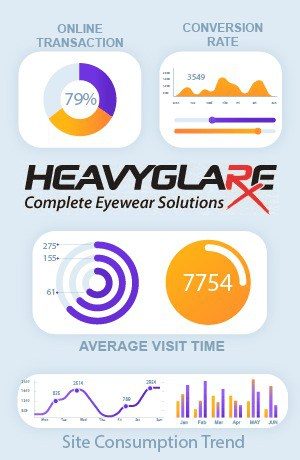 SUNRAY OPTICAL INC. (HEAVYGLARE EYEWEAR)
Services Provided: Advanced SEO
The business marketing seo model which has been performed for the above campaign is the advanced model. In other words, we have performed the top-notch search strategies with the right blend of semantics, data science, advanced link building and NLP. As an end outcome, below are the statistics which were obtained:
1.5 $MILLION
In Sales
600,000
Organic Session
Over 50,000
Checkouts