GET A FREE CUSTOMIZED AUDIT FOR YOUR SITE USING OUR AI MODEL.
Want to increase revenue significantly for your agency by offering artificial intelligence search engine optimization services? You're in luck because Thatware is an AI based SEO agency with our best advice on how to go about digital marketing!
To get your SEO services up and running in the digital marketing industry, you'll learn everything you need to know, from attracting clients to what to say on the phone, pricing your services, closing the deal with search engine optimization and retaining clients.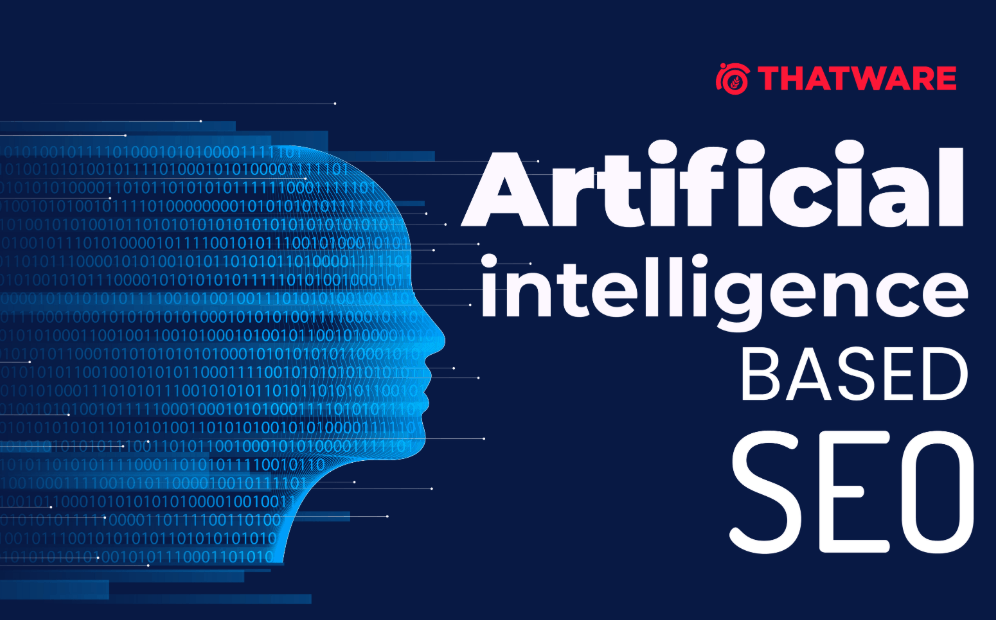 Good news: You don't need to be a technical SEO consultant to get started, you don't have to add any additional people to your company to explore artificial intelligence and SEO. Because you have us doing it for you! Sound good? Then let's get your AI SEO services rolling!
WHAT YOU NEED TO KNOW
Many businesses owners think they can start having more sales after they've put up a website. They wonder how to attract more users to their site when it doesn't happen. So, they're going to do some research and know they need to refine their website to get tourists to check.
That's the place where we come in as an Artificial Intelligence SEO seller. We know what you want through our SEO AI strategies:
Leads
Calls
Form fills
More SALES
So, by making your website appear in the search engines to potential customers, we are pushing more people towards you and bringing them "more" of what they want. SEO can affect the number of people visiting a website in an ENORMOUS way.
The SEO Process we follow at Thatware :
Initial Audit
Keyword Analysis
Optimization of On-Page
Building a connect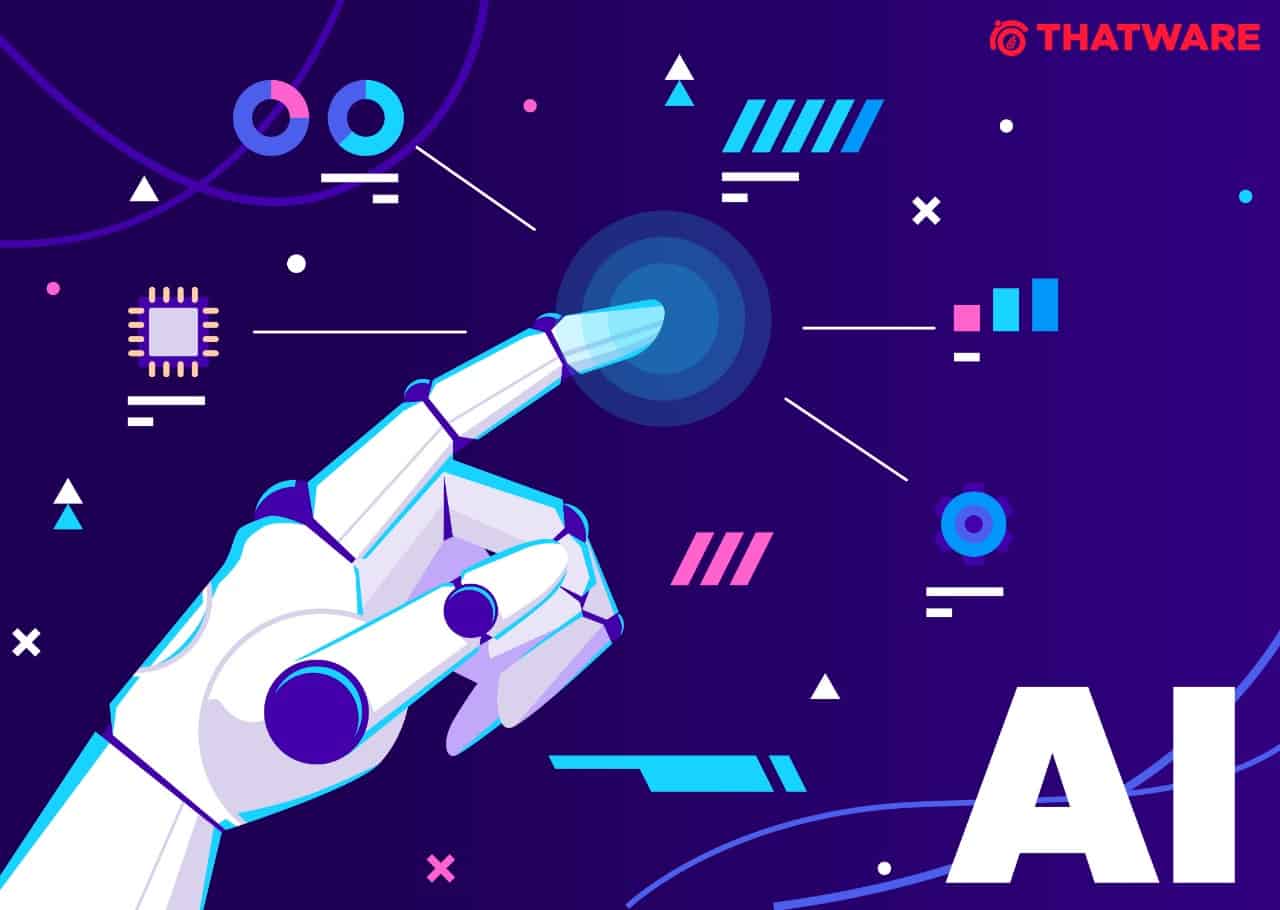 Our structure :
WE ARE Big FANS OF Focused SEO services We firmly believe a package-based pricing system is the strongest pricing model for closing deals for the vast majority of our clients. That is what we are doing.
SEO can be a complex, multifaceted process and we help you close the deal by simplifying our services into a specified package structure & deliverable. It's easier for us to explain to you so that you can make a decision and understand.
There are several individual services that we provide including products such as Link Building and Content Development. You can pick and choose to build your SEO strategy from these services if you know what you want but we often prefer to sell a mix of our recommendation if you are a newbie!
Package-based pricing also allows you the choice to sell to a retainer or contract a single package, multiple packages, or recurring packages. To us, providing a mix of services as bundles under a controlled SEO environment is normal because it produces results for our customers.
Pricing for Recurring clients & Retainers :
While we sell a-la-carte services, we have a huge list of recurring clients /retainers. In our experience, we shoot to start seeing results around the 90-day mark when running a full SEO campaign, so setting those expectations upfront help gives us enough time to deliver results.
A common thought we see with clients who tend to be less successful is "I'm going to try out a few links and if it works I'm going to do more." In our experience, this one-off type of SEO strategy tends to be less successful. Google wants to see site consistency becoming an authority, so building monthly results in much higher success rates.
If you would like some help on how SEO services can be integrated into your business, book a free meeting with one of our account managers. We help agencies and resellers get off to a daily start!
Advantages of AI Based SEO over Traditional SEO Practices
1. Faster Results
AI based SEO can provide faster results as compared to traditional approaches. AI can help to automate and navigate things in a more strategic and data-driven way. With the help of AI, execution and implementation times can be as much as 15 times faster than the usual methods.
2. Control Over Intent
With the help of AI, business owners can now identify the intent of the users and can make the landing pages according to the intended specification. Semantic engineering is a branch of science in AI which deals exclusively in understanding the intent of the users. Understanding the intent makes a site more user-friendly, Moreover, this can provide good user behaviour and can provide strong search signals.
3. Better Monitoring
Better performance monitoring is possible with the help of artificial intelligence as funnels can be more realistic and more data-driven than ever before. That being said, better monitoring of the results is possible since text mining and data mining are one of key element in AI.
4. Understanding User Becomes Easier
User behaviour identification and understanding user behaviour pattern is possible with the help of AI-based SEO. That being said, with the help of natural language processing & information retrieval, website owners can understand the user behaviour pattern in a more symmetrical way. This will especially help to increase more significant search exposure as a wider target audience group can be targeted.
5. Quantifiable Results
AI can quantify a lot of metrics and the quantification of results can be more easily determined and calculated. That being said, with easier quantification the results become much more strategic as SEO experts can map every single improvement with their optimisation levels. This can provide a win-win strategy!
6. Copes up with Changing Algorithms
One of the beautiful sides of AI-based SEO is that the business owners can cope up with their websites according to the algorithm changes which happens almost 3000 times a year or more. It would be wise to mention that with the traditional approach it's nearly impossible to cope with a website with the changing algorithms. Thus, AI-driven technology can help a website to remain consistent with changing algorithms and keeps a website penalty-free.
7. Competitive Edge
Performing AI-driven technology can also give comparative benefits and a competitive edge. In a nutshell, AI-driven technology can help in yielding competitive data which can indirectly have an adverse effect on the results by using more sophisticated SWOT strategies.
8. Business Intelligence
As the name suggests, AI technology can help with high-level business intelligence data which can provide high-level competitive insights. This is a very crucial part of any business as it involves sensitive data for a market niche. In other words, this would help with strong organic exposure.
9. Smart Data Mining
Data mining is an attribute of AI technology and machine learning. With the help of the same, one can perform gap opportunities and gap research which is very much important in the fields of statistical SEO. With the help of the same, pro SEOs can make better utilisation of the opportunity to win over the gaps in the fields of backlinks, on page and technicalities in SEO.
SMALL
$580
per month
Cosine Similiarity check 5 Pages
LDA 5 Pages
Cluster pruning 5 Pages
Aglomerative clustering 5 Pages
Divisive clustering 5 Pages
Centroid Clustering 5 Pages
Flat Clustering 5 Pages
Kappa Statistics 5 Pages
Jaccard Index 5 Pages
Naive Bayes 5 Pages
Co-occurance matrix 5 Pages
Prediction Model 5 Pages
Semantic % 5 Pages
Semantic proximity 5 Pages
BERT 5 Pages
BM 25 5 Pages
Spearman's & Pearson's Co-efficient 5 Pages
William % R 5 Pages
Apriori Algorithm 5 Pages
Vector Space Model 5 Pages
Text Annotation 5 Pages
Half Life Decay 5 Pages
Markov Chain 5 Pages
Champion List 5 Pages
Similar keywords Topic Modelling 5 Pages
MEDIUM
$780
per month
Cosine Similiarity check 12 Pages
LDA 12 Pages
Cluster pruning 12 Pages
Aglomerative clustering 12 Pages
Divisive clustering 12 Pages
Centroid Clustering 12 Pages
Flat Clustering 12 Pages
Kappa Statistics 12 Pages
Jaccard Index 12 Pages
Naive Bayes 12 Pages
Co-occurance matrix 12 Pages
Prediction Model 12 Pages
Semantic % 12 Pages
Semantic proximity 12 Pages
BERT 12 Pages
BM 25 12 Pages
Spearman's & Pearson's Co-efficient 12 Pages
William % R 12 Pages
Apriori Algorithm 12 Pages
Vector Space Model 12 Pages
Text Annotation 12 Pages
Half Life Decay 12 Pages
Markov Chain 12 Pages
Champion List 12 Pages
Similar keywords Topic Modelling 12 Pages
LARGE
$880
per month
Cosine Similiarity check 20 Pages
LDA 20 Pages
Cluster pruning 20 Pages
Aglomerative clustering 20 Pages
Divisive clustering 20 Pages
Centroid Clustering 20 Pages
Flat Clustering 20 Pages
Kappa Statistics 20 Pages
Jaccard Index 20 Pages
Naive Bayes 20 Pages
Co-occurance matrix 20 Pages
Prediction Model 20 Pages
Semantic % 20 Pages
Semantic proximity 20 Pages
BERT 20 Pages
BM 25 20 Pages
Spearman's & Pearson's Co-efficient 20 Pages
William % R 20 Pages
Apriori Algorithm 20 Pages
Vector Space Model 20 Pages
Text Annotation 20 Pages
Half Life Decay 20 Pages
Markov Chain 20 Pages
Champion List 20 Pages
Similar keywords Topic Modelling 20 Pages
GET IN TOUCH
Fill out the contact form to reach out to our SEO experts in our company. If you want to enquire about affordable seo packages and any other customized needs. Please get in touch, we value and respond to each and every request which come across us.
FREQUENTLY ASKED QUESTIONS
"I have to know everything about SEO"
Do you think you need to know more about SEO to sell them?
Do you think you need to know more about SEO to sell them?
You should learn enough to understand how it works as well as describe it correctly to your client … but to get going, you don't have to be an expert at every facet of SEO.
In reality, knowing everything about SEO could result in you shooting yourself in the foot while talking with customers. There's no better way in someone's eyes to build a glazed look than to talk in detail about SEO.
Your job is not to become an expert in SEO: it is to translate SEO into a definition based on results that your client will understand. Thus, you can concentrate on painting the picture of how results can support their company through SEO. Doing so will help you settle the deal.
"Work at home is all the thing I have to do"
To think you do not have the time or the resources to do the actual SEO work is understandable.
Here's the good thing to give these services: You don't have to do it yourself! By enlisting the support of our white label SEO services, you can reliably offer quality SEO work to your clients.
In case you are unfamiliar with the word "white labelling" or "reseller SEO," this applies to research performed on your behalf by another business and marketed under your name. Besides not having to do SEO work yourself in-house, white labelling helps you to concentrate on delivering better customer service by entrusting the job to professional SEO practitioners.
By using a flexible approach, you can offer SEO services to as many customers as you want, without thinking about recruiting and training employees. Time is the most valuable asset. Focus on handling the client and let us do the work to deliver SEO services while keeping on to as much time as possible!
In any industry, customers prefer to do their work, even when shopping for SEO. By recognizing their problems, and supporting content that addresses them, you will draw and establish an autopilot relationship with them. Few ways that attract SEO leads:
• Ranking Content:
Publish regular blog posts on your website to capture search traffic already known and considered by SEO for your business. Answer customer questions via blog posts that help inform them about SEO's possibilities and gain their trust. This is a perfect introduction to their friendship with you.
• Opt Popups & Subscribe boxes:
You can use a plugin to set up a popup on the blog posts that you land on to catch your email address and start building more trust. It also helps to allow them to join it in return for a "route magnet" like a PDF guide or to see an insightful webinar.
• Give a Free SEO Audit Tool:
A free tool such as our SEO Audit Tool offers a "score" to you and confirms that, yes, there are items on their website to boost SEO.
Note the whole objective here is to catch the leads in and their contact information. They permit you to sell it to them this way.
While in many ways it is a scientific activity, SEO is something that everyone can understand, too. SEO brings more visitors to your website in the simplest terms, by making it appear more prominently appear in search results.
1. Initial Audit
Many customers would only be doing a small amount of SEO optimization. In the past, consumers have paid for shady work resulting in the opposite: over-optimization. To search for any penalties incurred by poor SEO work, it's necessary to start by auditing your site. Poor quality SEO includes items like too many low-quality links leading to the web, duplicating site content, past penalties, and over-optimizing keywords for a goal. This is an important step that shows how much work your site may need.
2. Keyword Analysis
If we've decided that there are no underlying problems, we do keyword research to find keywords to try in different ways like:
A. Easy Wins:
One of the easiest ways to locate your keywords is to look at what the platform ranks in positions 4-30 for already. This means that for these keywords Google already likes you, your just not in the top 3 positions where most of the traffic is!
This would result in more traffic by bringing these keywords up higher in the search results, preferably to the top of page 1.
B. Optimization -On Page
Ranking a website would be tough if Google doesn't know what the site is about. Optimization of On Page SEO consists of optimizing the content of each page on a site to include keywords and related information to inform search engines and readers about what the page is. This involves optimization (but not limited to) of title tags, URLs, meta-descriptions, H1s, photos, content, and internal links
C. Creating links
One of Google's most important ranking signals is the links (backlinks) pointing to a blog. Links pointing to the website of your company are like "votes" on Facebook. Further links help to add weight to the website to place in the search engines.
Yet beware – not all votes are equal: A connection from a website with a major domain authority such as Forbes or USA Today has more weight than a smaller blog.
Links can be acquired in different ways including:
• State directories
• Blogger posts
• Online directories
• Editorial posts
To avoid penalties for bad links it is necessary to create high-quality links in the right way!
Throughout the years, Google has published several changes and it is important to realize how the SEO is continuously evolving with regular Google updates and keeping a track of Google changes!
There are tons of SEO client forms, so we split what you need to know based on a few of our client avatars.
Different types of Clients (Good clients and Bad clients) several companies want to sell SEO for $100 / month or less. This also involves some simple changes to the title tag on their website. That's great because it's better than doing nothing, but in a competitive industry, it probably won't push the needle for a company. If you are selling SEO at such a low rate, you will need to handle a lot of customers if you want to raise your profits, which is not easy to scale you need to be the best.
Hence we think Attracting clients with larger budgets enables us to have a significant impact on our revenue, as well as delivering more meaningful results. We Increase our Conversions by Niching Down. We could offer our SEO services to everyone, but we are big fans of niching and selling to a specific industry separately and dedicate internal teams.
By promoting ourselves as a specialist for particular markets, we gain more credibility by stating that we are explicitly to support YOUR company. If we niche down to cater to industries such as real estate, renting heavy machinery, or all-inclusive getaway, we can offer more value. We understand the market, learn common consumer problems, keywords, and gain a competitive edge over generalist-SEO businesses.
Let's take a moment to discuss some of the most common clients we get:
1. Geo-targeted clients
The goal for our Local SEO is to get our clients to appear in a geographically located search when someone is searching for their services. These are typically businesses in the brick and mortar sector or services area.
2. E-Commerce Clients
E-Commerce / Online stores are great to work within the SEO space.
3. Online Businesses
The content and link building strategy we've been thinking about for most other types of customers is a successful way to get the results for online businesses as well.
4. Publishers:
Sites designed to build content and make money through traffic-generated ad revenue (such as GameStop) or affiliate revenue (such as NerdWallet).
5. Freelancers:
Individuals that offer their services online independently to multiple clients.
6. SAAS:
"Software as a Service" sites that make money by increasing their software subscriber base (such as Ahrefs, Salesforce, or Buffer).
All our customers are special, and we know the characteristics of each form of the customer for applying killer SEO strategies to achieve great results.
When selling to Local SEO clients, we consider:
• Local Pack & Maps rankings:
When Google sees somebody's search intent as looking for a local company, it will also put up local listings in the form of the company name, address, and location on the map.
• Google My Business:
This is a Google business listing- something many clients neglect to set up. It's an easy service to provide them, and it makes it far more likely to get their business to appear in the Map Pack.
• Ranking Website Pages:
These are the normal top Google results that will appear in order of authority for any search word.
• Local Listings & NAP Citations:
Signals provided by listing the business of a client in directories such as Yelp and Yellow Pages provide additional local indications for Google.
• Local feedback:
Online reviews of local businesses affect local SEO. What counts is the number of reviews, the pace they are left at, and the variety of where they appear on Yelp, Twitter, Facebook, and other sites including TripAdvisor, for example.
When selling to our e-commerce customers, there are a few things we consider:
• On Page Optimization & Content Creation:
Many e-commerce sites lack content on their product pages, so e-commerce needs to produce original product descriptions (not duplicate vendor descriptions).
• Blog material:
Adding material to the blog of an e-commerce store helps the site rank a lot of keywords and gain links. People prefer a more frequent connection to articles than to goods.
• Link Building:
Getting links from manufacturers, reviewing blogs, linking guest posts back to the blog, and establishing good internal links are part of our good e-commerce strategies.
Contracts may help clarify obligations and defend all sides in the case of litigation, but we avoid hoops.
A lot of clients come to us and say, "How much money does it cost for this keyword to be ranked # 1?"
This is a very difficult place to be in because SEO is no longer working this way.
There are plenty of variables to take into account:
• Type of website:
What website is Google's keyword rating for? Are they blog posts, ultimate guidebooks, product pages, tools? Will even this sort of page rank?
• Length of the text:
Studies have shown that longer content appears to rank higher. Will the material on the website suffice?
• Domain Authority:
What is the overall domain authority for top-ranked sites?
• Other keywords:
A page can often rank hundreds or thousands, not just 1 keyword. Are these keywords a part of the page?
• Current Links Vs Competitor Ties:
How many connections do you start with? How many places do you have on top ranking? With that said, it can still be useful to do an analysis and see in general what it would take for a keyword and rank on page one.
Since backlinks to the specific page are one of the most important factors in ranking, we would like to take a look at the average number of backlinks Google sites have for that specific keyword on page 1. Some clients may want to invest in On Page Optimization, add additional content to the page, and add content that supports the site which adds up to their cost.
We explain to you the rates you would be paying by showing you the raw data of rivals and where you stand.
We seek to reduce the time you spend selling, so you can make more money! Cold selling is one of the sales strategies that is widely used and appears to be a lot of work. Rough sale with frostbite allows you to play the game of numbers. It's about getting your sales messages outbound to as many people as possible in the hopes that a few will become clients. It can work and some people are preaching it. For them, that's awesome but it's not our choice. In our opinion, promotional ads are bombarding the planet and people don't like that.
Wouldn't it be cool if you only tried to attract your ideal customer?
Hence we promote Inbound marketing which is a long-term strategy that we recommend to generate leads. Inbound marketing is the process of content production and attracting leads to outbound campaigns being run for you. From customers' initial interaction with your company, the Automated Customer Funnel takes them to book a call with you, by forming a relationship.
CASE STUDIES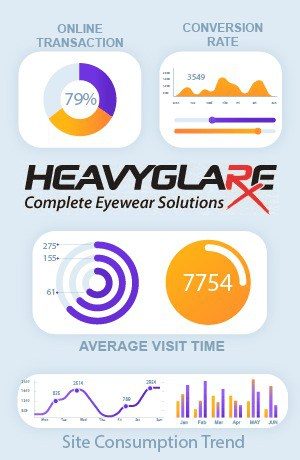 SUNRAY OPTICAL INC. (HEAVYGLARE EYEWEAR)
Services Provided: Advanced SEO
The business marketing seo model which has been performed for the above campaign is the advanced model. In other words, we have performed the top-notch search strategies with the right blend of semantics, data science, advanced link building and NLP. As an end outcome, below are the statistics which were obtained:
1.5 $MILLION
In Sales
600,000
Organic Session
Over 50,000
Checkouts