It's often hard to know where to turn to find answers to SEO FAQ to even the most basic of queries that you have, especially given that it's often the case that you'll discover contradicting answers on the web.
With that view in mind, we have developed some set of questions and answers regarding SEO. Hopefully, it will give much more prominence to your most frequently asked queries.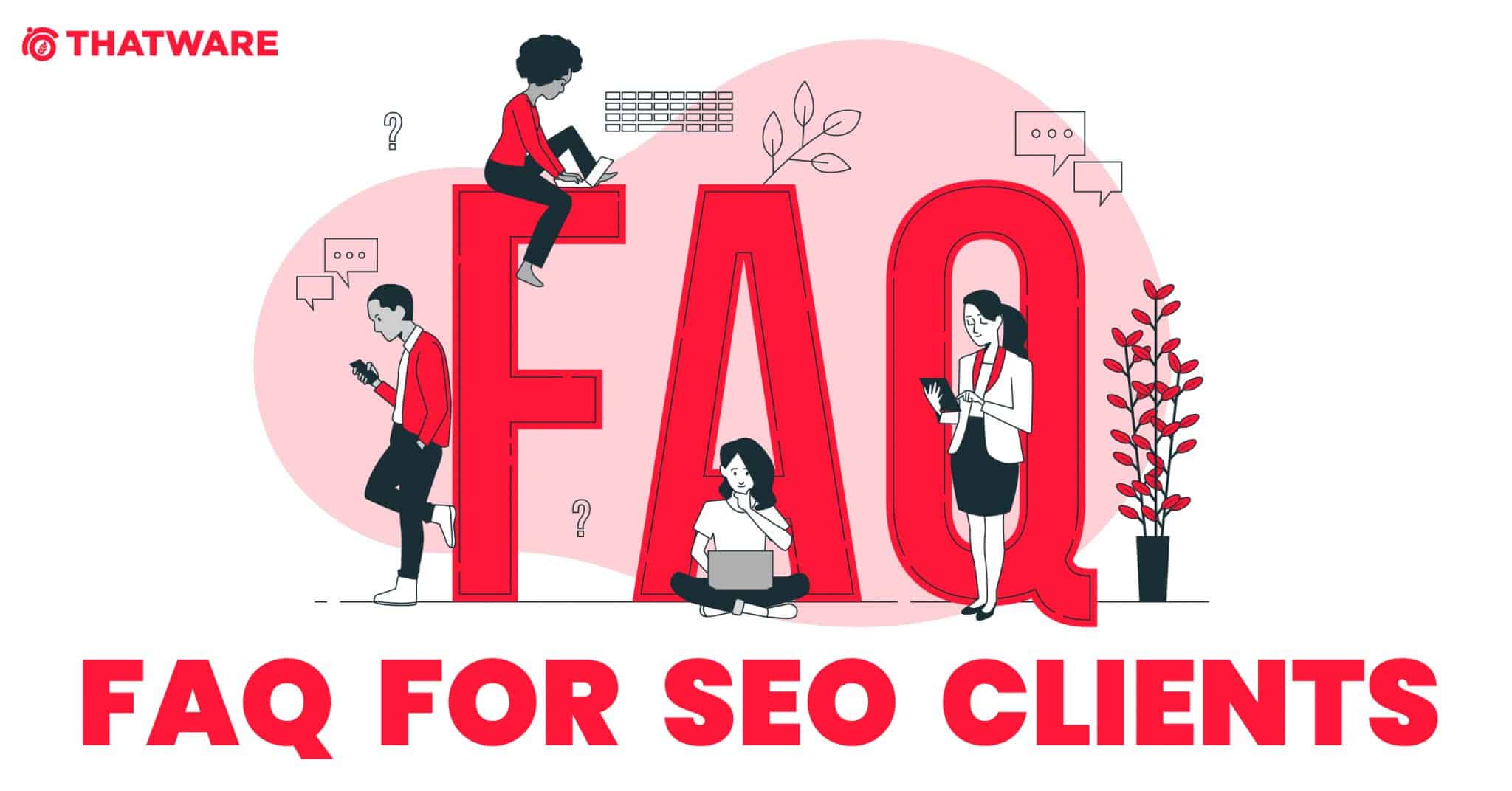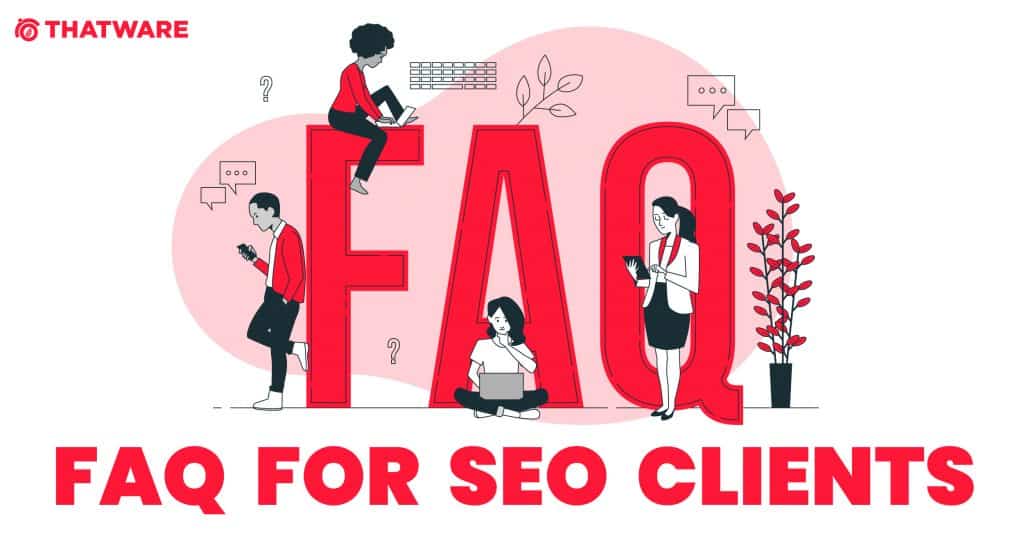 👉 What is the Benefit of Same Page Internal Links?
An internal link connects one page of a website to a different page on the same website. Whereas the same page internal links emphasise particularly for that specific page which we want to target to rank for a specific keyword.
👉 What are the Secret Strategies to Index Content Faster?
Please follow along the guide to get details https://thatware.co/index-content/
👉 Why Traffic Dropped After technical fixes?
Some site owners actually lose site traffic in the days and weeks following their website redesign and other technical fixes due to some architectural changes. But nothing to fear, it is also been restored after some days while Google reindexes the updated version of the site.
👉 What is the ratio of Nofollow and Do Follow backlinks?
There is no "Best Follow vs. Nofollow Ratio"! It is a good practice to keep a maximum of dofollow links percentage.
👉 How to Improve Domain Rating of the Website?
Build more 'followed' links to your site and your Domain Rating will increase. Just a side note that if the site you get a link from has a low DR score itself, or links out to lots of websites, in that case, the increase in Domain Rating may be negligible.
👉 How to Reduce the Spam Score of the Website?
A score of 1%-30% is considered a Low Spam Score. A score of 31%-60% is considered a Medium Spam Score. A score of 61%-100% is considered a High Spam Score. The fastest way to reduce spam score is to disavow all existing toxic backlinks of the campaign.
👉 What is Competitor Backlinks?
Competitor backlinking is a search engine optimization strategy that involves analyzing the backlinks of competing websites within a vertical search.
👉 Does Duplicate Content Affect SEO?
While technically not a penalty, duplicate content can still have an impact on search engine rankings. When duplicate content SEO occurs, webmasters may suffer rankings and traffic losses.
👉 What is a Crawl Error?
Crawl errors occur when a search engine tries to reach a page on your website but fails at it. Your goal is to make sure that every link on your website leads to an actual page. That might be via a 301 redirect, but the page at the very end of that link should always return a 200 OK server response.
👉 How Much Times It Takes to Visible Keywords on Google?
Well, it does not have any obvious answer. It is totally based on the keyword difficulty you are targeting to rank for on Google. Though to give a prediction, you need to wait at least 6 months to appear for your targeted keywords on SERP.
👉 Do Redirects Affect SEO?
Redirects are not that bad for SEO, but a wrong implementation might cause all kinds of trouble, from loss of PageRank to loss of traffic. Redirecting (301 is recommended) pages is a must if you make any changes to your URLs
👉 What is a Google Penalty?
A Google penalty is the result of a highly evolved, constantly changing algorithm that Google utilizes to crawl and inspect websites. If you have any penalty for your site you will notice organic traffic drops, ranking drops, etc.
👉 If We Change Our Website Content, What Happened to Our Keyword Rank?
Where you completely overhaul the site architecture and page content then you will certainly notice some keywords ranking drops or can also see some improvements, it solely depends on the content you draft for your website.
👉 Why SEO is so important to businesses?
SEO is important because it keeps the search results fair. The higher you rank in results pages, the more clicks and traffic your site will generate. SEO also improves user experience, making it more likely for customers to become repeat buyers. Above all, SEO is cost-effective.
👉 What are the uses of robots.txt file?
Robots. txt file tells search engine crawlers which URLs the crawler can access on your site. This is used mainly to avoid overloading your site with requests; it is not a mechanism for keeping a web page out of Google.
👉 Are H1 Tags necessary for ranking?
Yes, H1 tags are still very important for SEO because they tell both search engines and website visitors what the content of pages will be about.
👉 Should page title and H1 be the same?
If you are a Google new publisher, the page title has to be the same as the H1 tag. For other cases, the page title and H1 tag can be similar and closely related but they don't have to be identical.
👉 What is the benifits of offpage work?
Offsite SEO activity helps your website rank higher on the SERPs hence resulting in earning good traffic. Remember higher ranking = higher traffic.
👉 How to increase traffic value ?
In order to increase your traffic value, you need to maintain a good presence on high authoritative sites.
👉 Importance of GEO tag in SEO
Geotagging helps the search engines make the connection between your website and the location of what it depicts or where and when it was taken, or both. You can set the geotagging to be a particular location you choose, down to specific latitude and longitude coordinates.
👉 What is Dofollow Link? Benifits of dofollow link in seo?
Dofollow backlinks and nofollow backlinks are two ways of identifying a link and telling Google how to associate the website you are linking to your website. Dofollow links are a way to pass on authority to a website, while a nofollow link does not pass on link juice.
👉 Why DA and PA is important for a website?
Both Page Authority (PA) and Domain Authority (DA) work together for the overall success of your website. As a page's authority increases, it will naturally increase the domain authority too. Hence, it increases the overall website authority as well.
👉 What is the Logic for Choosing No-follow websites?
The logic behind choosing a nofollow site is to increase more unique referring domains for the campaign's backlink profile in order to boost the backlink profile of the campaign.
👉 Why we create In-link and internal linking?
Internal linking is one of the vital SEO aspects in SEO whereas in-links are the parts from the Screaming Frog tool genre. Internal links also connect your content and give Google an idea of the structure of your website. They can establish a hierarchy on your site, allowing you to give the most important pages and posts more link value than other, less valuable, pages. So using the right internal linking strategy can boost your SEO!
👉 Why we use Disavow link? How we select the disavow link list?
When you disavow on the domain level, you're doing a clean sweep of all the bad links on that domain. When you disavow by URL, you're more likely to miss bad links. You'll want to always disavow at the domain level.
Disavow can be done from Google Search Console individual web property as per site.
👉 Why we repeat the same domains to create the backlinks?
To increase the authority of your pages, to get links to more pages for the domain, to get more referral traffic.
👉 What is schema and its impotance?
A schema is a concept that helps organize and interpret information. Schemas can be useful because they allow us to take shortcuts in interpreting the vast amount of information that is available in our environment.
👉 What access should you need from client's end?
Google Analytics, Google Search Console, Google Tag Manager, C-panel Access, FTP details, Website credentials, etc is needed for SEO work.
👉 What are the Importance of google my business account?
GMB ensures you provide the necessary information customers need to visit your site or store, contact your company or make a purchase. Creating a GMB account on Google makes it easy for you to promote your business and provide crucial information to your target market.
👉 What makes a website search engine friendly?
Making a website SEO-friendly means that Google and other search engines can crawl each page on the website efficiently, interpret the content effectively, and index it in their database.
👉 What method do you use to redirect a page?
If you need to change the URL of a page as it is shown in search engine results, we recommend that you use a server-side 301 redirect. This is the best way to ensure that users and search engines are directed to the correct page. The 301 status code means that a page has permanently moved to a new location.
👉 Which SEO factors are not in your control?
1. The Domain Authority & Page Authority score of your website
2. Page Rank (Alexa Ranking) which depends on different ranking factors
3. Spam Links
4. Google Algorithm Update
5. Getting Backlinks from very good sites
6. Indexing & Crawling
👉 How much lead can we generate for our website in a month?
It totally depends on the traffic your website has at the moment. To get 300 leads, based on some standard and baseline performance metrics, you'll need over 30,000 visitors a month to your site. Just a rough estimation.
👉 Importance of GA, GSC and GTM?
In a nutshell: GA is the analytics tool that provides reports about activity on your site. GTM is a tool that fires your tracking codes based on defined rules. In the end, you can either implement GA code on your site directly, or you can implement the GTM code on a site and use GTM to trigger your GA code.
👉 How we increase the CTR value?
Optimize pages with low "organic Quality Scores." Download all of your query data from the Google Search Console. Combine your SEO keywords with emotional triggers to create irresistible headlines, and work to improve other user engagement metrics.
👉 How we fix the dropped keywords rank?
Step #1: Make Sure Your Site is Working.
Step #2: Confirm That Your Traffic is Actually Dropping.
Step #3: Check Google Search Console for Errors or Warnings.
Step #4: Review Recent Changes.
Step #5: Check for Recent Google Updates.
Step #6: Identify What Exactly Dropped (and When)
👉 What is link juice?
Link juice is the term used in the SEO world to refer to the value or equity passed from one page or site to another. This value is passed through hyperlinks.
👉 What is cannibalization?
Keyword cannibalization means that you have various blog posts or articles on your site that can rank for the same search query in Google.
👉 What is the best off page strategies for any website?
Brand Mentions.
Commenting.
Forums.
Influencer Outreach.
Guest Author.
Broken Link Building.
Social Networking.
Social Bookmarking.
Video Promoton.
Podcasting.
👉 What are the benefites of off page seo?
Increases Ranking: It helps your website rank higher on the SERPs hence resulting in earning good traffic.
Wonderful exposure: Higher the ranking, more will be the traffic because of the numbers of links, social media mentions and so on.
Increase in PageRank
👉 Is link building is enough for offpage SEO?
If you create high-quality engaging content that solves real problems for your visitors, off-page SEO such as link-building and social media can be much more effective. Link-building is only as good as the content your are linking to.
👉 What is guest posting of off page seo?
One of the most effective off-page SEO techniques is guest blogging because it helps with both link building and reputation building. When you write a guest post for another website or blog, the site often lets you link back to your website in the post or author bio. This link adds a site to your backlink profile.
👉 What is the best method of linkbuilding?
The best method of link building is to create quality content that sites want to look back to and also by acquiring some authoritative site links.
👉 How does blogs contribute in bringing ranks?
Blog posts that specifically use a variety of on-page SEO tactics can give you more opportunities to rank in search engines and get customers to visit your site.
👉 What is a search algorithm and why does it matter?
A search algorithm is a unique formula that a search engine uses to retrieve specific information stored within a data structure and determine the significance of a web page and its content. Search algorithms are unique to their search engine and determine search engine result rankings of web pages.
👉 What is organic traffic?
Organic traffic is obtained from the appearance of the site in the results of a search that users perform in search engines, such as Google, Yahoo, or Bing.
👉 What are some reasons to improve the loading speed of your website?
This matters because any time your UX takes a hit so does your conversion rate. You'll likely see higher page abandonment and bounce rates as well. To be more specific, studies show that an additional two seconds of loading time can increase your site's bounce rate by 103%.
👉 What are the most important Google Ranking Factors?
A Secure and Accessible Website.
Page Speed (Including Mobile Page Speed).
Mobile Friendliness.
Domain Age, URL, and Authority.
Optimized Content.
Technical SEO.
User Experience (RankBrain).
Links.
👉 What is toxic link?
Toxic backlinks are links from sites that can weaken your website's SEO. Toxic backlinks can happen organically, or they can be the result of previous less-than-white-hat backlinking efforts.
👉 What is web crawling?
A web crawler, or spider, is a type of bot that is typically operated by search engines like Google and Bing. Their purpose is to index the content of websites all across the Internet so that those websites can appear in search engine results.
👉 How many types of keywords are there in SEO?
There are various types of keywords: short tail, longtail, short-term, long-term, product defining, customer defining, geo-targeting, and intent targeting.
👉 What are outbound link?
Outbound links are links that are meant to take you elsewhere. These are links that are going to direct you to another specific webpage or website altogether.
👉 What is cross linking?
Cross-Linking is a strategy that can come in handy to get high search engine rankings, by leveraging multiple domains owned by you.
👉 How many characters limit in title tag & meta description?
Google typically displays the first 50–60 characters of a title tag and 155-160 characters in the meta description.
👉 Explain the term LSI
LSI keywords are search terms related to the main keyword you are targeting. They help to support your content and add more context to make it easier for both users and search engines to know what your content is about.
👉 How should SEO incorporate with our overall marketing strategy?
SEO can help you build better relationships with your audience, improve the customer experience, increase your authority, drive more people to your site, give you an edge over the competition, and increase conversions, which means more sales, more loyal customers, and more growth for your business.
👉 What SEO tools do you use?
We use SEO tools like Ahrefs, SEMRUSH, SEO Spyglass, SimilarWeb, Accuranker, etc.
👉 What are the most important factors/ key factors in Link Building?
Choosing relevant site regarding relevant niche.
Trust and overall authority of the website.
Site variance (Dofollow, nofollow)
Spam Score
Based on DA and PA
👉 How to improve Domain Rating?
Create content that people want to link to.
Pitch relevant and authoritative websites.
Use internal linking to improve the 'authority' of important pages.
👉 Why we do Do-Follow links?
Dofollow links are an HTML attribute that is used to allow search bots to follow the links. If a webmaster is linking to your site with do-follow link, search engine bots and people can follow you. They pass on link juice and really benefit your website to get a high Page Rank.
👉 How to fix mobility issues in GSC?
Click the Fix Mobile Usability Issues button in the email. You'll log into Google Search Console and see an ugly red graph of the errors.
Roll over an Error detailed in the list and click it. This will let you see which page(s) are causing issues.
Repeat the process for each error.
👉 What is role of Crawl Budget in SEO?
Crawl budget is a term invented by the SEO industry to indicate a number of related concepts and systems that search engines use when deciding how many pages, and which pages, to crawl. It's basically the attention that search engines will give your website.
👉 How to change robots.txt and sitemap.xml in shopify?
For Robots.txt file edit:
From your Shopify admin, go to Online Store > Themes.
Find the theme you want to edit, and then click Actions > Edit code.
Click the theme. liquid layout file.
The sitemap can not be edited manually but is kept up to date in real-time.
👉 How to fix leverage browser cache?
Fixing Leverage Browser Caching in WordPress with the W3 Total Cache can be done by following the steps listed below:
Download and install the W3 Total Cache WordPress plugin.
Navigate to General Settings and select Enable Browser Cache.
Click save and navigate to Browser Cache Settings
👉 How to get indexed by Google?
Go to Google Search Console.
Navigate to the URL inspection tool.
Paste the URL you'd like Google to index into the search bar.
Wait for Google to check the URL.
Click the "Request indexing" button.
👉 What is LCP & FCP and how to improve it?
A page's FCP tells you how long it takes for the first text or image-based element to appear in a visitor's browser. LCP, as its name implies, measures the time it takes for the largest element to appear. There are few, if any, elements that outweigh the rest (e.g., no massive image, video background, etc.
Compression means to "zip" your files in a smaller and lighter format so that they load faster. Once you reduce their size, the transfer between browser and server will be quicker. The browser will be able to load these resources faster. Load time and LCP will improve.
👉 Does TTFB matters?
It is important to improve your site speed and enhance the SEO process. You should start relying on time to first byte or TTFB. This is a metric that affects your rankings and ensures a better user experience.
👉 How to sort over 50k urls in sitemap?
All formats limit a single sitemap to 50MB (uncompressed) and 50,000 URLs. If you have a larger file or more URLs, you will have to break your list into multiple sitemaps.
👉 How to deal with google penalties?
For Google penalty recovery, you need to get rid of your bad backlinks and remove your duplicate content. In addition to this, you need to make sure that you are not uploading any low-quality content and doing anchor text distribution well.
👉 What is Importance of Dynamic Schema?
Dynamic Schema is a schema that would be dynamically configured at run-time based on a resource (schema of the source dataset in many cases).
👉 Suppose if you do not get my site ranked after 6 months? Is there a way I can get the money refund?
The decision will be totally based on the project contract.
👉 Why we use rank brain schema?
RankBrain makes using schema markup even more important for marketing content. Schema markup helps your page's listing on SERPs give rich, informative results for searchers.
👉 Tag,category and pagination pages are improtant for SEO?
It totally based on the site's architecture, depending on that we can conclude whether it needs to block or not. In most SEO cases, we generally block tags, pagination from being indexed on Google as it has little or no value in terms of SEO.
👉 How to fix orphaned pages in your sitemap?
Get a full list of your current website pages.
Run a website crawl for pages with zero inbound internal links.
Analyze the audit results.
Resolve any orphan page found.
Re-run the audit periodically to catch new unlinked pages.
👉How to index your new page without using Google Search Console?
The short answer is to update your sitemap by setting priority for the new page to be discovered by Google.
👉 What is user intent in SEO?
The user intent, or search intent states which goal or intention an internet user has when entering a search term into a search engine. User intent is now a central factor in content and search engine optimization and is eclipsing individual keywords as a dominant ranking factor.
👉 What is Plagiarism?
Plagiarism is presenting someone else's work or ideas as your own, with or without their consent, by incorporating it into your work without full acknowledgement.
👉 What are the benefits of blog post?
To drive traffic by new, useful content will give people a reason to visit your site.
Establish authority
SEO
Time-effective
Link building
Networking
👉 What is organic keywords & organic traffic?
An organic keyword is a keyword used to attract free traffic through search engine optimization (SEO). Whereas, organic traffic refers to the visitors that come to your website as the result of unpaid (or "organic") search results.
👉 How to improve my page rank in google?
Publish Relevant Content.
Update Your Content Regularly
Premium Metadata
Have a link-worthy site
Use alt tags
👉 What is importance of H1 tag?
The H1 tag is important for SEO, accessibility and usability, so ideally, you should have one on each page of your site.
👉 How AI helps in SEO ?
We as SEO professionals have already been using automation to increase efficacy, streamline manual tasks, and bring order to the daily workflow. With AI, we can expand our SEO capabilities even further.
👉 What is mobile first indexing?
In simple terms, mobile-first indexing means that Google's algorithms are using the content from your site's mobile site when ranking your pages.
👉 Does keyword cannibalization really affect SEO?
Keyword cannibalization happens when several pages on your website and pages ranking for the same keyword, you're actually competing with yourself. This affects your campaigns' SEO score.
👉How to fix cannibalization?
Restructure Your Website.
Create New Landing Pages.
Consolidate Your Content.
Find New Keywords.
Use 301 Redirects.
👉 How to improve content using AI?
Automate small content initiatives with natural language generation.
Improve personalization efforts.
Evaluate social media content.
Get fresh topics and keywords.
Gather user-generated content.
Use chatbots to help your customers.
👉 Does repeated backlinks on same domain works?
If you're building high-quality links, then every link you build will have some benefit for your domain. Therefore, building multiple links on the same site is a worthwhile strategy.
👉 The backlink doesn't contain any Hyperlink will it work?
Those backlinks are addressed as unlinked brand mentions, these are mentions of your brand on published sites that do not provide a link back to your website. It provides value for creating brand identity.
👉 What is passage Indexing?
Google is rolling out passage–based indexing, a change that enables it to identify individual passages on a page and process them as possibly being the most relevant for a given query. Read on here: https://thatware.co/passage-indexing/
👉 Where can I see my website in the next 6 months in terms of ranking?
SEO is a long-term game. In terms of ranking, it is solely based on the keyword difficulty that we are targeting, if it has low search difficulty then the chances for these terms to appear on SERP is much quicker than the high keyword difficulty. After 6 months you can expect good SERP exposure.
👉 Why has the ranking of the keywords decreased gradually over the past 2 weeks?
Based on frequent Google algorithm changes, this may occur for your campaign or for some technical faults in your site the ranking may be decreased.
👉 What is the importance of content in ranking a website?
Content provides information and this information can be used to educate search engines about your website. You should always keep in mind how your website is portrayed to search engines and whether it accurately communicates your website's purpose.
👉 What is keyword stuffing?
Keyword stuffing is when someone attempts to manipulate their position in the search results by concentrating on relevant keywords.
👉 What are the rules for writing a SEO blog?
Think before you write.
Create the structure for your blog post.
Decide on the title of your blog post.
Use headings, correctly.
Keep your paragraphs short.
Add links, but only when it makes sense.
Make use of keywords, without keyword stuffing.
Optimize the length of your blog post.
👉 How long will it take for my site to rank on the first page?
In a nutshell, the answer is six months to one year. The long answer is: it depends on certain SEO protocols.
👉 Other than SEO what are the other ways you can help my site to improve online visibility?
You can rely on social media marketing, pay per click marketing, email marketing, etc.
👉 How do I SEO my WordPress site?
Choose a Quality Hosting Plan.
Always Keep Your Plugins, Themes, and WordPress Software Updated.
Implement Caching to Reduce the Number of Requests Your Site Handles.
Use Image Optimization to Make Your Media Files Smaller.
Minify and Compress Your Website's Files.
👉 Which payment method is best for online shopping?
Paypal
Amazon Pay
Google Pay
American Express
Apple Pay
Stripe
Square
Visa Checkout
👉 How can you reduce page loading time?
Choose a performance-optimized hosting solution.
Compress and optimize your images.
Reduce your redirects.
Cache your web pages.
Enable browser caching.
Use asynchronous and defer loading for your CSS and JavaScript files.
Minify CSS, JavaScript, and HTML.
👉 How to update sitemap file in bigcommerce?
Under Store Setup > Store Settings. There is no sitemap. xml for BigCommerce stores. The XML sitemap is located at https://yourdomain.com/xmlsitemap.php and it's dynamically generated and cannot be manually updated.
👉 How to fix clickable items too close together in WordPress?
Step 1: Identify the Example URL.
Step 2: Run a Mobile Friendly Test.
Step 3: Optimize The Touch Target Size.
Step 4: Set The Mobile Viewport Tag.
Step 5: Validate Fix.
👉 Why blog and articles are necessary for seo?
Blogging is good for SEO because it helps with a number of things that are important ranking factors. When you have a blog that's updated regularly with blog posts that are high quality and on topics relevant to your audience, it can make a huge difference to how your overall website performs in search engines.
👉 How will I get the SEO updates ?
You will get the SEO updates on the respective mediums like WhatsApp, Basecamp, E-mail, etc.
👉 Will the updates be monthly or weekly?
You will get weekly updates every Thursday and a monthly report at the end of the month.
👉 How to make the payment?Is it advance or at the end of the month?
Payment will be based on the SEO contract. It can be advanced or at the end of the month.
👉 Is a PPC campaign necessary for getting a good amount of traffic on my site?
Apart from SEO, if you want to grow your website traffic instantly you can opt for PPC marketing.
👉 How fix HTTP error when uploading images in WordPress?
Refresh the Page.
Shrink or Resize the File.
Rename the Image File.
Temporarily Deactivate Plugins and Theme.
Ask Your WordPress Host.
Increase PHP Memory Limit.
Check Uploads Folder Permissions.
Move to the Latest Version of PHP
👉 How to Point a Domain Name to another Hosting?
Get the New Nameserver Values. First things first, find a list of nameservers from your new hosting provider.
Apply the New Nameservers Values. The next step of pointing a domain name to a new host is to replace the domain's old nameservers.
Wait for DNS Propagation.
👉 How to indexing products in magento 2?
Log in to the Magento Admin.
Click System > Tools > Index Management.
Select the checkbox next to each type of indexer to change.
From the Actions list, click the indexing mode.
Click Submit.
👉 Why should I continue SEO once I've gotten good rankings?
One of the ultimate goals of SEO marketing is to establish your company as an industry authority in your particular niche. This requires consistent content creation that is relevant and timely for your target audience as it takes time to build your authority. Also in order to maintain your search dominance in Google SERP, you need to continue SEO activities.