GET A FREE CONVERSION RATE OPTIMISATION STRATEGY NOW!
Do you feel like you are having good enough traffic to your website but no sales or leads? Well, this can be due to poor conversion rate optimization practices within the architecture of your website.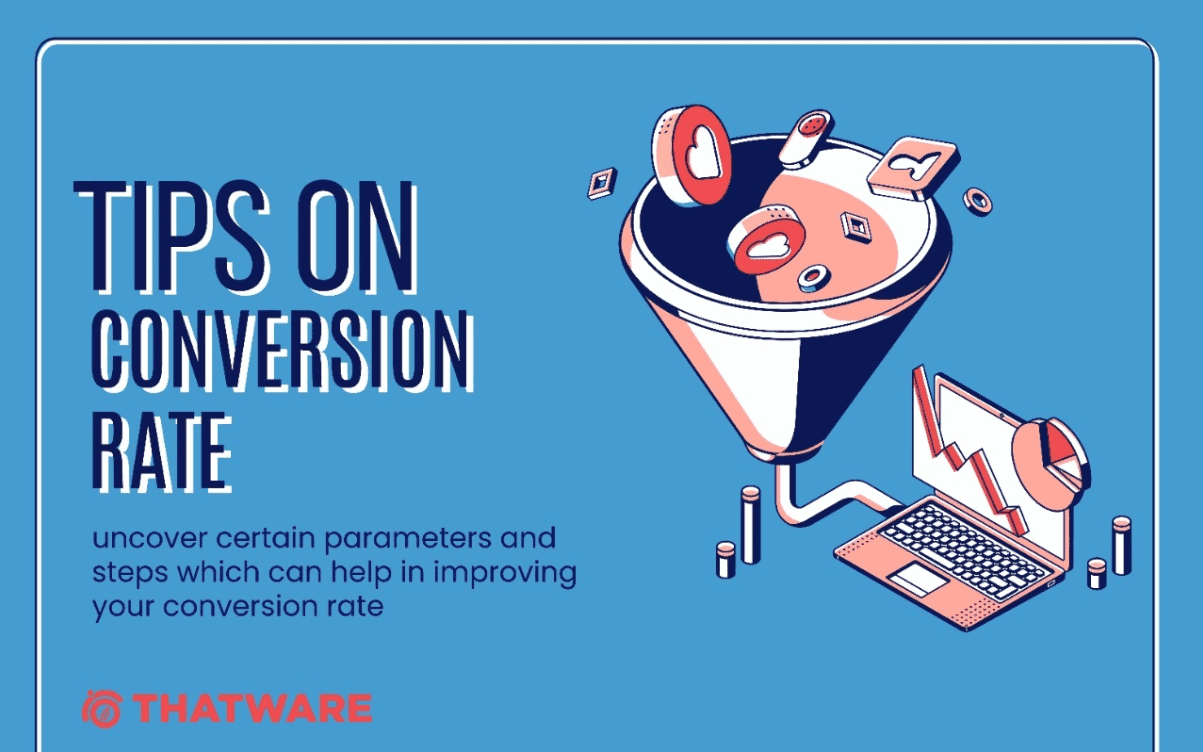 TODAY, WE WILL UNCOVER CERTAIN PARAMETERS AND STEPS WHICH CAN HELP IN IMPROVING YOUR CONVERSION RATE:
1. KNOW AND SURVEY YOUR CUSTOMERS
Before optimizing your website or your landing pages, you must invest time and strategy for knowing your customers. Here are some of the common factors which you can survey and know about your audience or customers:
Explore the marketplace over which your customers have a keen interest
Survey over the needs for your potential customers
Identify who are your potential customers
Analyze the behavioural pattern of the audiences or visitors to your website
Know more about the likes and dislikes of your potential customers
Survey their thoughts over some specific high selling products
2. ABOVE FOLD OPTIMIZATION
Conversion rate optimization experts definitely, need to focus on this section as their topmost priority. The above fold matters the most when it comes to user interactions. Some of the common areas which fall under above the fold optimization are mentioned as under:
Deferring of JavaScript and CSS should be performed on the first fold as it will help in improving the load time of the page.
Less or minimal ads should be placed on the first fold, it helps in creating a better user experience and also help with load time.
The first fold should always contain information sliders or USP. This can help in the retention of the users at first view.
Creative call-to-actions should be placed within the first fold, it will help in increasing the chances of getting appropriate leads and inquiries.
The above fold should be having a faster load time no matter what.
The main USP of your website and business should be well explained within the first fold of the website.
Make above the fold informative enough
3. CREATE A USP ON YOUR HOMEPAGE
Every business should have a unique selling point (USP), if you can showcase a proper USP for your website or landing page then it will make you stand out in the crowd. Thus, it will help in improving the conversions of your website. Here are few points which you should bear in mind before setting up a USP on your homepage:
Make sure your USP is not copied from someone else
Make sure your USP defines "who you are"
Make sure your USP creates a positive vibe over your audience
4. OPTIMIZE YOUR WEBSITE'S NAVIGATION
Proper navigation functionality is a must operation for maintaining a good conversion ratio. There are certain checks which should be followed for ensuring the best possible optimization for a website's navigation:
Every page should contain valid breadcrumb navigation as it will allow the users to keep track of the pages they visit.
The faceted navigation should have proper filters based on the products, this will help in much more user satisfaction when someone is browsing over different kind of products.
5. ALWAYS MAKE SURE TO PERFORM A/B TESTING
A/B testing always helps in choosing the best variant of a page. The process starts by using multiple versions of the same landing page and divide the traffic equally on all of them. The best performing page should go live. This is an old technique and still serves a lot of importance.
6. USE HEATMAPS
Heat maps are codes that can highlight the areas on your website which gets the most user interaction. A red sign will indicate high user interaction or user engagement; the blue colour will indicate less user interaction. Based on heat map study and analysis multiple things can be optimized such as lead magnets, call-to-action-buttons, newsletters, and etc.
7. USE SCROLL DEPTH TRACKING
This is a kind of tracking that can be implemented using a tag manager for a particular landing page. Scroll depth will help in tracking the length of the page which is scrolled by any visitor either horizontally or vertically. Scroll depth can help in identifying how much a page is worthy in terms of the value of the content.
8. PRODUCT / SERVICES SEARCH BAR OPTIMIZATION
Search bar optimization always helps a lot in improving the conversion rates. There are several tips for successful search bar optimization, some of them are mentioned as under:
The search bar should display similar items in case the searched product is not available.
The search bar should provide a faster result without much delay
The search bar should have faceted navigation and much more . . .
9. USE PROPER ROADMAP
For your services or product page, always make sure to use a detailed roadmap. This will leave a track on what will be the steps and plans of action from your side. Thus improving the credibility of your business by 32.3%
10. CALL-TO-ACTIONS OPTIMIZATION
A CTA button can help in power leads as it will directly redirect any potential visitor directly into the money page. A valid CTA button can improve conversion chances by 21.52% (based on a study by ThatWare). A CTA button can be optimized from multiple angles such as colour tuning, colour adjustments, placing, spacing, and etc.
11. CHECKOUT PAGE OPTIMIZATION
The checkout page is very important as it helps in keeping a track of the leads or conversions happening throughout the website. Furthermore, a better checkout page layout also helps in improving the conversions through the website. Some of the SEO optimization tips for the check-out page are mentioned as under:
The checkout page must contain tracking codes so as to monitor the number of conversions or leads.
The checkout page must contain multiple payment options so that it becomes more user-friendly for people who have multiple payment options.
The checkout page must contain badges from verified security providers such as Norton, trust SSL and etc. This will improve the credibility and trust of the users towards your website.
The checkout page must trigger warning in fields which are left blank or typed incorrectly
The checkout page should not contain any bug in any way
12. CONTACT FORM OPTIMIZATION
Contact form is one of the most important things which will allow you to have better control over the leads and the funnel. Below mentioned are some of the contact form optimization tips which can help in increasing the conversion rate:
Keep the contact form simply
Make sure the contact form is responsive
Make sure the contact form is device compatible
Make sure the contact form delivers the emails in a quick span of time
Make sure the sender gets an auto-response
Make sure the email DNS doesn't spam out
13. MAKE SURE TO STUDY YOUR MARKETPLACE
Before launching any specific product or service, make sure you do a thorough study of the marketplace. This will allow you to have better control over your demographics.
14. TWEAK YOUR UX
Make sure you create a good user experience on your landing page, better the UX; more likely you will have an increased conversion rate.
15. OPTIMIZE ALIGNMENTS FOR YOUR PORTFOLIO
Make sure you present the best shot to your portfolio, a proper portfolio will help in building trust for your services. Better the trust, better will be the chances for a higher conversion rate.
16. NO MATTER WHAT GIVE PRIORITY TO YOUR LOAD TIME
Make sure that the load time of your website is good enough. Users are most likely to leave your website if it loads slowly. Optimize your landing pages for improving the overall page load. Try to make the load time below 3 seconds. Also, try to make sure that the connection time (DNS) of your website is under 1 second.
17. BUGG FREE LAYOUT WITH FULL RESPONSIVENESS
Make sure all the contact forms, lead magnets and other important areas of the website are fully responsive and without any possible errors.
18. EXIT-INTENT TECHNOLOGY
Exit-Intent technology is such a technology where a pop-up will appear with cool interactives when someone tries to close the landing page or hit the back button. This is a famous practice and it will help in user retention.
19. DEVICE COMPATIBILITY TESTING
Make sure your landing pages are compatible across any given devices or platforms. Be sure that your contact forms, lead magnets, sliders, and etc. are not breaking up at any cost across multiple devices or screens. Compatibility issues may cause a serious decline in the sales figure.
20. PLAY WITH YOUR EMAIL LIST
Make sure to organize your email list in a professional manner, at some point or the other – you can utilize your email list for reaching out to the audience. Email marketing can definitely help in increasing the conversion rates of your business model as a whole.
21. RICH SNIPPETS AND STRUCTURED DATA
Make sure to utilize rich snippets and appropriate structured data such as events mark-down, extensions, etc. These will help in improving your click-through-rate (CTR) value and thus it will help in maintaining a strong ROI and leads.
22. CREATE VALUE ON WHAT YOUR SELL
Whatever you are trying to sell (products/services/ goods) through your online business, make sure you sell the right stuff. Always sell valuable things as it will help in increasing your credibility and scalability.
23. HIGHLIGHT DEALS AND OFFERS
If you are offering any kind of deals or market offers, make sure to highlight them in appropriate areas within your website where the user visibility and user interaction is high enough. Deals and offers will attract your potential customers and thus they might help in improving the conversion rates for your business as a whole.
24. BETTER TESTIMONIAL LAYOUT
Your testimonial layout should be given more priority as it will increase the trust and credibility of your business towards your customers. Make sure you provide an awesome layout of your testimonials.
To conclude, effective conversion rate optimization will definitely help in improving the overall sales figure. Furthermore, this can rapidly help in scaling up any online business when it comes to lead and revenue.
GET IN TOUCH
Fill out the contact form to reach out to our SEO experts in our company. If you want to enquire about affordable seo packages and any other customized needs. Please get in touch, we value and respond to each and every request which come across us.
CASE STUDIES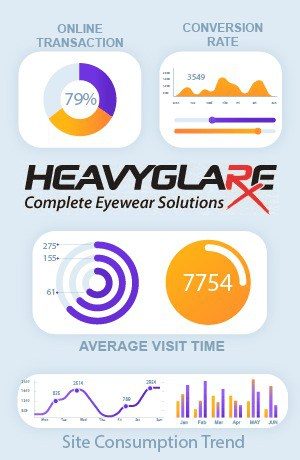 SUNRAY OPTICAL INC. (HEAVYGLARE EYEWEAR)
Services Provided: Advanced SEO
The business marketing seo model which has been performed for the above campaign is the advanced model. In other words, we have performed the top-notch search strategies with the right blend of semantics, data science, advanced link building and NLP. As an end outcome, below are the statistics which were obtained:
1.5 $MILLION
In Sales
600,000
Organic Session
Over 50,000
Checkouts