GET A FREE CUSTOMIZED SEO AUDIT & DIGITAL MARKETING STRATEGY FOR YOUR BUSINESS IN UAE
It's an era of extreme globalization and the world has opened its doors to overseas business opportunities all across the globe. Organizations are seeking more share in the market both nationally and globally. Hence the role of online marketing consultant has become extremely important in the world. Many agencies claim to offer the best SEO services; however, they are not successful when it comes to delivering results. The main reason for their failure is a lack of knowledge and experience.
ThatWare extends its SEO services in Dubai through its well-managed team of qualified professionals who know what they do and where they are heading. Despite the increasing importance of social media presence, we observe many organizations remain aloof in the digital marketing space because of a lack of knowledge and technical expertise. Clients also shared their digital transformation pain points and the major challenges that are faced in digital transformations.
Our SEO agency in Dubai, aims at addressing the challenges clients face and filling up the gaps of digital transformations. We understand that the average customer relies on search engines such as Google to provide solutions to their queries or fulfil the requirement of any product or service. We provide the best SEO services in Dubai as we tap into this digital space with our data-driven approach to uncover new leads through traffic generation for our clients.
Amongst all the SEO companies,Dubai,Thatware differentiates itself in the following ways:
Full proof strategies:

Thatware offers customized solutions to its clients and business needs. Our SEO experts focus on technically winning higher ranks for your website so that there is a constant flow of consumers and increased revenue. Our experience in this industry is vast and differentiated by handling variety of clients from individual freelancers, to mid and large sized organizations. This has made us learn over the years and our solutions are full proof and market tested. You can definitely rely on us!
Local and global exposure:

We provide geo-targeted SEO services. This helps you gain visibility both globally as well as in the local market. Our careful analysis and in-depth understanding of markets, would help you attain your goals in a constructive manner. For a quick free analysis of your website regarding its current performance, get in touch with any of our consultants.
Building Brand Image:

We aim at increasing your rankings on search engines and fetching you as much visibility as possible. The team at ThatWare is qualified enough to deliver laser specific content according to the taste of your target market. We understand the fact that searchers on search engines look for solutions to their problems or pain-points rather than marketing. Hence we address and locate and these points effectively.

Once you have a strong reputation in the online space, search engines do not fail to rank you at the top because you become the go-to website of users. This contributes a lot towards building your brand image in the eyes of users. As compared to any SEO Agency in UAE, we help you with cost effective solutions to your issues.
Increased ROI:

With ThatWare be rest assured about your choice of agency to depend upon for your digital marketing needs. We extend SEO services in UAE, in such a standard manner that we have always won our client's hearts with our services. Your minimal investment on SEO with us would lead you to generate quality leads and maximum inflow of traffic.

We highly recommend clients to not miss on their presence in the digital marketing space because it's the future. With high traffic, your lead conversion increases into sales and hence this inter relationship is what we target to improve. Blindly we can conclude that ROI increases. For data of our success projects, get in touch with our consultants.
The services we offer are exhaustive:
SEO:

We believe digital transformations are incomplete without SEO. As a digital marketing agency we understand the importance of adopting a robust strategy which can take your business places across the globe. We also understand that developing strategies is quite a tricky task. Due to which we can help you with our expert consultation which is backed with rich experience and technical knowledge. Our inputs and ranking would invariably lead to conversions and sales. We adopt powerful strategies like Project analysis, competitor analysis, On-page SEO, Off-page SEO,reporting,reassessment.
Project analysis:

ThatWare has been providing SEO services since years and hence we know that project analysis is the key to a holistic view of the project's potential. This phase is basic when we onboard a client. We work around concepts like monthly organic visits, real conversion rates, keyword density, and quality inbound links.
Competitor Analysis:

It is of absolute importance to locate relevant keywords for your services or products before focusing on competitor analysis. For this purpose, our SEO experts majorly focus on AI based qualitative keyword research to figure out competitors and their usage of the same. We provide you with in-depth insights on where your digital presence is lacking and work with you to fill up those loop holes.
On-Page SEO:

Thatware works tirelessly to build around optimizing your website for on-page SEO. We invest in a routine and periodic basis to make sure it aligns with the ever evolving digital market space and search algorithms. We verify and provide inputs on essentials like keyword density, URL, and metadata of every page of the website.
Off-Page SEO:

We imbibe significant efforts in holistically combining your backlinks, social media presence, online directory listings, and reviews that are done off your website. We work on influencing user perception and improving the same to build a holistic and quality brand image on reputed platforms.
Reporting:

Thatware would be partnering with you as a SEO marketing company. We would constantly assess your website performance to keep you updated with changes and inputs for making it more and more user friendly. Our experts would get you the numbers that are relevant for your business.
Reassessment:

SEO is an ongoing process that never stops and hence it not only provides 24/7 promotion while you sleep but also requires constant maintenance. Hence, providing assessment is a major competency of ThatWare. We consistently monitor your search engine rankings to find out what work well for you and what doesn't.
Pay Per Click Campaigns:

PPC campaigning extends benefits like control and effectiveness of earning top spot positions on search engine results. Thatware has an in-house team of experts who offer full-range of PPC management services to help clients achieve their goals in a streamlined and low cost manner.
Search advertising:

ThatWare believes in a results-driven approach. Hence all our campaigns are objective oriented and enforce searchers to land on your website as its listed on the first page of search engine results.
Display advertising: Our expert designing team is skilled to deliver banner ads with rich media elements for digital platforms to boost brand visibility and enhance PPC advertising efforts.
Social media advertising:

We explore social media leads and traffic with our laser specific and informative advertisements which are based on user information and interactions as a part of our SEM & SEO services.
Remarketing:

We conduct an in-depth analysis of web-cookies to remarket the ads based on mapped customer actions.
Google shopping ads:

Our Google Ads are customized and delivered to increase user engagement and increase lead conversion.
Mobile advertising:

All our advertisements and promotions are mobile friendly and hence deliver high user experience to ensure engagement and steady flow of users using mobiles.
Social Media Optimization:

ThatWare believes that social media is the heart of digital marketing strategy and is a great way of starting a trend or conversation about your brand. This service can help you in business promotions on various social promotions and accelerate customer engagement.
Identifying objectives:

Thatware believes that each client is different and has its own needs. There is no blanket solution for catering to social media needs of clients. Promoting ourselves as a SMO service provider, we start by identifying your objectives which you wish to achieve through social media.
Social media audit:

Constant auditing becomes mandatory to survive in the dynamic digital marketing space. We audit your existing strategies and campaigns on all platforms to identify where is the loophole and then extend our services to fill them up. We formulate novel strategies for starters who are absolutely new in the digital space and guide them in delivering results.
Account management:

We extend our services in creating, publishing and managing content through your social presence about your services and products on various social media channels. We dedicate an account manager to initiate the services, handle your needs solely and handhold you through your digital transformation journey.
Market analysis:

SMO is incomplete without market analysis.We conduct an in-depth research driven analysis of your competitors to provide the best advertising strategy for your business.
Content plan:

Trust us with your content needs. We are brilliant content creators who craft informative content to showcase the true essence of your brand.
Ongoing analysis:

We consistently observe the results generated by your online campaigns and promotions to provide you with an in-depth report of your performance.
Get in touch with our experts today for a Free website analysis and more information!
GET IN TOUCH
Fill out the contact form to reach out to our SEO experts in our company. If you want to enquire about affordable seo packages and any other customized needs. Please get in touch, we value and respond to each and every request which come across us.
CASE STUDIES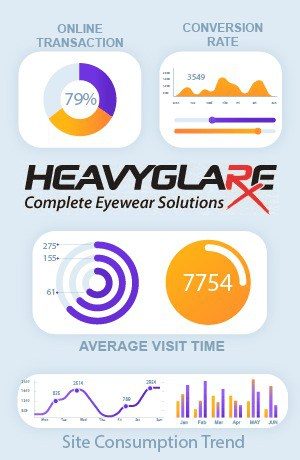 SUNRAY OPTICAL INC. (HEAVYGLARE EYEWEAR)
Services Provided: Advanced SEO
The business marketing seo model which has been performed for the above campaign is the advanced model. In other words, we have performed the top-notch search strategies with the right blend of semantics, data science, advanced link building and NLP. As an end outcome, below are the statistics which were obtained:
1.5 $MILLION
In Sales
600,000
Organic Session
Over 50,000
Checkouts