Keyword research, one of the most vital steps of any SEO campaign to determine which strategic keywords to target in your website's content by satisfying both users and search engines. At ThatWare we do this extensive research by keeping in mind the following things:
What are people searching for?
How many people are searching for it?
Brainstorming some 'seed' keywords
Inspecting competitor keywords
Using different keyword research tools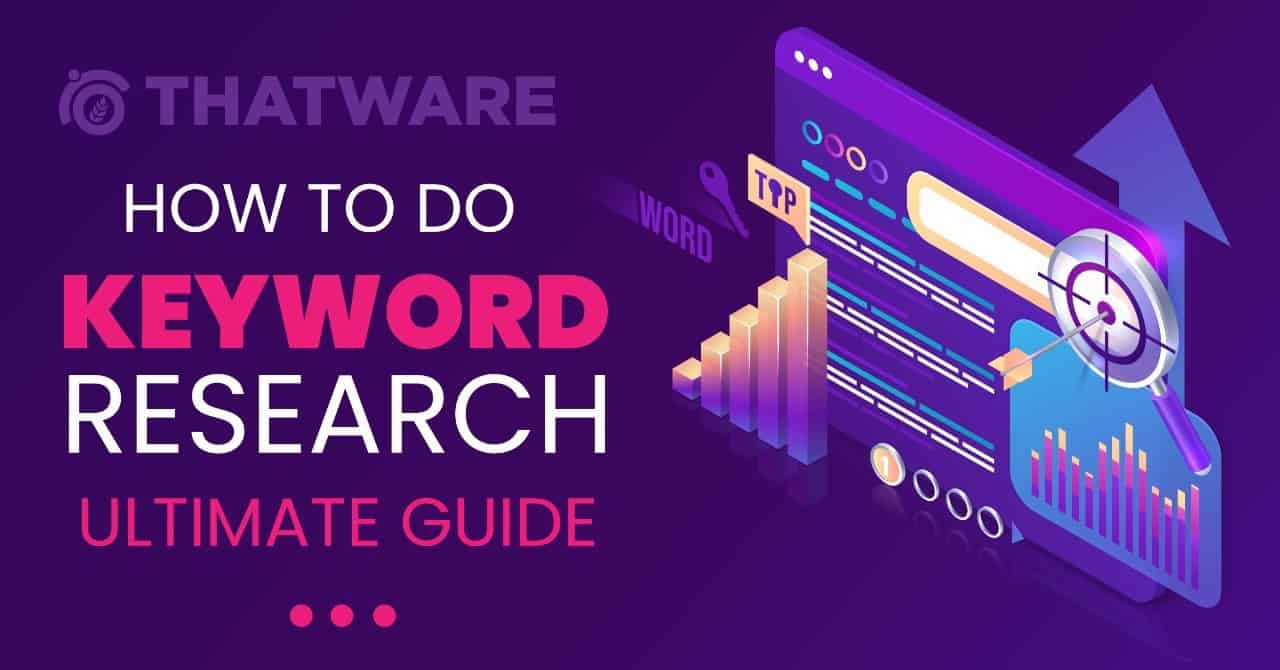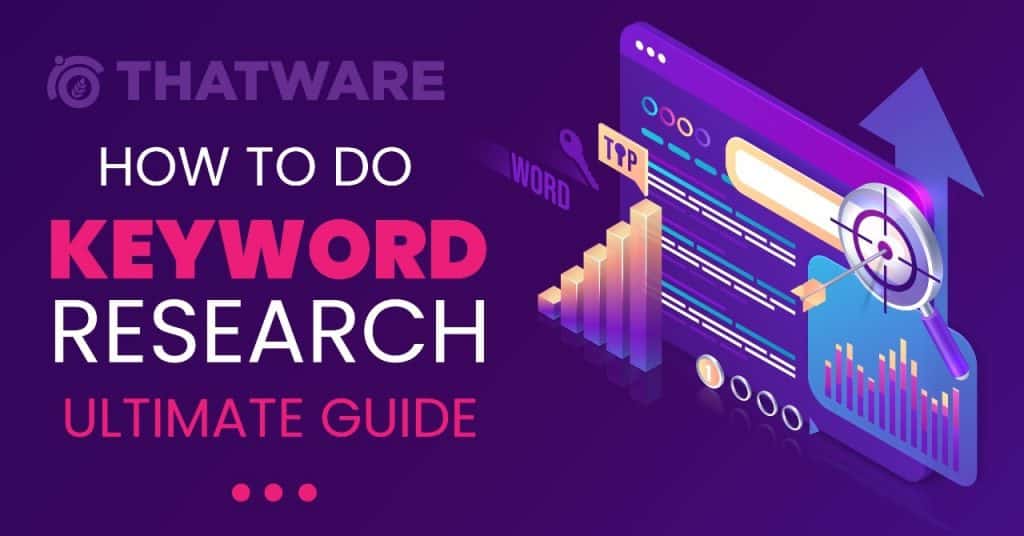 Here are the steps mentioned below that we take in terms of keyword research for any SEO campaign:
Step 1: Keyword Research Using Google Keyword Planner
The most generic way we use for keyword research is by using the Google Keyword Planner tool.

Once we select the keyword planner option then we put ideas related to the specific niche we will be targeting for the keyword research process as shown below: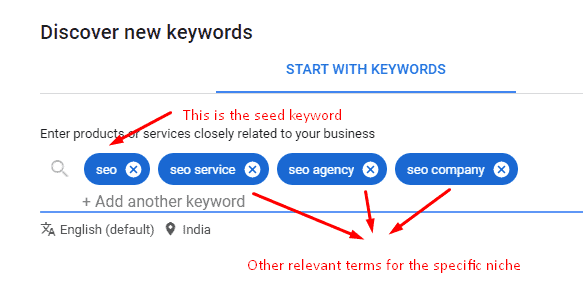 Then based on the niche relevance, average monthly searches we pick keyword ideas that best suit the business goals.
SIDENOTE:
The "Competition" metric in Google Keyword Planner has nothing to do with SEO. It shows how many advertisers are willing to pay money to show ads in the search results for that keyword. You should pay no attention to it if you want to rank organically.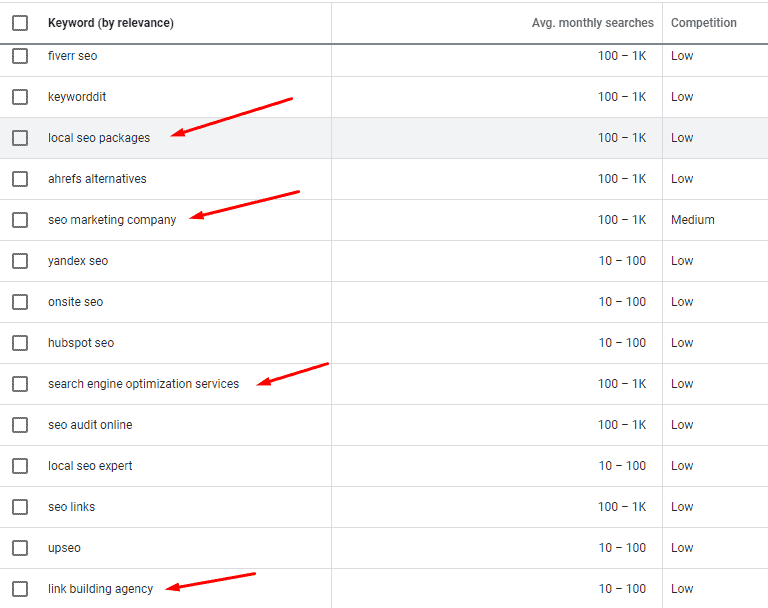 We also use refine keywords section of the Google Keyword Planner in order to generate more enticing keyword ideas as shown beside: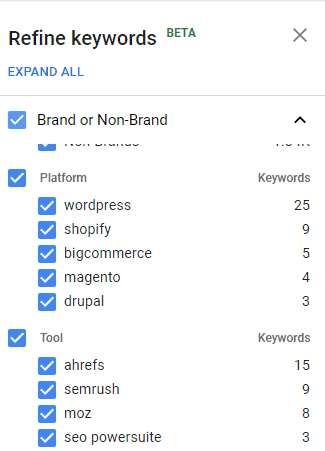 Step 2: Keyword Research Using Ubersuggest
We also use Ubersuggest's keyword analyzer tool to find relevant terms that could be beneficial for your business and suggest accordingly.
First up, we set up the niche-specific term in the keyword overview search bar and set the country where we want to target the users as shown below:


Then we get a handful of keyword lists following the search term we provided based on the search trends, search volume, etc.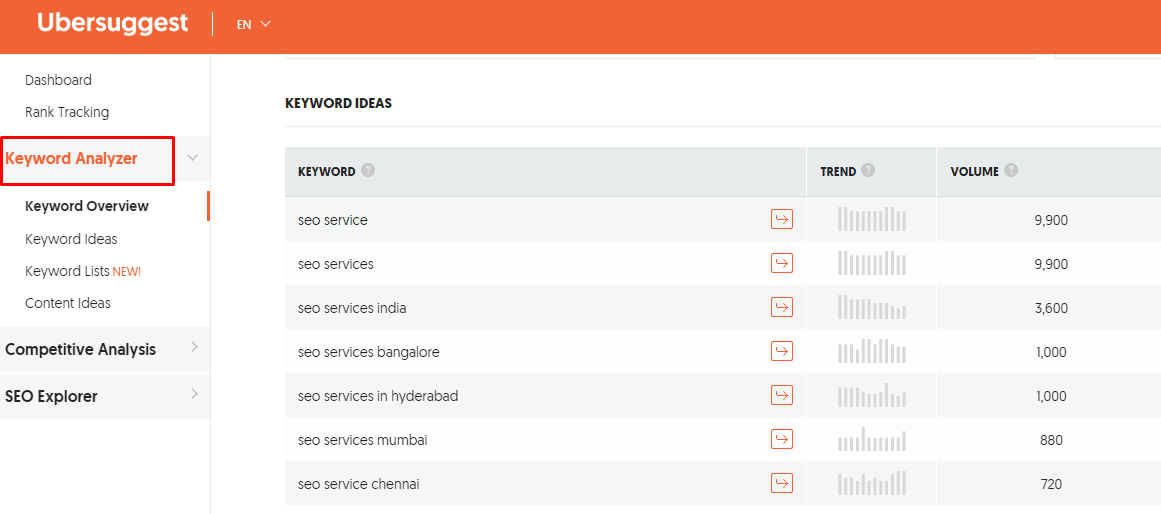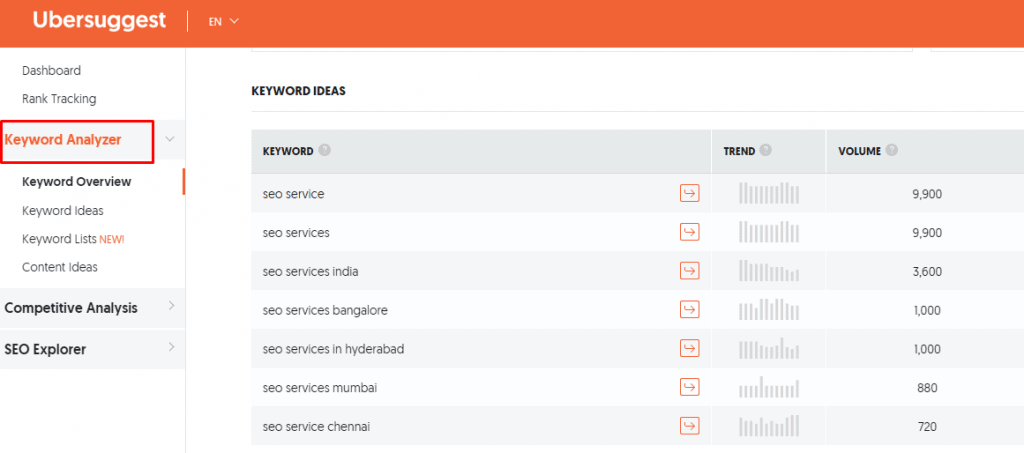 We also pick the keywords based on the suggestions, related terms, prepositional keyphrases which sit best for the niche we are targeting. We also pick some important question-based queries which can be used for the FAQ (Frequently Asked Questions) section of the website for which we are working. This is also suggested from our end if your website doesn't have any FAQ section.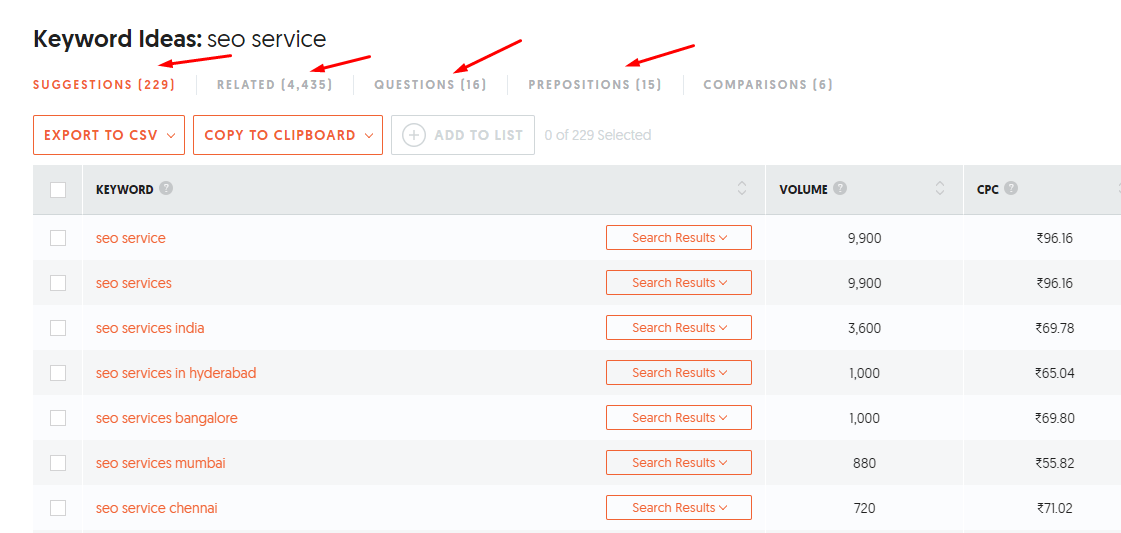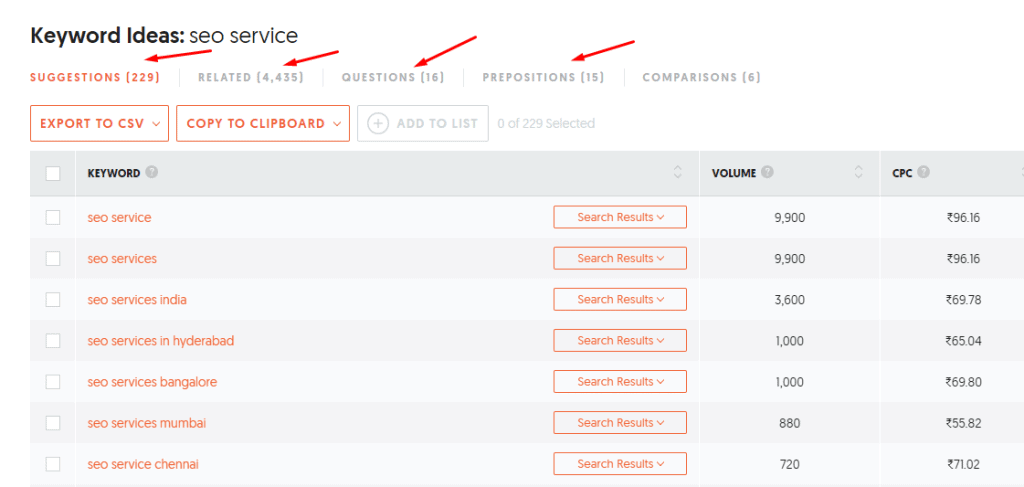 Step 3: Keyword Research Using Soovle
Soovle is a search engine that aggregates results from other search engines. We also use this supplementary keyword research tool to fuel our keyword research strategy for any seo campaign. We use this tool to find broad topics which can be broken down into keyword targets.
Here's how we do this:
Let's assume, we're in the "seo" niche. Head over to Soovle and enter a keyword phrase related to our industry. In this case, we will use "seo service".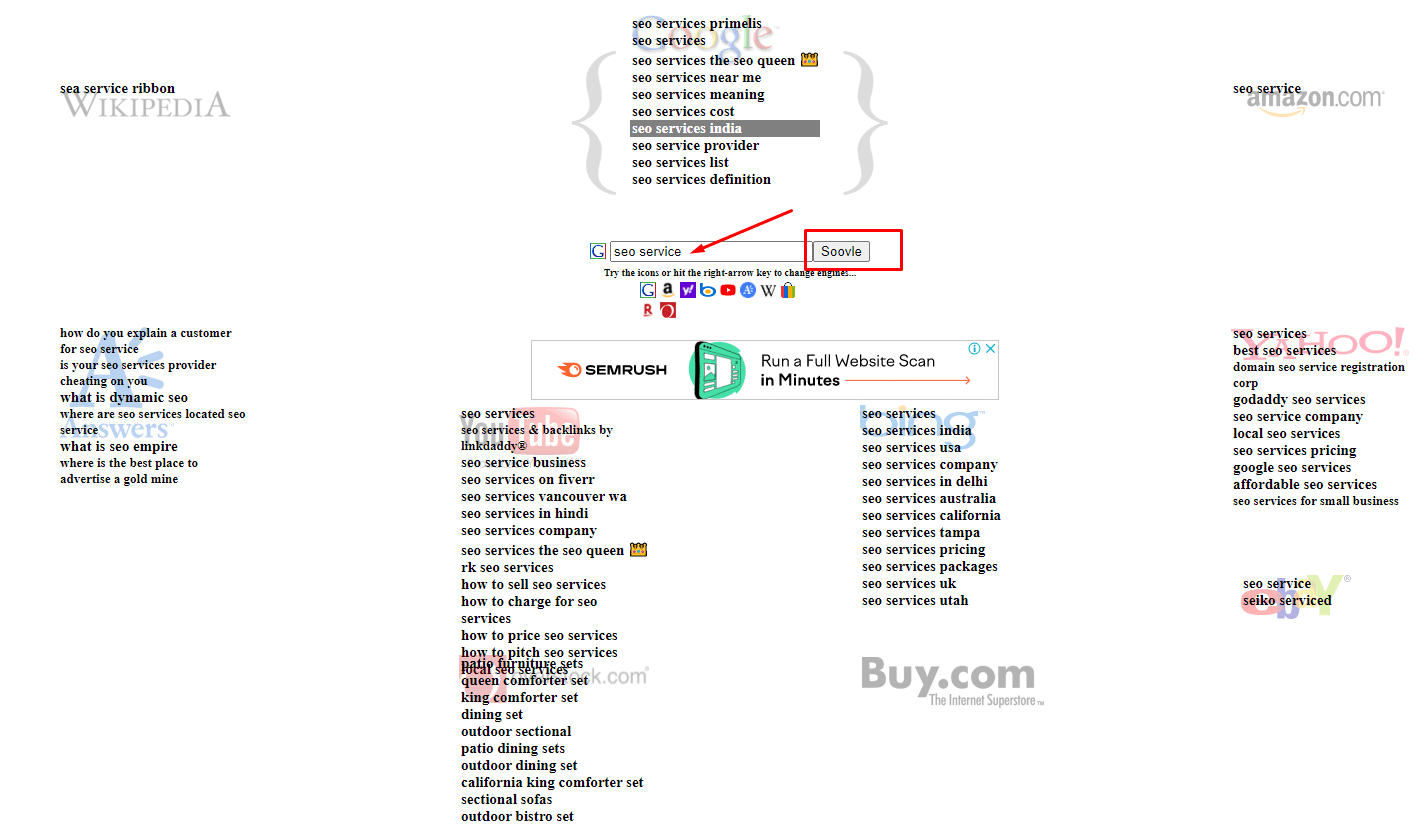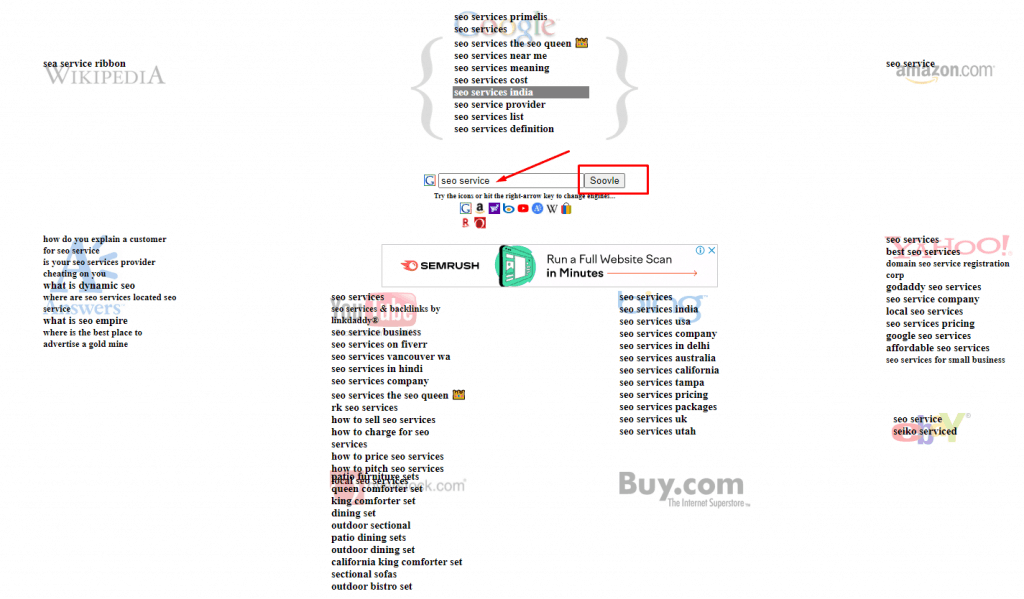 From here, we can also get a handful of keyword ideas and can implement them in our SEO campaign. Now the question is how you will pick the terms which going to generate good results for your campaign, for that you need to take the assistance of Ubersuggest CPC & Search Volume Enhancer extension. Stay tuned for the process below:
Now take any of the terms which you got from the soovle search engine tool, let's say we pick "seo service provider" from the list.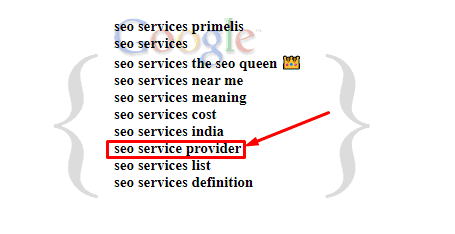 Now head over to Google search engine, make sure the above-mentioned extension should be installed on the browser you are using and select the country-specific search engine and location as shown here:


You can set the country by going into the settings. Here's the guide:
First of all, select settings >

Then select search settings following the same.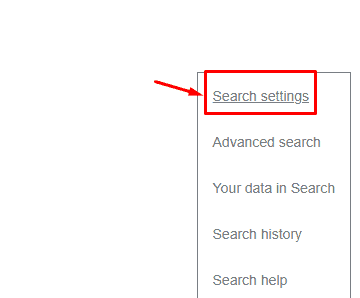 Finally set the region you want to target the keywords on.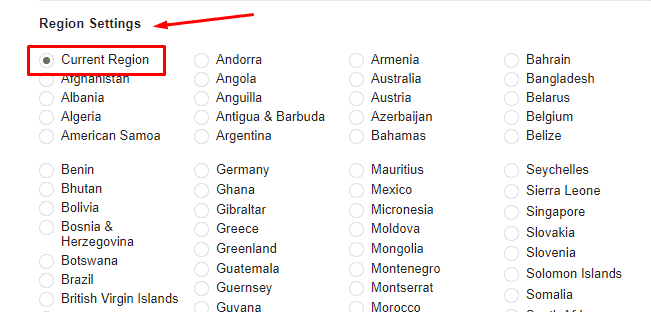 After performing the search in Google you will get the monthly search metric for that particular keyword as shown below with the help of that extension (SEO Quake):

In this way, we do some insightful keyword research for any SEO campaign.
Step 4: Keyword Research Using Google Search Operators
Google search operators (sometimes called Google advanced search operators or Google search commands) are special commands that extend the capabilities of regular text searches on Google.
Let's dive into the important Google search operators we generally use in our keyword research procedure:
intitle: To find pages that contain a specific keyword in the title.
Suppose we pick a keyword "seo services Kolkata" with relevance to our business goals and set it up in this operator as follows:
As you can see in the below screenshot, we can see various other relevant keyword ideas in form of LSI (search terms related to the main keyword we are targeting). Based on that we pick some of the relevant keywords to fit into our website content and target the keywords. Here from the screenshot below, we can target such as:
Technical seo services
Seo services agency
ROI focused seo services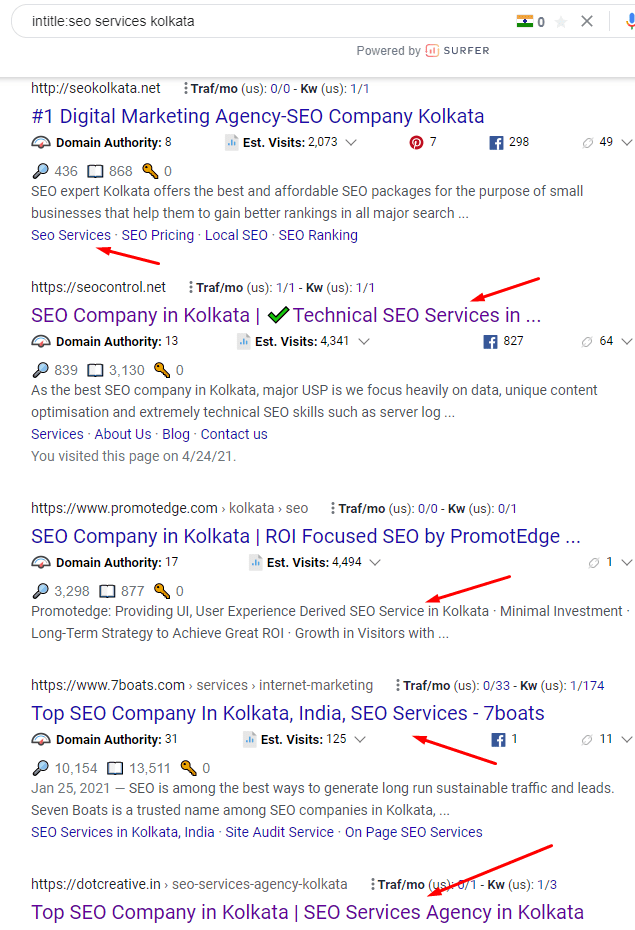 Likewise, we use other operators in the same way to find relevant keyword ideas, they are:
allintitle: Like "intitle," this finds web pages containing all of the specific words in the page title.
intext: Finds pages containing a specific word in the content.
allintext: Finds results containing all of the specific words somewhere on the page.
Step 5: Keyword Research Using LSIGraph
We recommend targeting LSI (latent semantic indexing) keywords in SEO to provide more substantial contextual information that supplements main keywords. To move forward with this process we use https://lsigraph.com/.
Here's how:
Place the main keyword in the search bar to generate LSI keyword ideas.

And we then have a worthy list of LSI keywords to target for the campaign as shown here: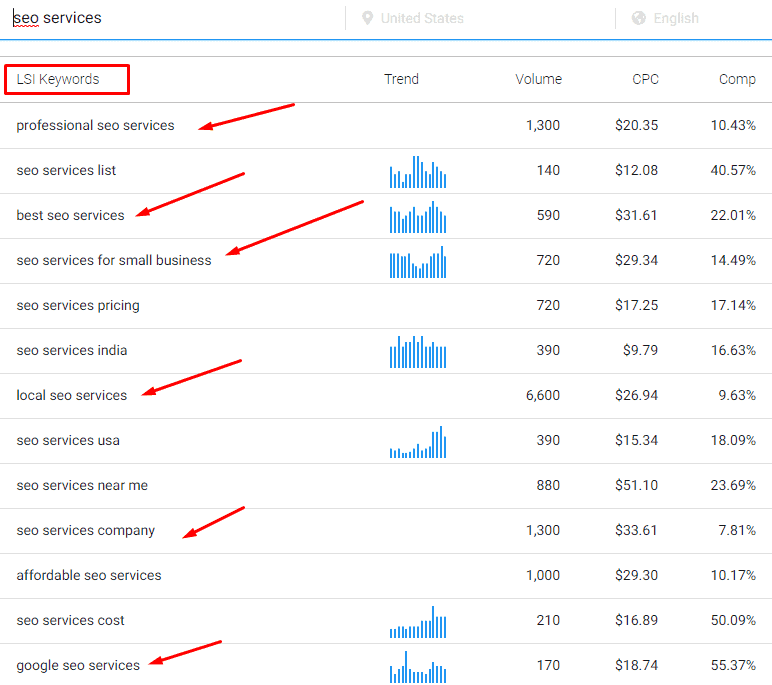 SIDENOTE:
LSI keywords are keywords that we should be using in our content to help search engines understand our content deeply, leading to higher ranking potential.
Step 6: Keyword Research Using Google Autosuggest
When you type something on Google search box, Google automatically suggests some of the useful and most searched key phrases that have been used very often. This list is known as Google Autosuggest. We pick some keywords from this list also to target for the SEO campaign. Here's a glimpse: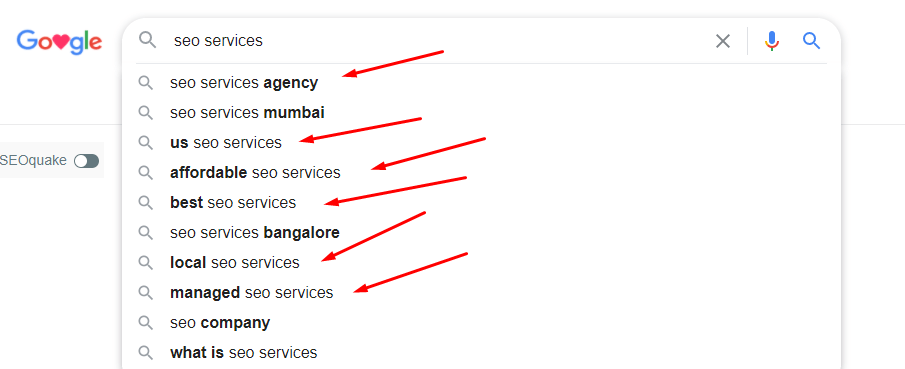 Step 7: Keyword Research Using Google Related Searches on Specific Region
Related searches, the eight search results at the bottom of the SERP (search engine results page), are automatically generated based on Google's algorithm to determine terms related to your search. We pick some keywords from these bottom eight results also as shown below:

Step 8: Keyword Research Using Google Trends
One of the handiest tools for discovering new keyword trends is this one, Google Trends. Just type the search term straight away in the query box like this: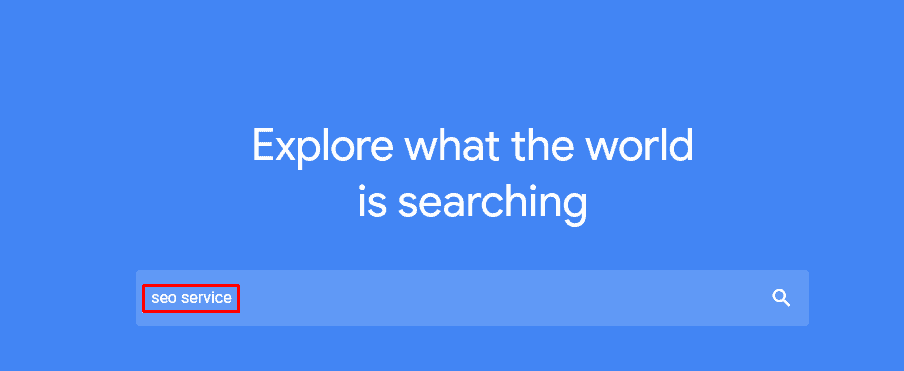 Then, make sure to select specific demographic you want to target for the search term to discover what's trending there.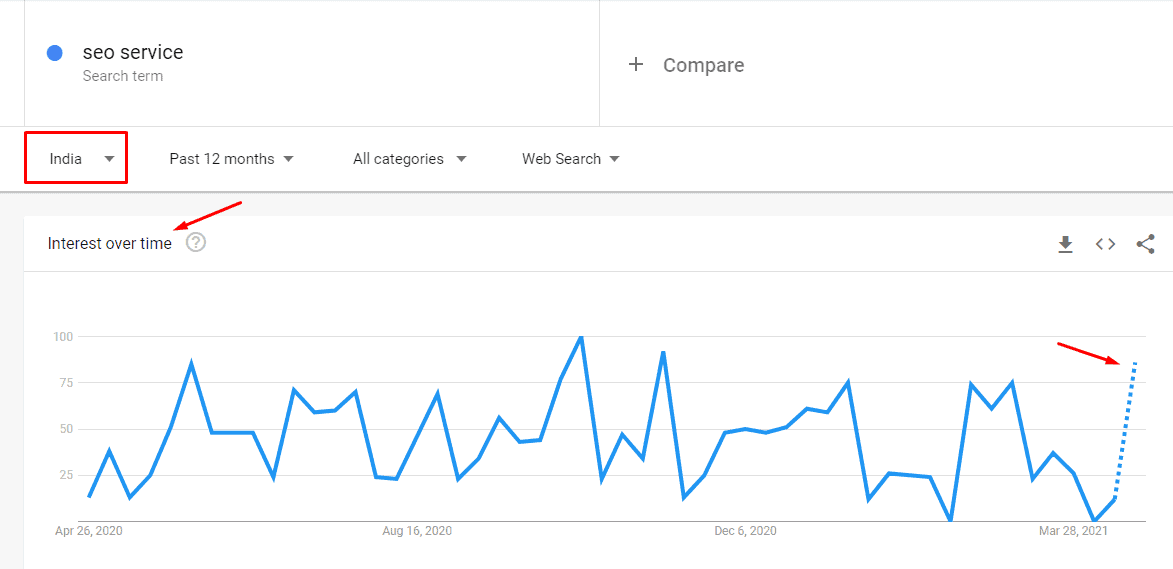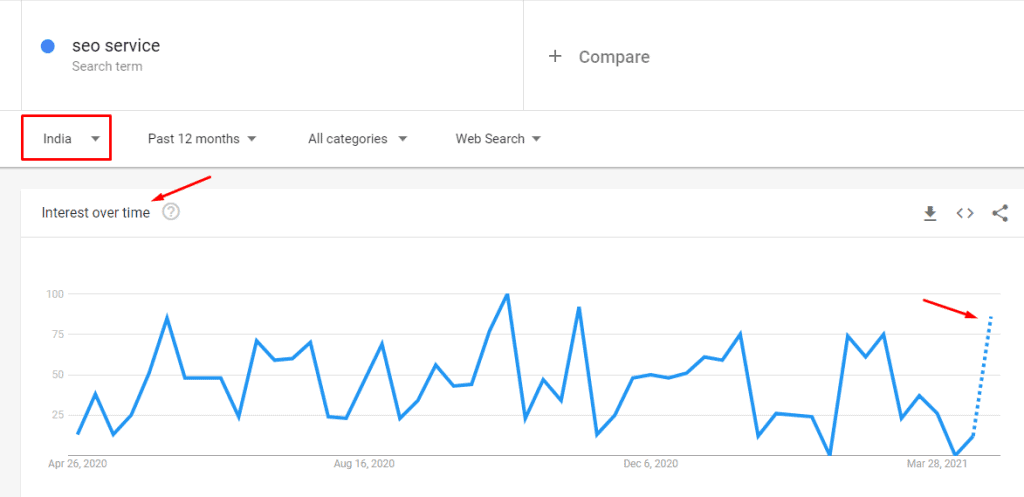 The graph is showing positive movement for the search term, so undoubtedly we can target this keyword with some other related queries as mentioned below:

WHAT DOES IT MEAN BY BRANDED KEYWORDS?
Branded keywords are terms or phrases that potential consumers use to find out more information about a company's products or services.
In other words, consumers already know that the item is part of a company's product mix. They need more information to make a decision, compare it, promote it to third parties, and so on.
As a result, they have great strategic significance for the organization and must be used effectively and balanced with the other keywords and stages of the marketing funnel.
WHAT IS THE SIGNIFICANCE OF BRANDED KEYWORDS?
What is the practical significance of this notion for your strategic planning? The advantages are numerous and might assist in the enhancement of your sites and methods. Here are some persuasive reasons about the importance of branded keywords. Let's check them!
AIM TOWARDS IMPROVEMENT
Proper targeting is critical for an effective Content Marketing campaign, as well as paid advertising. The more tailored your content, the more probable it will influence your persona. Your message gets more polished and by the expectations of your audience, improving the likelihood of conversion.
UNDERSTANDING THE BASIC DEMANDS OF YOUR TARGET AUDIENCE
To provide a great user experience, it is critical to understand your target audience's demands. Branded keywords allow you to target your audience more effectively. This is because they are more particular terms. This in return generates more traffic to your sites. Which in return keeps your audience happy and makes them more likely to convert.
GAINING ACCESS TO FRESH OPPORTUNITIES
As a result, your marketing team will be able to find new business prospects. For example, if you see an increase in demand from your audience for searches using branded terms, you may develop a new performance section.
FINDING WEAKNESSES IN PRODUCTS AND SERVICES
Another intriguing option based on branded keywords is to look for consumer comments and reviews about your products and services. The idea is to determine which issues, for example, are more influenced by criticism and complaints.
It is critical for anyone trying to increase their internet presence—and do it efficiently—to identify which phrases are most linked to their products and services.
KEEPING TRACK OF COMPETITOR PERFORMANCE
It is also necessary to keep an eye on your competitors to develop more successful marketing and plans.
What's better than looking for branded keywords connected to your competitors? It can either because you want to learn the company's best products and services from your audience. Or, track the most wanted attributes in these firms.
Furthermore, it may be valuable for your paid media strategy, assisting you in understanding the most searched phrases in connection to your competition and investing in campaigns accordingly.
Such market monitoring guarantees that you are always up to date and looking for strategies to avoid losing market share in your category.
WHAT ARE THE DISTINCTIONS BETWEEN BRANDED KEYWORDS AND NON-BRANDED KEYWORDS?
This is a fairly basic distinction. After all, while developing SEO tactics, you must consider how the algorithms assess and process search phrases, correct? More importantly, one should check whether the company is mentioned within the keyword term.
As a result, the other keywords will cover product differences, the requirements they serve, the pains that consumers face before utilizing them, their advantages, trends, and other information that will assist the potential customer in making their selection.
BEST PRACTICES FOR KEYWORD MAPPING
There may be some apparent possibilities if you've ever considered the keywords you'd like to target. However, those are likely to be the most competitive keywords. And if you spend every page focusing just on those phrases, you may be squandering your time and neglecting some lucrative fruit. Are you unsure where to begin when it comes to keyword mapping? Here are some excellent practices to consider:
SPEND TIME RESEARCHING KEYWORDS
When individuals are looking for a solution to an issue, they frequently use Google. The bulk of those who do (67%) select the first five organic search results. Knowing this, you'll want to choose the ideal keywords and phrases to focus your SEO efforts strategically.
This begins with extensive keyword research. To assist you to come up with some ideas, you may utilize free tools like Google AdWords Keyword Planner, Google Trends, or Moz Keyword Explorer.
To find a bigger group of terms, start with a broad query. You may start with a word like "estate planning attorney" if you're a lawyer who helps clients with their estate planning concerns. "Estate lawyer," "lawyer for wills," and "estate planning law companies" are some of the other similar words.
MAKE A LIST OF YOUR TOP PRIORITIES AND NARROW DOWN YOUR CHOICES
You're likely to obtain hundreds, if not thousands, of similar keywords and phrases for certain searches. Many of them will be related to your efforts and will provide you with some great ideas. Some will not. In the example above, any search terms linked to "estate planning lawyer employment" or "estate planning attorney salary" should be eliminated.
As a result, you may start eliminating some ideas and prioritizing others from the list you've compiled. Which concepts do you feel communicate to your target audience's intent? In other words, what phrases are most likely to be used by persons looking for your services?
Finally, many keyword search engines will provide you with data on term volume and difficulty. Your objective should focus on keywords with a high search volume but a moderate to low difficulty level.
Related Keywords Should Be Grouped
After you've compiled a list of keywords, the following step is to arrange them into categories. Using the same example, group together keywords and phrases that are relevant to "wills." The same may be said about "trusts" or "estate planning" in general.
You may also categorize phrases based on their location. You can build content categories that focus on "estate planning in City A" and "wills lawyer in CITY B" if you serve a certain location or several.
Make A URL-Based Content Roadmap
When you've completed the last step, you should have many groupings or buckets of keywords with similar keywords and phrases. It's now time to plan out your SEO-friendly content.
Choose a focus keyword for each group and create a content subject that incorporates that keyword or phrase. Create a URL that is SEO-friendly and incorporates the same phrase. Finally, make a list of relevant keyword phrases that should appear in your article.
After you've finished your initial round of content, go back and turn some of those secondary keywords into primary keywords for more content. This will also allow you to create hubs and subpages with a logical content organization.
Wrapping Up
Above all, keyword research is the most crucial part of any successful SEO campaign, the deeper your research, the more result you can generate with your SEO campaign. Hope you will find all the aforementioned guides useful in terms of keyword research. Try implementing those cool tricks into your keyword research journey.