GET A FREE CUSTOMIZED AUDIT FOR ADVANCED LINK BUILDING STRATEGY
Thatware is an expert in offering high quality off page SEO service across the globe. SEO link building service is extremely ambiguous across the market because experts proclaim that if advanced link building is not delivered authentically it becomes spammy, dead and even harmful to your off page SEO. However, our advanced link building specialist claims that it still remains a primary part of advanced off page services. If the correct and proper advanced link building strategies are adopted, it leads to off page optimization and contributes to higher organic search rankings through backlink strategy.
We at ThatWare wish to highlight that our advanced link building services derive long term benefits as we adopt white hat link building and avoid unnatural links penalty. Our advanced link building consultant practices each link building tactics strategically to provide the best link building services. We give you an insight into what is off-page SEO and how to do off-page SEO in layman language to keep it simple by using minimal technical jargons so that you have a backdrop and understanding of our services.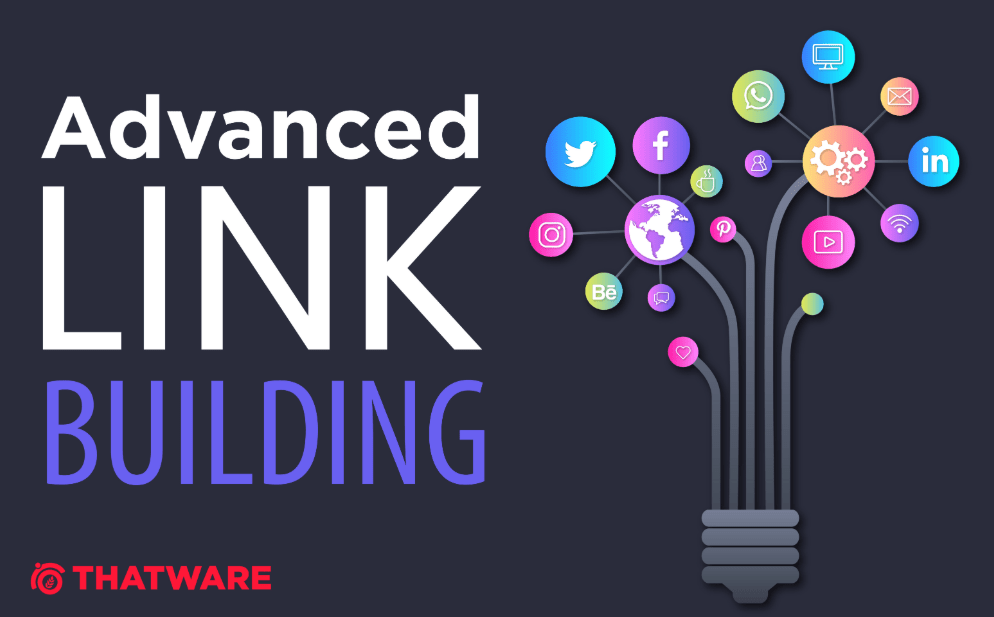 Further by conducting a website backlink analysis, we take you through our link building packages and local link building strategies so that you can choose which strategy works best for you. Our Advanced SEO Link Building Services are connected with backlink analysis so that we know where you are currently and where we need to work together in terms of your online presence and choose which advanced link building packages work best for your needs. Post this we deliver our high quality link building service through advanced Link Building Techniques.
Thatware is the best link building services provider which renders white hat link building service both locally and globally to its clients. It's an off-page SEO agency which busts static tactics of building link. It believes that static tactics manipulate search engines and shouldn't be adopted by any advanced link building agency. Thatware, as an advanced off page SEO company, instead focuses on long term benefits for client websites through affordable advanced link building pricing. It aims at providing value and building relationships with its clients through off site SEO and off page SEO activities.
Thatware dictates the success of clients by exploring link-building types and long-term investment in quality backlink service, not short-term tactics. We dedicate a qualified and experienced link-building consultant solely for your perusal who is well versed with SEO backlinks. Link building in SEO still remains one of the top factors in Google algorithms.
Our backlink service and off page SEO services:
Provides referral traffic on your website and increases conversion possibility.
Indexes orphaned or isolated pages.
Contributes on-page value to readers.
Serves as a citation for research.
Builds relationships within your existing industry.
We promote ourselves as a registered link building services company because we know how to create backlinks manually. As a link building firm, we render SEO backlink service after in-depth research and development. This makes our link building service very robust as we are driven by data and we know the ins and outs of what is a backlink in SEO. As a link building company, we also offer white label link building services along with other variations.
Why is link building important for your website?

1. Building relationships
Advanced link building is often involved as an effort to outreach other websites and blogs in the industry similar to yours. This linking relates to the promotion of your products and services through such a piece of content or an infographic. Hence the common objective of link building activity is to build a relevant link to outreach the market place online and help you build long term relationships. This is done with the help of key influencers in your industry.
These link building relationships refer to building the brand image of clients working with us. Hence inculcating trust and highly regarded. Link building activity hence is absolutely valuable for creating genuine evangelists and advocates for our business.
2. Sending referral traffic
Link building has a positive impact on your rankings. A good link building, inculcated by Thatware through experience and knowledge, from a high visited website, not only increases traffic but also increases the chances of sales. The value of the link is not just limited to SEO, it's about the outreach to customers. Experts in the SEO industry like Tim Ferriss quote that there is a huge difference between getting exposed to a larger audience as compared to a smaller audience.
3. Brand building
Thatware's deep researched link building strategies help clients build up their brand image and establish authority in their niche. Some techniques of link building such as content creation throw light on the expertise of our company. This goes a long way in building your brand. Our promotional content is successful in creating emotional responses and creating impulse in searchers. This gives you a chance of becoming well known in your industry because your content is informative and helpful to users. Link building wins more shares and increases the authenticity of your products or services.
4. Increase Link Juice
Effective off-page activities can help a website to build a high link juice factor. Link juice is a measure of trust flow divided by the citation flow, which is also known as the Golden Ratio Factor. Performing high quality and high authority links can help in increasing the link juice value. This will have a great effect on increasing overall organic exposure!
5. Improve Link Equity
Link equity can also be improved with the help of advanced and high domain authority link building. Link equity is the measure of potential link juice harness within a website. The higher the quality of the backlinks acquired, the greater will be the chances for having a hiked link juice exposure.
6. Helps with Keyword Ranking
Link building will help in improving keywords ranking. Long term effect of backlinks will help in growing the referring domains and will contribute to increasing rank potential for keywords as a whole!
7. Increase Organic Exposure
Link building will help in increasing the backlinks growth which will directly increase the referring domain and pointing domain. A referring domain is the count of unique domains from where a backlink has been acquired. Thus, the higher the referring domain; the better would be organic exposure!
We can go endlessly discussing the advantages of advanced link building services. For more information on the types of link buildings, we cater to get in touch with our experts today!
SMALL​
$350
per month
Backlink Audit for 10 pages
TF Audit as name suggests
Relevance Audit as name suggests
CF Audit and as name suggests
Number of Keywords 40
Number of Target URL's 50
Bookmarks submission 180
Image submission 60
Infographic submission 20
PPT Submission 10
PDF Submission 10
Podcast Submission (To be provided) 1
Video Submission (To be provided) 1
Citation NAPs International 20
Citation NAPs National / Local 20
WEB 2.0 / Article or Blog Submission 2
EDU Backlinks nA
Syndications nA
EDU WEB 3.0 nA
Contextual backlinks nA
Mixed backlinks 300
Competitor Gap analysis based Links 15
LMB creation 30
Link Wheel 3
Link Cluster 3
Advanced Link Patterns 3
Link Indexer nA
High DA / PA Private sites nA
High Powered WEB 3.0 Blogs nA
Authority backlinks nA
MEDIUM
$650
per month
Backlink Audit for 15 pages
TF Audit as name suggests
Relevance Audit as name suggests
CF Audit and as name suggests
Number of Keywords 70
Number of Target URL's 80
Bookmarks submission 300
Image submission 100
Infographic submission 35
PPT Submission 18
PDF Submission 18
Podcast Submission (To be provided) 3
Video Submission (To be provided) 3
Citation NAPs International 35
Citation NAPs National / Local 35
WEB 2.0 / Article or Blog Submission 5
EDU Backlinks 3
Syndications nA
EDU WEB 3.0 nA
Contextual backlinks nA
Mixed backlinks 600
Competitor Gap analysis based Links 25
LMB creation 50
Link Wheel 5
Link Cluster 5
Advanced Link Patterns 5
Link Indexer nA
High DA / PA Private sites nA
High Powered WEB 3.0 Blogs nA
Authority backlinks nA
LARGE
$1499
per month
Backlink Audit for 20 pages
TF Audit as name suggests
Relevance Audit as name suggests
CF Audit and as name suggests
Number of Keywords 100
Number of Target URL's 120
Bookmarks submission 500
Image submission 150
Infographic submission 50
PPT Submission 30
PDF Submission 30
Podcast Submission (To be provided) 6
Video Submission (To be provided) 6
Citation NAPs International 50
Citation NAPs National / Local 50
WEB 2.0 / Article or Blog Submission 15
EDU Backlinks 30
Syndications 50-100
EDU WEB 3.0 6
Contextual backlinks 500
Mixed backlinks 1500
Competitor Gap analysis based Links 50
LMB creation 80
Link Wheel 8
Link Cluster 8
Advanced Link Patterns 8
Link Indexer 80% of links done will be allowed on 3rd party indexer
High DA / PA Private sites 20
High Powered WEB 3.0 Blogs 15
Authority backlinks 30
GET IN TOUCH
Fill out the contact form to reach out to our SEO experts in our company. If you want to enquire about affordable seo packages and any other customized needs. Please get in touch, we value and respond to each and every request which come across us.
FREQUENTLY ASKED QUESTIONS
White hat link building a strategic approach to drive traffic to a website through Search Engine Optimization(SEO) in a relevant, informative and ethical manner.
It is a strategy and tool of digital marketing experts to push your website to rank higher on search engines. Basically, they build links to your website through pages outside your websites so that you gather as many "votes" as you can and get identified by search engines. The more votes and links you gather, the more users visit your website and hence the search engines would rank you much higher when a searcher looks for your product or service.
Advanced link building is a strategy of adopting hyperlinks in the form of referrals to your websites from other websites.
SEO is a strategic process of making changes to a website design by the provision of relevant content and keywords so that your website attains higher rankings on search engines. The major objective of SEO is to make your website user friendly not only by providing information but also by increasing visibility in organic or un-paid search results.
Start of link tag: It is also called the "anchor tag". Anchor tag shows the beginning of the link tag and informs search engines that a link to something else is about to follow.
Link referral location: The "href" stands for "hyperlink referral". It refers to the URL to which the link is pointing.
Visible text of link: It's a small text that searchers see on the page. If they wish to open the link, they need to click it. This text is formatted by Thatware to make it extra visible from the text that surrounds it. It is often highlighted with blue color or underlining.
Closure of link tag: This signals the end of the link tag to the search engines.
Manual "outreach" link building: Amongst all other link building strategies, it's the most common types of link building agencies perform as SEO experts. If you are just starting out in the market and are still growing and unknown, this is the best strategy to adopt. It involves manual efforts. Experts contact website owners and bloggers to request them to link your website to their work. Again, this is successful only if you create "value" and offer solutions to pain-points of customers. This strategy however requires contacts of bloggers and writers in the digital marketing space, we recommend getting in touch with Thatware's experts.
Natural – editorial links: This is something that people strive for, but are not able to achieve. It's bestowed by other website owners and you don't have to ask for it. It is a highly efficient strategy. However, you must create "value" to bag a recommendation from someone else. You also need to invest in your publicity to make people aware of your brand, offerings and the value you create for customers. It's hard to do natural linking and hence it's the most valued strategy as it stands the test of time.
Self-created, non-editorial links: This is however considered as a black-hat practice in the digital marketing space and creates frowns. It is also considered as an activity to dupe search engines in thinking your content has value and importance when in reality it's the opposite. Google has hence begun devaluing and even penalizing these types of links. They hence carry less weight because they are not editorially given. In the past, this strategy has been useful for some websites, but nowadays it's very important to be cautious to avoid penalty. Few examples of self-created links are- article directories, blog comments that are not moderated, press releases with optimized anchor text, guest post signatures, advertorials, embeddable widgets, directories that are not moderated etc.
Thatware however suggests that you consciously avoid links that are not editorially given, even though you have the freedom to pursue your strategy depending on your existing link profile. We rather suggest you focus on tactics that will give you editorial links and add value to your website and business if you choose to do it independently without our or any other agency's support.
We would list a few points as a head start and further for technical assistance, get in touch with our team.
Setting goals: It's very important to set realistic goals so that you do not get lost halfway in data. These goals should be in alignment with your organizational goals and must have a positive impact on the bottom line of your business. The focus of goals should be on long term gains and not achieving results overnight through quick strategies because you will not be able to sustain quick-wins in the future.
Find your assets: Examples of assets may be Content, Data, Products, Services or People etc. The centre of any advanced link building strategy or campaign is the aim to attract and earn links. It is called the "hook" which induces people to care about what's your offer. This also attracts them to link you. Assets vary from business to business and hence we suggest you identify which assets will be of your benefit and can be used in link building.
Finding link targets: We first suggest you identify your target market and then adopt laser specific skills to deliver relevant content to keep them informed. You need to think about what types of people should you contact to make sure they are likely interested in your content. If your target is random and you contact people randomly then the response rate will be lower and also it might give your website a bad reputation. Hence ideally before you step into link building campaigns, you must have a rough idea of the basics of what you are doing and where you are heading. You should carve out a population who would need what you have to offer as a solution.
Identifying your link target audience: Once you map out your target market, it won't be challenging for you to find who will fall within your target audience. You just generally need to brainstorm subjects related to your content.
CASE STUDIES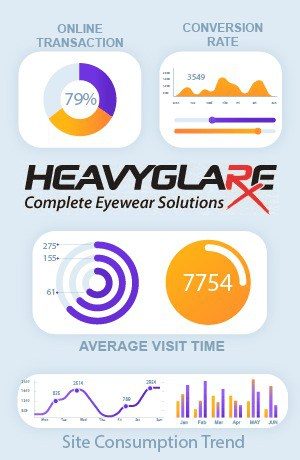 SUNRAY OPTICAL INC. (HEAVYGLARE EYEWEAR)
Services Provided: Advanced SEO
The business marketing seo model which has been performed for the above campaign is the advanced model. In other words, we have performed the top-notch search strategies with the right blend of semantics, data science, advanced link building and NLP. As an end outcome, below are the statistics which were obtained:
1.5 $MILLION
In Sales
600,000
Organic Session
Over 50,000
Checkouts