Introduction
SEO is one of the most significant channels for organisations to acquire new customers. Having good organic visibility throughout the buying cycle is a tried and true technique to increase growth.
The reason is simply that a long-term and consistent SEO effort earns you traffic organically. There is no other quality audience than the audience that is earned.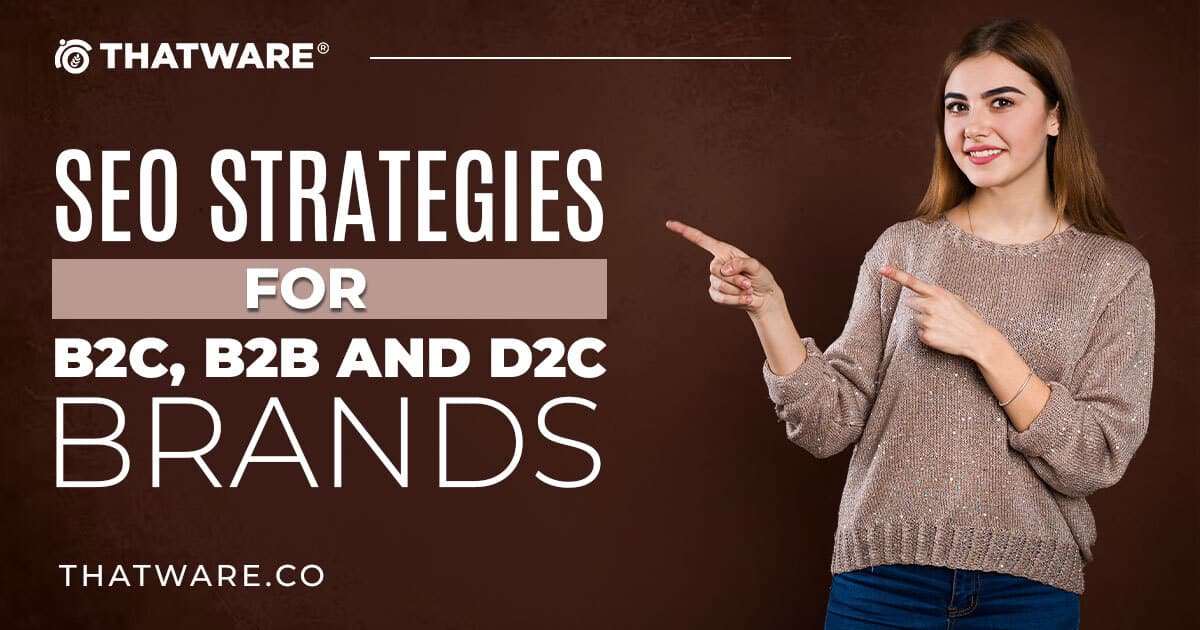 Search Engine Traffic leads to higher conversion rates than any other form of traffic. Also in terms of audience acquisition there are only two major forms of media. One is the Paid Media (through advertising) and one is earned media (through SEO, Organic Social Media and Email Marketing).
However, the main advantage of organic traffic or any form of the organic audience is that "the ROI of Organic Marketing Effort Always Increases With Time".
This is mainly because Advertising platforms always raise their prices either due to inflation or other conditions. Hence if 1000 traffic is worth 5$ today, next year it will cost 8$. Thus if you are driving the same amount of sales your margin naturally decreases.
SEO Strategies for B2C Brands
Lead Generation
No matter the marketing channel you pursue, if you are not generating leads, then probably you are wasting your time.
Let's explore some SEO strategies that can actually generate leads and sales.
Leverage Local SEO
When I say about local SEO in a room, I hear a slow murmur among the audience about GMB. The same old GMB.
Frankly, Local SEO is much more than optimizing your GMB Profile. For those who don't understand, for a local business such as a shop or a saloon, instead of building a website, they can build a Google My Business Profile. Looks Somewhat like the below:
Optimizing the content and the categories of a My Business Profile will help you rank for local searches. You can start ranking in the Google Maps results.
The SEO Tactics to rank in the first 3 results of Maps are often called 3 Pack Optimization. Since your profile contains all the contact information, you can get an immediate inquiry or call as well.
Similarly one can leverage similar platforms like Bing Places and Apple Maps to generate more leads.
Bing Places
Apple Maps
Product Sales Strategy Using E-commerce SEO
Selling Products online is perhaps the easiest in the B2C SEO category of strategies. Here are the steps to pursue a sound E-commerce SEO Stategy
Write Optimized Product Page and Category Page Titles and Descriptions.
By optimising each page, you are telling Google everything it needs to know in order to display your products in search results. This implies that more clients will view the sites that allow them to buy, which means fewer will fall through the cracks. Second, you can incorporate your products into shopping feeds such as Google Shopping.
Add Product Data into Shopping Feeds and Submit to Google Merchant Center.
Customers will be able to buy from you even faster once your products are listed, and you will have even another opportunity to outperform your competition in search results. High-quality photos, reasonable prices, and a professional-looking website are the keys to a strong Google Shopping feed, which you can achieve by following SEO best practices.
Use a Local SEO Listing (Google My Business, Yelp or any Relevant Directories)
Finally, even if you can sell things to anyone online, you should still have a Google local SEO listing. Make sure everyone in your neighbourhood knows you're the greatest online by using Google My Business, Yelp, and other local listing sites. To make the most of this chance, provide important information such as your brand name, address, phone number, and hours of operation.
SEO Strategies of B2B Businesses
The Differences Between B2B And B2C
The main distinction between B2B and B2C marketing is the audience. It is critical to note that the manner professional services and products are purchased differs greatly from that of consumers.
This means that your approach to B2B SEO will differ from your approach to B2C SEO. B2B SEOs encounter various distinct obstacles, which helps to summarise the significant differences.
Complex Sales Funnel
Consider the amount of thought that goes into buying a pair of sneakers than investing on a new CRM for a new company.
For a B2B organisation to be visible on the SERPs at each stage of the sales funnel, there is a specific necessity. From the awareness phase, when prospects first connect with you, to the action phase, when a transaction is closed.
A B2B marketer must know their audience inside and out, which frequently necessitates diving deeper than B2C marketers.
Low Conversion Rates
As an industry-standard B2B Conversion rates are inherently lower than B2C. This is not just attributed to the smaller pool of audience available to entertain but also the following factors.
Difficulty to target the right audience.
Longer Buyer Journeys.
Trust Factor. Need to Develop Thought Leadership
Customers buy products. Businesses often buy services. B2B relationships are often built on trust. Even before contacting a firm, B2B buyers want to know that they're dealing with the best company for their needs. When picking up the phone or filling out a form, people want to be certain that everyone they speak with can provide the best solution to their problems.
While there are numerous ways to position your people (remember, people buy from people, and personal branding is vital in B2B), common tactics include:
Blog PR Guest Posting
Marketing on LinkedIn
Appearances on podcasts
Presenting at conferences about video marketing (or webinars)
B2B SEO Strategies
Build Your Buyer Personas
The Goal here is to understand your consumers and who you are selling to. What are their intentions, their goals and what are their desires? 
Having a sound understanding of these questions will lead to a better understanding of the amount and quality of content that needs to be developed.
Here's a buyer persona template that can be of Help.
https://www.hubspot.com/make-my-persona
Perform In-depth Keyword Research and Focus on Low Volume Terms
Understanding the audience is not enough. One needs to educate them. It is at this point that one needs to research long-tail keywords. As often these are specific customer search queries that they make in the awareness and consideration stage.
While researching keywords one also needs to worry about the top-of-the-funnel words and the bottom-of-the-funnel words.
Often these two major types have different search intent. 
The informational type has informational search intent, where people are researching for the Product and services.
The type of content that needs to be developed here must be Blogs, Guides and Information-rich assets like Infographics.
While the bottom of the funnel keywords are buyer keywords. The type of content that needs to be developed here must be service pages, category pages, landing pages and case studies.
Optimize your Product and Service Pages
First of all these pages need to be optimized with the Bottom of Funnel Keywords. Since that satisfies the search intent of the searcher.
Here is the following checklist for Optimizing Product and Service Pages: 
Optimize Page Titles and Meta Descriptions: Ensure that your page title and meta description accurately describe the product or service and include your target keywords. These elements are crucial for search engines to understand the content on your page.
Use Relevant and Engaging Content: Make sure the content on your product or service page is engaging and relevant to the user's search intent. Use images, videos, and detailed descriptions to showcase your products or services.
Optimize Image Alt Tags: Optimize image alt tags by including descriptive keywords that accurately describe the image. Alt tags help search engines understand the content of the images on your page.
Include Reviews and Testimonials: Including reviews and testimonials from happy customers can help improve your page's credibility and search engine rankings.
Use Internal Linking: Use internal linking to link to related products or services within your website. Internal linking helps search engines understand the structure of your website and helps visitors find related content.
Optimize for Mobile: Ensure that your product or service page is optimized for mobile devices, as a large percentage of searches are conducted on mobile devices.
Optimize for Speed: Make sure your product or service page loads quickly, as page speed is a ranking factor in search engines.
Monitor Performance: Use tools like Google Analytics or Ahrefs to monitor the performance of your product or service page. Analyze metrics like traffic, bounce rate, and conversions to determine what is working and what needs improvement.
Leverage Featured Snippets with Passage Indexing
Sometimes people are looking for specific answers to a very specific search query. For example: for those of you wondering "What is passage indexing".
This is a new kind of search feature which allows Google to answer oneliner queries such as the above. 
Google Martin Splitt was excited when he announced the breakthrough of Google where they can now not only index web pages but also can index individual passages in content.
This allows Google to answer very specific search queries by simply showing the most relevant passage above all SERP results. Thus satisfying the searcher's intent to gain a quick answer.
HOW TO OPTIMISE FOR PASSAGE RANKING
We at Thatware have tried with several contents and tried to optimise our pages for passage ranking.
After several experiments, our passages rank for several search terms as above.
Here are our observations regarding how to optimise passage indexing.
1. PASSAGE LENGTH
Let us assume that a particular page has 3000 words worth of content. We organize passages intended for passage ranking not more than 1% or 2% of the total word count. This means each passage should have 30-60 words at most. In other words, passage segregation should be around 1-2% of the intended word count. Such a passage is ideal to serve as an answer to specific queries.
2. PASSAGE <H2> TAG
If a passage consists of a <H2> tag then it should have an LSI keyword in the tag. In other words, if a passage is followed by any h-tag then it's recommended to use an LSI keyword within the H-tag whether it be <h1> or H2> or etc.
3. USE DATA HIGHLIGHTER
If you are optimising a certain passage from the content then you have to use data highlighter with the help of Google Search Console's Data Highlighter tool. The option varies in the list from site to site, suppose you are optimising a passage for an article based website, and then you have to choose an article from the given list in GSC.
5. USE IMAGE
It is recommended that you use at least one image for the particular page that you are optimizing for passage indexing. And it should be placed below a passage. For reference, please see the attached layout by end of this article!
6. USE VALID SCHEMA MARK-UP
It is recommended that you use the specific passage in the schema code for which you are optimizing the page. It's advised to use JSON-LD for the markup!
7. NO ANCHOR TEXT IN BETWEEN
The passage should not contain anchors but there should be internal and external hyperlinks above or below. Well, there is no such rule still it's our practical experience that having no anchors within the passage helps with the optimization. Moreover, having an internal link / external link above or beyond also helps with the process.
Wrapping up this section you can learn more about Passage Indexing and its benefits here.
SEO Strategies for B2B2C Businesses
What is B2B2C Businesses?
What is B2B2C marketing? We understand that it's a mouthful.
So, what exactly is it?
It's simplest to think of the whole as the sum of its pieces. Business to Business (B2B) refers to a transaction between two businesses. Similarly, Business to Consumer (B2C) refers to a transaction between a company and a customer.
Taking this into consideration, B2B2C stands for Business to Business to Consumer. Its distribution channel is a mix of B2B and B2C, just as it sounds.
Introducing an Extra Step
Not to belabour the point, but B2B2C is like adding an extra step.
Here, goods and services are initially sold from one business to another. Then, the second business sells to an end consumer. 
It may not seem like much, but that little step can complicate things quite a bit for marketers.
Marketers from the first business know that they are selling to another. The second business will then remarket its goods and services, add to them, or use them to provide additional value to the end consumer. The first business needs to keep this in mind at all times. While it may seem like a simple, fundamental concept from the outside, nuances within are easily blurred and overlooked.
SEO Tactics for B2B2C Brands
Combine Content Marketing and Lead Generation Tactics (The Best of Both Words)
B2B2C Business is perhaps the most complex business model found to date. While one business is creating the products or services, the other business that is procuring these services has to sell them to a consumer.
Hence a mix of content marketing and lead generation tactics is required.
Here are some Unique SEO Strategies that must be kept in mind for pursuing SEO for such a business.
Create Educational Content
B2B2C brands can create educational content that helps businesses and consumers make informed decisions. For example, a company that sells home security systems can create content on how to choose the right security system for your home or business.
Collaborate with Influencers
Collaborating with influencers who have a strong following in your niche can help you reach a wider audience and drive more traffic to your website. B2B2C brands can collaborate with influencers who cater to both businesses and consumers.
Optimize for Local SEO
B2B2C brands can optimize their website for local SEO to attract local businesses and consumers. This can include creating location-specific landing pages, claiming and optimizing Google My Business listings, and creating local business directory listings.
Use Video Marketing
Video marketing is a powerful way to engage both businesses and consumers. B2B2C brands can create videos that showcase their products or services, provide educational content, or highlight customer testimonials.
Leverage Social Media
B2B2C brands can use social media to reach both businesses and consumers. This can include creating content that caters to both audiences, running social media ads, and engaging with customers on social media platforms.
Implement Chatbots
Chatbots can help businesses and consumers get the information they need quickly and easily. B2B2C brands can implement chatbots on their website and social media channels to provide fast and efficient customer service.
Offer Discounts and Promotions
Offering discounts and promotions can attract both businesses and consumers to your website. B2B2C brands can create special offers for businesses that buy in bulk or for consumers who refer their friends.
SEO Strategies for D2C Brands
What are D2C Brands
A direct-to-consumer brand manufactures distributes and markets its products/services. The brand avoids 'middlemen' that are common in selling products and services. A typical D2C brand would ship directly to its customers.
Why Is SEO Important for D2C Brands?
A D2C organization's most essential online asset is its website. It is more than just an online store. It not only converts willing buyers into buyers, but it also raises awareness. Nevertheless, this is only achievable if a company is able to successfully engage with its clients at all phases.
To that aim, creating an intelligent content calendar based on various keyword searches is critical. Keeping your personas in mind when producing messages and content marketing will aid in properly introducing your organisation.
According to a report, search engine optimization is the second most important acquisition channel for direct-to-consumer firms. It is also the principal free and organic channel. Now consider how a direct-to-consumer brand should develop its SEO approach.
SEO Tactics for D2C Brands
Understand Branded and Non-Branded Searches
For D2C Businesses most sales in long term come from building brand value. Brand trust brings loyalty which is crucial in a D2C model.
Collect data on the Branded and Non-Branded search terms and put them on an Excel Sheet.
Perform a Competitor Analysis
Competitor analysis can uncover a host of keyword opportunities and gaps in the competitor strategy that can be leveraged for the current campaign. Find these terms. You can use a tool like Ahrefs Content Gap tool to find such low-hanging fruits.
More Detailed Guide here > https://ahrefs.com/content-gap
Include these keywords in your Keyword Research
Search Intent Mapping
Map each and every keyword to the specific content as per the Buyer's Journey. All Keywords must be segregated as to which stage of the Buyer's Journey it is fitting in.
Accordingly the specific content type must be determined and developed accordingly.
Here's a full guide to Search Intent > https://thatware.co/search-intent-using-manual-serp-analysis/
Final Thoughts
In conclusion, implementing effective SEO strategies is essential for businesses of all types – B2B, B2C, B2B2C, and D2C – to stay competitive in today's digital marketplace. Each business type has its unique characteristics and challenges, but there are several key SEO tactics that can help improve visibility, attract relevant traffic, and generate more leads and sales. These include optimizing for mobile devices, creating high-quality and relevant content, utilizing keywords and meta tags effectively, building quality backlinks, and using social media to amplify content and engage with the audience. By following these strategies and keeping up with the latest SEO trends, businesses can achieve long-term success and growth in their respective industries.