Search engines are a perfect way to get your website users. Unfortunately, it's difficult to help search engines locate and rate your website to be included in their lists. As with many online strategies, there are tricks and tasks you can use to improve your outcomes. Similar to social media marketing, however, you might spend an unnecessary amount of time on optimizing search engines. In this article, you'll get tips on how to legally get your website listed in search engines, without wasting too much time. A well-maintained on-page eCommerce SEO not only impacts your search engine ranking but also influences the overall brand visibility and user experience! Not to mention, the entire process is about how you come across as an online business entity in the user's eyes.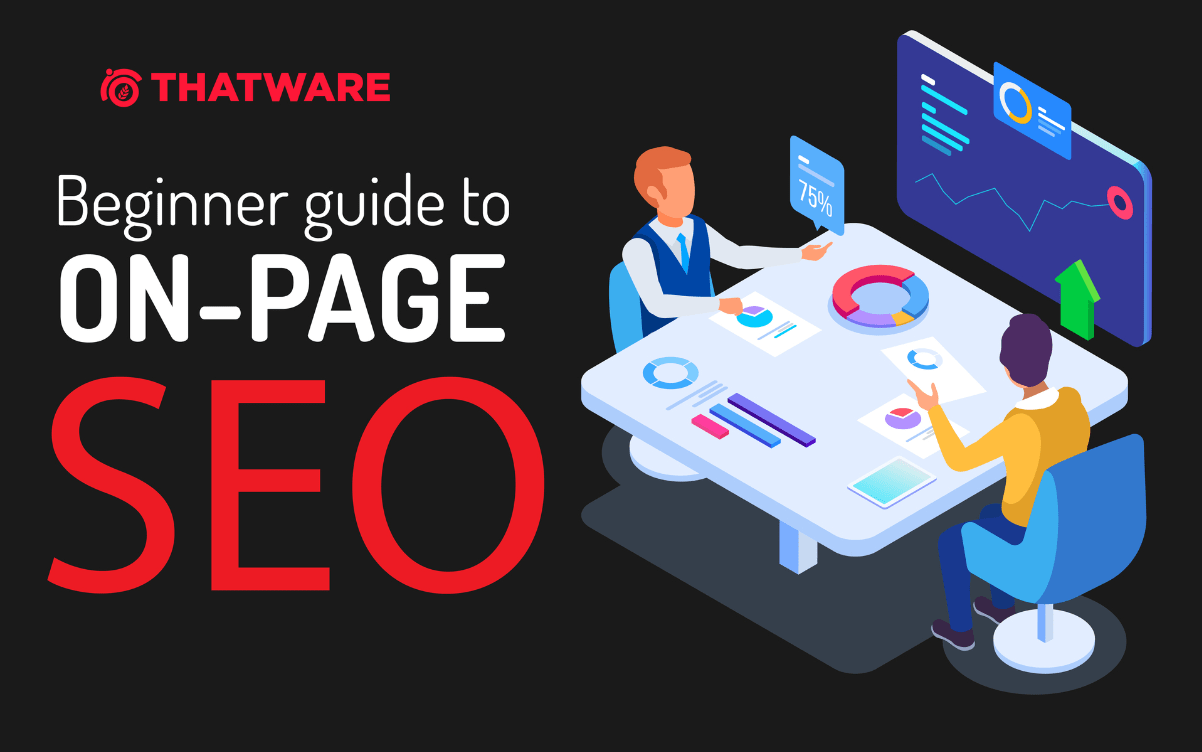 WHAT IS SEARCH ENGINE OPTIMIZATION (SEO)?
Search Engine Optimization ( SEO) is a mechanism used by website owners to help search engines locate, index, and rate their websites, ideally above the websites of competitors. While there are many search engines that you can rank on, including Bing and Yahoo, most internet searches (90 percent) are done through Google. As a result, Google is targeting most of the SEO tips you'll come across to get noticed and ranked.
Furthermore, the tasks performed to increase the ranking of search engines are geared towards organic or natural results. Through Pay Per Click (PPC) advertising campaigns, such as Google AdWords, it is possible to pay for the opportunity to appear higher in search engine results, but this does not require SEO tactics as outlined in this tutorial.
Instead, this article is focused on organic search results with a goal of getting your website placed in the top 10 search results for your targeted keywords. There are several advantages to organic ranking over paid alternatives.
WHY IS SEO SO IMPORTANT?
SEO is important for many reasons, but the primary reason is that it can help you achieve higher rankings which means more organic traffic to your website. Search engine traffic is the most important traffic source for any website and may result in further conversions. Google receives more than three trillion searches per annum, according to statistics. Take a moment to think about what that number means and how it will affect your business if you manage to get your tiny share of traffic from the billions of searches per month.
Often getting ranked on Google feels like rocket science, particularly because it's based on algorithms that often alter how Google chooses to list your site. That requires you to keep up with current trends and rules. For example, in 2015 Google decided that sites that were mobile-friendly would be given preferential ranking because so many people are now using mobile devices. Even more recently, Google added a notice to the Chrome browser to indicate whether or not a site was secure with SSL and includes it as part of its formula for ranking.
These changes forced website owners who wished to remain well-ranked on Google to upgrade their websites to be sensitive and to add SSL certificates (this is most relevant for websites that accept money). That being said, SEO need not be overwhelming. Understanding the basics of how Google and other search engines operate will make Google's support simple.
HERE ARE SOME BEGINNER'S GUIDE TO ON-PAGE SEO:
• Know your target audience
SEO stands for Search Engine Optimization. Now, why should anybody want to optimize their website for search engines? More than 80% of consumers start with search engines when shopping online. So, if your site isn't attainable via a search engine, your website may not be found at all.
Taking another step back, let's think about who's searching for you. These are the folks for whom you're optimizing your website. These guys are called your target audience, and in order to do your own SEO, you need to know them.
• Do keyword research
Most SEO campaigns start with research on the keywords. A keyword analysis is basically a SEO practice that involves identifying the most common words or phrases your target clients use while looking for what you are doing. You may start creating content (or pages) once you know what these words or phrases are.
The power of keyword research lies in better understanding your target market and how your content, services, or products are being searched for. When deciding the keywords, you want to target on your blog, there are a few key factors to consider:
Search Volume – The first thing to remember is how many people really are looking for a given keyword (if any). The more people searching for a keyword, the bigger the market you'll be targeting. Conversely, when no one is looking for a keyword, there is no audience available to search for your content.
Relevance – If a term is often searched for, that is great: but what if it is not entirely relevant for your prospects? Relevance at first seems straightforward: if you sell enterprise email marketing automation software, you don't want to show up for searches that have little to do with your business, such as "pet supplies." But what about terms like "email marketing software"? This may seem like a great description of what you are doing intuitively, but if you sell to Fortune 100 companies, most of the traffic for this very competitive term will be searchers who have no interest in buying your software (and the people you want to reach may never buy your expensive, complex solution based on a simple Google search).
Conversely, you may think that a tangential keyword such as "best enterprise PPC marketing solutions" is totally irrelevant to your company as you are not selling PPC marketing software. But if your prospect is a CMO or marketing officer, it may be a great "first touch" and a great way to build a relationship with a prospective customer to have a valuable tool on determining pay-per-click tools in front of them.
Competition – As for every business opportunity, you want to weigh the possible costs and probability of success in SEO. For SEO, that means understanding the relative competition for specific terms (and the likelihood of rank). You need to first consider who your prospective customers are, and what they are going to be looking for. When you don't really understand who your clients are, it's a good place to start thinking about it, for your company in general but also for the SEO.
You probably have in mind a couple of keywords you would like to rank for. These will be items like your website addresses, products, services, or other subjects, and they are perfect seed keywords for your study, so start there! To discover average monthly search volume and related keywords you can insert those keywords into a keyword analysis tool. In the next section, we will get into search volume in greater depth, but it can help you determine which variations of your keywords are most popular among searchers during the discovery phase.
When you enter a keyword analysis tool in your seed keywords, you can start finding other keywords, popular questions, and content topics that you would otherwise have missed. You'll probably find that the search volume of those keywords differs greatly in the process of finding appropriate keywords for your content. Although you certainly want to target words your audience is searching for, in certain situations targeting words with a lower search volume might be more beneficial because they are much less competitive.
Since both high and low-competition keywords can be useful for your website, knowing more about search volume will help you prioritize keywords and select the ones that will give your website the greatest competitive gain.
• Map Keywords
Knowing what customers want, and the search phrases they use, map keywords on your site to each page. Build a table of all-important pages in the navigation of your site and assign specific primary and secondary keywords to each of them. Create new pages for unassigned keywords that are of high value.
Using long-tail keyword themes that drive fewer searches and are usually more descriptive in blog posts, FAQ sites, and product sites, such as "how to get red wine out of the carpet" or "ex9116 exalt 18v battery charger".
For many industries ranking is highly effective for the most trafficked keywords. At the same time, it can be a long and costly endeavor to try to rank for those highly competitive terms. Instead of concentrating solely on the most common keywords, spend some time building around specific long-tail keywords in a targeted way.
Long-tail keywords are longer and more descriptive sentences that users of the search engine search as they are closer to purchasing or discovering what they are searching for. Keywords for longtail are key to a safe, online growth strategy. They currently make up the bulk of all search engine traffic.
• Improve Title Tags
Look at the pages of the top-level categories. My research shows that pages of eCommerce categories can drive up to 32 percent more organic search traffic than pages of goods.
A tiny, common-sense tweak to a title tag can often make a big difference, particularly if your eCommerce platform creates default titles based on the labels in your taxonomy and the name of the website.
Do the title tags have any meaning? Can you make them distinct or relevant? For example, a common-sense tweak might be to add "shoes" to the title tag above: "Women's Shoes"
Getting to page 1 is just half the victory in the war. The other half convinces the searcher to click on the other results on your list. How do you do that? Write tags and explanations of the title that cause the searcher to click.
• Meta Descriptions
Whereas the title tag is essentially the headline of your search listing, the meta description (another meta HTML item that can be changed in the code of your site but is not seen on your actual page) is an additional ad copy of your site. Google takes certain liberties with what they display in search results, so your meta description may not always be displayed, but if you have a compelling description of your page that would make people searching likely to click, you can increase traffic considerably. Remember: it's just the first move to show up in the search results! You do need searchers to get to your site and then take the action you want.
• Create pages that are optimized for search
Once you've finished searching for the keywords that you want to target, you'll need to create pages that can rank with those keywords. These pages may come in many different forms. It could be your homepage, a landing page, a product page, or a blog post depending on your target keyword.
You will also need to make sure certain pages are search optimized. That's called on-page SEO. On-page SEO is the process of optimizing on-page elements of a website (such as text, structure, code, etc.) in order to make it rank higher in Google. Most people assume this comes down to the number of times their keywords are listed on the website. That is wrong. Keyword stuffing the method of unnaturally shoehorning keywords were for SEO purposes they don't belong died well over a decade ago. Nowadays Google can recognize synonyms and related terms.
Make sure your content is readable and simple. If you are having trouble reading or understanding your copy, users will hit the back button faster than you can tell "ciao user signals! "Consider not just about SEO. If it's a landing page, product page, or blog post, the copy on those pages should be convincing. When it's complicated and complex, it's not only bad for SEO but bad for business. How do you convince someone to join your email list or buy your product if your copy can't even be understood?
• Alt Attributes
How you mark up your images will influence not just how your page is viewed by search engines, but also how much search traffic your site generates from the image search. An alt attribute is an HTML feature that enables you to provide alternate details for an image if it is not viewable by a user. Your images can break over time (files are removed, users have trouble connecting to your site, etc.) so it can be helpful to have a good explanation of the image from a general usability perspective. This also gives you another chance to help search engines understand what your page is about-outside of your text.
You don't want "keyword stuff" in your alt attribute and cram your core keyword and any possible variation of it. In fact, if the definition does not suit naturally, don't include your target keyword here at all. Only make sure you don't miss the alt attribute, and try to provide an accurate, detailed explanation of the picture (imagine you 're explaining it to someone who can't see it – that's what it's for!).
Through writing about your subject naturally, you 're avoiding "over-optimization" filters (in other words: it doesn't make it seem like you're trying to trick Google into ranking your page for your target keyword) and you're offering yourself a better chance of ranking your core subject for useful adjusted "long tail" variations.
• Mobile Friendliness
If your site drives (or could drive) significant mobile search engine traffic, how "mobile-friendly" your site is will impact your rankings on mobile devices, which is a rapidly growing segment. Mobile traffic in some niches already outstrips desktop traffic.
Google recently revealed an upgrade to an algorithm explicitly based on this. You will find out more on how to see what kind of mobile search engine traffic is coming to your site along with some detailed suggestions for stuff to change in my recent post, and here Google again provides a very useful free resource to get feedback on how to make your site more mobile-friendly.
• Upload a robots.txt file
Whereas the sitemap sets out the website's complete layout, the robots.txt file contains detailed guidelines for search engine crawlers on which areas of the site they can and should not index.
It's suggested to have a robots.txt file so search engines assign a crawl budget the number of pages they 're able to crawl to their bots for each visit. The robots.txt format, including AhrefsBot, is recognized and obeyed by all major search engine crawlers and other "good" bots.
• Add internal links
Internal links connect pages to one another on your web. These links help transfer PageRank to your website and boost the "authority" of specific pages. Not only that, but Google is now looking at anchor text for internal links to help them understand the website further.
Alas, most websites are neglecting this. They concentrate on creating new pages but fail to connect them together. Don't make the same mistake.
• Page Content
Google has always been in support of long-form content and aims to list pages with 1000 + words ahead in SERPs. This can sound crazy when we think about eCommerce stores, right? We understand your question about getting so many terms on blogs and posts and not on a product page. But, yeah! You read that right, right. Seek to put the definition of the product in a way that can fill the requirement for this term.
Add different tabs detailing the product such as descriptions of its production, use, advantages, brand data, reviews, overviews, and more. In addition, adding a FAQ section has the ability to increase the conversions because the consumer can make a decision to buy easier. The body copy is considered optimized when the head keyword of that particular page is relevantly spread into the content for 3-5x times. By doing so, you'll give the search engines a proper intent about the page.
• Build authority and backlinks through quality content
It's never been truer than in today's world of marketing. Having a marketing plan for inbound content is key to attracting customers, turning leads, and creating a loyal client base. For SEO, reliable, quality content is astounding. We mean accurate analysis by "quality material," actionable blog posts, lists documents, easy-to-save infographics, comprehensive guides, e-books, and "evergreen" material.
This type of content, in a few ways, helps you do your own SEO. Firstly, it assists you in establishing authority within your industry. You are free in the form of a blog, email newsletter, infographics, and/or photographs to highlight your information and experience. Do not feel the need to post daily; consistency is important in any cadence.
Second, quality content contributes to building backlinks for your website. Backlinks are one of the pillars of a successful SEO program. Backlinks are a sign of a famous website and are relevant for SEO because some search engines (especially Google) offer more credit to websites with many backlinks.
Monitor Backlinks is, of course, a super helpful tool to build and manage backlink activity on your site. Not only can you receive real-time alerts when you gain backlinks, but you can also keep updated with the backlink activity of your competitors. Such a tool is very useful to develop your reputation and to do your own SEO.
• Make sure your site loads fast
When you're trying to navigate a website, don't you hate it, because it takes to load forever? So do your clients. If you want to build a smooth user experience, you need to ensure your site is loading quickly.
Plus, you too have an extra incentive. As of 2010, Google has said page speed is a factor in rankings. This is particularly relevant now that Google has rolled out first-ever mobile indexing. You can do this by choosing the right hosting, lowering image sizes, and allowing browser caching.
• Make your site secure by using HTTPS
The use of the HTTPS protocol makes a site safe. This means the website is encrypted: the data sent from your browser can only be accessed through your computer and webserver.
Security is important. So said Google. Google announced in 2014 that HTTPS is a factor in the rankings. While there is only a slight boost to the ranking, you should still make sure you use HTTPS sitewide.
• Build some links
Links are key. They are one of the top 3 ranking factors on Google. This is why a large part of SEO is about the building of links. It's all about using creative strategies to get other sites back into yours to add a link. There are plenty of proven tactics to build links you can use to get more backlinks to your site.
a) Community site link building
Community sites are places where your target audience hangs around to discuss topics, trade tips, and ask for assistance. Those are sites like blogs, Twitter, Quora, groups on Facebook, and so on. Take note, however, that the links you build here are typically not followed up. Still, this is not a negative thing necessarily. Promoting exposure on those sites increases. More eyeballs can lead to more connections, indirectly.
b) Replicate your competitors' backlinks
Do not worry if your rivals have more links than you do! You may get them repeated. You just need to find out who links to them (but not you) and find a way to replicate those links. After all, if they are linking to your rivals, they 're likely to be linking with you too. The quickest way to get started is by using a method called Intersect Connection. Link Intersect allows you to see who is linking to multiple competitors but not you.
• XML Sitemap
XML sitemaps can be used to help Google and Bing understand your website and find its content. Also, make sure you don't include pages that aren't useful, and remember that uploading a page to a search engine in a sitemap doesn't guarantee sure the page would rank for something in reality. There are a number of free XML sitemaps generation tools available.
• Header Response
Header response codes are a major technical problem with SEO. If you are not especially technical, this may be a complicated subject (and more in-depth resources are mentioned below) but you want to make sure that working pages return the correct code to search engines (200), and that pages that are not found also return code to show that they are no longer available (404).
Getting these codes wrong may mean to Google and other search engines that a "Page Not Found" page is actually a working page, making it look like a thin or duplicated page, or worse: you may tell Google that the entire content of your site is actually 404s (so that none of your pages are indexed and qualified for rank). When search engines crawl them, you can use a server header checker to see the status codes that your pages return.
• Redirects
Improperly implementing redirects on your site can have a serious impact on search results. Whenever you can avoid it, you want to keep from moving your site's content from one URL to another; in other words: if your content is on example.com/page, and that page is getting search engine traffic, you want to avoid moving all of the content to example.com/different-url/newpage.html, unless there is an extremely strong business reason that would outweigh a possible short-term or even long-term loss in search engine traffic.
If you need to move content, you want to make sure that you implement permanent (or 301) redirects for content that moves on a permanent basis, as temporary (or 302) redirects (often used by developers) indicate that the move may not be permanent and that they should not move all of the link equity and ranking power to the new URL. (Modifying your URL structure could also create broken ties, damage your referral traffic sources, and make it difficult for visitors to access your site.)
• Use SEO Friendly URLs
If you want to rank highly on SERPs (search engine results pages), making sure your URLs are clean and optimized is an important DIY tip. URLs are simply the address of a particular web page that guides online users to your website. It is important to make sure that they are friendly, easy to read for online visitors when building URLs for your website and includes the relevant word(keywords) that correlate with the copy on the website's page.
Try to keep URLs short so they'll be easy to type and read. Additionally, delete unwanted terms like as, and, the, and symbols like @. If you need to use hyphens instead of underscores to separate words in your URL, Google has a hard time recognizing them, and will not index your page.
• Produce Regular Content
Create seamless content that is personalized to your audience. You don't every day need to knock out a new blog post or other material. Too many eCommerce pages, that is impractical. Actually, publish single material at least monthly, if not weekly. Consistency is paramount.
"Content" doesn't just have to be text. Use illustrations, product photos, video how-to, or any other content that will help shoppers. It is crucial that we provide value. If the material does not fill a need or include your clients and prospects, your time and theirs have been wasted.
• Rich Snippets and Schemas
One of the modern ways of bringing the content more exposure and increasing it google rankings is to use rich snippets and schemas. Structured data markup is a structured way for search engines to define the content. One of the difficulties search engines face is knowing the meaning of a page while crawling a page and schemas can help them a lot in that direction.
As mentioned by Google, you make your content eligible for appearance in rich results and knowledge graph cards through structured data markup. In practical terms, this implies eligibility to rank in Google's position 0 (above regular search results) and this has a range of advantages. You can introduce structured data markup by adding a set of tags to your HTML code or through a JSON script.
• Boost Link Equity
Link equity is the quantity of topically appropriate, high-quality sites that connect to yours. The top two organic ranking factors are link equity and contextual relevance. Combined, the acquisition of links and content marketing obviously improves the link equity. SEO content marketing includes the production, say, of posts, videos, and podcasts to which people want to share and connect. As the number of persons exposed to the content increases, the potential for links also increases.
Link acquisition, on the other hand, involves:
a) Identifying high-value pages or sites that are topically relevant

b) Figuring out how to make your content valuable to that site owner; and

c) Reaching out directly to request a link or an arrangement that would lead to a link, such as a guest post or interview.
Google encourages website owners to create persuasive websites for which users wish to inform their peers. Google 's response to this SEO content-engagement approach is, "How do I ethically get more links? " In the first step above, the keyword research comes in handy as it provides an idea of the most influential and best-ranked sites to approach.
• Build Your Social Media Network
Social networking lets you communicate with your audience. Nurturing those relationships increases your content 's exposure, and hence the likelihood that some will blog about it or link to it. Consumer-facing businesses are expected to find the most interest in both Facebook and Twitter. B2B businesses prefer to concentrate on Twitter and LinkedIn, with Facebook also in the mix. If the pictures are attractive, add Instagram or Pinterest to the list. If you are open to making videos, using YouTube as a matter of course.
• Anchor text
The anchor text is a visible part of a hyperlink that is clickable. It helps to show crawlers what the linked page is about. If more page's link to you with certain terms used in anchor texts, you may be helped to rank in the search engines for those terms.
Well, then all I need is lots of backlinks as an anchor text with my focus keyword, right? This is not so simple. Google could result in an algorithmic penalty if an over-optimized anchor text profile is set. Rather than trying to tweak them artificially, it is easier to keep the anchor texts as normal.
• Understand Analytics
What you don't calculate you can't maximize. SEO needs a clear understanding of (or equivalent) Google Analytics to know which pages to improve and which are doing very well. Go to Acquisition > All Channels > Traffic, in Google Analytics. To change the primary aspect, click "Organic Quest," and then click "Landing Page." Then you can analyze your performance at SEO.
Beware however of the dimension of the "Keyword." No analytics software can track exactly every referred to your site for the organic search traffic. That can only be achieved through analytics for each search engine, such as the Results report from Google Search Console.
• Read SEO Posts
Study an SEO guide, like my series of "SEO How-to" Moz's "The Beginner's Guide to SEO," Search Engine Land's "Guide to SEO," and Google's "Search Engine Optimization Starting Guide" are other helpful and free beginner SEO Guides.
Try two YouTube channels: Moz's "Whiteboard Friday" and "Google Webmasters" for instant updates on improvements to the SEO. Always read trusted SEO blogs.
• Eliminate Duplicate Content
Trying to copy content and use on your blog is one of the main ways to drop in rankings and get punished by the search engines. When Google is met in different locations with the same piece of content, it reveals only one page and crowds the others out of the search rankings.
Google's and search engines' goal is to push original and relevant content to the top when users search the terms they are looking for and delete duplicate content and non-valuable pages. And if you want to add content from a specific site, a good best practice is to connect to it and reference the original source or use 301 redirects to the original pages from any duplicate pages.
• Search Console
One of the basics of SEO is linking your site to the Google Search Console (former Webmaster tools). It lets you track the presence and success of your site in Google Search and keep it there.
The Search Console helps you analyze your keyword rankings, CTRs, possible Google penalties, and numerous another useful technical SEO information. Other features include the accessibility of mobile content, the option of what you want to index and what not, site errors, organized data errors, and links.
• Keep up with SEO Trends
Optimization of search engines is an ever-changing landscape. Staying at the top of search rankings needs regular updating with patterns, news, and new concepts. Sign up for SEO blog newsletters and check out sites like Moz, Search Engine Watch, Search Engine Land, and leading SEO sites in the industry. Moz's Whiteboard Friday and the Google Webmasters YouTube channel are other helpful tools.
CONCLUSION
This simple guide to the beginner's SEO covers the basics of SEO. You can keep following this guide to optimize your site and start ranking for meaningful and appropriate keywords.More search engine popularity = greater traffic, and possibly sales. A good byproduct of bringing more cash into your company is that you're going to have more resources to spend on SEO. You might even think about hiring an agency or consultant to take things up to the next level.
PATIENCE IS THE KEY
Know that SEO takes time. By following the tips in this guide overnight, you will not see progress, so don't be disappointed if your traffic doesn't fly through the roof right away. And, don't plan to use this tutorial tips for search engine optimization once and then forget about it. Practice keeping in mind these SEO tips whenever you update your website, go through a redesign, or plan a new website. Keyword popularity and competitiveness also change over time, so periodically revisit your targeted keywords to see if they still draw traffic.
If you're a small business that would benefit from ranking for very specific geo-focused terms but not much else, reinforce your local SEO efforts (and maybe focus on other marketing efforts once you're starting to see lower returns from your efforts).Note also that for any search engine optimization strategies, the ultimate aim is to get more visibility and traffic for your company or the content of your site. Look for ways to help your company and blog with search engine traffic: don't just chase after the new SEO buzzwords or run whenever Google makes a suggestion that could boost your search rankings while harming your overall business.