COMPETITIVE GAP ANALYSIS
A competitive gap analysis is a technique that tells you how to narrow the difference between the actual online performance of your website and where you are striving to be.
WHAT IS GAP ANALYSIS?
A gap analysis measures the present or real performance to expected or desired, performance. In other terms, a gap analysis is an aggregate comparison of the present situation and the potential.
When we conduct a successful website gap analysis, we determine how your website matches up against your rivals (both industry-specific and someone else that may exist above you) and what you might do to boost your position.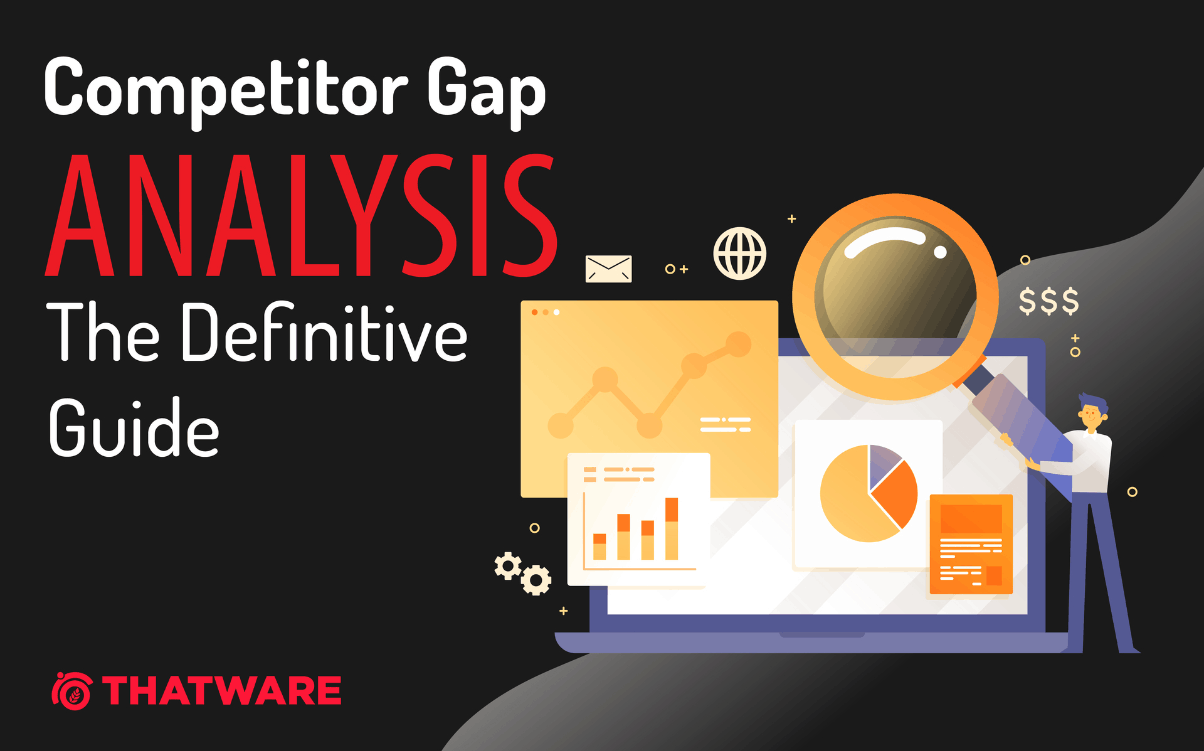 HOW DO YOU DEFINE ONLINE COMPETITORS ?
Direct Competitors

Your direct competitors are usually others that have identical service packages or goods to your own. Although there might be some variations between such factors, inside the industry you are generally aware of their standings.

Aspirational Competitors

Your aspirational competitors are the ones you now only expect to succeed with. A gap analysis is built to raise you to rank higher than your existing search rankings and amongst these sites.

Indirect Competitors

Indirect Competitors are often detected less quickly. You may not even know they are your rivals because their companies or goods are beyond the reach of your business. These less obvious competitors grab your expected audience's attention since their content ranks for similar queries as well as search results.
WHAT'S INCLUDED IN A COMPETITIVE GAP ANALYSIS ?
• Analysis of current situation: This is an overview of the domain authority and place within your industry, current keyword rankings and attainable difficulty level, and comparisons between backlink profile and social reach.
• Guidelines for future states:This provides keyword expectations focused on existing and missing keyword opportunities, and future marketing strategies centered on business developments and aspirational objectives.
• Project-specific plan or tactic: Comprehensive advice built to fit with your strategy and technological skills to achieve your strategic goals.
• Sources of information, and methodology: You will obtain the raw data used to perform the study and establish suggestions in an Excel format.
Competitive gap analysis is a critical tool in every business, giving companies the chance to compare their current results with their future output, or where they aspire to be. It's all about observing the extent of the gap and discovering strategies to reduce the difference to render a company more competitive and stronger.
Competitive gap research allows market leaders to evaluate their goods and services, to learn how successful profits are and to fix potential shortcomings when building on strengths.
The first phase is to figure out what are the identified gaps, and any potential gaps. A near review may help businesses figure out the causes or explanations of why a product or service is not as effective as it should be. It may also be useful to research the existing demand in an attempt to predict what may become common and draw sales. Knowing when a need exists and supplying it with better products or services is key.
When the study of competitive gaps is carried out, it is time to take action. It is where productive conversations can be added to sales teams to cross any holes through strategic thinking and increased efforts. Additionally, targeted marketing campaigns can reach any region of vulnerability. If those in charge of decision-making studies have some unsatisfactory outcomes, they will automatically attack the issue. Ultimately, there is a clearer view of the success of a product, what is working, and what is not. To every corporate owner, it is a wise decision.
HOW TO STEAL YOUR COMPETITORS' TRAFFIC ?
The study of SEO competitors (aka competitive analysis) acts as an effective study tool to help you rank higher, increasing traffic, and gain more conversions. The power comes from uncovering possibilities for SEO that you would not have seen otherwise.
Competitor research allows for addressing problems effectively. some of such questions are:

• Who are my actual SEO competitors?
• Which keywords should I target?
• What subjects will I cover?
• How do I locate links?
• What's needed to beat the competition?
There are several approaches to conduct a successful SEO study but the general idea functions like this: evaluate what works for your competition (keywords, material, connections, etc.) and use this knowledge to enhance your SEO efforts.
Competitive SEO study includes studying the SEO competitors' ties, keywords, information, and more to reverse engineer the most effective components of these strategies through your SEO approach. Rather than wondering which keywords to try, content to make, or connections to build, instead you can see what works for others, and expand on that.
Take an instance in the modern world: Suppose you 're operating a grocery store — one of three rival stores in town. You 're pleased with your clients, but you realize they 're still hitting other shops so they can't buy everything in one location. Yeah, you 're off on a road trip to obtain strategic information. You are visiting many shops to recognize the famous products that they are selling. Through selling these things yourself — or even better ones — you are making your clients make fewer visits, so you are getting more business in exchange. There are several approaches to conduct SEO research of a rival. Find this your checklist for example.
Here's what we are trying to cover:

A. Finding Your True SEO Competitors
B. Keyword Gap Analysis
C. Top Content Analysis
D. Link Gap Analysis
E. Google SERP Analysis
FINDING YOUR TRUE SEO COMPETITORS
It may sound stupid because you need to learn who your quest rivals are before you can perform some SEO competition research. You may assume you know, but that's not always clear until you dig into the details.
The "novice" way to classify your rivals is simply to insert the highest keyword in Google, and then see which the ranking domains are. Increased precision, you can do this with 10–20 of the most common keywords, monitor it in a database and measure which domains occur more frequently and in which place.
BEWARE OF UNCERTAINTY!
The trouble with this method is that you sometimes search with hundreds or thousands of keywords at a time and manually testing ranks is a laborious, sometimes unreliable operation. It is simple because you list just with a set of keywords. Realistically, the bulk of pages rate for much more!
How about the hundreds, or thousands, or tens of thousands of keywords! To make it simpler, various SEO tool solutions will instantly look at all the keywords you rate in their lists, and tell you precisely who your "real" rivals are in quest. Now that we know our real rivals, we will use this data to carry out an actual competitive SEO study, with all keyword and link gap analysis.
WHAT IS A COMPETITIVE KEYWORD ANALYSIS ?
Competitive keyword analysis-also called keyword gap analysis is a method of finding important keywords that are strongly rated by your rivals, but not you.
A number of relevant points to consider:
• Keywords should be important (i.e. large number, market-relevant, or likely to be converted);
• Keywords are to be those on which you would rate or rank better
• Considering two competitors or more also offers you a better analysis.
The problem is that you or your opponents will theoretically rate with thousands of keywords and it can be challenging to perform this form of research manually. Fortunately, easy solutions do exist. Moz 's Keyword Explorer could be used for this analysis, and more precisely the Ranking Keywords analysis (must be signed in with a free trial or Pro account). Begin by entering your primary competitor in the first field, then your domain in the second sector. We will then see that through keywords our rival is beating us and finding opportunities.
We are seeking:
• Good keywords we don't list for
• High-volume keywords in which we rate in 4–15 places which could use the boost
It's also useful to access a CSV report and function with the details in a spreadsheet system for a deeper study — and more perspectives. The Moz keyword ranking CSV contains a useful column for Keyword Difficulty. This helps you to identify and filter keywords of the higher number, which are often simpler to rate with.
ADVANCED: PAGE-LEVEL KEYWORD GAP ANALYSIS
We explored keywords at the domain level thus far, but an analysis of the keyword gap is also a strong tool for optimizing individual pages. Let's say you have a similar page as your competitor, covering the same general topic. You want to figure out if your rival is winning the same keywords, and you can customize your website to match certain expressions.
i. Start by entering your competitor's page URL in Keyword Explorer's Keyword Ranking report
ii. Set selector to "exact page"
iii. Recreate for your URL
Now match sets of keywords. We are looking strongly for useful keywords with which our rivalry ranks, which we can target with our page. It has a good volume of searches, is incredibly-relevant and our page does not (yet) aim it at all. We will potentially gain strong search traffic by applying it to the website and optimizing it for that. Additionally, we might use this keyword to build a whole new website.
YOUR COMPETITORS' TOP CONTENT
Keywords are one way of formulating ideas about content. Others are tapping at the top-performing material of the rivals. In this situation, we are interested in which material our rivals have won the most links. As links are necessary for ranking — indeed, they are among the greatest ranking factors — it makes sense to focus on topics to which others like to link.
This is one of the longest-running, most dependable content creation methods available in SEO. Promote your content to a group of similar people. The key is not simply to recreate the contents of your competitor (which would have little chance of success) but to improve them significantly. Additional functionality, additional details, beautiful graphics may be added — something to make it more attractive or useful.
WHAT IS AN SEO LINK GAP ANALYSIS ?
Similar to our keywords method, a link gap review functions to find links that your rivals have won that you might get as well. For ranking the links are important. In fact, ranking without links is darn tough. Conversely, it is hard to get good links. So we're using intelligence and data to establish where we could find good links that are a little easier to get. But where are they?
The answer: websites that have already linked to your rivals, but have not linked with you. This happens in theory and practice because the places that connect to your competitors have already established that they're interested in the subject. If you can convince them that your ability is substantially greater than your rivals, then you will have a higher-than-average probability of communicating. Another advantage is that this method lets you identify really important sites from which to get links.
GETTING MORE SPECIFIC
While this is helpful, the findings are also very limited since they are at the level of the domain. This basically implies that nypost.com is connected to one of our competitors elsewhere on the internet, and maybe connected to another competitor anywhere else.
To fix this — and render the data even more usable — let's go back and run the test again, except this time at the page level (instead of the domain level) we'll insert all. By identifying URLs which connect to the specific pages of our competitors, our results will be more oriented.
GOOGLE SERPS AND USER INTENT
Usually, knowing the best keywords to try isn't necessary. If you want to gain traffic you need to consider your keyword's searcher purpose.
Which implies going into the searcher's head to grasp what they are searching for. This seems unlikely, but fortunately for you, Google has completed 99 percent of the job. Just continue with Googling the keyword you 'd like to target. Aside from looking at SERPs to assess consumer intent, it also helps to look at SERP metrics in the competition research.
By measures, we say such things as:
1. All ranking pages Link metrics
2. Keyword difficulty
3. SERP features, such as the featured snippets and "People Also Ask"
There are a few different methods of coping with this, each disclosing various data points. Eventually, using the SERP Analysis tool, you will conduct an excellent SERP analysis within Keyword Explorer.
Just insert your keyword and the SERP Research Report provides you a glance of:
1) Monthly volume keyword: A highly accurate approximate of how many times per month people search for your keyword within a particular region and search engine.
2) Keyword Difficulty: A 1–100 ranking that shows you how hard it's to rate for that keyword.
3) Organic CTR: An estimate of how often searchers are clicking on that SERP into a website result.
4) Priority: An approximation of the keyword 's possible importance dependent on certain parameters including Difficulty, Volume, and CTR.
By now you have the basic idea about Competitor Gap Analysis, its major sections, and how to go about it. Now we will dive further into the minute details of all these actively affecting Competitor Gap segments (i.e.; Content Gap Analysis, Keyword Gap Analysis, Link Gap Analysis).
A COMPREHENSIVE GUIDE TO CONTENT GAP ANALYSIS
How Content Gap analysis helps you better communicate with your clients and provide your competition with an advantage. Everybody online seems to have their perspective of what a content gap analysis is about.To other individuals, the analysis of content gaps is the difference between what people are looking for and what people are finding online.
Using this definition, the gap reflects subject consumers are searching for knowledge on, but it does not provide adequate ground to meet the existing need. To everyone else, a content gap is literally a competitor analysis in which you glance at the content structure of your competitor to identify topics and keywords for which they presently rank better so that you can also target them in your new content.
These two viewpoints may have a degree of validity behind them but they do not understand the desires or expectations of the consumer. At every point in their path, they struggle to demonstrate how important a particular piece of material is to the client of a business. Of the organizations employing content marketing, less than half claim their strategies are successful, according to studies published by the Content Marketing Institute. To find and address gaps in their brand inventory, often web marketers turn to Content Gap Analysis.
Content Gap Analysis will help increase customer experience by generating interest and conversation that can connect at multiple points of the consumer journey for diverse target groups and individuals.
A SUMMARY OF WHAT WOULD BE COVERED HERE:
I. What exactly is a content gap analysis?
II. Reasons why you must be conducting a content gap analysis.
III. The process of content gap analysis.
IV. How to set your goals regarding the content gap?
V. Aligning your content according to your client's needs.
VI. Mapping the customer's journey.
VII. How to use Content audit outcomes to locate the gap?
WHAT IS A CONTENT GAP ANALYSIS?
By definition, the content gap analysis contrasts the current content offerings with the reader's wanted offerings and aims to explain what is needed to fulfill those wishes. For me, a content gap represents the link between the quality of your current content and the desired outcomes and objectives of your content strategy. It is the content you need to be creating next to attain your content goals. Analysis of the content gap is the task of evaluating and then defining the material required to address the "distance" between the current state and potential state.
A content audit is a perfect way to get a complete picture of the material on the site. Upon conclusion of this phase as mentioned in this post, you should realize which content you have at the various stages of the funnel,how it is doing and how to enhance it will not determine what new content you will develop and support. This is where the Content gap becomes a necessary analysis.
Here's an example, let's assume you're a footwear company that offers "the best-cheap" online sneakers. So far, your composition only targets visitors who are searching for cheap and durable sneakers for daily use and these keywords are currently well ranked. But what about material that is important to your clients, which will make them appreciate your brand more including styles of sneakers. Market model boots, too? Or was the footwear designed for sizes XL? Or can you even tailor the footwear according to the preferences of the users? How does your company compare to other companies? Got any reviews of customers? Have you got any offers?
These are a few questions that visitors will have along their path and providing such necessary details can help them realize some of their pain points and turn them into paying customers.This is exactly what the gap in content is. While you get a huge response from the audience looking for cheap sneakers, you have failed to connect with customers at other funnel steps and other users willing to look for any other variants of cheap sneakers.
If you disregard a persona or client segment from your marketing plan, you will miss out on key initiatives for relationship building. You'll also make opportunities to sweep in competing companies and forge bonds that would otherwise be yours.
Creating material isn't the only thing deciding your performance in this era of digital marketing. Google is a search word where you'll get millions of listings that are a direct indicator of how intense the market is itself.
REASONS TO CONDUCT CONTENT GAP ANALYSIS
There are two main reasons for a content gap analysis:
1. Communicating effectively with future clients through their client journey
To think of the value difference as a distance between a product and its rival is a common misunderstanding for people, but in the real context, it is the difference between a business and its future consumers. This gap shows how best your content strategy fulfills the needs of your customers at all stages of their travel.
The aim of every marketing campaign is to build the go-to marketing for prospects and clients. If you don't give all the details that you're asking for to your clients, be prepared — they'll go somewhere else to get full information. A quality difference review means you don't owe your rivals such an advantage and lets you fill-up the holes such that prospective customers can linger longer on the website.
Analysis of the information difference also allows you to assess if the information is strong enough to turn the leads into customers. Your content needs to answer your prospective client's concerns while they are moving from the initial stage to the decision-making stage.
Excellent content can be created in the form of sequential web pages and blog postings. Even timed notifications on social media and e-mail workflows can aid you in that direction.
2. Utilizing SEO opportunity
Analysis of content gaps is about creating the concepts and themes of information to generate user traffic. But since the markets today involve more than one business, you can see the difference between your content and the content of your rivals.
For this cause, you need to ensure that your content ranks higher than your rivals for similar keywords, and a market gap review recognizes high-value information and niche gaps to increase your search exposure directly for topics you are not currently ranking for.
Analysis of the knowledge difference allows the picture simpler and enables you to learn all the keywords on which the opponents' rate but you don't. It will give you two methods of having adequate insight:
Firstly, you know the keywords you are right ranked for and your rival is not. This can be used as an opportunity to get an advantage over them.
Second, you get to learn the keywords you don't score with, too. This will allow you to build the best targeting plans for advertising to fill the gap and rank for such keywords too.
Bear in mind that this distance is not between you and your rival, but between your business and its customers. Sure, the content you use to fill the gap may contain similar content to opponent content in the subject or keyword targeting but it does not stop there. Don't just reflect on the rivals etc. Now, because you recognize the value of addressing knowledge differences, let's dive further to consider the mechanism that this can be achieved by. The target is clear to most companies. The target is still further clicks or revenue so if the customers are good in their path too, you can just achieve the aim. That's why the customers and the journey of the sale funnel or buyers are the two most critical inputs for gap analysis.
STEP BY STEP GUIDE
1. Identify the goals that you need to achieve

First foremost — what do you seek to do by evaluating the information gaps? In order to produce the desired outcomes, it is necessary to know the end-goals beforehand. Of necessity, you have begun the entire study of the gap as you want to do something or develop it. What is that, then? Does not the material pull up ample leads? Or, doesn't the search engine search pages rate good? Or, does it bring random traffic to your site? Finding answers to certain queries will help you define the key target.
2. Understand your target audience

The principal question that you should discover answers to while doing a content gap investigation is 'gaps between what?' Who are the intended interest groups that you are wishing to serve? What are their preferences and inclinations and where do they dwell? What are their verticals? The content gap analysis would not bring productive outcomes until and except if you know your clients well enough, alongside their lifecycle.
If you've already developed your buyer persona, better for you, proceed to the next level. This is if you haven't started segmenting the customers already. This knowledge is included in the Customer section of Google Analytics. From data about your market, you will build people to be your customers. This is also where you can find out more about the pressure points of your client, and you can build material that will help your customers solve them. Map your customer journey, eventually. The consumer experience reflects the steps that a person is moving through from finding the website for the first time to generating the first sales. Consumer experience will involve all contact points that a person has with the company, including either a visit to the website, twitter / Facebook interaction, email click flow, or even a trial sign-up.
From this viewpoint, the content gap is the touchpoints between your customer and your brand where you are lacking in content. If you have difficulty creating a consumer journey for your company, there are a few online service companies that can assist with this or even attempt to survey your customers and find out their issues, then the knowledge obtained from such assessments can be used to chart the customer journey.
3. Content audit

As previously stated, a content audit is the best method to get a complete overview of where your content strategy stands, the present performance of each piece of content generated, and how to improve the content which under-performed. Using the finding generated by a properly implemented content audit as mentioned in the preceding section, you will be able to determine what information you already have, and how it is currently being implemented.
4. Content match

Matching of content is a result of the three preceding measures. That is where you connect each piece of content to a stage in the purchaser's journey and then define the stages, touch-points, pressure point where you need content. You have interpreted your company goals and the requirements of the consumer, pain points, and mapped out their journey from the first and second steps. You have also listed all of the content you currently have with an extensive content audit.
Now align all of the content from your audit to all the client journey stages and their targets to find out how your content will be able to fulfill them best. Any content left unallocated is content that was created without taking into account the customer and his/her needs. This is a content option that should be listed in your content gap for every step of the journey or touchpoint that you have less content for.
5. Competitor content

This is the part most of you waited for. One thing to keep in mind here is that looking into the contents of your opponent for a content gap analysis is not about trying to find the keywords they rank then you can also target them. While finding certain pressure points/problems, issues, or subjects that are of interest to the clients don't develop content around keywords that are not of value to your clients just because your competitor ranks well for them.
Copying a tactic without comprehending the strategy behind, is always a bad idea. To begin with, you must perform a proper keyword analysis and discover the keywords for which your competitors rank, but you don't. This analysis will help deepen your insight into potential keywords that may be of value to your business. It would also show the content ideas the peers used to get higher grades.
Different tools might be used for this purpose. For example, to study your top contenders, you can use SEMrush Organic Competitors Report or even Ahrefs. Notice what you have in common with all of these keywords. Then, try comparing your ranking with your contenders for all of those keywords. To this end, you could use Google Sheets to keep the data well organized. Next, create a list of target keywords where your rivals currently rank better in search engines and evaluate the content's standard and level to help you decide which content you can develop.
And that does it for our study of the difference in material. The next stage is how you use your analytical data to create content that addresses the gaps existing in your content strategy.
6.Get Into Action

Despite popular belief, this exercise has shown you that an analysis of the content gap is really about how well the company interacts with your clients. Moving many customers to your website would hardly carry any positive outcomes unless you can turn them. Until you understand the underlying problems, objectives, and pressure points that the users are going through in their purchasing journey, you wouldn't be able to take the right steps to help them move as paying clients.
Analysis of the content gap not only boosts the conversion rates but also increases customer satisfaction. That said, to maximize sales, the effectiveness of digital marketing depends on bringing the right consumers to the right content at the proper time.
KEYWORD GAP ANALYSIS TIPS FOR SMALL BUSINESS
Choosing the best keywords to rate for is crucial to SEO and overall web performance. When you want to list on terms that are not applicable to your goods and your potential buyers, there's a lot to risk. Or, the rate for keywords that people don't enter at all in the search bar.
There are many approaches to find new keywords, and other variables can decide which keywords to pick from and what to take out. However, there aren't too many strategies that can extract useful keywords important to the website and audience.

We'll discuss keyword gap analysis strategies in this post to provide you with the skills that will help you create unique content for your blog.
WHY KEYWORD GAP ANALYSIS MATTERS
Analysis of keyword gaps could also put the content gaps of competitors in the spotlight and many more content opportunities that were unexplored there. By analyzing your rivals, you will build a wide list of keywords and phrases they are currently using plus certain strategies, and how they are utilizing them to produce better online performance. Your collection of seed keywords will help you do much more comprehensive research in most situations and systematically determine which search phrases are easier to rate for and which not.
1. Discover Keywords

You ought to worry about your readers as you continue to find new keywords to rate up with. Your keywords ought to identify and discover essential answers to their problems. You need to recognize what your followers are searching for and build content about the topics. When you realize what your fans want you'll be more likely to find keywords and target gaps. The best keywords are:
• Products and Services based – The keywords must be linked to your goods and services. They need to analyze your bid, to strengthen the features of your products/services.
• Long-tail Keywords – Long-tail keywords are three- or four-word phrases unique to the company, service, place, and brand. For very detailed multi-word sentences you will score higher than common single keyword or double word phrases.
There are many approaches through which the small company can find new keywords. You should continue brainstorming and consider in an online search about the questions and vocabulary that your target group uses.
• Google Correlate – There's no better way to find keywords than from Google itself- directly from the source. You will see, with Correlate, which two keywords are checked together.
• Keyword in– The keywords can be conveniently merged here. This tool matches a broad list of related keywords to your keyword.
• Soovle – This app offers you autocomplete search phrases from a broad selection of sites like Google.
2. Find Questions That Readers Ask

Your strongest keywords come from your target audiences. In your market, you have multiple opportunities to find what customers are looking for. One of the easiest ways to do this is by utilizing Q&A pages like Quora. Quora has an algorithm that first displays in front of you the content that is most common for a given topic.
Type your subject into the search bar for Quora. To narrow down the tests, utilize the filter on the left. You can also track the subject and stay on top of it anytime a question is posed or a convincing response is given. When you click on a topic, Quora will propose to choose from several subtopics.
You've got fresh phrases that you can use from here on. You can see several questions and responses in the topics and the subtopics. The replies that have at least most upvotes are your strongest choice for keywords. Questions are certainly a keyword goldmine and a location where you can identify multiple gaps that your rivals don't address.
3. Conduct Competitive Keyword Research

A competitive keyword analysis is when the keyword gaps come out first because it is only through competitive testing that you can exploit those gaps. Chances are that the opponents have already completed their keyword analysis on the phrases they rank for. To find out who the rivals are, just type the seed keywords in Google search one by one, to see who shows on the first list.
Then check out every successful website that ranks on Ahrefs' first list, a well-known backlinks tool collection for backlinks and SEO analysis. Type the answer into the search bar and press on 'Organic Keywords' from the sidebar. Only a single competitor will provide you with ample keywords for the latest material. To find out more, simply go to the "Competing Domains" option to find related websites.
4. Use a Keyword Gap Analysis Tool

Now let's define the keywords on which the rivals rank and all the gaps on which they don't rank. Again, it's advised to use a tool like Ahrefs or SEMrush for the keyword gap analysis. The first thing you ought to do is recognize your key rivals, once again. Take your URL and join Web Explorer in Ahrefs. Then drop down to "Competing Domains"
You can see the popular keywords for which you and your rivals' rate, and any single keyword they rate for. Look in depth at each of the top ten rivals, then than at their competitive domains. Create a list of your online competitors. Some would have a far higher authority over the domain than the others. You have to filter out those that have similar authority to your website. When they rank well for keywords and have a similar domain authority with yours, you're likely to be able to outdo them with better content.
Copy all the URLs from your competition's list and switch to the batch review platform of Ahrefs. Paste the URLs and begin the review. Ahrefs should return SEO metrics for any domain you've mentioned in the batch analysis tool. The Domain Rating (DR) is one such metric. For e.g., if your domain ranking is 53, you'll use their ratings to search for the competitive domains to check who's comparable with yours.
Start with competitors whose scores are plus or minus 10. Copy any around you, then go to Site Explorer > Content Gap. Attach the competitive URLs there and the app can locate all the keywords of the competitors that they list with which you are not at all rated. Click the "show keywords" button and the tool returns certain keywords you do not rate for. To export such keywords into a spreadsheet, press "Export." You will have many metrics in the spreadsheet, such as volume, keyword difficulty, cost per click, etc.
A number of these keywords in your collection can render your keywords a great subject to expand any further. Pick the people you would like to target your content for. Play this keyword set. Seek to find more sense in them, so you can create more ideas of material around them.
5. Compare Competitive Keywords

Now that you have an outstanding collection of relevant keywords that you use to compete with your rivals on your section, you have questions to ask yourself, like:

• What do competitors target that is not my target?
• What do I target which they don't?
• How do they target in a different way than I do?
• How many keywords do they target for each page?
• What kind of content are those keywords building around them?
6. Categorize Your Keywords

If you would like your keyword gap analysis to be more efficient, categorize your keywords and filter them out. To get the best successful keywords you need to add as many categories as you possible. Categorize and mark the keywords using a spreadsheet. You need to search the collection of keywords to the extent that you can find keywords that don't belong to some specific group. These are the keywords for which you have the greatest chance to rate for, or are the ones that are least important to your niche.
WRAPPING UP
It's difficult to find quality keywords, especially when you're in an incredibly competitive niche. But if you follow the above rules, you can cut back on SEO work hours while concentrating on the betterment of your small business. After the competitive gap analysis, once you have developed your best keywords it is not enough to build content around the subject. You need to shape a perspective that is special to your target audiences and meets their desires while concentrating the keywords on your company and market goals.
WHAT IS SERP ANALYSIS ?
What does SERP stand for in the first place? SERP stands for Search Engine Results Page and SERP Analysis is the method of evaluating the top web pages listed by a specific keyword or subject. SEO and marketing experts use this knowledge to assess the level of complexity for a Google search ranking.
So, well as looking at the complexity of ranking, SERP research will also show whether a rival may have reached their position on Google. It can provide useful feedback to your marketing or SEO department, allowing it to move the company up the rankings.
One of SEO's objectives is to allow the website to show on page one of the search results as consumers are searching for similar keywords. For e.g., if you're selling plungers in Cleveland, Ohio, you'll be pressing for a page one listing for someone searching for 'Cleveland plunger.' However, if you type your request into Google, you may be surprised to see that on the first list of search results your company is not listed.
At least not anymore. It would help you at this stage to find out how some other companies have done it, what you can do differently, and whether the expected amount of traffic to be generated from this keyword is worth the expense and commitment. In brief, it's time to get an interpretation of the search results.
Below are five strategies that will give the team all they need to bring their company where it fits— on page one.
1. SERP Checker
SERP Checker can be defined as a resource for competitive analysis. This can provide you with SERP place knowledge regarding your competitors with more than 49 specific metrics including the SEO competition score and competitiveness rating. It helps you to easily see your competition's strengths and weaknesses and your team will make use of the knowledge to obtain better rankings for your company.
Anyone familiar with KWFinder should feel comfortable with this interface. This is really user friendly. You will see, for example, how the link being examined looks as it appears in Google's SERP in one button.
One of the great advantages of this unique SERP analytics application is that it will include insight about whether a site works differently, based on how it is displayed on a desktop or mobile device screen. You may also select from continents, states, or cities and you can see the effects of local Search SERP. Given the significance of both local SEO and web search, this increased versatility is incredibly helpful. Other highlights to look out for are:
SEO Competition Score (or SEO Competitiveness Rank) – With this tool for analyzing organic search results, it is easy to assess without delay. A user-friendly layout can identify the competitors' strengths and disadvantages, showing you how challenging it would be to rate one on search results for a certain keyword or key phrase, depending on the current listing.
Managing Metrics – choosing from a wide range of metrics and focusing on those that matter most to you is easy. Using Moz 's power, the team will be able to evaluate a variety of metrics like domain authority, page authority, and trust. Using Majestic info, you can see the possibility of an URL becoming influential based on how many sites connect to it, and perceived interest based on the links of a domain to 'trusted seed pages.' Also, users may measure social indicators, which involve the amount of Facebook shares and the number of pluses on Google+.
2. Moz SERP Analysis
Your marketing or SEO department will also have awareness of Moz as a platform and intelligence resource. Their tool for analyzing SERP is among the best. You will make sure that the staff pays attention to the following criteria.
Difficulty – also referred to as rating difficulty or keyword complexity, this measure would inform the team how challenging it would be to achieve a number one rating with the search term to be analyzed. The greater the number, the more challenging it would be to reach a rating that is higher than the one on the page being evaluated.
It may be worth having a tactical escape from entering an aggressive fight, with a large number here, i.e. a high keyword difficulty or rating difficulty. Overall, following a keyword that is more selective and has a greater chance to rank well might be more desirable.
Opportunity – here you 're going to want to see a big number. Moz Explorer looks at the first ten pages on page one of the search engine reports to determine this ranking and calculates the total rate of click through's. If a lot of people open those connections, it's a good opportunity.
Potential – All metrics mother. It uses all the metrics that determine whether it is worth following the keyword. Low keyword complexity paired with reasonable probability can earn you a higher possible ranking.
Page Authority – here you can know the jurisdiction of the sites in your competition. By taking a look at link metrics it produces this score. The higher the ranking, the more the page has authority.
Domain Authority – specific algorithms are used to evaluate the root domain authority. To simplify, you could find this as the authority of the homepage or an approximation of the website's perceived authority in general. Moz's tool is simple to use so head over there if you want fast tests.
3. Ahrefs Keyword Explorer

Ahrefs describes its keyword explorer as 'the most comprehensive keyword research tool on the market'. You can easily judge by yourself with its 14 day trial period. One of the reasons we appreciate it is that it helps you to enter more than one keyword at a time so you can see if you handle the flow. There should be lots of ideas and combinations to improve the work and study on SEO. Fast, simple, and efficient, this tool offers a perfect mix to evaluate your keywords and make actionable decisions. Metrics to take special note to include:
Difficulty – not every useable keyword needs to contribute to a battle to the death. Targeting or stumbling across keywords expected by Ahrefs would be simple to rate since it's good.
Clicks – other popular monitoring platforms can give you an understanding of how frequently users look for keywords and how the top pages' rate. However, with Ahrefs, you'll also see actual clickthrough data, which shows how many people click on those links.
SERP features – find out the top-ranking pages SEO metrics, and how highly they performed over the past year. This offers you more than just a snapshot of the success of a company but a tale of its development through time. This information can be very useful in shaping your SEO strategy and content.
4. SpyFu SERP Analysis
SpyFu users can find that it is not only simple to use the SERP device, but also offers specific rank value details that can be represented as the dollar amount of the monthly clicks. When it comes to the complexity of keyword ranking, SpyFu tells us that the power of the domain (the use of keywords in domain names) must be taken into account. For e.g., the hypothetical domain 'PlungersinOhio.com' is likely to rule for the key phrase 'plungers in Ohio,' since the desired key phrase is in the domain name – and even the page title and meta definition if they are clever.
If their business shows multiple times on the 1st page of search results, it might be challenging, though not impossible, to compete with them for this key phrase. A marketing department may decide that searching for an alternative key-phrase with less competition is prudent. If several homepages appear on page one, it's also a warning that ranking for this keyword or main term would be more challenging.
Rank worth – the average amount of monthly clicks is based on the organic topmost result analysis. The approximate importance of such clicks is rank meaning. This is evaluated against the dollars in comparable AdWords. Remember that this calculation isn't the same as the cost per click calculated by click amounts. SpyFu performs SEO modifications.
Domain Diversity – this This applies to how the chosen term is governed by a particular domain. Alternatively, there might be a number of places with often changing hands in top ratings. Which one will be better? Marketing and SEO departments will be both extremely cautious. This is one metric that best bodes for a moderate result.
Rank History – this method would allow users to get an image of a competitor's success over the past year with any keyword. This will offer an overview of the strengths and shortcomings of the company, as well as the potential to rate the business higher. Often, the marketing or SEO department can easily see where the top-ranked pages place their keywords, predicted clicks, and power of the domain.
5. SEOQuake SERP Overlay (Browser Plugin)
SEO Quake is a browser toolbox which makes it an extremely useful tool for your SEO or marketing team. It can provide influential insights to users, even if they don't specifically perform SERP analysis. With such a tool the squad won't lose a step in staying ahead of the competition. In seconds it downloads, operates on the move, and has been built to do so without any disruption to your surfing.
That, though, does not render it lightweight. Users are allowed to conduct thorough audits. At a glance, it offers a lot of detail, including page rating, internal and external ties, and social stats. It will also enable users to very quickly compare domain and URL stats.
Perform a search in Google, and under increasing search query, SEOQuake offers valuable details. It will convey a range of information quite easily, including the wealth, or otherwise, of the backlinks of any web.
You may press the metric for a more in-depth look at any of the indicators, and this will lead you to a more detailed result. The many parameters of SEOQuake include Facebook Likes, Alexa Rating, and domain age. If the staff is experienced enough, SEOQuake may be expanded to include the custom parameters. Have you ever used a site tool and wished that just a couple more items were done? SEOQuake may be the method for evaluating SERP to fulfill your needs.
SEOQuake's SERP Overlay pace and simplicity allow it very useful as a rank checker. It will encourage the marketing or SEO team to quickly see the effects of its SEO efforts. It can provide users with a modified Google database (the knowledge is focused on how many sites Google has indexed), and evidence of social proof on Facebook (in the form of likes) and Google+ (in the form of pluses) very easily for example. It will also have rating details on top marketing platform Alexa, a heavyweight of competitor review, keyword testing, and audits of platform and material.
SERP ANALYSIS CONCLUSION
Analyzing competitors is integral to SEO. For most small companies, after keywords and key phrases that are dominated by major players with clear domain authority and amazing backlinks, there is not much point in moving on. To head down the route less travelled to pick up prospective buyers who use more basic search words will be smarter, more reliable to cost-effective.
If you don't realize who your rivals are and what they're doing, all your marketing strategies may be for nothing. Being better than the competition doesn't suffice. You have to be wise too. And support with some of those clever SERP devices. If you operate a company that is connected to a specific area, you should expand your activities to include localization, make the most of local search and smartphone browsing.
Your marketing or SEO department should be able to make better choices on how it invests its time using such SERP tools. It will use real, up-to-date data to create a plan that will catapult your company up the rankings and deliver one, or more than one, the prized one SERP ranking spot. It may decide that the safest course of action is to avoid hunting down particular keywords as they're really hard to rank with, and don't offer many incentives either – a killer combination.