If you want to boost real brand recognition and push huge organic traffic to your website, then some pretty good off-page SEO activities are required. There is no consistent and efficient guide on the Web on what specifically digital marketers need to spend more of their money, expertise, and energy on to push organic traffic to their platform from an off-site SEO viewpoint.
Optimization of off-page search engines is not just about the links or connections. It is much more than that. Off-page SEO only informs Google what others think about the website. Just for example, if you have loads of interesting links leading to your sites, search engines would think you have excellent content – the kind that offers consumer value.
If not, why should people be spending time linking to it ?
Optimization of the search engine can be appalling, particularly if you don't know what measures to take to place your fresh web pages in Google top 10. But, if you can build a clear understanding of balancing on-page and off-page, you'll be way ahead of the competition.
But first let's understand what SEO and off-page SEO is.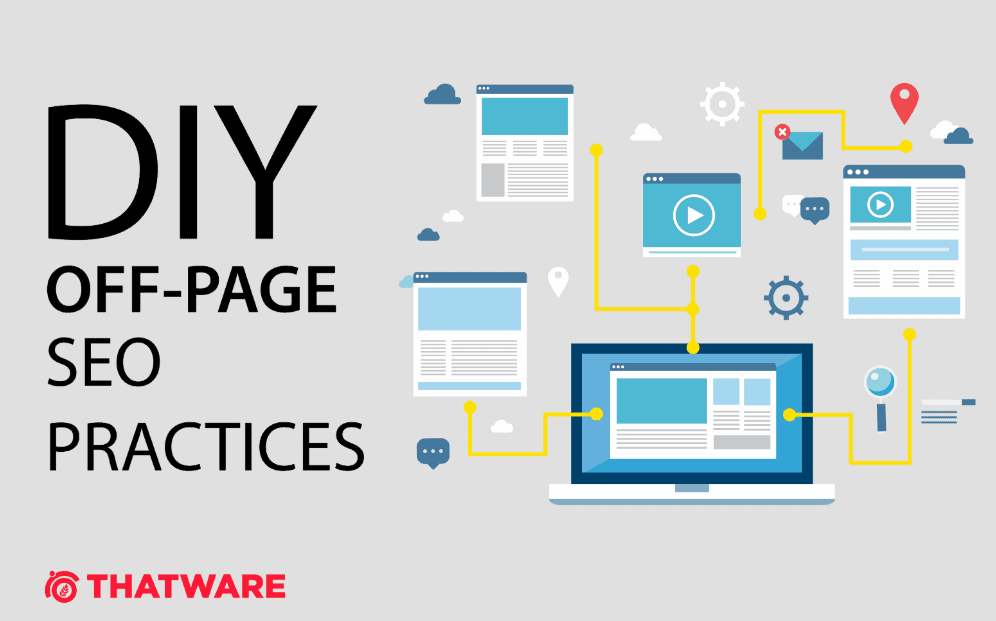 What is SEO? (Search Engine Optimization)?
Search Engine Optimization ( SEO) is the tool used by website owners to help search engines locate, index, and rate their websites, ideally above the websites of competitors. While there are many search engines that you can rank on, including Bing and Yahoo, most internet searches (80 percent) are done through Google. As a result, Google is targeting most of the SEO tips you'll come across to get noticed and ranked.
Furthermore, the tasks performed to increase the ranking of search engines are geared towards organic or natural results. Through Pay Per Click (PPC) advertising campaigns, such as Google AdWords, it is possible to pay for the opportunity to appear higher in search engine results, but this does not require SEO tactics as outlined in this tutorial.
Instead, this article is focused on organic search results with a goal of getting your website placed in the top 10 search results for your targeted keywords. There are several advantages to organic ranking over paid alternatives.
Why is SEO so important ?
SEO is important for many reasons, but the primary reason is that it can help you achieve higher rankings which means more organic traffic to your website. Search engine traffic is the most important traffic source for any website and may result in further conversions. Google receives more than three trillion searches per annum, according to statistics. Take a moment to think about what that number means and how it will affect your business if you manage to get your tiny share of traffic from the billions of searches per month.
What is off-page SEO ?
"Off-Page SEO" applies to all the things and activities you and others do away from the website in order to increase the rating on a search engine listing. Even though many people associate off-page SEO with the building of links, it goes further. Many activities which do not result in a standard link to other websites are important for optimizing off-page. On-page search engine optimization happens within the web, while off-page SEO exists outside of the site. If you write a guest post or leave a message for another article, you 're doing off-page web promotion.
Optimization of the on-page search engine occurs inside the web, while off-page SEO exists outside the site. You're doing off-page web promotion if you write a guest post or leave a message for another article. Search engines aim to match knowledge seekers with material that they would consider interesting, and these off-page considerations show that there is a community out there that thinks your platform is important and secure enough to suggest your material. Basically, search engines want their customers to come back, so the golden ticket is to guide them easily to the appropriate details they need – the aim is to make the job as simple as possible for them.
The Science of SEO
Often getting ranked on Google feels like rocket science, particularly because it's based on algorithms that often alter how Google chooses to list your site. That requires you to keep up with current trends and rules. For example, in 2015 Google decided that sites that were mobile-friendly would be given preferential ranking because so many people are now using mobile devices.
Even more recently, Google added a notice to the Chrome browser to indicate whether or not a site was secure with SSL and includes it as part of its formula for ranking. These changes forced website owners who wished to remain well-ranked on Google to upgrade their websites to be sensitive and to add SSL certificates (this is most relevant for websites that accept money). That being said, SEO need not be overwhelming. Understanding the basics of how Google and other search engines operate will make Google's support simple.
SEO predictions for the year 2020
Pay attention to these patterns for 2020, and when we reach a whole new decade and a search engine optimization age, you'll be able to keep a bit ahead of the competition:
• Artificial intelligence is constantly growing
Artificial intelligence has grown into a revolutionary power in the development of SEO during the past half-decade. Of course, the most recent phase in this advancement in artificial intelligence is the launch of the Bidirectional Transformers for Language Understanding (BERT), revealed by Google at the end of October. BERT is Google's neural network-based methodology for natural language processing for anyone who skipped it because it's relevant as it deals with the very basics of how people browse. Google itself says the algorithm represents "the greatest leap forward in the last five years, and one of the greatest leaps forward in Search history."
Through influencing one in ten searches, BERT allows Google a deeper sense about how vocabulary is used, which lets us appreciate the meaning about particular search terms. The crucial point you need to learn about BERT (and RankBrain too) is that you can't prepare for it.
BERT is just one indication of how Google knows vocabulary, but it's one of the most critical arsenals in the search engine. It ensures that webmasters and SEOs alike will now more than ever focus their energies on producing the most effective, real, and best quality material. Put clearly, as Danny Sullivan puts it, "write content for users."
• Voice search is here to stay
At the dawn of 2020, it's hard to believe, but when voice search was launched in 2012, many thought it would be, yet another effort consigned to Google's ever-growing graveyard.
In 2017 alone, there had been 33 million voice search requests. March 2019 data shows that 20 per cent of smartphone requests are voice searches. When voice search becomes more popular, more people are going to type search queries the same way they speak. Notice that the majority of these queries are very broad and long tail? Users want a precise answer to the exact question they have asked.
People looking for long tail keywords are in the considering period and in the recognition stage are more likely to covert than anyone. Bullet lists improve the odds of voice query rankings and most voice queries are local ones. Then, optimize the platform for the local SEO. Yet we learn so much more about the system now and, according to schema.org, where it is expected to be heading in the future. The adoption rate is slower than expected, but it has crept into our lives, so we must not neglect voice quest entirely.
• Mobile search will soon take over completely
In today's generation, maximum internet users are on mobile phones and 40% of transactions take place on mobile. On 1st July 2019, Google moved to mobile-first indexing to boost the mobile search experience.
• Data will be the future of SEO
A qualitative and quantitative data analysis is important for your SEO approach. To push the new SEO campaign in the right direction, you need to monitor user behavior and use the right tools for keyword analysis and web optimization.
You must carefully select the data sources and use data science to model the information to do this. This will help you identify common issues, such as why your clients are purchasing a particular product after arriving on your page or reacting in a particular way.
• People will want digital experiences
In order to improve customer experience, 44 per cent of companies have moved to a digital first approach. While 56 per cent of CEOs said the improvements led to growth in revenues. Page load speed is a significant factor in rankings. Great content does not equal anything if you don't launch your web page easily or have a confusing user interface.
Successful businesses recognize that creating a long-term relationship relies on customer experience, and customer experience inevitably impacts search ranking, because only customers with a good user experience can spend time on your website. Base the user experience in helping clients find the information they need. Make the next step easy for users to proceed.
• More marketers will leverage SEO influencers
More than half of their entire marketing budget was spent by 17 per cent on influencers. The statistics highlight the importance for companies of influencer marketing, especially those in fashion, beauty, ecommerce, travel and lifestyle.
The advertising distracted online users. They're after credible knowledge that they can believe on. More often than not, the source of that information is influencer reviews. They are more likely to trust an influencer's information over an ad. Working with an influencer lets you boost awareness, increase visibility online and expand reach for your content.
• The length of the content will determine search rankings
The only thing that will allow you to beat the competition to ranking in page 1 is high – quality content. But along with the quality, you will also have to consider the quantity.
There are plenty of arguments around a blog post's ideal length. Research shows that the top 10 results have an average length of at least 2000 words. That's because long form, high quality websites gain greater visibility.
• Featured/Rich Snippets
Featured snippets rolled out in 2017 and the way SEO professionals target keywords has shifted dramatically. Targeting for the samples listed remains the perfect way to lock up primo SERP real estate.
Click-through rates (CTR) increase for advertisements and decrease for organic advertising as Google becomes more clever and sneakier with ad placement. If your business relies on results from mobile devices, you will be more affected as this tends to affect local businesses where the results featured are more likely to populate the results.
• Video is the King
In the last few years, video has become more and more popular as the ubiquity of devices on stronger mobile phone networks has grown to help accommodate online content. It is well known that SEO considerations can be click-through rate (CTR) and dwell time on the website. To put it another way, recruiting the guests with images is a perfect way to bring the point out more explicitly. Expect to see more embedded videos on websites, particularly in places such as e-Commerce stores, information blogs, etc.
A. Invest in a professional video processing equipment to produce in-house videos or contract a company to do it for you.
B. Add videos to existing pages that rank well with video but can perform better.
C. To optimize other multimedia platforms as well, post your client videos on sites like YouTube.
Video is a crucial part of your online marketing and SEO approach as Google loves video content. Video is 50 times more likely to appear on the first page of SERP than a plain text web page, according to a Forrester Report. Additionally, video is included in 62 per cent of universal Google searches. Create useful YouTube videos on your page that complement existing content. It's not a promise for first page rankings, but when Google searches the video you'll enjoy higher traffic.
• Google My Business Changes
Local SEO is relevant for local businesses, you guessed it. Google My Business is a place for companies to control profile and knowledge for their firms. Google also uses this GMB data to fill the search results, local map packs and so on.
Google My Business is a focus with small companies seeking to outstrip competitors within the same coverage area. For voice search more and more people are searching through their mobile every day for nearby businesses.
A. Make sure you have your company listed on Google My Business.
B. Ensure smartphone apps and voice search are streamlined. To visualize what they are searching for, place yourself in the hands of future searchers.
• BERT
Google is getting better and better at understanding the relationship between words, with the launch of recent BERT update. BERT stands for Bidirectional Encoder Representations from Transformers and is an improvement to the core search algorithm that comprehends the searcher's purpose behind a search query.
BERT impacts on one in ten queries. SEO marketers applying BERT models increase their ranking chances in Google SERP for featured snippets on the first page. Google uses BERT to develop their natural language understanding. But you can refine the purpose behind search queries as matching expectations is key to effective content creation.
The SEO strategies major action items for the coming years include
• Start looking for excerpts included! It is one of the easiest opportunities to take on additional real estate in the SERPs and conquer the rivals
• Artificial Intelligence Account. That implies making quality material, doing more detailed work on keywords
• Build amazing long-form content! Take the latest rank-and-file material to be much stronger and more comprehensive
• Feature images, videos and top brands on the landing pages
• Consider LSI and the words you would like to use on your website to bring meaning and complexity to the material to fit artificial intelligence considerations such as RankBrain and BERT
• Scan the latest General Guidance for Google to see how to add them on the website. To raise your CTR and improve rankings when targeting featured samples, using the schema and rich info
• Optimize the voice search platform by addressing concerns that users might be asking in your business and building up knowledge content for such queries
• Reach hard in the media to have the company listed. To get the word out, use the news releases and social media
• Understand user purpose and create landing pages to focus on truly fulfilling the user demand
Why does off-page SEO matter ?
Although search engines and ranking criteria are continuously evolving, the general opinion within the SEO community is that the importance, trustworthiness, and credibility that a successful off-page SEO offers for a website still plays a major role in a page 's ranking capability.
Although we don't know the complete algorithm that Google uses to rank content, evidence from our analysis of Search Engine Ranking Factors indicates that factors relevant to off-site SEO are likely to bear more than 50 per cent of the weight of the ranking factor.
On-page SEO v/s off-page SEO
On-page SEO is what you have full and absolute power of, while in off-page SEO this is not always the case. On-page SEO is made up of all the SEO elements which you can control best. You will monitor the technical problems and the consistency of the content if you own a web site. We assume problems on the page should all be tackled because they are in your possession. If you create an excellent web site, the ranking will certainly begin. Focusing on the on-page SEO would also increase the probability of success for your off-page SEO strategy.
Creating a connection with a lousy site is an incredibly difficult task. No-one wants to contribute to poorly written or boring posts. There are several factors of SEO considerations. Also known as on-site SEO, on-page SEO means modifying the website's internal elements to make them more search engine friendly-page SEO helps search engines better understand your website, gage if your content would be relevant to people using a set of keywords seeking information about something online.
If you're planning to use SEO as an important part of your internet marketing strategy, getting a good understanding of the fundamentals and value of on-page SEO will be to your greatest benefit. Many Internet marketing outlets have appeared in recent years, taking sizeable bites from the online marketing cookie. Some have moved their online strategies to some very common platforms such as social media marketing and dropped their SEO efforts without examining real data carefully.
Many have succumbed to the misconception that "SEO is gone," and are no longer a significant factor in driving targeted website traffic. SEO is not dead, and if it is still completely alive and kicking, it is still the key source of targeted website traffic. In a Forrester Research study, organic web search or the effects of natural search engines remain at the top of the traffic sources used by survey respondents. The report also states that this percentage continues to grow at a steady rate and is expected to continue to grow in the next few years.
That is why optimizing your On-Page SEO and Off-page SEO is critical if you want targeted visitors to knock on your doorstep online. This does not suggest, however, that you pick one Internet marketing channel over the other and drop the rest altogether. You need to explore each of these channels to get the full results and pick which can be combined with SEO to get the best results.
But before you can dive into all of these in more depth, it would be best to proceed and understand a bit more on-page SEO basics knowledge. Now, when some SEO's hear the word "SEO-optimized posts," they think it's some form of bad practice. But it's not only bad but it's required. Here's a little food for thought:
"Why don't you appear on the first search results page?" Okay, there are certainly a lot of explanations for that, but if you don't pay attention to SEO, that's probably the main one. So, when we do a post's SEO-optimization, we adopt a set of validated methods to rank it higher on a search engine. Today, when rating an article Google doesn't just consider on-page SEO efficiency.
It also takes into account many other variables such as signals from the social media (shares, likes, comments, follow-ups, etc.), backlinks, domain authority, and many other indicators off-pager aim with on-page SEO is to customize an article in a simple, but intelligent way, so that search engines can easily select the target keyword and bring targeted visitors to our website.
A lot has changed over the last couple of years. While SEO off-page is relevant, SEO on-page should not be ignored. The golden rule still applies in particular to: "Content is supreme" Usage of videos is highly recommended. Not only can videos increase the amount of attention on your posts (which will attract users), but it will also make your posts even more insightful and rich in content.For instance, if I reach out and ask someone to link to me, that is SEO off-page. Why? Even during the period, I have not modified anything regarding my website. Conversely, if by improving any photos I increase my page speed, then that's on-page SEO because I made the improvement directly on my website.
Off-page SEO practices
To this end, here are several different link-building strategies and increasing the ranking of your site from an off-page SEO perspective:
• Link Building Techniques
Link building is the most common marketing strategy that professionals around the world deploy. It's the most desired outcome of all – well, to some degree. It's so important that, although Google suggests content is the # 1 ranking factor, the masses often prefer it over the principle of creating and delivering quality fresh content. But material also contributes a great deal to the technique of connecting.
Although acquiring a connection from another site helps to demonstrate the importance and legitimacy of your brand in the eyes of search engines, not all backlinks are created same. Search engines see a link to an external website as a recommendation, and the website's reputation informs how much weight that link carries. This being the case, successful building of ties implies not only winning backlinks, but also good quality ones.
Search engines assign their value to links based on a number of factors, including the overall authority of the link site and the number of backlinks to the site — generally, sites with good off-page SEO makes more potent recommendations. Links often bring value from pages that are more important to the linked material, company and business, and often profit when the anchor text of the link is relevant. To assess sites and pick worthy goals for your back linking activities, testing the traffic rank on a website offers a valuable measure of their impact.
• Take on the influence of social networking
When ranking a page, social signals could be important to Google. To make Google (or any other search engine) like you and to rank you high, you need to win your audience so that rank you high. The buzzwords of the day include Facebook , Twitter, Google+ and Instagram. In all of their life they have never been so effective and powerful. They're sure to learn how to connect people, provide them with the means to be motivated and pumped up, provide them with the mates they need (although much of the time they're only accessible in the virtual world), service them the share and enjoy them.
Brands and web advertisers, though, grabbed the opportunity and found the perfect medium for brand activism and advertising in certain media networks. Shares and likes are literary magic tricks in social media. They make expand and spread your company like wildfire. Each time you share important, original, and entertaining content with your user audience, you gain new users, followers, or leads.
There are three things that we would suggest to remember as you trigger on social media
• Be responsive
People are obligated to talk to you either when they are pleased with your facilities, when someone asks friends for a suggestion or feedback, or whether they are dissatisfied with your company. Be open though and communicate with your audience. Customer service will be carried out across all the platforms, online or offline, on the website or on social networking networks.
• Befriend with big brothers
There are a multitude of writers, influencers, esteemed experts, or even expert community administrators who can help you spread the word about your company. One, posting or referencing your post, two, following you, or three, clearly influencing your self-development as a businessman or marketer in the area. Create relationships with gurus of social media and let them mold you by taking from them what is good and knowing what is best to stop. Feathered birds flock together, they say. Stick with the good guys and you'll see progress.
• Monitor your online reputation
Name connections are an important commodity for your company so handle them accordingly. As previously pointed out, brand mentions act as ties in the search algorithms of Google. Employ a reputable brand tracking platform to see who listed you (and not only) through social networking platforms, what exactly they think about you, and use the time to get in contact and attract them as your consumers or further clients.
• Help other sites fix broken links
Another way of building research links is through searching for sites that have broken links. A website links to a resource or source in some cases only to have the linked page removed or downloaded later. It contributes to a damaged connection on their web which allows you the chance to fix it.
Links are very ephemeral sites adjust the configurations of connections or go down, so addresses of URLs stop functioning. You will easily find broken links in documents or material related to your company using software such as Broken Link Builder or Check My Links. Contact the site in question after determining ambitious goals to help remind them of the broken connection (and propose a possible alternative path that goes to your own site).
• Don't restrict yourself from commenting on blogs
There are minds that argue it's a bit delicate to recommend as it can easily turn into a practice of black hats. Commenting on blogs is an excellent off-site SEO activity that drives organic traffic to your site and ranking SERPs.
There are loads of web article on how to correctly comment on blogs and all you need to know is just one click away. But the basic sense is that you certainly can do so "white-hatly," and set off some miscellaneous strategies. Offer your input into the subjects, and draw your interest, but do not practice the signature of a statement. Only list your brand inside the body of important and helpful advice and render it specific to its presence.
• Competitor Research
Look at your competitors to find even more link building opportunities and see what sites have linked to them. You can find opportunities for your site to gain links from the same websites when you check backlinks that your competitors are getting.
If a site has included a competitor (in a summary report, directory page, or featured post), it is likely that the site will be involved in including your site as well. So hit some pages and ask them on naming your brand and connecting it to them.
• Guest posting
Similar to blog commenting, from the very beginning, you can describe your motives to post in such a way. Many guest bloggers come to promote their company or commodity, which may often transform into irritating reading and spam blogging. Be honest and make your first concern actionable, fresh and appropriate data.
Through writing guest posts from time to time not only help you create high-quality backlinks and generate more organic traffic to your website, but also something else. Yeah, by writing not just on your own blog but also by posting to others, you demonstrate a professional behavior.
• Forums posting
Forums are a perfect way to advertise the website and that is certainly part of SEO tactics off-page. Quora, Twitter, Reddit, Yahoo Answers, EHow are the most relevant platforms on which to get loads of actionable data and accurate responses to your questions. Forums are a perfect platform for engaging your audiences and getting a talk on subjects of concern to you.
Similar to commenting on blogs or guest blogging, referencing the brand name is a positive thing but stop doing it directly. Provide some actionable details on the actual subject first, and then match the brand between the lines if necessary. Such Q&A sites are real gold fields, but they must be earned first by making a comment with the correct phrases, sound and design. Render it clear and meaningful. Such media will carry a lot of organic traffic to your website and if lucky, conversions.
• Building trust
It is only normal that off-site SEO often requires confidence. After all, that is how you get your customer or social media votes. Transparency is a must-have in helping create trust. Post useful content and don't try to delude your readers with catchy titles and content of zero quality. This is certainly not how you create organic flow!
One way to develop and test the confidence of your customers is to ensure that you get feedback of the company. First you should ask your current customers to review your ranking section and leave a comment there. It's important to let people know how and why you deserve to get their feedback on your programs, both shared and publicly released. The more customers you have, the better feedback you will receive.
But critics press you for fast responses, no matter how good or negative they may be. Commit to periodically check your summary site and leave reviews. Your customers deserve to know that you are a real human, one who does not shy away from handling their clients with dignity and gratitude.
• Include videos and images
People enjoy playing and exploring, even if it requires doing something different and they just experience it. That's why Virtual Reality is a big success today, with motion graphics projected into the physical world through Snapchat, Instagram , and Facebook integration and making users crazy with obsession. And all of this AR is linked to images and video.
Nowadays, video and pictures are popular, and you can invest on them. How else do you think the success story of sites like YouTube, Vimeo (video), Flickr, Pinterest, Photobucket (photo), Facebook, Instagram , and Snapchat (video & picture) has gone this far? Off-site SEO is about bringing exposure to your website due to outbound events that are irrelevant to the quality on the blog. Promote your company by means of videos, podcasts, blogs, info graphics, quotes etc. Only take Tasty by Buzzfeed or Tastemade as an example. They put out videos like nuts and viewers love them.
Hub pages like Pinterest, YouTube and so forth have huge PageRank and confidence, so you can join them and affiliate your company with them, use their forum to post stuff about your goods. You will build brand recognition through shares and comments. Moreover, the links you get from YouTube videos and their meta definition are incredibly useful and help you boost your off-page SEO. Last but not least, don't forget to customize the file descriptions, file names, summary sections, size and links you upload. In these niches too, the SEO functions.
• Build relationships with Influencers
Another way to create your credibility is to use someone else's popularity online. Using an influencer marketing approach, you will build partnerships and encourage them to share your content and support your company with other popular brands and individuals. You should make friends with those you respect and whose moves you want to emulate in your life. In spite of their busy schedule, they are generally able to direct, encourage, and assist.
Begin interacting with them, try to impress them so that they share your material and you've built some great connections for yourself. But be alert, you need to be sure you don't forget them in time, so also stay in contact with them, ask for their guidance and include them in your content bits.
• Document sharing
Through posting information for your company on other sites, you'll be able to rank for keywords that your site won't be able to bid for otherwise, for different purposes such as being too big for the market. When you believe your material will also benefit the purpose of others, post documents to places like Scribd, Academia, and SlideShare for file sharing.
Treat the records like a standard piece of material – do keyword work and customize them fully: titles, files name, transcripts. Place effective call-to – action and link back to your website where applicable and wherever possible.
The downside of getting papers shared to these websites is that search engines can't scan PDFs and PowerPoint files because such pages make them accessible. Additionally, you are borrowing some link for your website, which is great again. Similar to your brand topic written docs, podcasts and videos, and then upload them with a transcript to SoundCloud, YouTube, etc. The transcript is where you can make things easy for search engine crawlers to run into your web path.
Conclusion
Search marketing has been slightly second in terms of top online activities for a long time now, after email. Hence, when users deploy queries you will appear in SERPs. One approach is to compose sublime material, make the website super-friendly and eye-catchy, promote it properly and obviously follow links together with traffic. Another would be to build an online presence focused on readers and concentrate on the intent of the searcher.
Last but not least, avoid fire play and practice off-page SEO techniques for black hats. You can turn enemies into the search engines, visitors, and subscribers. You can get fines from Twitter, have users banned or subscriptions blacklisted. And no one needs this. SEO strategies off-page isn't all the methods that boost the search score. They do need surveillance and analysis to realize the success of the approach.
To monitor your links and reputation, you should use the off-page SEO tools to see how your online authority is improving and changing. There are many more elements in the complete list of off-site SEO strategies which can offer your brand popularity. Our aim with this post is to inspire you to look about what's easy or convenient, and then about what's possible in a fair amount of time and energy, and that has the potential to produce substantial results. We hope that a company who operates tirelessly to implement the above described strategies should be able to perform better.