How have some businesses successfully navigated a crisis or economic downturn? Although fear is good for you, panic is bad for business. Many businesses suffer from challenges such as Brexit and now the Coronavirus pandemic.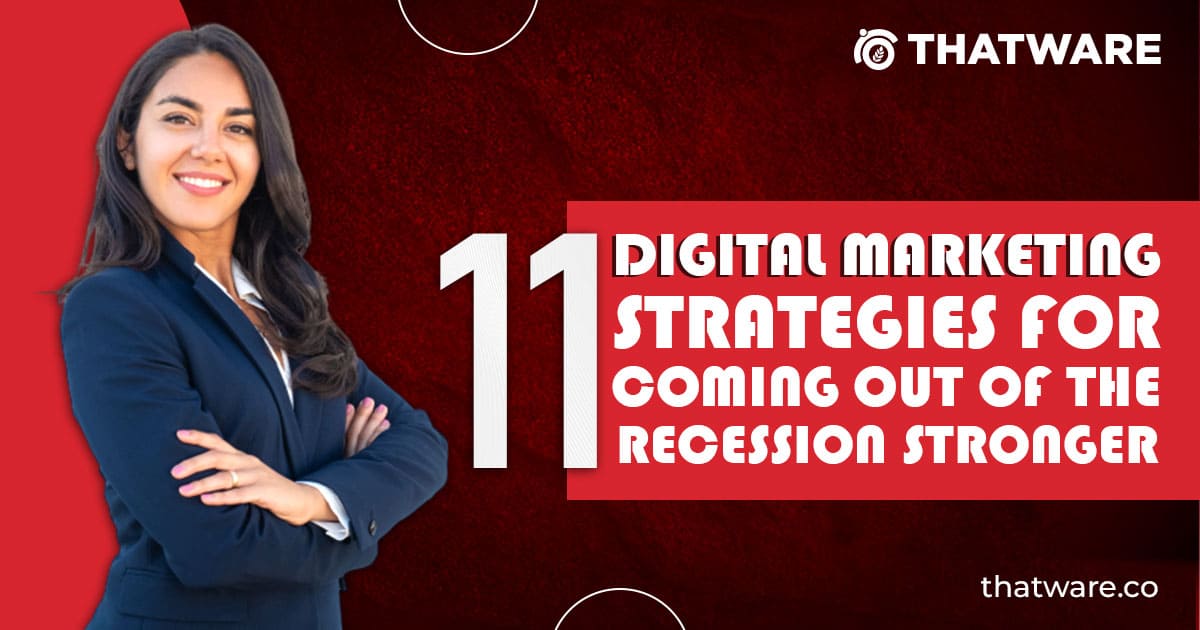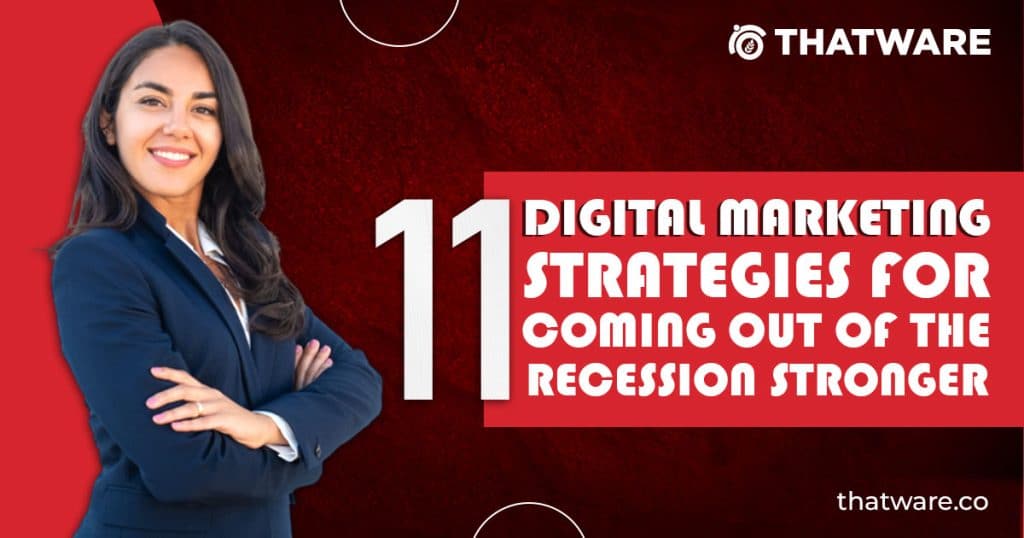 History tends to repeat itself. As a result, we conducted research and analysis on previous business challenges. We identified business tactics and marketing strategies that have proven to help some businesses thrive during and after the recession, and we are sharing these with you in the article below.
This article is for you if you are even a little curious or unsure about how to navigate any disruptive crisis.
1) Recognize your target audience's crisis behavior
Act wisely when things go wrong. Targeting and spending your marketing budget on a larger audience during a crisis is a mistake. Instead, you will earn your stripes by implementing leaner and more efficient marketing strategies. In good times, one can categorize their target audience using standard rules of thumb like demographics and psychometrics. However, it is more important to understand your target audience's emotional reaction to the economic environment in a crisis situation.
The takeaway is that understanding your core customer segments and how they perceive what will create value for them during a downturn is critical to capitalizing on opportunities during a crisis.
2) Adjust your marketing budget rather than cutting it arbitrarily
It is understood that companies adjust their budgets during a crisis due to decreased sales and profitability. Businesses frequently make the mistake of drastically reducing their marketing budget. Marketing should be viewed as an opportunity or a critical investment in the company's future. It is time for businesses to formalize better positioning and messaging strategies to boost long-term sales by positioning themselves ahead of the competition during a crisis. You can do two simple things:
⭐Keep your media presence active.
⭐Increase your bargaining power.
Invest time in learning about the other side, such as the situation, time constraints, and willingness to compromise. If you're affected by the crisis, so are they!
3) Rethink your product or service delivery to provide what your customers value most
During a short-term crisis, it is critical to be proactive rather than taking a risk or holding back. It's time to ask yourself if there is a better way to serve your customers or if you should stop doing what isn't necessary and focus on what your clients/customers truly value.
⭐Here are a few key points to consider:
⭐Communicate empathically to understand your client's/priorities. customer's
⭐Demonstrate your strength so they feel empowered to do business with you. 
⭐Recognize how the perceived value of your service/product has changed during a crisis, and then adjust your value proposition. Similarly, building long-term customer trust in your company values not only in the short term but also in the long term.
4) Concentrate on existing customers and turn them into brand advocates
According to studies, companies that could amplify their brand voice during a crisis by maintaining or increasing their advertising and marketing spending were more likely to gain market share than their competitors.
If this is the case, I recommend three critical stages for the success of your brand.
Phase I – Emotion is the driving force behind our thoughts, actions, and decisions.
Phase II – This phase requires you to demonstrate your actions. It should demonstrate that you value your customers by taking action rather than simply saying that you support them.
Phase III – At this stage, you must ensure that your customers continue to perceive your product's positive value and purchase from you.
5) Increase your digital marketing efforts – Experiment, fine-tune, and repeat!
Digital marketing is more likely to produce results during a crisis. Divert your attention and resources to digital marketing. Brainstorm to create creative ways to attract and mark your brand's impression on the audience. When almost everything is locked down and most people rely on social media channels, it's time to push forward and create valuable content. The key phrase here is "create value."
Online marketing can provide useful insights about your customer segment by providing better measurability and trackability than ever before. Numbers, as they say, don't lie. It is now appropriate to collect data.
6) Make it more affordable
Following the analysis of the target audience and consumption categories in point 1, It is critical to empathize with your audience to support them. My advice to you is to avoid upsetting your brand's positioning. If you are a luxury brand, do not drastically cut costs and reduce your value.
⭐How to ensure that entry is as quick as possible.
⭐Shorten long-term contracts
⭐Emphasize the quality of your services/products. 
⭐Provide flexibility by offering payment plans.
7) Keep a pipeline of innovations ready when the economy improves
It's not just about managing budgets effectively during a crisis; there's more to it. Consider using the extra time to revisit strategies and business practices by asking the right questions. Is it really necessary, for example, to bombard your audience with more digital ads, webinars, or newsletters? Does this affect your consumer psychology? Or does this deteriorate the previous touchpoints provided by your brand?
You must incorporate innovation into your marketing strategy to achieve this. It's more about identifying your business goals and brainstorming as a group. You must consider how you will fill the gaps as the economy improves.
Use the crisis as a springboard to revitalize your marketing pipeline and give it some breathing room. Analyze your previous results to see where you lacked and needed more structure. Is there anything we can cut from our marketing strategy while still seeing results from other initiatives?
Accept the challenges; hopefully, they will yield useful results to help you innovate your marketing pipeline.
8) Maintain flexibility in your strategies and tactics.
When preparation meets opportunity, success occurs. Choosing the right growth mechanism during a crisis is critical. Joint ventures (JVs), mergers and acquisitions (M&A), and strategic partnerships are common methods of inorganic growth. Yes, it is a difficult task, but previous results have validated this strategy. Partnerships are similar to marriages. You must ensure that your partner is content, or the relationship will not last.
Before jumping into something like this, PwC says it's critical to understand:
⭐ Capabilities: bridging a gap or capitalizing on strengths
⭐ Control: Weighing investment, access, and ownership 
⭐ Cost: Determining the business ROI 
⭐ External factors: Predicting success
⭐ Keeping the Right Pieces: The Impact of Divestments on Growth Decisions
⭐ The best of both worlds: When a partnership or merger and acquisition makes sense
9) Analyze and monitor everything
To keep you and your crisis business strategy on track, you must analyze and tweak your available marketing measures. Failure to maintain KPI is unavoidable. Social listening will benefit your brand's reputation and business growth during a crisis.
⭐ KPI for analyzing the impact of your strategy 
⭐ KPI for measuring audience sentiments after strategy implementation 
⭐ KPI for measuring your online mentions 
⭐ Correlation metrics for comparing numbers before and after PR activity 
⭐ Brand mentions of social media accounts and hashtags
Keep a record of audience feedback to understand better the key areas you can target during the crisis.
10) Be willing to try a new business model
When going through a difficult time, don't forget to adapt. The key to success is adaptability. When businesses resist change, they either fail or suffer significant losses. Identifying sustainable paths to increase your market share will benefit your company. Before making any changes, try to analyze the situation with an open mind and ask a few clarifying questions.
However, before making any changes to your business model, it is critical to assess your internal capabilities. What else will be required to provide a complete solution that supports the innovation's implementation? It's not just about the crisis and the quick fix; it's about the long game.
11) Maintain a positive attitude. Nothing lasts forever, and your attitude is crucial
Your attitude will determine the altitude of your company. This isn't the first time we've all faced a crisis; we're all in this together. Even at home, feed your mind positive thoughts and pump up your body with regular exercise. Maintain a daily routine to commit to the goals you want to achieve for your company's success. Finally, spend time with your family to relieve mental stress.
⭐Final Thoughts
In a nutshell, you can use this approach to thrive during a crisis or recession. Before reaching any conclusions as a brand, it is essential to follow these steps for long-term rewarding results.
Phase 1: First, concentrate on developing a brand strategy. During a crisis, many businesses fail to recognize this basic and critical step and instead focus on marketing and sales. Having your brand voice during a crisis can help you stand out from the crowd.
Phase 2: This stage is all about developing your identity and personality. It is about how your audience will feel the first time they come into contact with your brand. Because it's wide, don't rush. Use the crisis as an opportunity to guide and identify areas where you can significantly improve.
Phase 3: You are ready to test and fine-tune your marketing and sales pipeline after completing both phases.