OBJECTIVE:
Although tapestodigital.com is a well performed site, to improve its status was pretty challenging because if we make a one wrong move this site might get degraded from where it was before. It's usually easy for us to work on a new site but for a site which has a decent amount of visitors also a good exposure in SERP we needed to a make better strategy for this.
DIFFICULTIES WE FACED:
Site already has a good visibility in SERP
Improving the sessions of the website
Gaining more leads
Improving the conversion rate to increase the sales
Increase in positive audience
ANALYSIS:
BEFORE:
The amount of user they had and also the amount of sessions they are getting was already good. The conversion rate was decent too. Increasing its stats was challenging.
DATE: JAN 1, 2018-MAY 31, 2018

NOTE:
This site has already a good amount of visitors and good session score working on this site has risk of getting degraded from the original position.
TRAFFIC AND VISIBILITY:
From the analytics stats we can see that this site has 50% of organic reach and 22% of paid marketing reach.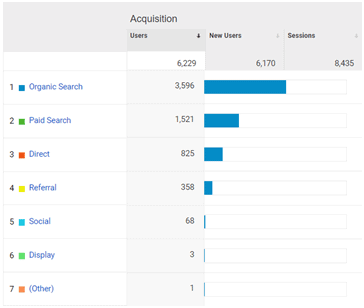 Improving the sites visibility more was one of the most difficult task we came across.
AFTER:
As we can see after a hard effort and a well-made strategy, we made it possible to improve more from where is before, the session score is way more higher than before and also we can see that there is a drastic improvement in conversion rate.
DATE: JAN 1, 2019 -MAY 31, 2019


There is also a 78% increase in Organic search, before it was 50%, this will help Tapes To Digital to get a good visibility as well as high CTR value.
COMPARING TWO YEARS DATA:
The sessions have 142.30% increased from previous stats.
The conversion rate has also increased by 612.12%.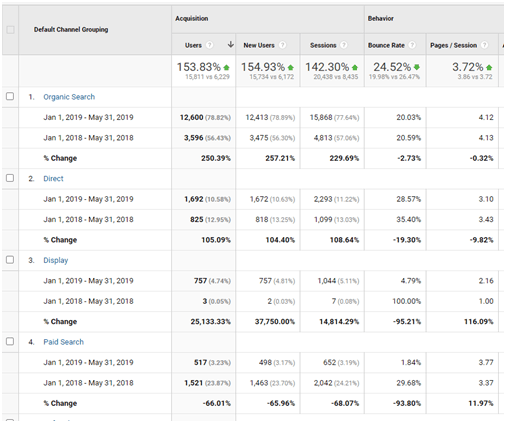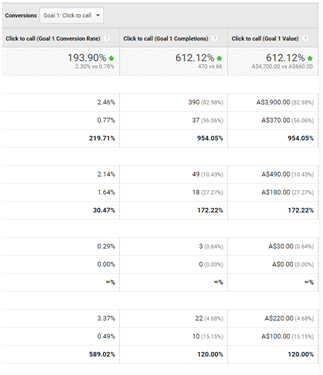 END RESULT:
Improvement in 2500+ keywords
Strong Backlinks from high DA sites
Improved CTR
Better User Experience
Results to Higher Conversion Rate
Increase in website speed
Increase in traffic
Quality content