FILL OUT THE FORM BELOW & ALLOW US TO TAKE YOUR SEO FOR LARGE SCALE BUSINESS TO A WHOLE NEW LEVEL!
SEO for large scale business is a bit complicated than the normal one, most of the time even when there is a brand presence still for some business the conversion rate and the traffic is very from expected. To do a proper SEO for large scale business needs a better strategy than usual. We have expertise in branding and driving organic traffic into the site.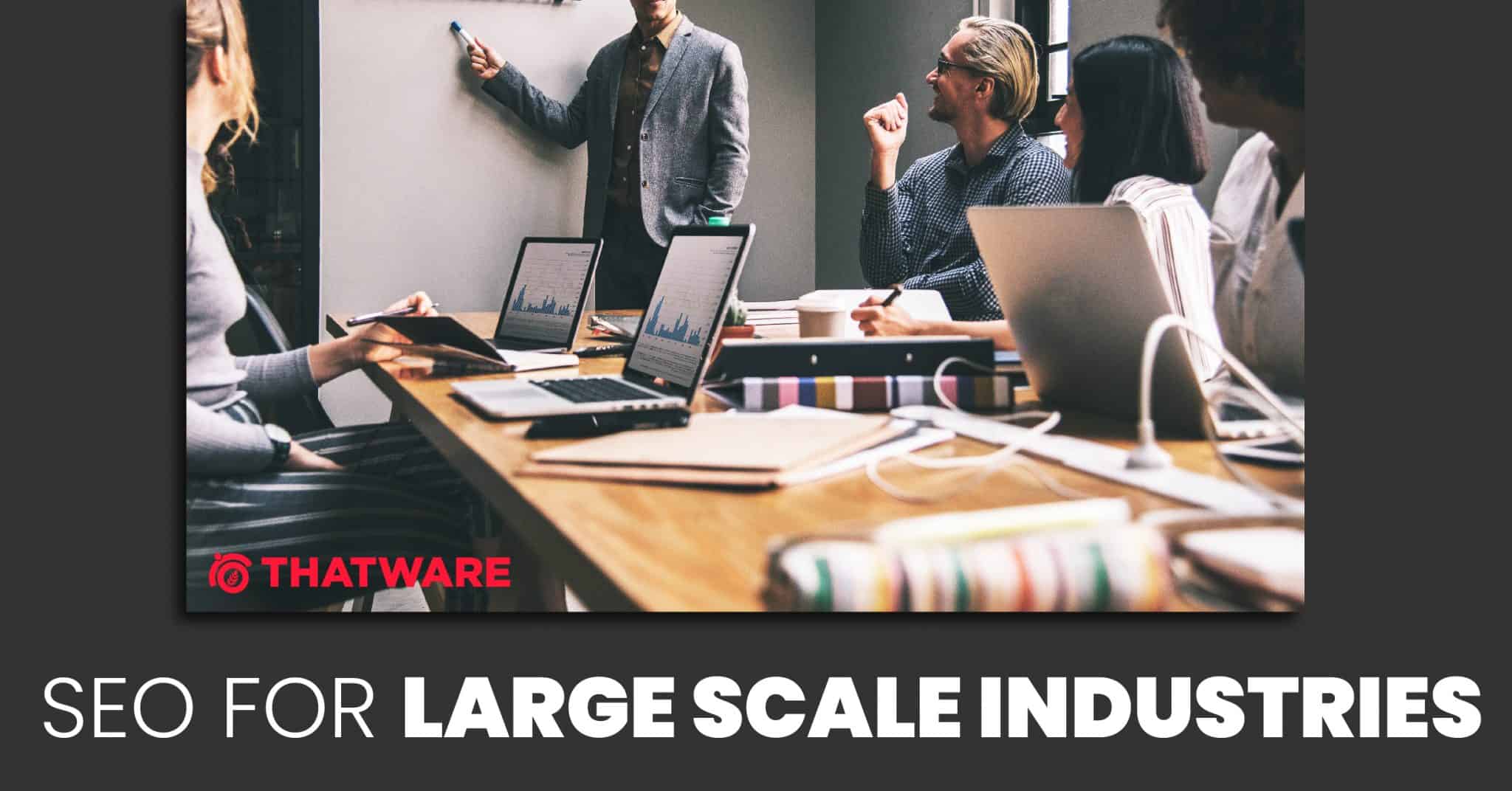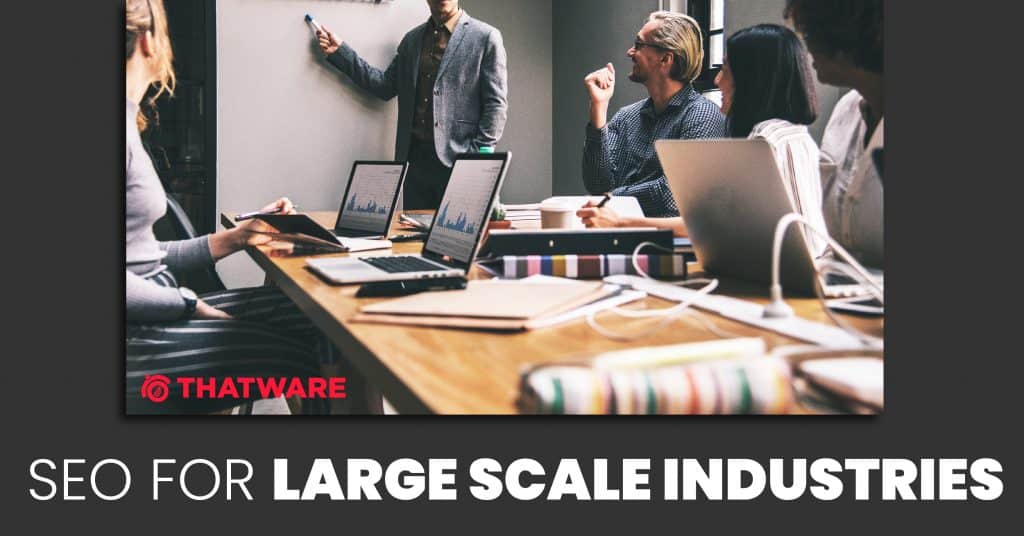 Large-scale SEO is the method of using the organic search engine. It returns to increase the quantity and volume of traffic to pages with a lot of content. Though large-scale SEO is often confused with enterprise SEO. Enterprise SEO is the practice of SEO in a large or developed company. The size of these firms, as well as the fact that they've been in existence for a long time, results in a much greater corpus of data.
Large-scale SEO is less commonly correlated with companies in consumer-facing and e-commerce environments due to large product catalogs in B2C, but in B2B, large-scale and business SEO are more often than not the same thing.
What's the Difference Between Large-Scale SEO and Enterprise SEO?
In a small to the medium-sized platform, it's always more practical to address technical problems on a page-by-page basis. The number of technical problems that are expected to be discovered on a large-scale platform is far higher. And dealing with them one by one is likely to be too time-consuming and ineffective. When it comes to technical SEO problems. You'll want to search at fixes that impact a wide number of pages at once or are at least scalable.
As SEO for large-scale businesses, you'll be far more reliant on the web development team. Or the capability of your content management system. You'll be searching at options that concern a vast amount of sites (CMS). If page speed is a problem on the web, for example, optimizing photos on a few pages isn't enough; you'll really need to look at the javascript, CSS, and other site-wide scripts that are affecting page load time. Your site developer would instrumental in deciding which improvements are feasible, have the most effect, and are introduced.
CMS
The features of your content management system (CMS) would also be crucial. Although you might still want to manually optimize the Titles, meta descriptions, and other metadata on a few high-priority pages. You'll still want to change the CMS rules to allow for automated metadata development. If your CMS doesn't allow you to edit the automatically generated metadata. You'll have to collaborate with your developers to make large-scale meta improvements.
The underlying bureaucracy in big corporations is another aspect that is unique to dealing with businesses. You'll almost certainly have to negotiate with a vast range of internal stakeholders. And gaining clearance on anything from keywords to content would be far more difficult. You'll also discover that completing SEO optimization projects will necessitate the collaboration of several departments. One department may be in charge of imagery and other artistic, while another is in charge of written copies. The web development team is likely to be independent of the marketing team. And the developers could be separate from the IT team that manages the site hosting.
For a large-scale platform, there's also a good chance that various product management departments. Or business divisions (BUs) will have a stake in how SEO is treated. Competition for the few SEO tools available expected to be fierce. And prioritization between product development or business unit teams can be challenging.
Tools of SEO for large scale business
Another factor to consider when it comes to large-scale SEO is the various tools available. A large-scale site's marketing department is likely to invest in an SEO platform like Brightedge or Conductor. There's also a well-respected and recently updated Business SEO Platform Guide. It will help you figure out whether you need an enterprise platform and, if so, the vendor offers the best solution. I strongly advise you to download this guide.
However, I've discovered that many businesses don't need the most powerful of these networks. I worked on SEO for a Fortune 20 business with a massive website that served a global audience. Despite having a large in-house and client SEO staff, this organization didn't completely use the corporate SEO program. Which ate up a substantial portion of the overall SEO budget. I'd recommend carefully reviewing what you need from an SEO platform before deciding to purchase one. The features of an enterprise platform can be worth the cost if you have a big and broadly spread team. But a lighter-weight platform like Moz, SEMRush, or Ahrefs is likely to be more than enough to satisfy your needs.
3 Strategies of SEO for Large Scale Business & Enterprise Businesses
If you realize the scope of your SEO problem, figuring out how to address the vast number of SEO problems. That are likely to exist on your platform will easily become daunting. I've found a few large-scale SEO techniques to be successful. And these are a good place to start for any enterprise SEO strategy.
1. Scalable Alternatives
As I previously said, resolving problems one at a time on a vast platform is both time-intensive. It has a much smaller effect than attempting to pursue a modular solution. When it comes to technological challenges, the commonality of the problem over a wide range of sites can start to play a bigger role in deciding which ones to solve first. Look for issues in the URL layout that affect a single or a limited number of files.
Large-scale pages also use faceted navigation, which can result in duplicate content around the web, and a quick adjustment in URL parameters in Google Search Console can delete this content from Google's database. A/B testing can also be performed at scale by identifying and testing common elements across several pages to achieve statistical significance faster. and ensure a significant effect if the test is accurate. Working with developers and working within the framework of the CMS can help you discover ideas that will impact a wide range of sites.
2. Treat each BU and Product Team like a client, with a Gatekeeper in place.
Treating each BU or product marketing team as a separate client is one of the best ways. I've found to collaborate with several BUs or product marketing teams. This is especially true when it comes to keyword analysis and content strategy creation. Different departments unconcerned with the keywords that their peers are focusing on for SEO rankings. Although this approach is useful in ensuring that each team's needs fulfilled. It can only be truly effective if you have a central administrator ensuring. The resources are committed to the BUs or goods that are the most important. This gatekeeper is also critical for ensuring that team feedback consolidated. And that work generated by teams is completed on schedule.
3. Create content for pillars
Given the vast amount of information on a traditional large-scale platform. The content relating to a particular subject is likely to be scattered throughout the site. Your large-scale platform, for example, is likely to include blog entries, whitepapers, videos, and tutorials on a particular subject. Each of these content categories represented on a pillar tab, which would refer to each of the individual content objects. This would make your business the ultimate resource for this subject.
Creating pillar content on a subject that includes and connects to related content on that topic may be beneficial in a variety of ways. To begin with, pillar pages will open prospects visiting your web to content from all over your site. There's also proof that Google's algorithms like well-organized blogs. Pillar pages add a layer of topical organization to the content that doesn't exist now. Pillar pages are also a smart way to hit higher-volume keywords. Opportunities early in the buyer's path by not neglecting long-tail keywords. Using pillar pages to present information farther down the buyer's path increases the likelihood. Those prospects will remain on the platform while they pursue their study.