GET A FREE CUSTOMIZED SEO AUDIT & DIGITAL MARKETING STRATEGY FOR YOUR HEALTHCARE BUSINESS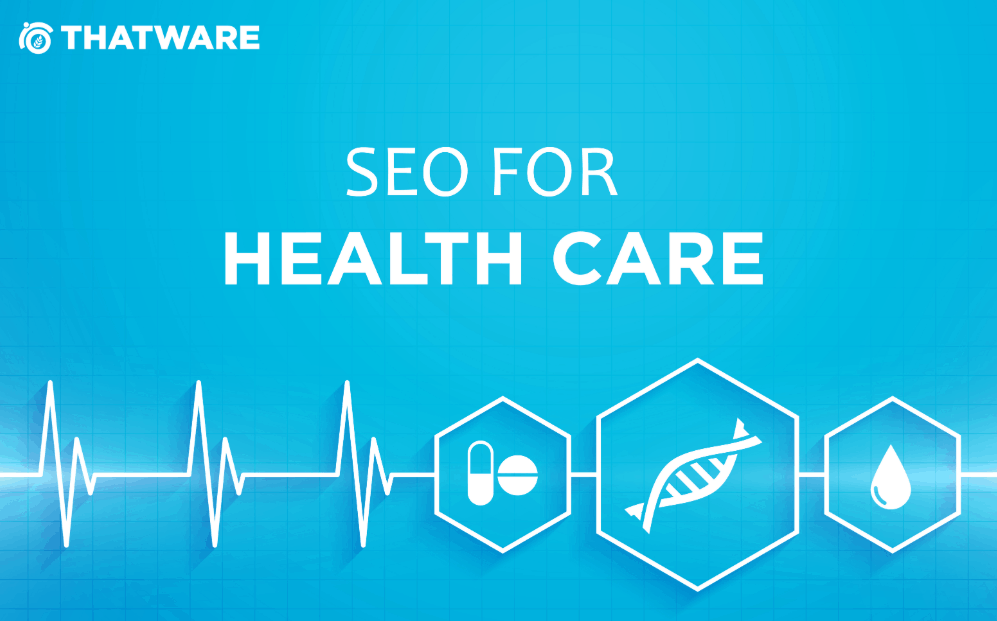 A good website for a doctor, clinic, or healthcare company promotes patient contact and lets you attract more of the customers you seek using SEO for healthcare providers. But if patients can't locate the website online, it means nothing. To be on organic search traffic by getting on page # 1, you're going to require a good SEO marketing department, a decent blog, a much better healthcare SEO campaign or a medical SEO agency.
What Are Healthcare SEO Services?
Search Engine Optimization (SEO) refers to the process of optimizing a website to rank higher in search engine results pages (SERPs). Healthcare SEO services are specialized strategies and techniques tailored specifically for healthcare providers to improve their online visibility, increase organic traffic, and attract qualified leads.
Healthcare SEO services encompass a wide range of activities, including keyword research, content optimization, on-page and off-page optimization, local SEO, link building, and technical optimization. These services aim to align your website with the search engine algorithms and user expectations, ultimately leading to better search engine rankings and increased visibility for your medical practice.
Why Are Healthcare SEO Services Essential for Medical Practices?
In today's competitive digital landscape, having a well-optimized website is not just an option, but a necessity. Here are several reasons why healthcare SEO services are crucial for medical practices:
1. Increased Online Visibility and Brand Awareness
The internet is the go-to resource for individuals seeking healthcare information and services. By investing in healthcare SEO services, you can ensure that your website appears prominently in search engine results when potential patients search for relevant keywords and phrases. This increased visibility can significantly boost your brand awareness, allowing you to reach a wider audience and establish your medical practice as a trusted authority in the industry.
2. Targeted Traffic and Qualified Leads
One of the key benefits of healthcare SEO services is their ability to attract targeted traffic to your website. By optimizing your content with relevant keywords and phrases, you can attract users who are actively searching for the healthcare services you offer. This means that the traffic you receive is more likely to convert into qualified leads, resulting in higher patient acquisition rates for your practice.
3. Cost-Effective Marketing Strategy
Compared to traditional marketing methods, healthcare SEO services offer a cost-effective way to promote your medical practice. While traditional advertising can be expensive and often yields uncertain results, SEO allows you to target specific keywords and demographics, ensuring that your efforts are focused on the right audience. Additionally, the long-term benefits of SEO can continue to generate organic traffic and leads even after the initial optimization efforts.
4. Establishing Trust and Credibility
When potential patients search for healthcare services, they are more likely to trust and choose providers that appear at the top of search engine results. By investing in healthcare SEO services, you can improve your search engine rankings and enhance your online reputation. This, in turn, instills trust and credibility in potential patients, as they perceive your practice to be reliable and authoritative.
5. Staying Ahead of the Competition
The healthcare industry is highly competitive, with numerous providers vying for the attention of potential patients. By implementing healthcare SEO services, you can gain a competitive edge by outranking your competitors in search engine results. This increased visibility and higher ranking can attract more patients to your practice, allowing you to stay ahead of the competition and thrive in the digital landscape.
SEO for medical relates to the art and science of climbing on Google's and other leading search engines' organic search results. A successful healthcare SEO agency strategy would need an investment in time, resources, or both to locate your website on search engines on page # 1. Your healthcare SEO service sneeds to focus on attention and systematic efforts.
CHANGING SEO REGULATIONS AND ALGORITHMS IN SEO FOR HEALTH CARE
You can reach higher search engine rankings for your medical practices by using the correct technique and by attempting to avoid black hat organic marketing. Black hat SEO applies to using "secret tactics" to bring pages to the top on Google and other global search engines to the peak. The trouble with it is, Google's algorithms are continually evolving, so they have taken action to counteract these medical SEO black hat approaches, penalizing healthcare professionals who are trying to do so.
If you're ever confronted by an "organic marketing specialist" SEO, making claims that sound too good to be true for "fast results," they're literally too good to be true. The perfect SEO for medical websites is a long-term approach that involves 3 main SEO-specific healthcare industry fundamentals.
1. On-Site Seo for health sites
On-site, or on-page medical SEO marketing, refers to the website's coding, photos, and phrases from medical SEO specialists. Several aspects influence elements of SEO, from the sort of material you provide on your health services page to the pace of loading the pages and the smartphone response to the site.
A. Title Tags
These HTML (coding) features inside your site's backend define the titles of your web pages. This is what's shown as the clickable title for a specific search result on SERPs ( Search Engine Results Pages).
B. SEO Metadata: Description Tags
These appear in SERPs just below the title tags and consist of a ~160-character or less summary summarizing the web page's material.
C. Site Speed
Often known as page speed, this calculates how rapidly the web pages are loaded and is an essential algorithm for Google to decide whether the website will appear in SERPs.
D. Mobile Responsiveness
The design of your website will show in a way accessible to mobile devices. With more and more clients going virtual and checking for "near me" hospitals and services, this is a critical aspect of the SEO approach.
E. Keyword Meta Tags
They are not available to users but are accessible to search engines. For SERPs, the keywords decide what you want to be looked out for.
F. Alt Tags
An alt tag is an HTML attribute added to image tags to provide search engines with an alternate text.
G. H1's and H2's
They are called header tags and are a significant aspect of SEO on-page. They're used to explain what the page is really to search engines.
H. Anchor Text Links
Anchor text is the clickable text of your content within a hyperlink. SEO best practices say the anchor text must be related to the page you are linking.
I. Bold, Italics
Google bots tend to like bold and italic text format since it highlights what should stand out, assisting Google crawlers to determine what's relevant.
J. Footer
How to customize the website's footer menu also defines the importance of your website to SERPs on Google?
K. Sitemaps
• Search engine XML: XML refers to Extensible Mark-up Language, which is identical in the HTML sense. An XML sitemap allows search engines to crawl the URLs specified inside the sitemap.
• User interface visual: A visual sitemap that users of your site will see is essential for good SEO practices.
L. Changing Content
Updating old medical / healthcare material would help to increase the impact of your medical website SEO initiatives and improve the total traffic in search engines.
2. Off-Site Healthcare SEO Techniques
Google finds websites that are referred to by other similar healthcare-related websites to be "more appropriate" than pages lacking any of those backlinks. You want such backlinks to be appropriate, so when it comes to search engine rankings, it gives your web pages legitimacy and reputation. You must try to get backlinks from following "off-site" references that lead to your website:
A. Press Releases
Press releases serve as a way of letting journalists and major healthcare publications know regarding big events like winning an award or launching new products/services for your practice.
B. Healthcare Directories

Directories are how existing and future patients locate their work and also play a part in SEO. Rating factors include when and how often activities are listed in directories, and continuity across such directories.
C. Blogs and Articles

Blog posts and online articles are perfect for SEO because they help place the website as a valid response to questions from your customers.
D. Healthcare Social Media

There's some controversy on the degree to which social media impacts SEO, but most healthcare SEO experts would agree that a higher amount of likes and follows on social media sites, particularly Facebook, would improve the site's popularity and its potential to appear on Google's page 1.
E. Your Reputation Management

Before agreeing to trust a company the average customer reads 7 comments. You will strive to address all negative and constructive comments but prevent violations of HIPAA enforcement. Your answers may and should, never disclose the name of a customer.
3. Healthcare local SEO -Off-Site Techniques

Local SEO, or local quest, is the web optimization method to create traffic from location-based searches. When you collaborate with our SEO experts in healthcare, you will be introduced to the Google Map Pack design, often called a carousel.
Healthcare SEO companies undertake to group similar on the map that shows up in a Google search at the top of the page. For example, if a website user is looking for "Women's Health" in Los Angeles, CA, a collection of businesses within a marked region will be displayed matching the description.
A. Citations: Citations are internet references to the title, address, and telephone number (NAP) of the health-care agency. Along with connections to the page, they are considered by Google and other search engines when determining the company's online authority.
B. Directories: We listed consistency within directories (above). What we say by this is that search algorithms may be fooled by various listings. For example, if you are classified on several directories as "Jonathan Smith, MD" then you will not be identified as "Dr. John Smith" elsewhere.
When you are unaware of the availability or accuracy of your folders, there are numerous free online tools available to help you review them. Some famous directories with material related to health-care include:
• MedlinePlus.gov
• SAMHSA.gov
• HealthGrades
• RateMDs
• Specialty sites like VeinDirectory.org
• NIH.gov (and NIH's MeSH)
• RealSelf
• AMA Doctor Finder (and AMA's InnovationMatch.AMA-assn.org)
• CMS Physician Compare
• Castle Connolly Top Doctors
C. Online Review Sites

Would you like to believe Facebook and Yelp are the most reliable user review websites? As part of maintaining your credibility, it is important that you have an eye on what's being written on these pages regarding your work, and that you react accordingly. Other sites providing user reviews include:
• Google
• BBB.org
• ZocDoc
According to the Search Engine Journal, SEO leads have a near rate of 14.6 percent, which implies they turn to clients, and in this situation — patients, while outbound leads (such as direct mail or print advertising) have a near rate of 1.7 percent. Is the value of SEO to your practice still being questioned? If yes, then please note that today 56 percent of American adults are now owners of smartphones, which highlights how crucial it is to rank highly in the search engines for relevant searches that prospective patients could make from their mobile devices.
Summarising the above, here are seven actionable search engine optimization techniques and strategies to help the company rate highly the healthcare industry competition:
• Choose the Right Keywords
Create a list of phrases you think customers are going to check while they're searching for your health care facilities and programs. Collaborate with representatives of the team to maintain an extensive collection.
After assembling this list of search words, check them by checking in Google's Keyword Planner with each keyword phrase and see the phrases have a reasonable amount of local monthly internet traffic, but with low pressure from certain websites or advertisers.
While evaluating the keywords, target for 200 to 10,000 local monthly queries for keyword phrases. Google, 77 percent of patients searched before booking an appointment, so it's essential to incorporate the right keywords instinctively throughout your website to enable the search engines to know what your website is about and drive more patients to your organization.
• Define Your Meta Data: Title Tags & Meta 
Descriptions: The keywords that are intended for your SEO strategy must not only be present in your website's original material but should also be present in each of those sites' metadata.
• Create Original Content
Build unique material on your platform to stand out from the online competitors, primarily through the search engines on behalf of the healthcare organization. By engaging the customers by premium content marketing, you'll be able to showcase the overtime efficiency and experience, as well as win search engine rankings. Set up a free blog on your website using WordPress to start writing and producing original content that generates traffic, educates your company, and builds its reputation.
• Include a Site Map On Your Website
Creating a basic website map is a frequently ignored strategy to better index the website with the search engines. A web map helps give a map as to how your website is laid out and tied to Google, Yahoo, and Bing. It may also allow users to access your website better.
You can build your website map but it can be exhausting, particularly if your website is in any case comprehensive.
To create a site map for your web address, consider using one of these third-party devices. I would consider having one that's available that isn't downloaded.
• Own Different Search Verticals
Many healthcare professionals lack an opportunity to rank highly for other market segments related to the search apart from a website such as a video, images, slideshows, local, mobile, and others. As a healthcare company, these special SEO verticals can be leveraged to generate highly focused traffic to web assets.
• Local Search Marketing
Fifty percent of the area searches are performed on a cell app, Yext states. Take advantage of today's mobile-friendly, local experience for your clients or it is time to switch industries. Local search is among the healthcare organization's most essential search verticals since, for patients to make use of their facilities and expertise, they must visit their healthcare provider's physical location. When someone is looking for your location, you must be at the top of the results. Also, you must rank when an individual is looking for your form of service product but hasn't found exactly what practice to go for.
• Use Social Media to Drive Rankings
Social networking helps promote bidirectional interactions between an entity and a user. One of the social network applications is to bring traffic from a wider audience to your website than you will otherwise be able to access. The influence of social media on SEO for medical websites is actually a form of building a link, except on websites such as Facebook or Twitter. This also emphasizes the need for reliable material, so that it can be spread constantly through all social media.
GET IN TOUCH
Fill out the contact form to reach out to our SEO experts in our company. If you want to enquire about affordable seo packages and any other customized needs. Please get in touch, we value and respond to each and every request which come across us.
CASE STUDIES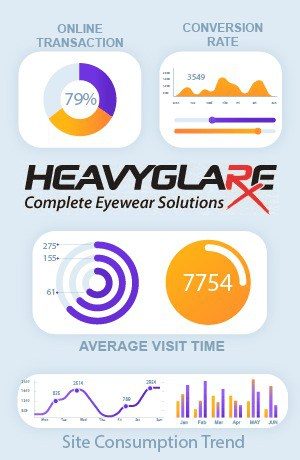 SUNRAY OPTICAL INC. (HEAVYGLARE EYEWEAR)
Services Provided: Advanced SEO
The business marketing seo model which has been performed for the above campaign is the advanced model. In other words, we have performed the top-notch search strategies with the right blend of semantics, data science, advanced link building and NLP. As an end outcome, below are the statistics which were obtained:
1.5 $MILLION
In Sales
600,000
Organic Session
Over 50,000
Checkouts