FILL OUT THE FORM BELOW & ALLOW US TO TAKE YOUR SEO For LIFE SCIENCE & HEALTHCARE TO A WHOLE NEW LEVEL!
Today, more people than ever before are turning to the Internet for advice on medical issues. In fact, 58% of web users turn to the Internet for information on specific treatments and procedures.
Having your own hospital or getting used to health care reflected in the natural search results. It is a great way to eliminate competitors and make sure you stand out from potential patients. But how can you make this happen when health care is such a competitive field?
A search engine optimization (SEO) campaign for health care that specifically targets these potential patients. It can help you appear high on the search engine results pages (SERPs) of health-related phrases. With the growing popularity of medical search and search engine indexes. Hospital SEO is rapidly becoming a necessity in today's fast-paced, digital world.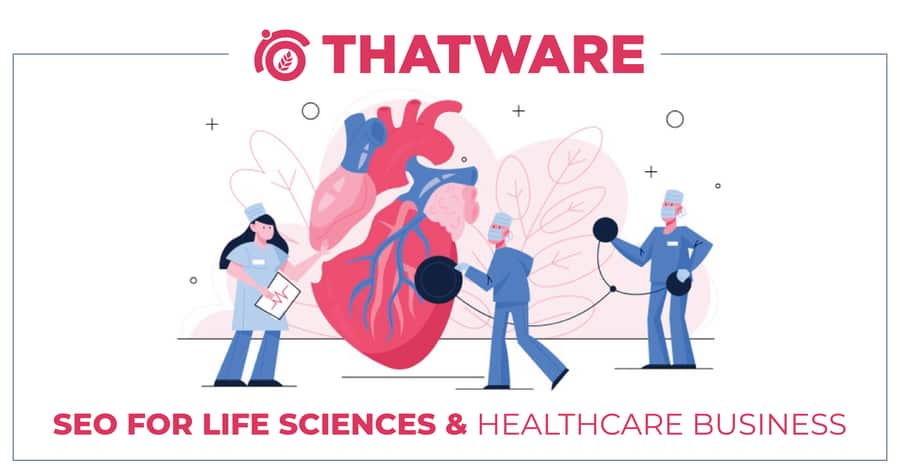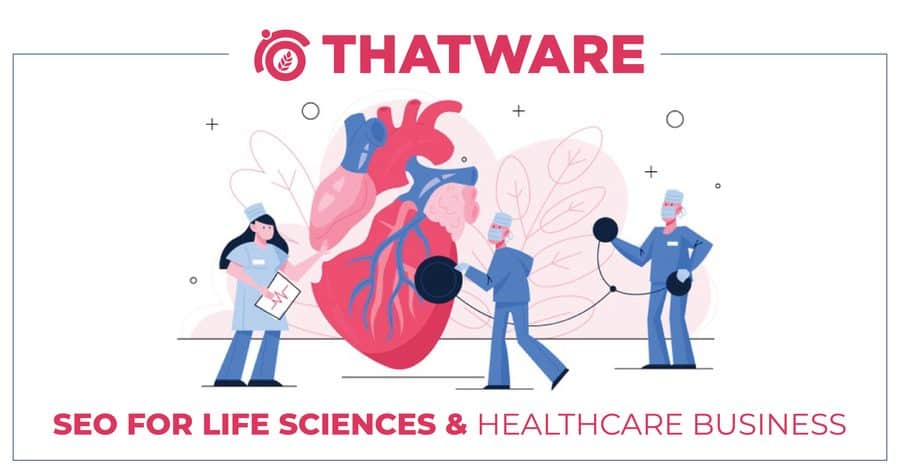 Call us to talk to strategists about SEO services from ThatWare. Or keep reading to learn what search engine performance is. And how your hospital or health care organization can benefit from the campaign.
What is SEO?
SEO, or search engine optimization, is the process by which your website is developed. It is to enable search engines such as Google and Bing to rank your site within search results. The SEO campaign is made up of a number of steps. And best practices to ensure that your site shown to the right audience. And hospital SEO can be quickly defined, depending on your skills and needs.
SEO also keeps your site up to date with any changes made by search engines. It is to how they show information to users. Without SEO, the visibility of your site can be very flexible. And prevent you from reaching potential patients as your competitors move ahead of you on the search results pages.
This is one of the reasons why it is necessary that the SEO campaign for hospitals. And health care needs to be conducted rather than a single implementation. In order to adjust according to regular reviews by search engines.
The benefits of life science and health care SEO service & facilities
Whether you want to increase the number of patients coming to your door. Or increase the number of procedures that take place in your hospital or staff, our campaign is the best and least expensive way to reach potential patients to improve your business reputation in the medical industry, let alone increase your ROI!
With 77% of patients using search engine results before booking an appointment at a local or local hospital. It is important to make the most of this search by making your website as visible as possible. Whether you are a large hospital or a small local practice. SEO for life science gives you the opportunity to measure more in the SERPs. It is with specific terms or targeted local phrases, such as the "Philadelphia cardiology unit."
High-risk or costly treatment is often the most sought after in medical terms. For example, potential patients may require "laser eye surgery" rather than non-surgical treatment, and an SEO health care campaign is ready to take advantage of this.
The role of content in SEO
By creating unique content for your site, you can become an authoritative person in the healthcare industry through blog posts, videos, patient testimonials, and interviews, as well as information about medical emergencies or changes in the industry.
Symptoms and medical conditions in history have been heavily researched in articles before a patient is likely to visit a hospital or medical practice, so having more detailed content on your website should not be ignored when promoting user conversions. This content not only makes your website more attractive and informative to users but also helps Google better understand what your site is about and why it should appear on the first page of relevant search results.
SEO and lead acquisition
Leading earnings are a common goal of SEO in many hospitals and health companies. Start by identifying keywords with trigger conversion history and create a content strategy that includes those phrases. Don't forget to include title tags that are rich in keywords, URLs, and titles. Also, make sure that your meta descriptions accurately describe and improve the content of your site.
As people find your articles and blog posts online and link to your content, your site will be ranked at the top of search engine results pages (SERPs). This can generate new leads and get more patients through the departments of your health facility.
The importance of a portable website
Having a portable responsive website is also an important factor to consider as part of making your website work, especially in the medical industry where users may be seeking urgent information about an illness or situation while away from their desktop.
44% of mobile users plan to be selected after getting hospital information online Which means having a user-friendly website is a priority. Additionally, Google incorporates mobile-friendliness into its layout features, so it's important to consider how your site's visibility might be affected by its design.
SEO for hospital location
Incorporating local search tools into your hospital or healthcare SEO system can also support this. Local SEO can help potential patients find the right things quickly in their environment or wish to seek them out.
Your local SEO for life science campaign should include a new setup, or upgrade to an existing Google Places profile. This will ensure that your local list returns to the top of the relevant results – for example, in the event that a patient in Dallas seeks Dallas' hospitals.
Tip: pay attention to doctor and service pages
Many websites of health care providers display limited information for each physician. But pretend you can be a patient. What kind of information would you like to see to persuade you to arrange an appointment?
Your website should contain basic information about each physician, such as education, skills, office spaces, and photography. You can take this step further by entering your personal information and linking to the publication they participated in.
Also, consider creating pages of various services offered by your health facility. This will increase your levels of service-related knowledge and allow you to show what makes your hospital different.
Make sure your website answers important questions such as which insurance you accept, where visitors can park, and how to contact you. This will increase conversions by encouraging patients to pick up the phone!
How can ThatWare help with the SEO of your hospital?
At ThatWare, we understand that you are operating in a time-critical industry and may not be able to keep the healthcare SEO process on its own. That's where we can help. We can take every aspect of your hospital's SEO campaign, from content creation to local improvement, to ensure that your valuable time is spent helping those who need it most: your patients.
Our team of experienced Internet marketers is there to help you find the success you are looking for online. We do a thorough survey of competitors, current levels and target audience before developing a strategy that fits your business objectives to start your SEO campaign.
With our online marketing packages for hospitals and health care organizations, your website will benefit from the increase in traffic in the rankings of top search engines, in addition to building authority as a business by creating unique content and resources for both patients and other medical professionals.