CTR or ClickThrough Rate is one of the traditional performance marketing measures, so you'll see it a lot. However, CTR is much more than a statistic. In reality, because advertisers usually pay publishers for each ad click, CTR impacts both sides of the advertising partnership's bottom line.
So, given the importance of CTR in your daily PPC operations. We've compiled a list of 7 things you should know about your CTR. Simply internalizing these principles will go a long way toward knowing how CTR works. And what you can do to improve your CTR.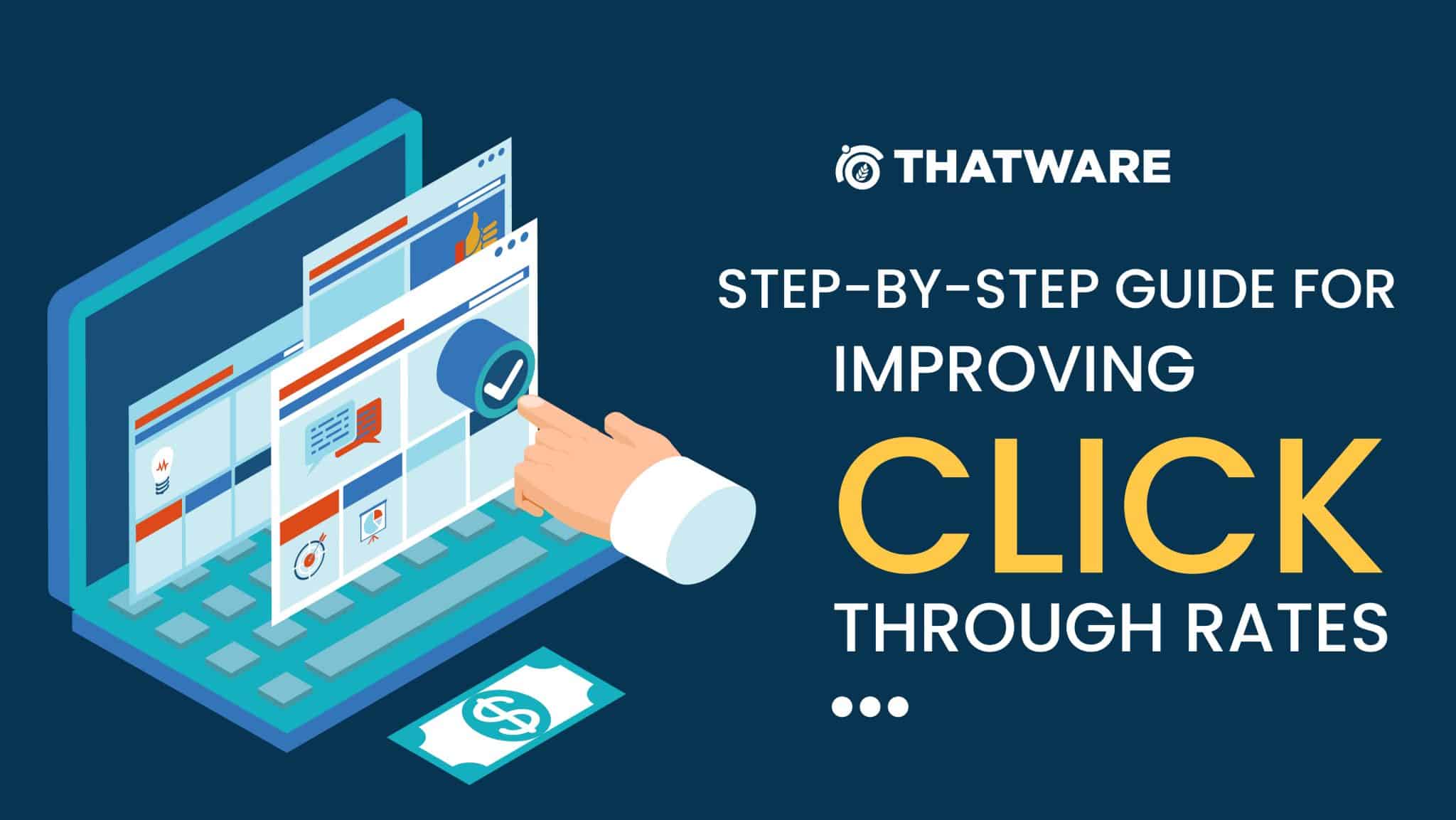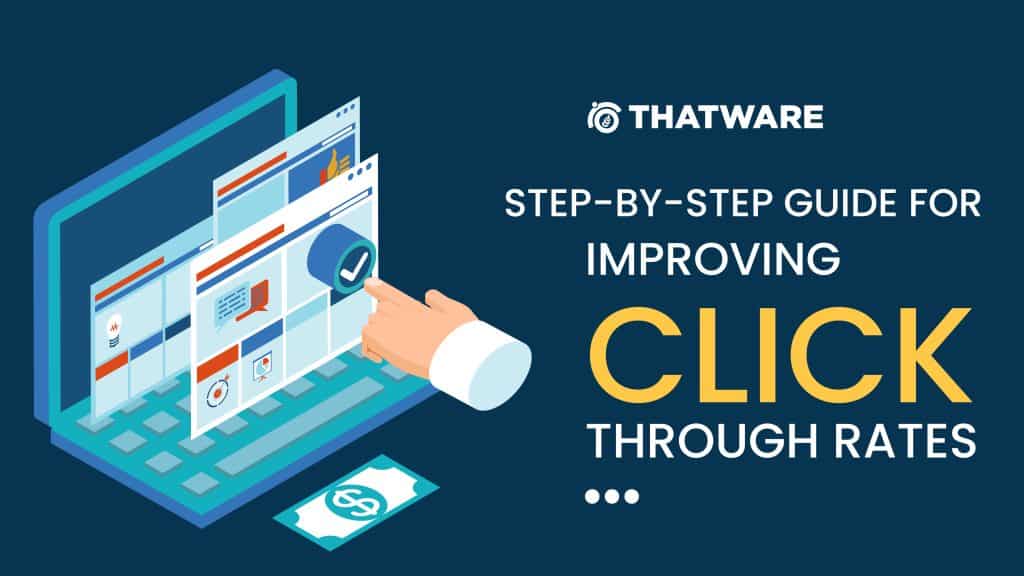 In simple terms,
Click-Through Rate = Ad Clicks / Ad Impressions
Why is CTR a critical metric?
High CTR has been proven to correspond with greater conversion rates in general. This is most likely due to the notion that it must be interesting if people click on your ad. As a result, they're more likely to be enthralled by your offering and act on your Call to Action. Also, when more people click through, the engagement rate rises, the Quality Score rises, the cost per click falls, and the impression share rises. A high CTR has a cascading effect, resulting in a cascade of good outcomes.
27 Simple Ways to Improve Your Website's CTR
Do you struggle to drive traffic and clicks to your website? If this is the case, one of the causes might be a lack of organic CTR (click-through rate).
You will not create traffic if visitors do not click on your link in the organic search results. This leads to fewer leads, lower sales and may have an impact on your search rankings.
That is why it is critical that as many people as possible click on your link. In this post, we'll teach you how to increase CTR in 5 minutes or less.
How to Find Low CTR Keywords and Pages
Checking your website's current condition is the first step in improving its CTR. By examining the CTR of various keywords, you may find phrases and associated pages that want development.
Google Search Console is the best tool for determining your current CTR. Open the Search Console, pick the website to evaluate, and select "Search Traffic" from the left-hand column. Then, from the drop-down box, choose "Search Analytics."
The report shows the top Google search keywords and their clicks, impressions, CTR, and average position. Next, you may choose terms that rank in the top ten Google search results but have a poor CTR.
You can instantly improve your traffic by increasing your click-through rate. Are you ready to learn how to increase your CTR? Let's have a look at some fast and easy tricks.
Change Your Title to Boost Click-Through Rates
When a user conducts a web search, the first thing they will see is your title. Getting your headlines correct will result in an immediate increase in CTR. What you can do is as follows:
Use Power Words in Titles to Incite Emotions — Titles that incite an emotional reaction are more likely to get clicks. To increase your CTR, utilize different power words to capture emotions such as avarice, rage, curiosity, or terror in your titles.
Include the Current Year at the End of the Titles – Including the current year at the end of the title indicates that your content will work right now.
Make an Impact with Numbers – Numbers are fantastic for catching users' attention and increasing CTR. They assist in making your website stand out from the crowd. You may utilize numbers in various ways, such as displaying the number of items in a list post, adding percentages, displaying instructional steps, and so on.
Create Multiple Headlines – Create at least three to five titles for your post and choose the best one. You may also look at these viral headline examples to help you develop titles that can increase your CTR.
Analyze Your Headlines — Once you've created several headlines, you can analyze every headline and accordingly compare their improvements.
Keep Title Lengths Under 65 Characters – If your titles are longer than 65 characters, search engines will cut them off at the end. Incomplete titles fail to catch the attention of users, resulting in a poor CTR. As a result, be certain that your headlines do not exceed the limit.
Include Keywords in Titles to Increase Relevance – By including your focus keyword in your title, you may make it more relevant to the searcher. It not only helps with ranking but also increases your chances of receiving more clicks.
Experiment with Adding Bracket Clarifications to Your Title – According to HubSpot research, adding a bracket to your title may increase your CTR by more than 38%. You may use bracket explanations at the end of your title to indicate the sort of information readers can expect if they click on the link. You can, for example, specify that the link contains an infographic, instructional, video, or other media.
Improve Your Website's Description and URL to Increase CTR
While titles are important in increasing your CTR, there are additional factors to consider. In the next part, we'll go over how you may improve the appearance of your website on the web so that people will click on it more often.
Improve Your Meta Descriptions – Users will understand why they should click on your link if your meta descriptions are clear. In addition, utilize an emotional hook, your keyword in the description, and remain below the character restrictions (typically 150 – 160 characters).
Make URLs Descriptive and Easy to Read — Having symbols, numbers, and special characters in your URL doesn't inform the reader what the content is about. That is why it is critical to make your URLs easy to read, brief, and descriptive so that people know what to expect when they click on your link.
Preview with Yoast SEO Plugin – You may also use the Yoast SEO plugin for WordPress to build and preview your title, description, and URL. The plugin displays how your website will appear in search results. It also shows a bar beneath your SEO title and meta description to indicate inside the character limitations.
Featured Snippets: Optimize Your Content
With search engines like Google displaying various info boxes and highlighted snippets, finding space for the research results is increasingly difficult.
But what if you could get your website to show up in highlighted snippets? There will be an increase in CTR and traffic. Let's look at how you may use these snippets to boost your CTR.
Identify Opportunities for Featured Snippets – You may enter the terms you chose using the Google Search Console report into various SEO tools such as Ahrefs.
Then, look for terms that have a highlighted snippet in the search results. For example, if you type in best WordPress SEO plugins, Ahref will preview the top 10 results, including any snippets.
Create Content Sorts That Appear in Snippets – Search engines display four types of snippets (paragraph, lists, tables, videos). You may optimize your content for highlighted snippets once you've determined which sort of material is displayed. For example, if a list is presented, you should include a list in your message.
Include Brief Summaries of Your Posts – Adding a summary of 40 – 50 words to your post or displaying items as bullets assist search engines in using your material for highlighted listings.
Use the Primary Keyword and Questions as Headings — Another approach to capture highlighted snippets is to use the main keyword or question as a heading and then construct a post summary.
Use 'People Also Ask' to Answer Common Questions — Google presents a list of questions under the People Also Ask area for various search keywords. If your content can address these queries, you can increase your site's CTR.
To fill these areas, write brief replies of 40 to 50 words and incorporate the questions as headers. You may also put these questions in a FAQ section in your post.
Include Long-Tail Keywords for Video Snippets — Video snippets may be found in many how-to inquiries. You may optimize your films for featured snippets by including long-tail keywords in the descriptions, which will increase their chances of being picked up by search engines.
Use HTML Tags for Highlighted Snippets – Google has introduced four HTML tags that you can use to manage the portion of your material that appears in featured snippets. These are some examples:
"nosnippet" – this meta tag specifies that you do not want any textual snippets
"max-snippet:[number]" – this meta tag tells the search engine the maximum character length of the text you want to show
"max-video-preview:[number]" – this meta tag specifies that you do not want any video previews – If you have a video and wish to preview it in a snippet, use this tag to define the maximum length in seconds.
"max-image-preview:[setting]" – You may also display images in the snippet preview by providing the image size as none, standard, or big.
Display Site links to Increase Your Website's CTR.
Site links are sub-listings that show in the search engine's initial result. These are additional connections to the same website that assist users in navigating the site.
Site links may significantly increase your CTR. Unfortunately, Google site links are automated and cannot be shown directly. However, you can do a few things to improve your chances of exhibiting site links and increasing your click-through rate.
Include a Table of Contents if possible – By including a table of contents in your postings, you are assisting Google's algorithm in understanding the various portions of your page and displaying site links. It also helps to improve the user experience of your page.
Use Useful and Compact Anchor Text for Internal Links — Another method of displaying site links to your site is to use anchor text and alt-text that is informative, compact, and lacks repetition. This makes it easier for Google's algorithm to identify and show these anchors as site links.
Use Structured Data (Rich Snippets) – You may boost your click-through rate by displaying more information on search engines via site links using structured data or rich snippets. Implementing structured data is a little complex.
Additional Methods for Increasing CTR
Now, let's take a look at some more ideas and methods for increasing the CTR of your pages and keywords.
Convert Your Site to HTTPS — To earn visitors' confidence and boost your CTR, obtain SSL (secure socket layer) certifications and convert your site to HTTPS.
Old HTTP websites are no longer safe and might reduce your CTR since consumers are hesitant to click on them. SSL certificates may be obtained from a variety of agencies, including your hosting provider.
Use Retargeting Ads to Raise Awareness — Users already familiar with your website or brand are more likely to click through. You may raise awareness by running retargeting advertisements to visitors and increasing your CTR. Retargeting advertisements may be placed on Google Adwords, Facebook, and other social media sites.
Optimize for Mobile — With mobile devices accounting for 95 percent of all organic searches in the United States, your website must be mobile-friendly. Visitors will press the back button if your site does not work correctly on mobile, and you will risk a low CTR.
Make Your Site Localizable – You may enhance your site's exposure and relevancy by localizing your content. Search Console's real-time analysis lets you determine which countries and cities generate the most traffic at various time intervals.
Then, use the location or country name in the keywords, title, header, or text. This makes it more relevant to your visitors while increasing your CTR.
Increase the speed with which your website loads – Let's face it: no one loves a website that takes forever to load. If your website does not load promptly and a visitor returns to the search results, the click is not recorded.
By increasing your website's loading speed, you provide a faster user experience to your visitors, which increases your click-through rate.
Final Thoughts
After you've finished changing your title, description, and URL, as well as optimizing your content for featured snippets and site links. Return to the Google Search Console report to check whether your CTR has improved. The report may be used to compare your click-through rate before making any adjustments. It can assist you in shortlisting the sites and keywords that have improved and require more attention. You may next attempt the various techniques described above to improve their click-through rate.