A simple Google search might result in an astounding amount of information. Google search operators, or characters you may add to your search word or phrase, aid in the discovery of more refined and focused results. They help you utilize Google more correctly and effectively by focusing on specific terms and avoiding others. We'll go over several fundamental and sophisticated Google Search operators, as well as how to apply them, in this post.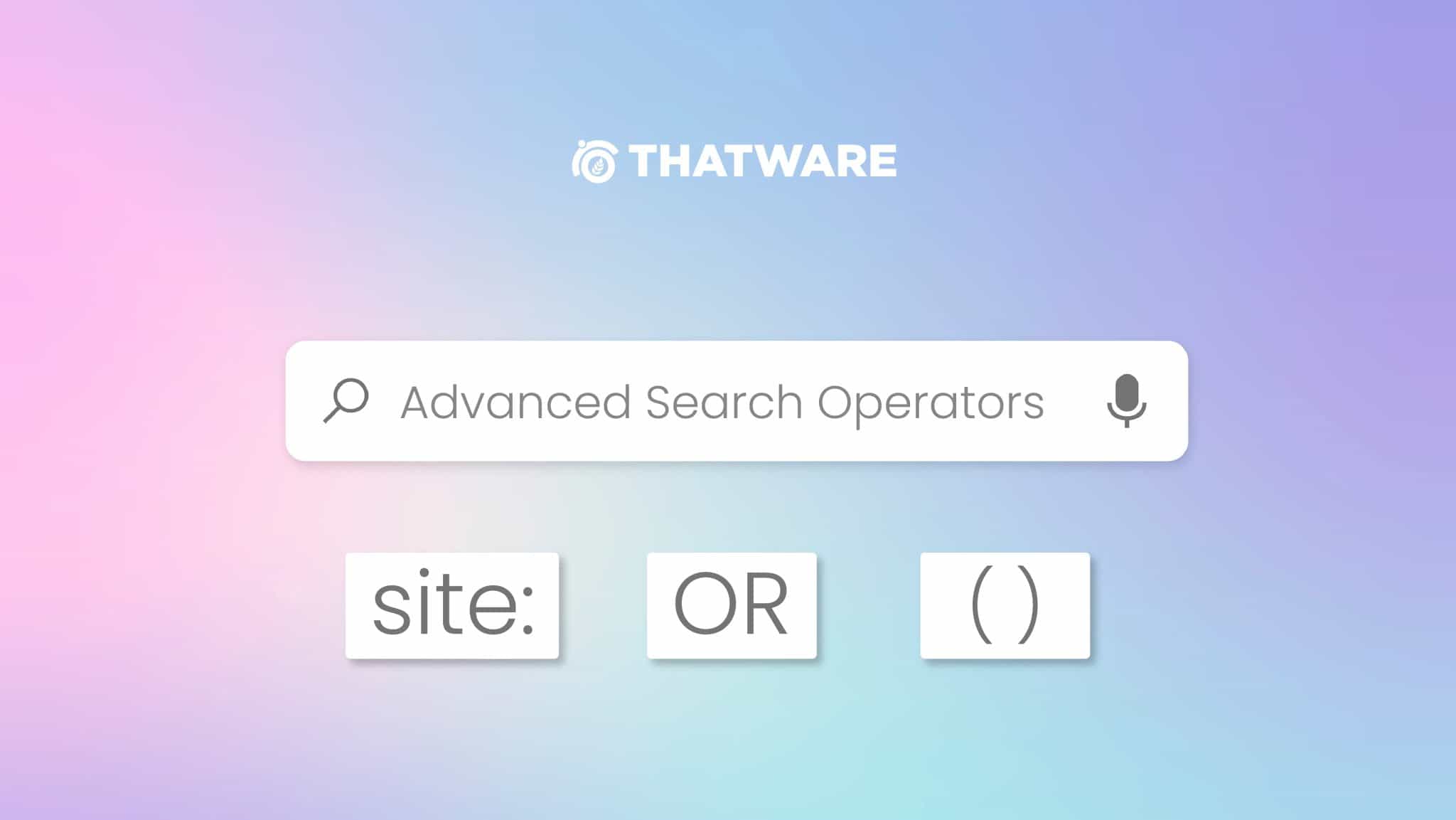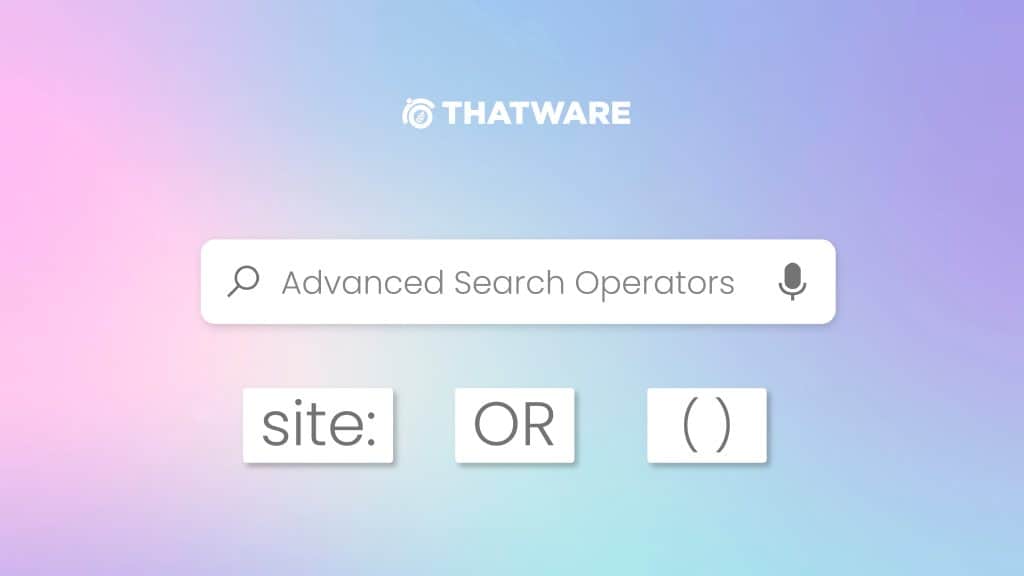 What Are The Different Types Of Google Search Operators?
Google Search operators are word and symbol combinations that help you optimize your internet search results. They help you utilize Google more correctly and effectively by focusing on specific terms and avoiding others. The following are examples of search operators:
Words like AND and OR
Quotation marks and other punctuation
Symbols like @ and $
Any of these in combination
These instructions are widely used by professionals responsible for search engine optimization (SEO) in their employment, and they are likely familiar with numerous sophisticated search operators. They are more effective at filtering search results than simple operators. They are as follows:
Look for anything on a certain website or online domain.
site:thatware.co or site:.edu are two examples.
Look for websites that have material comparable to that of a certain website.
related:thatware.co is an example.
Find the most recent cached (saved) version of a webpage from Google.
For instance, cache:thatware.co
Only look for one type of file.
For instance, consider the filetype:
PDF
Look for a word's definition.
define:searchengine as an example
Find the weather for a certain place by searching by city, state, county, or ZIP code.
weather:77354 is an example.
Find out about a stock, such as its price and previous movements.
For instance, consider stocks:TSLA
View a map of a certain location.
For instance, map:Houston
AROUND(X)
Search for keywords within a specific number of words of each other using AROUND(X).
Example: marketing AROUND(5) B2B
Search for words within a webpage's body text.
Example: intext:B2B
After the command, search a page for every phrase. To search for all phrases, type "all" before any of the following search operators (allinurl, allintitle, allinposttitle, allinanchor).
allintext:B2B marketing positions, for example
Find a URL that contains a certain word or phrase.
Dog breeds inurl:terrier, for example.
Find a word or phrase in a page title.
intitle:backsplash, for example
Look for a term in the title of a blog post.
For instance, inposttitle:DIY backsplash
Look for websites that are connected to a specified anchor text.
inanchor:backsplash, for example
Instructions On How To Use Google's Search Operators
When you understand how Google Search operators function, they may be useful research tools. Here are six pointers on how to make the most of them:
Between commands and search words, remove any spaces.
The greatest results will almost certainly come from a clean search.
Mix and match search operators.
To reduce your search, even more, you may combine virtually all basic and advanced instructions.
Remove any terms that aren't relevant to your search.
To prevent unhelpful text, use a hyphen often.
Look for plagiarized material.
By searching for a term and excluding your site, you can see whether someone has duplicated your material.
Find out how Google classifies your website.
To locate competitor sites and rank in search results, use the related: command.
Locate any non-secure pages on your website.
URLs that begin with HTTPS are secure, but URLs that begin with HTTP are not. Search your site for unprotected pages using the command site:thatware.co – inurl:https.
How To Use Google's Advanced Search Operators
Identify Issues With Duplicate Content
Duplicate content is terrible for Google rankings, as we all know. However, it's all too simple to reuse duplicate material across your site unintentionally.
When site managers post the same or extremely similar descriptions on various product pages, this is especially typical on eCommerce sites.
Check for search results that match the page title of your content by using the advanced search operator intitle:.
Look For Indexation Problems
You can find out how many pages Google has indexed for your site by using the site: operator. If you know how many web pages you should have indexed, you may compare that figure to Google's and take action.
Look For Opportunities To Write Guest Posts.
Guest posting a blog article on another popular blog is a great method to increase organic traffic to your site while also gaining vital backlinks.
The greatest method to get possibilities is to go after respected sites actively searching for guest writers to contribute a blog article.
The intitle: search operator can be used to do this.
Look For Opportunities To Build Links
To assist you in getting there, use sophisticated search operators to help you expand your backlink strategy.
You may use search operators to get a list of comparable sites that you might want to gain a backlink from if you've identified a site you truly want a link from. You've previously examined it for relevance and authority.
Use the corresponding search operator related:
Identify Pages That Aren't Secure (Non-Https)
Using HTTPs is required, especially if your site accepts credit card payments. Any eCommerce site that uses HTTPs must ensure that its web pages are secure.
With the search operator site, it's simple to spot vulnerable pages:
All you have to do is type in site:domain.com. -inurl:https
Scan Your Domain For Old Irrelevant Files
Keeping track of your site and remembering each and every file upload might be a difficult undertaking.
This is especially true if your site is large and contains several web pages and assets. It's incredibly simple to lose track of files you've posted in the past.
Word documents, PDFs, and Powerpoint presentations are examples of these. You may use the filetype: operator to find old files that need to be deleted.
Look For Opportunities To Link Internally.
Internal links are an important component of any successful SEO strategy. They let users navigate portions of your site relevant to them and boost dwell time on your web pages.
Internal links, when implemented correctly, may provide your site with significant SEO benefits.
However, you must ensure that you only include internal links useful and relevant.
Determine How Frequently Your Competitors Publish New Content.
It's critical to stay on top of your rivals' content moves and how often they post to stay on top of industry trends and your blog, so you don't lose out on any golden possibilities for a piece of high-ranking content.
You may do so by typing site:thehappyfoodie.co.uk/recipes into your search engine.
Look For Social Profiles Of Potential Outreach Candidates.
If you have someone in mind who you'd want to approach for link building, guest posting, or social media partnerships, you may use a search operator to get their contact information.
Look For Q&A Threads And Forums That Are Relevant To Your Content.
Forums and Q&A threads, such as Reddit and Quora, are excellent venues to promote your material in a natural and relevant manner.
When you respond to a question on Quora, you may include links to your blog entries in your answer.
Use the search operator site: to find relevant threads.
Bringing Advanced Google Search Operators To A Close
Using Google advanced search operators may be a game-changer in your SEO efforts. When applied correctly, you may easily get ultra-specific information about your site or a competitor's site.
Once you understand how search operators operate, you'll quickly realize how simple they are to use and wonder how you ever got by with Google searches without them.