What does the new E in Eat Stand for?
Google has recently updated its Search Quality Rater guidelines. While Google regularly updates and improves its guidelines for raters to rate their search experience, the recent changes were more significant than ever.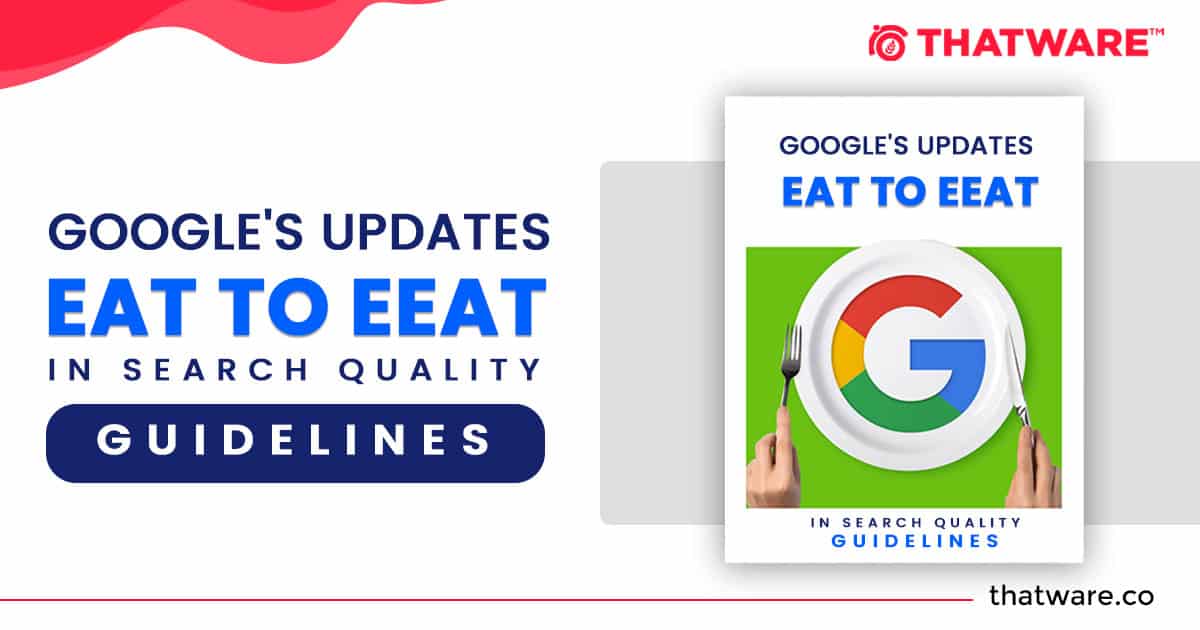 The Concept of the Double E in EAT
The concept of EAT has been well knowing to search experts and Webmasters. It stands for expertise, authoritativeness, and trust in content that help determine the quality of a page in the view of a search engine rater. 
These are not direct search engine ranking signals but principles and guidelines that influence a search engine rater to determine page quality (PQ) relative to the search query or category.
Recently Google added a new dimension to the guideline, known as Experience, thus adding a new dimension to the popular EAT guideline.
Including "experience" shows that Google Quality Raters can also judge content quality by understanding how much the content creator has direct experience in the topic.
Google emphasizes that "trust" is at the center of this idea and is the "most significant part of the E-E-A-T group."
Google additionally gives numerous more precise illustrations of significant ideas, for example:
Assessing the notoriety of sites and content makers.
How much E-E-A-T matters and how it should be judged.
What it implies for content to be dangerous.
A Background into Google's Search Quality Guidelines
Google has hundreds and thousands of these search engine raters whose collective ratings and reports help Google's expert understand their search engine performance and identify improvement areas. To help Search Quality raters do their best job possible, they released a detailed guideline about how they should operate, also known as Search Quality Rater Guidelines (QRG).
The guidelines reflect how Google wants its search engines to be and should be on the reading list of all search engine marketers, especially SEOs.
As per Google:
"We constantly experiment with ideas to improve the results you see. One of the ways we evaluate those experiments is by getting feedback from third-party Search Quality Raters. Quality Raters are spread worldwide and highly trained using our extensive guidelines. Their feedback helps us understand which changes make Search more useful.
Raters also help us categorize information to improve our systems. For example, we might ask what language a page is written in or what's important on a page."
Does Search Engine Raters directly impact Search Rankings?
The answer is no. A single or collective rating on a page cannot directly influence its ranking in real-time. However, these rates are Google's way of getting human feedback, which they evaluate to decide their next upgrades to improve the search engines.
Here's what Google had to say:
"We use responses from Raters to evaluate changes, but they don't directly impact how our search results are ranked."
How is Experience an important consideration in rating search quality
Google highlighted that, in some cases, the most valuable content comes from an individual with direct and personal experience.
For instance, Google gave this example, "if you're searching for data on how to compile your taxes correctly, then you likely want to find content produced by an expert in the field of accounting. On the other hand, if you're looking for feedback on a tax preparation software, you might be interested in a different type of information—perhaps a forum discussion from people who have utilized various services."
Diving Deep into the Changes to the QRG Guidelines
Understand a Website – Section 2.5
The following section was added to Section 2.5 of the updated QRG Guidelines.
"Start by finding out who is responsible for the website and who created the content on the page… Then, look for information about the website and content creators on the website itself." (page 15)."
When determining its ranking in search engine results, Google now considers the reputation of the people creating the content on a website and who owns and operates it. It's important to know who is behind the website, even if the relationship is unclear.
Finding the Main Contributor Behind a Website's Content – Section 2.5.2
While Google may identify the website's owner, it often happens that the owner is not the main contributor to the Website's content.
Google wants to make a firm distinction between website owners and the main contributor of the content.
They also added a table that further helps Search Quality Raters make the above distinction.
This table shows who is responsible for the content on different websites. Some sites create their content, while others rely on contributions from users or authors.
How to Evaluate Overall Page Quality?
In the updated QRG guidelines, Google has significantly modified how their search quality raters will determine the quality of a page.
Here's a table that sums up the same:
Google's QRG provides a 3-step process to help assess Page Quality:
1. Evaluate the page's true purpose and any potential for harm, untrustworthiness, or spamminess.
2. If the page is harmful, rate it Lowest quality.
3. If the page is not harmful, rate it based on how well it fulfils its purpose.
Google also introduced new website considerations, such as whether the site is hobbyist or corporate, involves financial transactions, or if volunteers or professionals support it. Different types of websites have different page quality expectations.
Additionally, the reputation of the website and its content creators are also considered to determine page quality, as are ads and how they contribute to the user experience.
Changes to Assessment of Main Content Quality
Perhaps the most important part of the search quality rater's guideline update is the modifications made in how they would assess the quality of the main content of a page.
In the past (page 24), Google said:
"For all kinds of websites, creating high-quality MC requires some measure of one or more of the following: time, effort, expertise, and talent/skill."
In the updated release (page 22), Google took out the word "time" and included the word "originality."
"For the majority of pages, the quality of the MC is determined by the amount of effort, originality, and expertise or skill put into the formation of the content."
This addition is not unexpected, given Google's concentration on unique content this year.
Here's a table that explains each one of the above considerations:
Google emphasizes hard work, manual curation, original insights, and accuracy in its latest version of the QRG.
They are asking raters to focus on the effort put into building the content and assessing whether it is built with automation or oversight.
Furthermore, they encourage originality and the presence of insights that cannot be found elsewhere.
Additionally, accuracy and alignment with expert consensus are still important for YMYL topics, as per the prior versions of the QRG.
The Importance of Reputation of Website and Content Creators
Google is now more than ever concerned about the reputation of the website and the main content contributors.
Previously, Google was much more focused on the topic's relevance and the website's reputation.
In the new update, Google clearly distinguishes between Websites and content creators. This newly added below section focuses on the importance of the content creator and the website in the quality rating process.
Revealing the New EEAT: Experience, Expertise, Authoritativeness, and Trust
In section 3.4, Google finally released its latest look at EEAT as the foundation for its search quality rating.
While Trust is undoubtedly the most important factor in its quality rating process, the other factors are guiding factors used in the assessment of Trust.
They define these factors as below.
Google uses the example of a product review to illustrate the importance of trust in evaluating content – someone who has personally used the product has more experience and therefore creates more trust.
When evaluating Trust, Google suggests considering the following three points:
1. What the website says about itself on its About Page or other profile pages.
2. What others say about the website or its content creators (third-party reviews or references).
3. What is visible on the page – actual evidence that the content creator can be trusted (e.g., real evidence of them doing the thing they claim to be an expert in).
Also, it is important to remember that reviews by the product manufacturer or influencers paid to promote the product cannot be trusted.
The Distinction between Expertise and Experience in the Evaluation of YMYL Topics
YMYL Topics have the potential to heavily influence a person's life, beliefs, and physical and mental being; hence these topics require much scrutiny to evaluate their quality.
There are three main categories of YMYL Topics: Health and Safety, Financial Security, and Society.
Google adds a new table to distinguish between Experience and Expertise while evaluating such topics.
This fresh segment reveals that the material is reliable even though a content contributor is not an accredited expert on a YMYL subject.
Individuals who tell their tales based on firsthand experience can be regarded as dependable material in specific situations.
Evaluation and Distinction Between Harmful and Not Harmful Topics
In the past adaptation of the QRG, Google acquainted the thought that YMYL themes are dictated dependent on their capacity to cause hurt to the client.
In this new form, Google gave an inside and out table with models of what is viewed as hurtful or not:
Along with a similar table for identifying harmful and not harmful content for Groups.
Taking observations, considering the current debates on free speech and censorship on social media platforms in 2022. Google has established a clear boundary between free speech and violent/harassing speech when defining harmful content.
To further explain, Google has provided explicit examples of "harmfully misleading information," such as some widely-spread conspiracies that lack evidence or contradict accepted scientific theories.
When does a Web Page or Site Lack EEAT?
Google gives illustrations of needing a satisfactory level of E-E-A-T for the theme or goal of the page. Here are the examples given (page 51):
Why Should Webmasters or SEOs Care?
Although ratings given by search quality evaluators are not used to determine rankings, they can still help Google refine its algorithms. It is important to look at the changes made in the new version of the document compared to the old version to understand better what websites and web pages Google is more likely to rank. Google has made these amendments for a reason.
The new addition of "experience" is an important factor that Google has been alluding to for some time. It's great to see them clarify it in the document and recognize it as one of the four core elements that define quality.
Next Steps, How to Optimize for Experience
As said before, the Google QRG guidelines are for search quality raters as they rate different content on the internet and reflect how Google wants search to be.

The actual changes in strategy will depend upon the type of Website or the business. To highlight this, I would like to display a table that Google released to shed some light on its manifestation of experience.
As seen above, the manifestation of "experience" is quite different for different industries.
However, the common similarity is the type of content. So it's important to publish content relevant to first-hand experience for a product or service.
For a service-based website, it may be a case study on how a particular service helped a particular customer achieve their goals.
For a product website, it can be a firsthand experience of the product. In this case, product videos, teasers and demos are perfect.
Focusing on UGC content, including reviews and testimonials, can also add to the reputation signal which can be counted as proof of experience by the search quality raters.
For a content creator, first-hand experience of a product or service can be greatly helpful in growing quickly in search as new content creators often lack the necessary expertise or authoritativeness to rank. Hence originality of content is crucial for being rated as a high-quality page.
Final Thoughts
Google's focus on Experience as an addition to its EAT guideline is a great step as it helps small businesses and content creators to have a chance to gain SERP visibility based on the originality of content and first-hand experience.
It also emphasizes Google's focus on delivering trustworthy sources of content by adding another dimension of measuring trust: experience.