This is a tale of two young graduates of Business Studies and friends obsessed with starting their own businesses. While other students in their class focused on their studies, they were preoccupied with learning real-time skills and perfecting them and creating the foundations for their business dreams.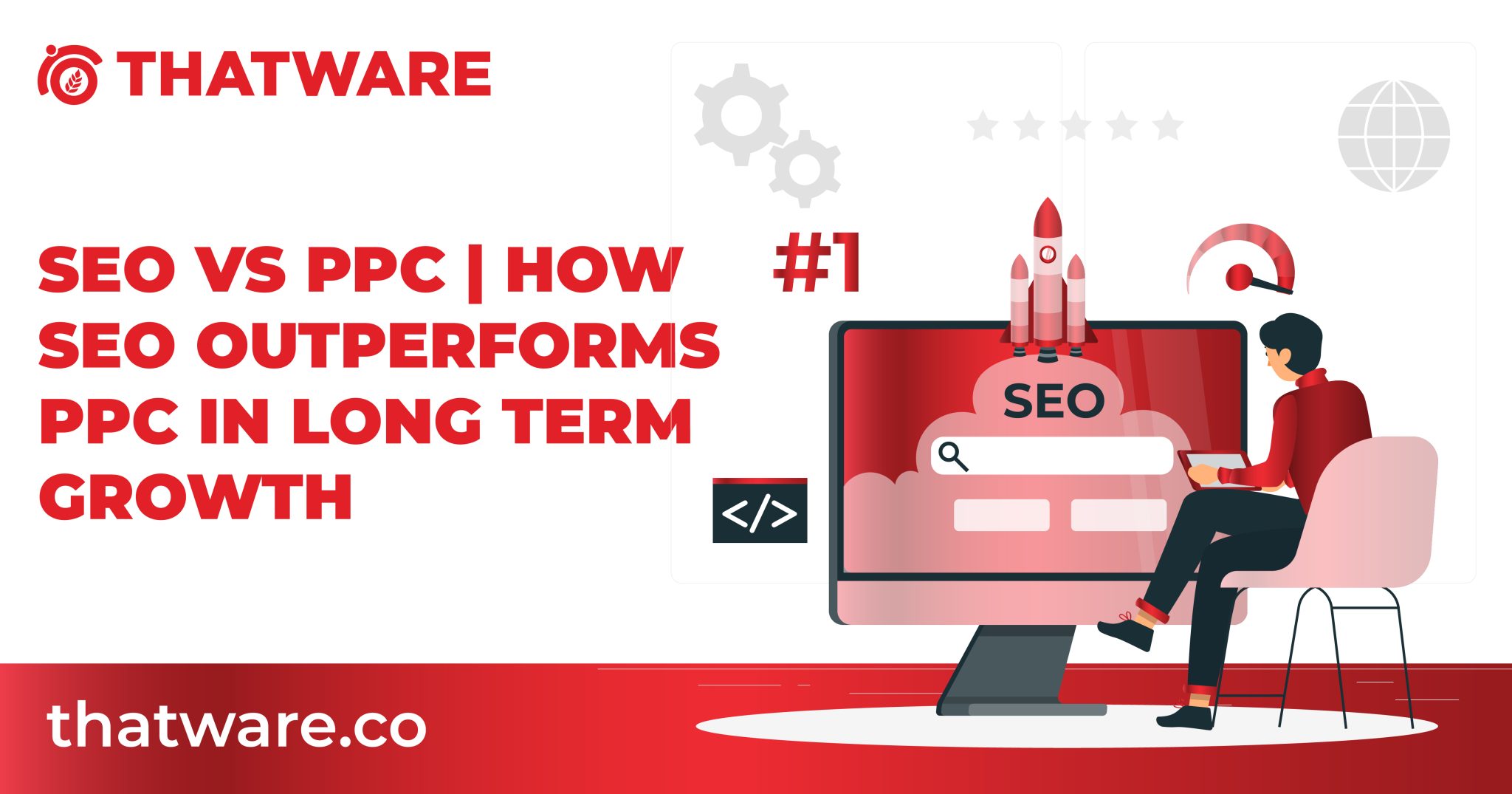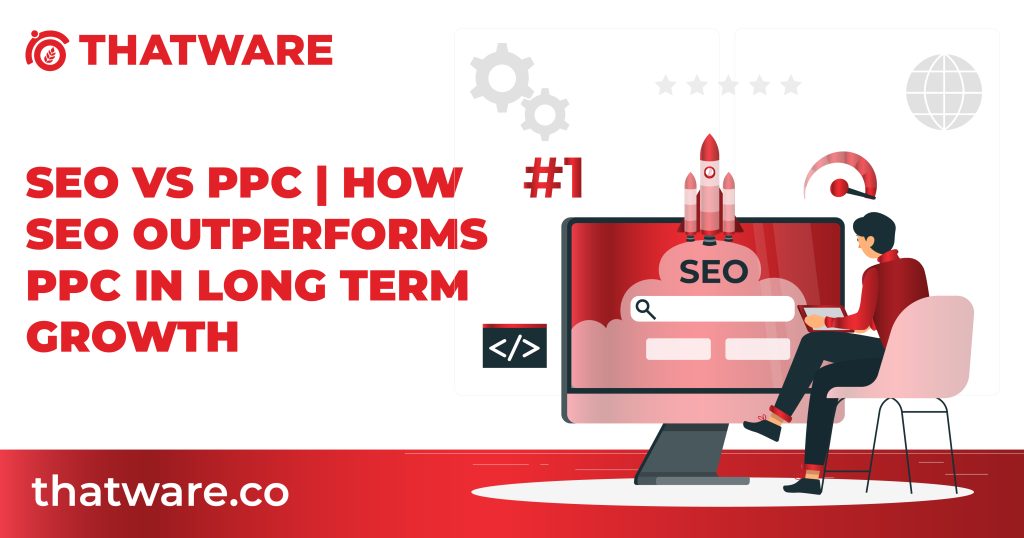 On the day of their graduation, they vowed with each other to meet after 9 years after they have truly found success and become their own boss.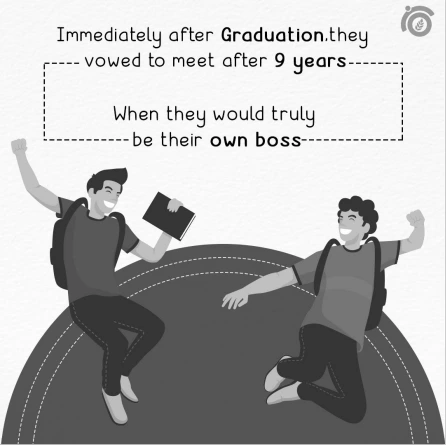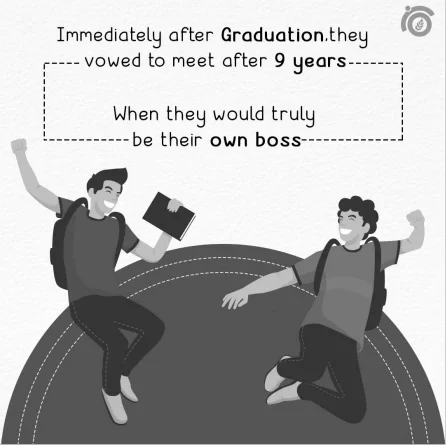 This is a tale of Mathew and John, and how they would grow their business in two separate approaches in an attempt to fulfil their dreams.
Mathew | The Aggressive Bidder
Since childhood Mathew was always an overachiever. Going with whatever works are kind of what is in-built in Mathews Blood.
Mathew always wanted quick results. That's why while other people studied books, Mathew learned PPC Marketing, working as a freelancer and for different personal affiliate projects.
Loaded with cash from previous profits and generous aid from his family, he quickly set up his website and invested in a comprehensive PPC campaign.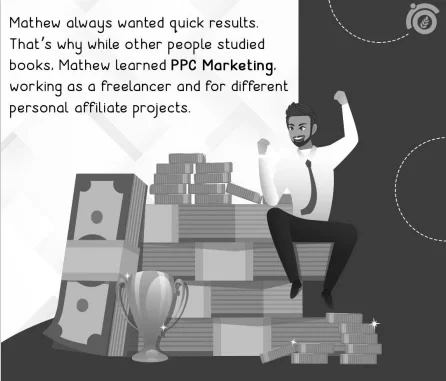 The Starting
Armed with Experience and a monthly budget of 5000$, he quickly gained impressive sales figures, growing his sales figures by 2000% in the first two years.
Working on a Home Décor niche with an ecommerce website, profits grew remarkably in the first few months. By the end of the second year, his monthly ad expenditure grew to 10,000$.
Growth and the Aftermath
But as years passed on, he quickly realized his profits stagnated. Worse, he realized that CPC rises every time, partly due to inflation, increasing competition, and increased inventory and employee management costs.
Since he didn't optimize his website for SEO and primarily relied on direct sales, his Customer Acquisition Cost continued to increase, further undercutting his profit.
What Mathew Wanted:
To maintain an overall growth of 80% each year.
To expand into other cities and host operations in multiple locations in the US.
To diversify his services to other related sectors and lead the home décor industry.
What Mathew Achieved:
The growth rate in revenue declined to -20% comparing the 8th and 9th years.
Mathew was able to expand to 3 locations; however, he had to cut down to 2 locations due to increased overheads.
Mathew invested in SEO, but its slow progress irritated him, so he jumped with multiple agencies.
Mathew's Mistake
Sticking to one Idea and not diversifying his efforts and investments.
Lack of foresight regarding future growth of business and not taking action.
Not to adopt SEO and PPC efforts in synergy with one another.
By the end of 10 years, he still struggled to ensure steady growth in his business.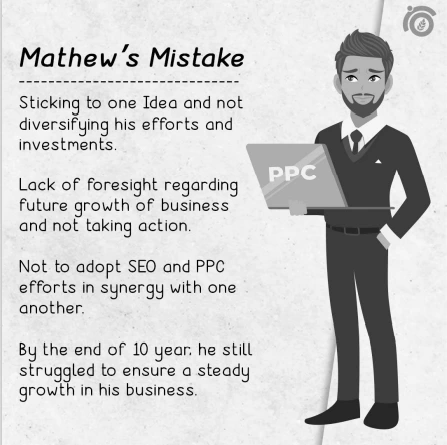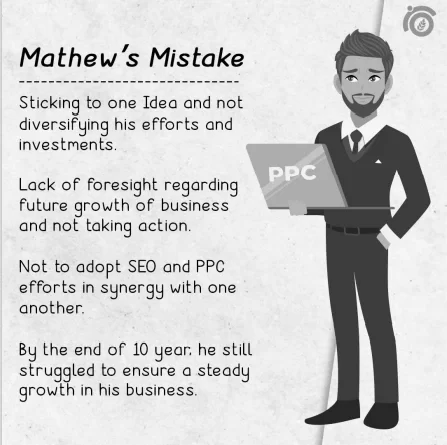 John | The All is Well Guy
John was always a "Slow and Steady wins the race" type of Guy since college. He had a very clear vision of how he would grow his business step by step. He was from a humble background but had great dreams.
Being so organized and with a tight budget, he learned SEO and worked on multiple projects to perfect his skill. After developing his website, he hired a small team for SEO.
John's Struggle in 1st Year
For the first six months, his small company barely made any profit with some sales through referrals and other methods. Many of his teammates didn't think the business would survive.
But John was optimistic. He continuously tracked his SEO metrics month by month and ensured growth. Optimizing his landing pages, product pages, pushing out content, and constantly optimizing his keyword targeting. He even hired ThatWare, an advanced SEO agency, to keep up with new trends in SEO and changing Google algorithms.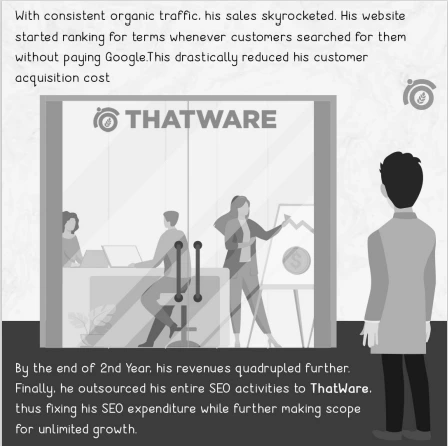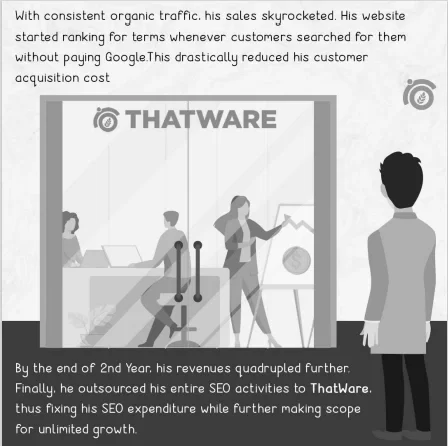 And Finally, this happened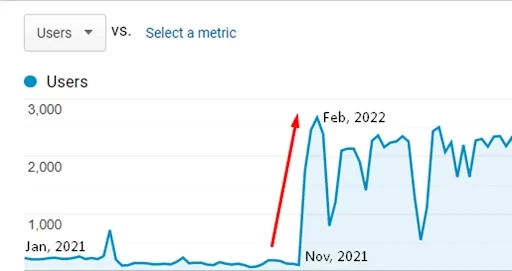 Doing SEO for nearly one year, his website wasn't even receiving 1000 traffic per month as of November 2021. Come February; his website traffic grew 7X. Suddenly all his efforts made sense, and his team found renewed hope.
Revival and Growth
With consistent organic traffic, his sales skyrocketed. His website started ranking for terms whenever customers searched for them without paying Google. This drastically reduced his customer acquisition cost.
By the end of the 2nd Year, his revenues quadrupled further. Finally, he outsourced his entire SEO activities to ThatWare, thus fixing his SEO expenditure while further making scope for unlimited growth.
As time went on, his customer base continued to grow, allowing him to expand and diversify in other areas. His brand name dominated not only in Google but in the streets as well.
What John Wanted:
Create a successful business and retire early.
Earn enough by age 30 so he could work on social upliftment.
What John Achieved:
Retired after 14 years of founding the company.
Earned his name among top businessmen.
Dedicated his remaining life to social work.
Took to teaching and inspired a new generation of entrepreneurs
At the age of 35, he was happy.
How SEO is more suitable than PPC for long-term business growth?
The cost of PPC Traffic rises every year
CPC or cost per click is bound to rise every year no matter how many optimizations are applied to your PPC account or the ads. These are mainly due to the following reason:
Inflation
Platform Competition on Google and Facebook
Increased Employee and Inventory Management Costs.
Hence every year profits from ad campaigns decline given the volume of sales remains the same for the same campaign. Hence PPC Strategies need to be revised every year, diversifying into other platforms and adopting other strategies for customer acquisition. Mathews confidence in Google and Facebook blinded him from other opportunities.
PPC Campaign requires Continuous Investment
Visitor flow stops as soon as the campaign ends. Hence to reap profits one has to invest continuously which makes PPC campaigns expensive and difficult to maintain a steady CAC or customer acquisition cost.
SEO Organic Traffic takes time to build but grows continuously
Perhaps the best aspect of SEO. It is slow at first, might take 3-6 months to get any organic traffic. But with a steady and planned approach, your traffic grows continuously. After attaining some significant keyword rankings, you continue to get website visitors at the same rate even if you stop all SEO activities. This makes SEO highly profitable in long term.
80% of all clicks occur on organic search results and not on ads
As digital media get more saturated with Ads, people become increasingly inert to ads, something called advertising blindness. It is a situation when the brain simply disregards the various advertisements as noise and focuses on what's important.
This can be seen in the above number. Such a shift in behavior eventually increases CPC.
Unlike PPC, SEO Cost is fixed, provided you are hiring an Agency like ThatWare
Since the cost of SEO resources can be fixated by building an in-house team or hiring an SEO agency like ThatWare, the Customer Acquisition Cost declines over time, thus creating scope for unlimited growth.
Conclusion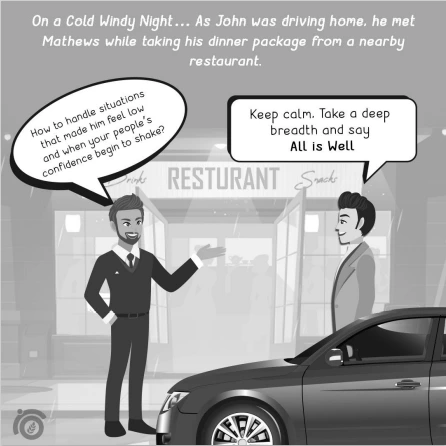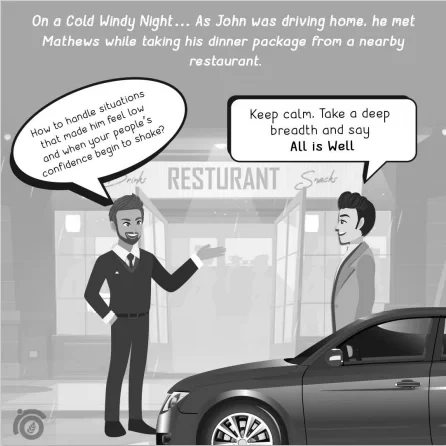 On a Cold Windy Night… As John was driving home, he met Mathews while taking his dinner package from a nearby restaurant.
The two of them met coincidentally exactly after 10 years.
As both of them, cherished their memories and reminisced on how far they have come, a curious Mathews asked John,
How to handle situations that made him feel low and when your people's confidence begins to shake?
A smiling John answered:
"Keep calm, Take a deep breadth and say All is Well."