FILL OUT THE FORM BELOW & ALLOW US TO TAKE YOUR SEO Services For Skin Care TO A WHOLE NEW LEVEL!
Search Engine Optimization (SEO) campaigns must be part of a skincare and beauty brand's online marketing strategy in order to be effective. SEO campaigns must be implemented in order to be included in search engines with particular keywords.
Search Engine Optimization (SEO) is the method of obtaining traffic from search engines' "free," "organic," "editorial," or "normal" listings. Website pages and other material such as videos and photos are displayed and rated based on what the search engine finds most important across all major search engines such as Google, Yahoo, and Bing. Payment is not needed, as it is in the case of paid search advertising.
With a "do it yourself" mentality, several skincare companies want to introduce SEO campaigns in-house. This could end up being a publicity nightmare. Brands often perform so poorly in SEO that search engines such as Google mark them as spam websites and ignore them entirely in search results.
Skincare companies should always employ experienced marketing companies to set up, plan, and optimize their strategies for the best results. However, when dealing with SEO For Skincare, it's important to remember that there are a few key points to bear in mind. Here are five search engine optimization strategies for skincare.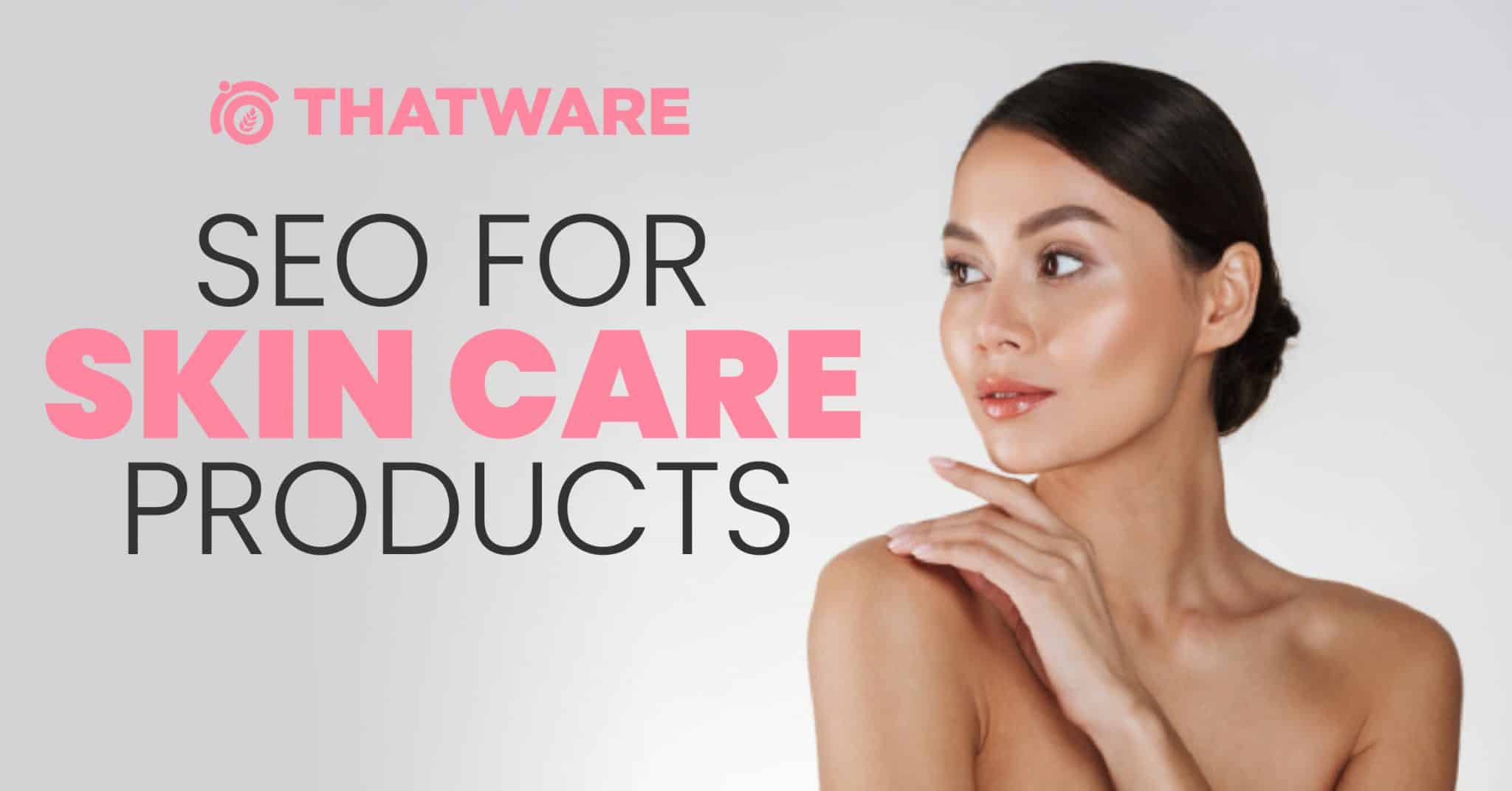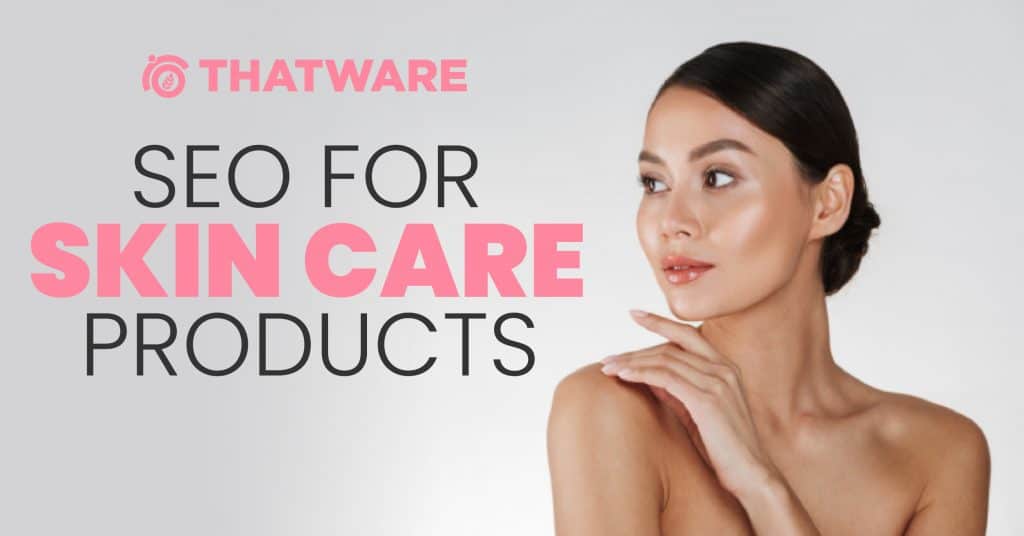 Websites in the beauty industry should follow these SEO guidelines.
STEP 1: Identifying Beauty Keywords
When it comes to SEO For Skin Care, keyword research is the most important move. The type of Beauty website you have and the audience you want to reach will determine the keywords you use. The goal here is to optimize for high-volume keywords that are important to your target audience and may fall into one of the following categories:
Millennials / Demographics of a Younger Era.
Gender-specific
Ageing population it's possible to appeal to both men and women, or it's possible to specialise in men's beauty products and cosmetics.
Products that are good for the environment
Long-term brand
Buyers of high-end luxury goods.
This phase includes defining the target search words to feed into your SEO and Brand Content based on the target audience.
STEP 2: Develop an effective content strategy.
Customers are buying more beauty products online than ever before because they want to do their homework before buying. As a result, beauty brands have a massive opportunity to communicate with their audience and improve interaction with customers by providing successful content at all stages of the buying funnel.
The information gathered during the beauty keyword research step is extremely useful in developing an effective content strategy to answer search intent. Whether it's on Instagram/Facebook, Influencer blogs, viral videos, or the site's own blog, brands are spending a lot of money to create the right content to be viewed by their target audience.
A blog is a must-have for a company these days, as it allows them to share useful content online while also improving the rankings of their main and long-tail keywords.
Aesthetics Advice on Content Strategy SEO For Skin Care.
• Get in front of the research shoppers as soon as possible. Create a dedicated spot on the homepage for your content to be linked to.
• Determine your content foundations, which will serve as the foundation for your ongoing content. Remember that creating a brand personality, sound, and atmosphere that is familiar to your fans will help you attract viewers and keep them coming back. As a result, establishing content foundations and sticking to them will help you build the right content that stands out.
• Target your keywords in all of your content pieces to create content that responds to user content.
• Don't limit yourself to only makeup and beauty material. Include travel, fashion, music, and celebrity content in your lifestyle content. When deciding whether to keep content wide or narrow, keep the brand's audience and identity in mind.
•Helpful tips, how-tos, tutorials, and beauty lesions are the best types of beauty material.
• Inside your blog content, don't forget to include links to your beauty categories and product pages.
•To connect with the influencer community, have guest posts from beauty influencers on your blog.
• Develop content with social media in mind. Visual content gives life to text-only content, so include a lot of videos and photographs in your blog posts. These assets can also shared on social media and on YouTube, with a link back to your website.
STEP 3: Conduct a Technical SEO Audit of Your Website
Beauty retailer websites are typically massive eCommerce sites with thousands of items and many pages, which is why it is important to have a website that is well implemented from a technological standpoint. ScreamingFrog, Botify, Deepcrawl, Oncrawl, Sitebulb, and other tools enable you to conduct technical SEO audits on SEO services For Skin Care. The following are a few items to think about if you want to boost your online visibility:
1. Having the correct site layout has a positive impact on website visibility.
2. A fast site load speed is essential for any website because it enhances the user experience and is also a ranking factor. Page Speed Insights from Google will give you a clear idea of your website's page speed stats, as well as the problems and steps you need to take to increase your page speed ratings. Other tools that can used for the same purpose include Pingdom, GTMetrix, Dareboost, and others.
3. Repair any broken ties (404 pages). To spot some of Googlebot's crawl problems, look at the newly refreshed Google crawl stats interface in your search console.
4. Ensure your website built on using mobile-first and mobile-friendly concepts.
5. On a cosmetics website, massive brand photos are unavoidable. Make sure they are well compressed with lossless compression and that the files are the appropriate size.
6. Use schema on your site to give search engines more detail so they can better interpret your pages. Schema is commonly used on product pages. Basically, breadcrumbs are used on product listing pages on beauty websites on SEO services for skincare.
Step 4: On-Page Optimisation
1. Have alt text for your pictures on your website.
2. Used the target words in page titles, headings, meta descriptions, body text, and URLs.
3. Have related headings on a variety of product specifics on the product listing and product summary sections. Urban decay and Glossier are two excellent examples of well-optimized product overview pages. That provides a lot of product material, graphics (photos and videos), and a feedback section to persuade visitors to buy.
Step 5: Optimisation Off-Page
Apart from technology and on-page SEO, backlinks are still one of the most important Google ranking variables. There is a connection between higher rankings on pages with high-quality content and higher rankings overall.
1. Create a long-term white-hat link-building strategy to acquire high-quality backlinks. The links from local and relevant websites serve as both a vote and a source of relevant referral traffic.
2. Don't limit yourself to linking to the homepage. Deep links to your product listing and product overview pages must also be include in your links profile.
3. Competitor backlink research: To spy on competitor backlinks, use tools like Ahrefs, Majestic, SEMRush, Open Site Explorer, or Backlinko.
4. As connection building, digital PR, and influencer outreach are full-time jobs, outsource them to a specialised agency while you concentrate on the on-page and technical SEO elements.
Step 6: Local SEO
There are a few items to consider if you own a physical store and want to appear for brand name + city/near me searches to boost your local SEO rating using SEO services for skincare. For each of your store locations, create a Google My Business account. If you want to show up in the Google local pack for searches like "near me" or "brand local," you'll need to do this. You can improve your Google My Company listings by adding photographs, writing optimized business descriptions that target your high-volume keywords, and displaying your feedback and social media platforms.