There is no other thinking that ranking higher than your competitors on Google is a must, but if you don't know the SEO tips and tricks for doing it you're probably also missing out on sales. Whether you're just getting started with a new website or improving an existing one you must go through the complete guide and tactical eCommerce seo suggestions for stepping up your SEO game. You must rank #1to the first page.
According to the research by Optify in 2011 websites ranked number one received an average click-through rate (CTR) of 36.4 percent while number two went down to a CTR of 12.5 percent with a further decline to 9.5 percent of the third one. Another study by Gabe Donnini at Marketing Land reported that the share of impressions coming from the first position is almost double that for the second position.
This clearly illustrates the value of first place in the search results. It means if you don't have a strong SEO strategy you are losing out on brand impressions, clicks, and sales. If you are not being found by search engines gaining new customers can be hard. When there are 44% of online shoppers going for their search with a search engine, you will want to pounce on the SEO juggernaut.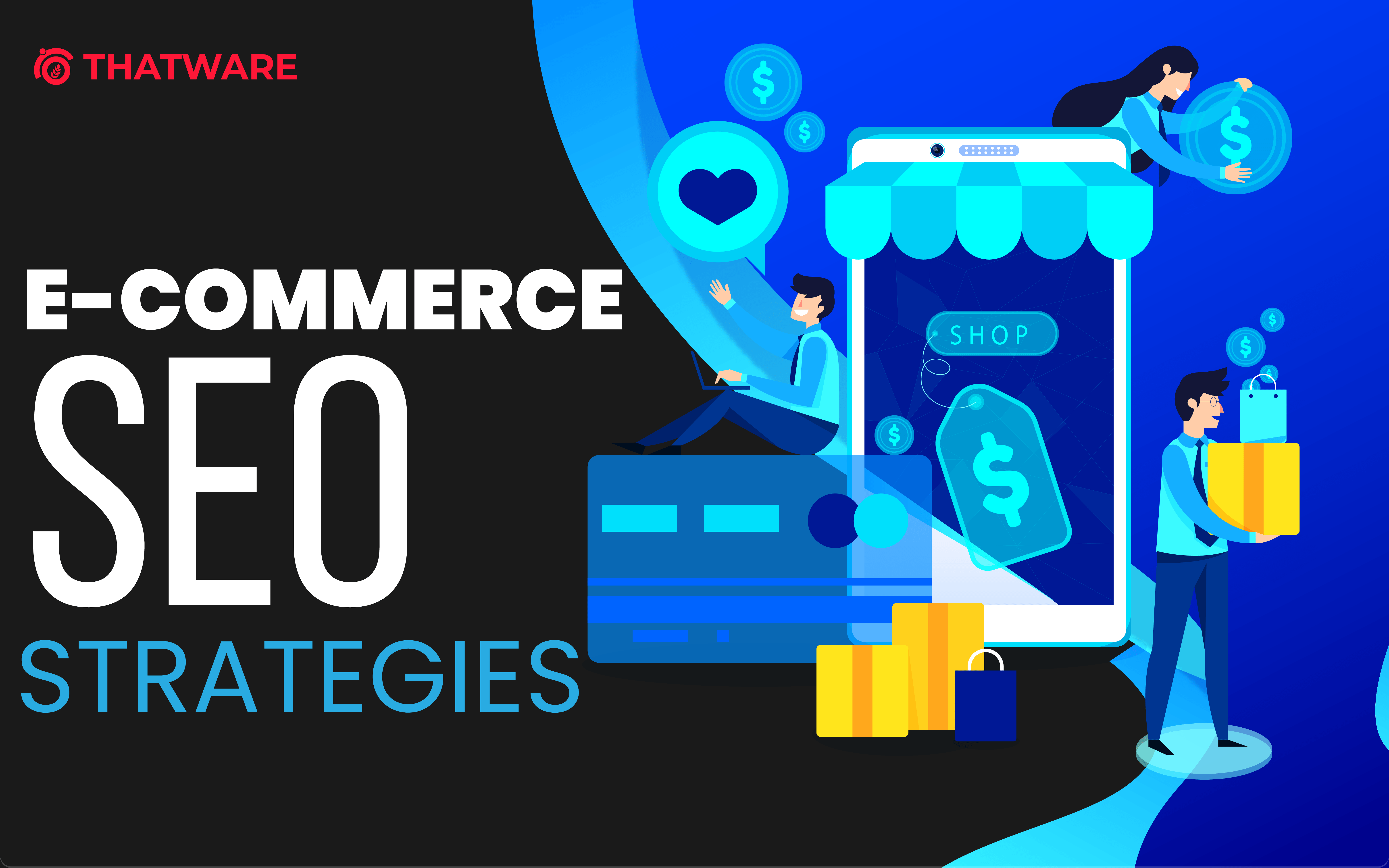 According to the U.S. Department of Commerce, e-commerce sales in 2019 amounted to 3.53 trillion US dollars and is estimated to grow to 6.54 trillion US dollars by 2022. If you are still not convinced to use SEO for e-commerce there is another study for you, Kissmetrics reported that 30.5% of all traffic to Yotpo's database was coming from searches on Google, Bing, Yahoo, and other search engines.
Evolution of eCommerce SEO
There are several case studies by different companies and agencies that saw an increase in organic traffic by 116% through SEO efforts and an increase in site traffic by 1800%. Online businesses far and wide are shifting away from traditional marketing trends and truly owning their SEO strategies like technical SEO, fixing meta, or opting for off-site support. Ler let us discuss a step-by-step guide that will help on your way to becoming an SEO savvy business owner or marketer.
1. Keyword Research
Before you begin any SEO work you need to start with research which includes keyword research and competitor research. Targeting the wrong keywords can ruin your campaign by generating low-quality traffic, so proper research is the most important piece of SEO. Every 60 seconds, more than 800,000 Google searches are performed, which is quite a huge number.
2. LSI and Long Tail Benefits
The average consumer processes 100,500 digital words daily which further makes it difficult to determine how the customer will find you on the search engine. To reach your consumers, you must start with creating keyword lists which are a must in getting any new client or preparing your site. According to a note by Glenn Gabe, 7% of the total keywords were head terms, and 93% were long-tail keywords in their analysis of 3,000 keywords.
3. Keyword Segregation
Three primary areas are needed to be addressed when conducting keyword research by any of your eCommerce Marketing Agencies. Firstly, you should consider relevancy, search volume, and ranking difficulty while optimizing the most important pages of your website. I would suggest using keywords that are highly relevant to your brand or products having high exact match search volume in Google's free AdWords Keyword tool. Be careful to not choose keywords that are too broad as you will end up with a high bounce rate and low conversion rate with people connecting through to your site and not getting at what they are searching for.
If you choose too competitive keywords it will take a long time to achieve high rankings. Creating blog content can aid in ranking your e-commerce enterprise that might not have a place on your primary website. In addition to it, you can also capitalize on long-tail keywords with your blog. Use long-tail keywords that have a high exact match search volume and lesser difficulty score. Focus on developing great content on topics that people will want to read and share while writing for your blog.
4. Avoid Cannibalization
Avoid keyword cannibalization which happens when multiple pages of the same website are trying to rank for the same keyword. Determine the Page Authority (PA) and Domain Authority (DA) of your competitors which you can easily find by installing the free Moz toolbar.
If your competitors have significantly higher DA's or PA's than you, go for other keywords as competing against them will be very difficult. Another important thing is Site architecture which is very crucial for all e-commerce sites. The site architecture allows you to map out how the user flows through your website which has millions of product pages. The user should be able to quickly identify key pages and the relationships between the pages while browsing through the site. I would like to suggest Balsamiq or Lucid Chart for mapping out your site architecture.
5. Tech SEO
Once you have taken care of the site architecture it's time to focus on website speed. Visitors will not hang around and wait for a slow website, rather they will click back to Google to find a faster website. Don't lose customers because your site is slow as according to research 40% of people abandon a site that takes longer than 3 seconds to load. Use your keywords in strategic locations of the site like The page title, Headers, Subheaders, Paragraph copy, Product descriptions, Image file names, Image alt tags, Meta title, and description and URLs.
6. Anchor and URL structure
You should include real words or your keyword while creating URLs and avoid using a lot of numbers and gibberish. The next step is internal linking which allows you to establish your anchor text helping you with ranking for your top keywords. Usability is super-important for SEO. For making your site visitors happy focus on great usability which will draw the customers regularly to your site. Great user experience means your website is user-friendly and also means your customers will spend more time on your site.
Build your Marketing Machine that Generates revenue on Autopilot using Email Marketing
Email? Automation? Why and How?
Email by far outperforms any other marketing channel.
Its should be the number one channel by which you should communicate, launch new services, offers.
According to a Study made by Direct Marketing Association (DMA) the average ROI for Email Marketing is 44$, more than SEO, Google Ads etc.
Facebook can change its policies overnight, Google can change its algorithm and flatline your traffic. When every other channel is lost, your Email List stays with you. You Own it.
It is highly scalable. It can sell to 10 people equally as it can to 1,00,000.
Where does Email Fit in your Marketing Strategy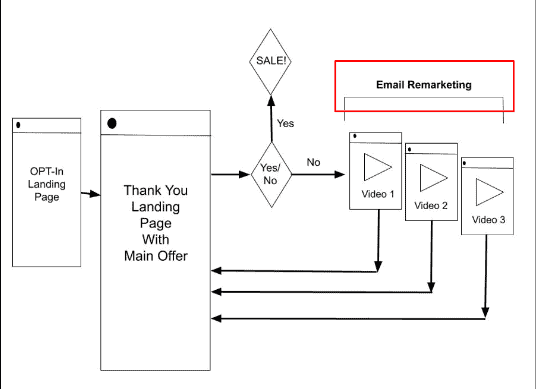 3 STEPS TO WIN THE BATTLE FOR THE INBOX
# Get it Delivered
# Get it Opened
# Get it Clicked
Get it Delivered
Email Deliverability is determined by 3 Important Factors:
#Sender's Reputation
(You can check your sender score at www.senderscore.org )
#Bounce and Complaint Rates
#Recipient Engagement
Deliverability of Various Email Marketing Platforms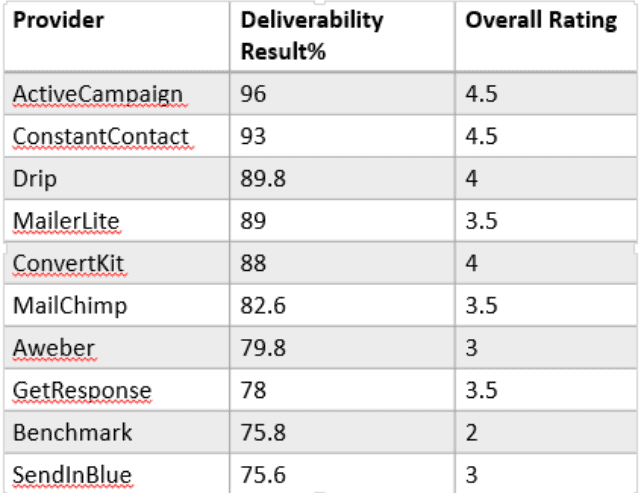 Deliverability of Various Email Marketing Platforms by Provider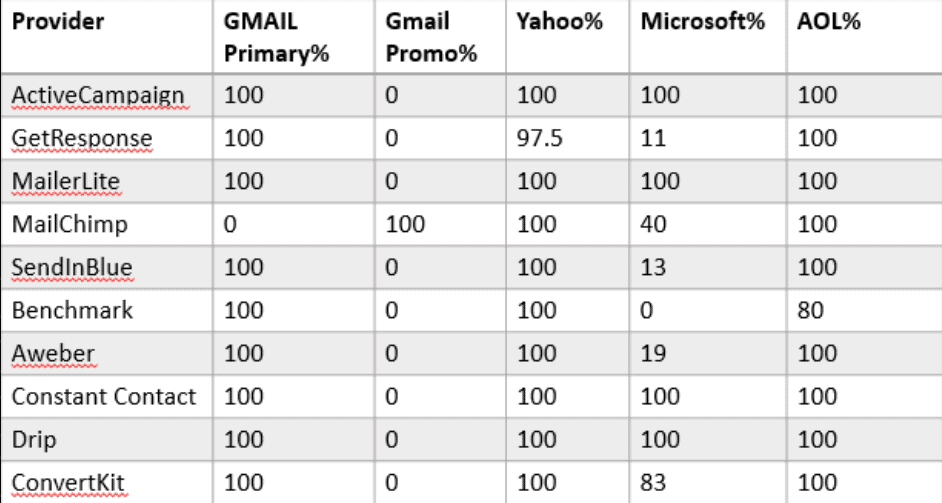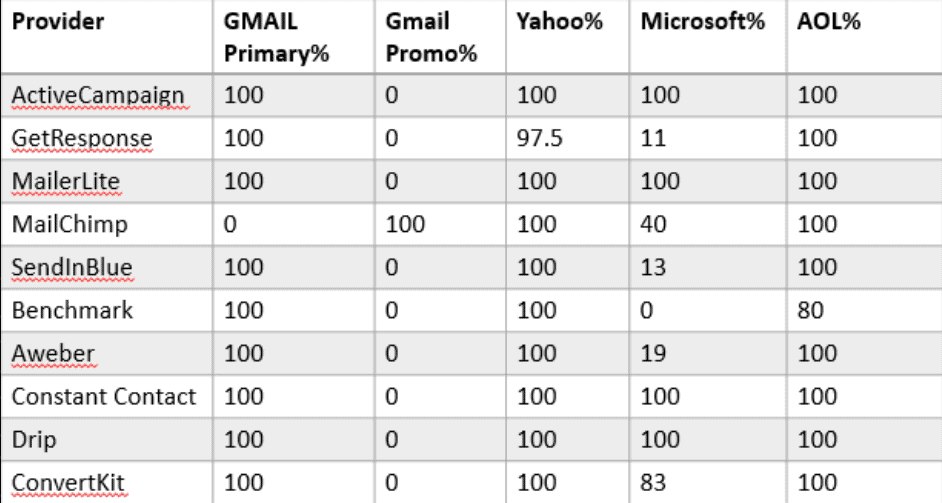 How to Improve Sender Score
Creating Goodwill with your list: Make sure 2-3rd of your emails are about content and value rather than about offers and promos.
Warm your new IP: Whenever using a new IP its important to send out mail in small volumes to establish a good IP reputation. Later on, the volume can be increased.
Formatting and Styling: Contrary to what people say your email should look like an email and must not be decorated with animations and pictures. It should be personalized and easy to read.
Change Senders: Sending our emails from multiple senders from the office can improve the sender score and have a cascading effect on the sender score and IP reputation.
Get It Opened
The Subject Line of the Highest Opened and Highest Earned Email Campaign was:
"Hey"
Presidential Campaign of Barrack Obama
The Emails in anyone's inbox can be categorized into 2 categories:
#Personal (P Type)
#Commercial (Commercial)
How to Make Your Email Opened Every time
Make the Subject Line Personalized

#Use lower-case, not Title Case or even worse – ALL Caps.
#Do not give any punctuation
#Keep it to four or five words max
#Ask questions
#Tell enough to arouse intrigue, not the whole story
Subject Length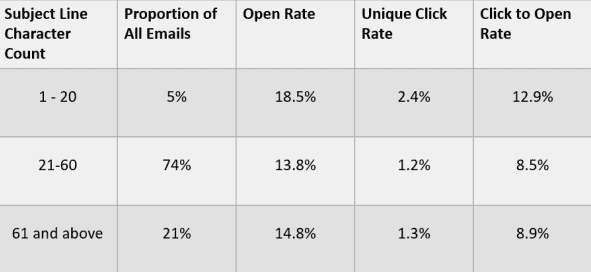 Pre-header Text to Create Intrigue
A Secret to a great Pre-header is using a Cliff hanger.
Some Approaches:
#Humor
#Amazement
#Doubts
#Challenges

For examples:
#Let me explain
#Here's what I mean
#Here's why Sound silly?
#It's not Case in point
#This is how
Pre-header Text to Create Intrigue
A pre-header is a short summary text that follows the subject line.
Examples:
'Man showers in lemon juice, you won't believe what happens next.
Find out here >>' 'Leading cardiologist says carbs are not the problem (this is)'
'I walked into my manager's office and said these 3 simple words…'
'Cat comes face-to-face with a rhino and both creatures' instincts just take over'
Best Day to Send a Mail

According to research by CoSchedule, for maximum inbox deliverability and open rates, you should prioritise your send days in this order:
Tuesday: This is hands down the #1 best day to send emails, according to the majority of the data from these studies.
Thursday: If you send two emails a week, choose Thursday for your second day.
Wednesday: While no single study showed that Wednesday was the most popular, it came in second place several times.
Getting it Clicked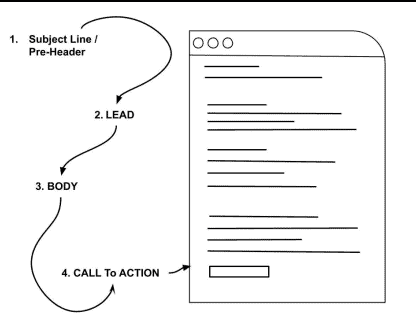 Anatomy of a High-Impact Email
Tips to Get your Email Readers to Take Action

#Check whether your Email Body creates Interest
#Check your Competitor's Mails and Do the Opposite
#Make it Visceral, Arouse Intrigue by using Data
#Don't Ask your Readers to Take Action – TELL THEM!
TELL your Readers to TAKE ACTION!
#Go ahead and check this out now.
#Claim your spot here.
#Click here and I'll tell you what it's all about.
#Sign up here and you will discover.
Build Enormous Social Traffic From Pinterest
Pinterest can be a real multi-bagger especially when it comes to Ecommerce Sites


In this campaign, Pinterest accounted for 18% of the total traffic from June 2022 – August 2022
Pinterest can be a real multibagger especially when it comes to Ecommerce Niche.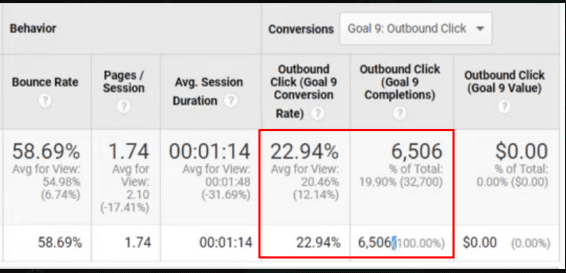 Not just that, we got almost 6,506 cart checkouts from Pinterest Traffic alone.
How to Build an enormous Traffic Hub through Pinterest
Purchase a Social Media Scheduler like Tailwind
We personally use Tailwind App. Its not a promotion, its just something we used.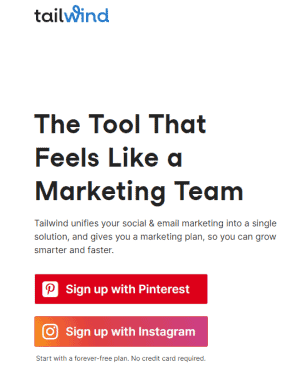 Create a Content Distribution Plan


Create Boards
Create Boards using your SEO Keyword List. Focus on the Same Keywords with Pinterest.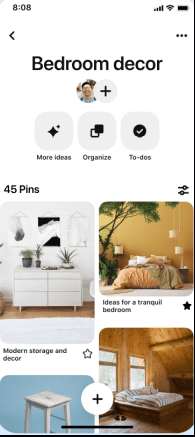 Create and Execute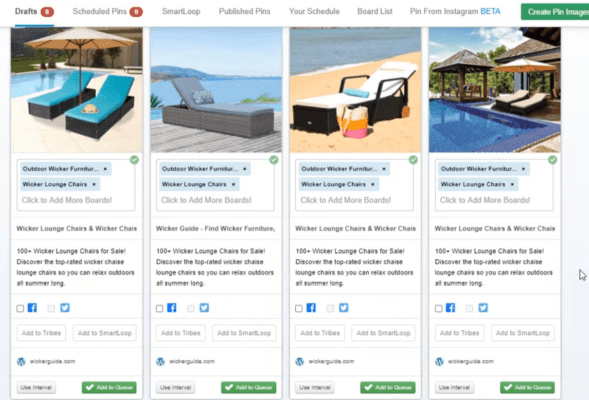 Drive Traffic and Enjoy the Fruits!