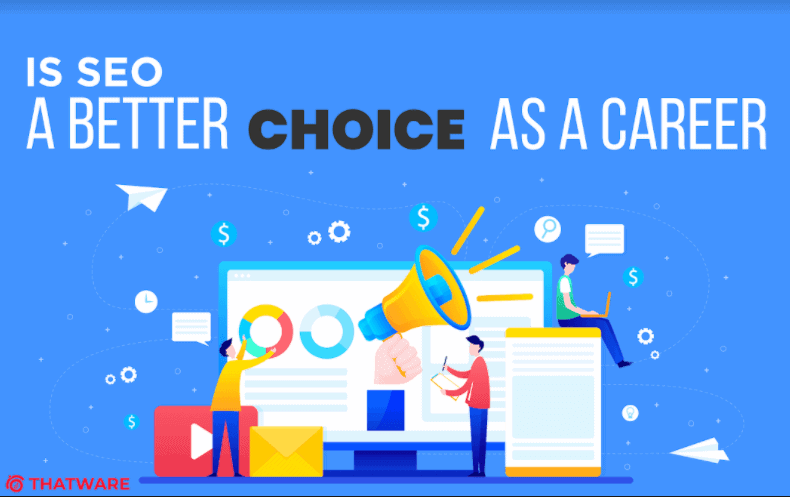 SEO career is part of Digital Marketing which is becoming highly popular in the world. If you observe the recent advertisements on popular job portals, you will conclude that the need for well-trained SEO professionals in US, AU, CA, UK and etc is growing every day.
Business are investing more in SEO to achieve more sales
Almost every small or big businesses are now investing in SEO to get top ranking in Google. Search Engine Optimization is been around for almost two decades but has now started gaining ground as a real profession in recent years. There are plenty of online options to get SEO training and become certified and Universities around the World are offering formal courses on Digital Marketing, as well.
There are a number of factors to consider besides getting the right training for a career in SEO. It is attracting the hugest number of professionals because of the immense scope and opportunities it offers. SEO is a process to increase the online visibility of any web page in a search engine result page. In many countries including US, an increase in the cost of traditional marketing has given birth to digital marketing. 
As every website that exists on any search engine desperately needs are higher-priced rank online. This is the reason for an increase in the demand for this career. Every company that has its online business needs a person to handle their SEO ratings, thus creating a job profile of SEO executive. To keep themselves in the topmost page of the search engine a good SEO knowledge is required.
Scope in the market for career in seo
An SEO consultant has a very huge scope in online marketing as they can work with more than one company. The number of positions is available in the market for professional SEOs which, SEO analyst, SEO trainer, PPC marketer, Digital marketing manager, SEM specialist, Project manager, Consultant, and Analytics  Expert.
Earlier, Web developers and webmasters used to optimize websites as Google was having a very simple algorithm. But soon Google improves their sits engine algorithm which became difficult for webmasters who used to maintain websites. Now web designers and website owners were looking for experts who knew the trick to provide services to optimize and getting website on the first page of Google. 
The specialist in this field is also known as SEO experts, SEO consultants, SEO professionals. The demand for SEO professionals is growing due to the increase in digital awareness, increasing internet and mobile users in the world. SEO is part of Digital marketing which is growing in the world and it requires certain skills to build your career in Digital Marketing.
If you are passionate about marketing, websites, writing, blogging and analytic, learning SEO is good to start for your career. Before even thinking of applying for any SEO related job spend some time familiarizing yourself with how search engines work. Analyze different components of SEO like technical SEO, on-Page SEO, and Off-Page SEO.
Get accustomed to the key phrases like keyword research, link building, backlinks, white hat SEO, black hat SEO, and any other terms. Improve your writing skills in order to optimize the page title, meta description, headings, and content of a page. As soon as you start doing SEO copywriting work you will need fluency in English for your foreign customers. You don't have to be a developer but you need to have some basic development skills.
You should know how a website is structured and understand the role of JavaScript and should be able to read and understand HTML code. One needs to possess the ability to work with CMS like WordPress to edit the titles and descriptions of a page. A recent study says that SEO is important for generating leads which will generate more demand for SEO professionals in the world. 
Many graduates and web designers are learning SEO because of the growing demand for SEO professionals and increasing awareness. You must keep updating your knowledge about SEO, Marketing, Algorithm changes as SEO keeps changing. You have many options available like part-time or full-time work which is the best part of SEO.
You can start your career with a digital marketing company as an SEO trainee or Jr. SEO executive. You can also become a specialist in building backlinks or writing content and can further improve to become very good in analytics, PPC, etc. Google Analytics, Google Adwords will help you upgrade your career and earnings. It is very important to keep a record of the website's ups and down to track the performance of a website and make future analysis accordingly.
Every website has some content that is developed by content writers and plays a very important role in the ranking of a website. You should always follow 'white hat' SEO techniques instead of Black Hat because White Hat techniques help in increasing the website's ranking through organic means. Some of the popular SEO tools that will help in making your work easier is Google webmaster/ search console, Google trends, Keyword Planner, Google Analytics and Bing webmaster. SEO can sometimes be tricky so you must be familiar with Google Webmaster Guidelines. 
The job role of an SEO is not limited to knowing the SEO concepts but it mostly depends on practical work. With or without an SEO certificate you have to prove to your future clients that you can improve the rankings of a website. You will be hired for your experience and abilities to increase their rankings. There are many advantages in this career as you can start your own business as a freelancer or SEO agency.
You can work from home or remotely or can work as an SEO in an agency. SEO career has a good future scope in the world because it offers ways to promote your business at an economical range. The most important question is how much an SEO professional earns? It mainly depends on some important factors like skills, knowledge, experience, job profile, role, and location. One can earn more than 3000 USD after 3 to 4 years of experience in Google Analytics, Google Adwords and Content marketing. If you are serious about your career then it's time to consider a career in SEO.