FILL OUT THE FORM BELOW & ALLOW US TO TAKE YOUR SEO For Wedding Planners TO A WHOLE NEW LEVEL!
Wedding planners will benefit from SEO
Do you want to be found on Google as a wedding planner? It's all about search engine optimization! When you work on your wedding planner SEO, you're influencing Google to show your website in the searches that your ideal clients conduct on a daily basis.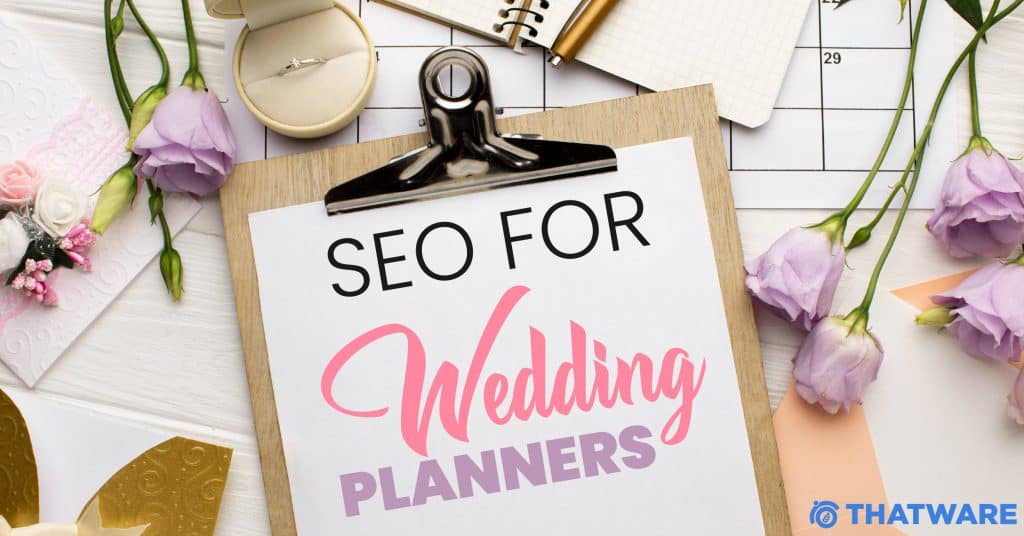 We've partnered with hundreds of wedding planners and other wedding companies as a wedding SEO professional. We know how to attract engaged couples who are looking for information on the internet. We want to teach you those because we've seen how SEO can generate thousands of leads.
The best part about SEO is that it gives you free exposure! If you optimize your website properly, you will attract thousands of local visitors every year for years to come.
So, let's talk about wedding planner SEO and how it can help your company's website rank higher and attract more visitors.
5 SEO Pointers for Wedding Planners
On your home page, use your primary wedding planner keyword.
This one seems self-evident, but I'm always surprised how many planners ignore it when auditing client pages.
You must use a phrase like "Knoxville wedding planner" on your website if you want to be found for that phrase.
You may be tempted to write something flowery like "We coordinate heartfelt celebrations" in order to stand out and be different.
However, if SEO is important to you, you must be more literal for Google.
Make sure you state on your home page that you are a "Knoxville wedding planner." You get bonus points if you use the word in the meta title and summary of your home page.
Create a Google My Business listing and fill it out
When you want to rank in a specific city or neighbourhood, it's important that Google knows where you live and work.
We strongly advise you to create a Google My Business listing to get on their "map." It's completely free, and it'll only take you about 30 minutes to complete. Here are some recommendations for wedding planners:
If you want to be found for wedding planner searches, use "Wedding Planner" as your primary category (use "Event Planner" as your primary category only if it's more relevant for your company to show up for event planner searches).
Don't forget to include pictures of your best work. When you create your listing, make sure to include at least 10 pictures. Return every couple of months to add a few more, if possible, to keep it fresh.
Make your "Appointment URL" the URL for your contact page.
Don't forget to fill out the "Description" field. You can use this space to write a nice overview of your company to help it stand out in the search results. Include all of the major cities that you represent.
Request Google reviews
Google reviews will greatly assist your listing in rising in the Google map rankings. Be sure to solicit feedback from previous customers and other company contacts.
To make it easier for your reviewer, we suggest creating a Google review connection that you can submit with your submission.
Every planner on the map in this city's quest has a significant number of Google reviews.
Not only can having the best rating or the most reviews make you appear more often and higher on Google, but having the best rating or the most reviews will also help you draw clicks to your listing rather than your competitors'.
Check to see if your website loads quickly
In both computers and cell phones, Google aims to take visitors to websites that are simple to use and load quickly. Your website can not score as well as it should if it loads slowly.
PageSpeed Insights can be used to see how easily the website loads. Click "Analyze" after entering the URL of your website's home page.
Yes, some of the outcomes would have a Greek flavour to them (some of it does to me too). But look for something that makes sense to you, such as "properly size videos." If you see this warning, click it to see if any of the photos you're using need to be resized.
Keep your blog updated
At least once a month, try to update your website with new content. This content could include wedding blog post summaries or informative articles about wedding planning.
Websites with more high-quality content appear to rank higher than tiny, infrequently updated websites.
Wedding planners will benefit from SEO
You can bet the modern bride would use a search engine to find a wedding planner. Will she find you when she does? Wedding planner SEO services are designed to help the company rank higher in search results.
That way, you'll be easy to find if anyone is looking for wedding services in your city. You'll lose business if you ignore SEO today, and brides will go to the competition instead. Are you prepared to make a change? Here's how to do it.
Step 1: Locate a reputable wedding planner SEO firm.
The algorithms used by search engines are notoriously difficult. Furthermore, they are constantly evolving. It's a lot to handle, particularly if you're planning weddings for your clients. Working with a specialist wedding planner SEO agency, whose industry experts can put their experience to work for you, makes sense.
Step 2: Develop an SEO strategy that is exclusive to you.
You'll want to create a detailed strategy for targeting customers in your region with the aid of your wedding planner SEO company. To decide what terms to concentrate on in content development, the SEO team should conduct research on rival wedding planners as well as common keywords. It can also strategize on website design and ensure that the site is properly set up to attract maximum traffic. The following are some programs that may be beneficial:
• Designing a responsive website: You want people looking for wedding planners in your region to be able to contact you quickly. This is where mobile design comes in.
• Localized content: To ensure that you appear in local search and map results, include your address clearly and prominently on your website.
• keyword-optimized content: If you don't have content that contains those words, search engines won't know you're important. Your wedding planner SEO company will conduct market research to decide the most effective keywords to target.
• Link-building strategies: While on-site optimization accounts for about 25% of SEO, off-site optimization accounts for the remaining 75%. Links from other websites to yours are noticed by search engines; the more high-quality links you can get pointing back to your site, the better.
Step 3: Keep an eye on things and make adjustments as needed.
A professional wedding planner SEO firm will not only create an SEO strategy but will also execute it and monitor its progress. Your SEO strategies will develop overtime to keep up with improvements in search engine algorithms and/or to improve your ROI. You save time and energy by not having to work out details on your own because you have a committed partner managing your SEO efforts.
Are you prepared to use SEO to help you develop your wedding planning company? Are you looking to boost traffic to your website in order to generate new leads and phone calls to your office? Thatware is a wedding planner SEO firm that can assist you in improving your search engine rankings.