What Exactly Is A Google Penalty?
SEO's word "penalty" refers to any negative impact on a website's organic search rankings generated by an algorithm change or a human intervention.
Anything that directly contradicts Google's Webmaster Guidelines may result in a penalty for your website. The two primary forms algorithm-based, automated, and manual, which is a deliberate punishment for "black hat" behaviors.
Although Google does not refer to these algorithmic hits as "penalties," the ultimate consequence seems the same to a website owner. It's as if someone raised a red flag against your website.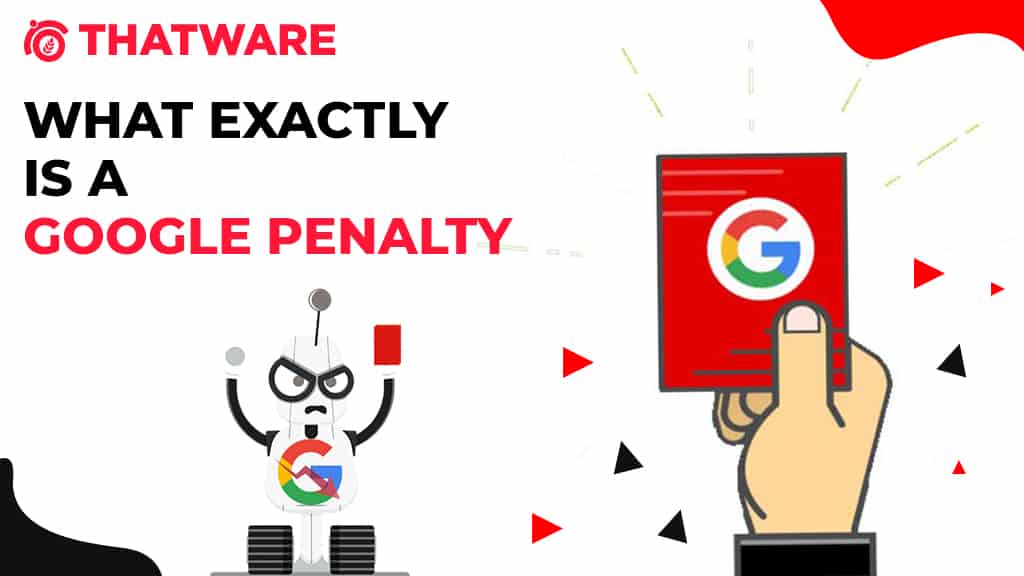 What Is The Purpose Of Google Penalizing Websites?
Your Website Has Become Obsolete.
The design of a website has a significant impact on its site rating. The two most important design considerations are whether the site is mobile-friendly and new or up-to-date.
When creating your website design, don't forget to include meta titles and meta descriptions. They assist Google in determining which keywords your website wants to rank for; without them, Google may fail to identify your site as relevant and punish you.
Awful Link Structure
What factors contribute to link structure? Let's take a closer look:
External links – These are hyperlinks that connect your material to other websites. You want to connect to other high-ranking websites for Google to correlate your material with other high-quality sources. Furthermore, these sites should be relevant. Linking to low-quality or unrelated content sites will put you on Google's radar and cause your rating to decline.
Internal links — they connect your website's content to other pages. It offers Google a sense of how your website is laid out and what your site's general content is like. It is critical to interlink to relevant resources. If you link to your expensive gift store from your blog article on saving money, for example, you may be penalized.
Backlinks are links from other websites that point back to yours. Backlinks are used to obtain high-ranking websites to link back to you. This is high-level, but the concept is that you want to avoid false or illegitimate websites to keep your rating high.
Remember that quality is more important than the number when it comes to links.
Purchasing Links
Yes, some businesses continue to purchase links to their website to improve their rating.
Google perceives this as an attempt to cheat PageRank, which determines where your site should appear in search engine results based on what Google considers to be relevant and high-quality content.
When you try to influence Google, they may detect this — as well as the poor links you've been purchasing. Buying links can potentially knock you out of the rankings entirely.
Your Content Is Of Little Worth.
This might range from a lack of material to shallow content that your visitors have previously discovered on several other sites or content attempting to rank for keywords. All of these are incorrect ways for your content to assist rank your website.
Readers should be able to find useful information on your website. Google looks at how visitors engage with your website. If visitors to your site depart promptly, Google will notice that users do not value your content and punish your site and its rating.
How irritated are you when a page takes 10 seconds to load? Do you close the window and move on?
Many individuals do, and Google is aware of it. To overcome this problem, ThatWare suggests utilizing a cache plugin or a CDN straight now.
If you're not sure how quick your current site is, use Google's PageSpeed to see if there's anything you can do to enhance your desktop or mobile site load speed.
The Top 3 Tips For Avoiding Google Penalties
You can take action to reduce the issues that lead to SEO penalties. Here are the top three rules for avoiding a penalty:
Do not purchase links. Links that convey SEO value to your site should appear natural. Avoid link schemes and ensure that sponsored links (such as adverts) have a "no-follow" tag.
Avoid overusing buzzwords. Exact repeats of a key term in your text might harm your search engine rankings. Keywords are vital but use them judiciously and in a natural-sounding manner.
Create unique, high-quality material. To rank, you must have unique, high-quality web pages.
Google Penalties Sorted by Name
Penalties range from a little, temporary ranking drop (a slap on the wrist) to removal from the search engine's index.
Don't be fooled by the charming black-and-white creatures. Search engine algorithms have teeth and may bite websites that break the rules.
With the first of several rollouts, the Panda upgrade was released in February 2011. Panda has matured and become a component of Google's core algorithm by early 2016.
The Google Panda algorithm is designed to keep low-quality information from rising to the top of search results.
If Panda believes your website has low-quality content, your web pages will struggle to rank. Examples of low-quality online content include "thin" pages with little or no additional value, product pages with manufacturer-supplied descriptions and no unique material, and extensive duplicate content.
To Avoid a Panda Penalty, follow these steps:
Provide creative material that will please searchers to keep Panda fed and satisfied.
With a Panda problem, you may earn your way back up the search results by fattening up (rewriting/improving) your thin material, removing duplicate pages (or banning them from search engines), and overall offering high-quality content for your site visitors.
Google Penguin Penalty
The Google Penguin algorithm detects link spam and thereby combats web spam.
When a site's backlink profile (the whole list of connections originating from external sites) has an excessive number of unnatural-looking links, Google accuses that site of attempting to influence search rankings — and Penguin's feathers are justifiably ruffled.
In April 2012, Google released the first Penguin update. After many excruciatingly delayed rollouts, Google released a final upgrade in September 2016. Penguin is now a real-time component of Google's main ranking algorithm.
According to Google, the new Penguin algorithm no longer imposes fines. Rather than demoting a site with low-quality connections, Penguin now devalues faulty inbound links such that they do not affect the site's results.
Your link profile, on the other hand, remains your responsibility. A high number of bad backlinks is a symptom of low trust. Many sites that were penalized by Penguin must still take efforts to recover.
Avoiding a Penguin or Link-Related Penalty:
If Google discovers a site buying or selling links, negotiating link swaps, participating in link farms, or engaging in any artificial linking, the site should be prepared to be punished.
In addition, if your organic search traffic suddenly reduces, it might be due to a link-related penalty.
Monitor and clean up your backlinks regularly to avoid Penguin troubles.
Interstitial Invasion Penalty
The Intrusive Interstitial Penalty, implemented in January 2017, solely impacts mobile search results.
Google penalizes websites that provide an intrusive ad, popup, or standalone interstitial to a mobile user right after clicking a mobile search result.
In general, Google degrades websites that make it difficult for searchers to read the information. Certain interstitials, such as login forms and legally required gates, are not punished (for age verification or other).
How to Avoid an Interstitial Penalty:
Provide an excellent user experience to mobile searchers. Avoid advertising and popups that take up too much space on the screen immediately after a searcher enters.
In June 2013, Google modified its algorithm to improve results for regularly spammed searches such as "payday loans," "viagra," and pornography-related keywords.
Avoiding a Payday Loan Penalty: Sites that the Payday Loan update has punished are typically significantly involved in link schemes, online spam, and, in some cases, criminal activity. Avoid them if you don't want to lose your organic search engine rankings.
Manual Procedures
Aside from all algorithmic penalties, a search engine employee might personally force your website to go up or down in the ranks. Google's webspam staff can manually examine websites, issue fines, and even remove a site from the index.
What is the reason for a manual review? Because of possible foul play, the search engine may be looking into it more closely. (Did you know that rivals report the majority of spam?) Alternatively, Google's team may be re-evaluating a website that has sought "reconsideration" after resolving its penalty concerns.
How to Look for Manual Actions:
If your site receives a manual action notice, Google will notify you politely. In fact, in 2016, Google sent over 9 million webspam notices to webmasters.
Here's how to check to see whether your site has any messages (positive or bad):
Sign in to your Google Search Console account.
View the Manual Actions report.
Read any notifications to learn the exact reasons for the manual action and where portions of your site are affected by the penalty.
Avoiding a Manual Action Penalty:
Anything that explicitly violates Google's Webmaster Guidelines might result in manual actions. They frequently refer to insufficient content, unnatural links, pure web spam, or other noncompliance concerns.
If your site receives a manual penalty, correct the issue(s) that caused the manual action as quickly as possible.
Submit a reconsideration request after you've cleaned up your site. Google will re-examine your site and will remove the penalty if it appears to be in excellent working order.
How To Avoid Being Penalized By Google Don't Purchase Links
Avoid those commercials that appear on your phone, no matter how appealing the offer may appear. They're never original when they say 'get original links for $99'. If you purchase them, your website may end up costing more than USD 99. Google has no sympathy for websites that purchase links; they will find out and penalize you.
Inadequate and Negative Content
Google has upgraded BERT (Bidirectional Encoder Representations from Transformers), which can understand webpages with comparable content better than humans. As the Google BERT is implemented, more and more pages are impacted. This means that having more shallow and duplicate material will result in a penalty. Always publish well-researched, in-depth material for your website.
Don't Hide Your Content
Google dislikes the concept of 'tricking' its way to a high position. Google prioritizes transparency and uniqueness. To hide content, some webmasters may match the text to the page's background colour. While they may believe they would rank better, they are instead putting themselves in Google's bad graces.
Stay away from keyword stuffing.
Only high-quality material with appropriate keyword density is desired. Due to current enhancements in robots and algorithms that have proved to read material better than humans, keyword stuffing may be the largest blunder a webmaster can commit.
Create User-Friendly URLs
To avoid penalties on particular pages, create URLs that are well-written and easy to understand for the user. Yes, it's usual to include certain keywords, but make sure they complement the content. You want to make a user-friendly and crawlable URL.
Follow Google Webmaster Guidelines
Whatever you do, keep in mind that you have regulations to observe. Create material in the manner desired by Google, obtain original links, avoid keyword stuffing, and make your website user-friendly, to name a few. You can read the entire thing here.
Avoid Over-Optimization of Anchor Text
Be cautious when utilizing anchor text, as it is one of the most common things Google penalizes. If you use it too much or too little, it might harm your rankings. The text you may click to be directed to another website or page is anchor text.
Demonstrate Your Credibility
When writing outstanding content, keep in mind that putting all of your company's information out there will boost your chances of being spotted.
Google wants to give its consumers a high-quality experience, and it will want to supply them with excellent and genuine companies that they can rely on if they require your services. If you own a business, make sure your customers have a positive experience and that your website is simple to use.
Most companies rely on organic traffic to develop and cannot afford any penalty on their website. The majority of them use SEO specialists to assist them in doing checks and taking preventative steps as needed.