Worried that your competitors are ranking above you on most of your target terms? That is most likely because they have a solid backlink profile.
Link has always been the most crucial element of any SEO Strategy. It has been true since links are the basis through which search engine crawlers discover content on the internet. And Link relevance and volume are the basis of Google's Page Rank algorithm.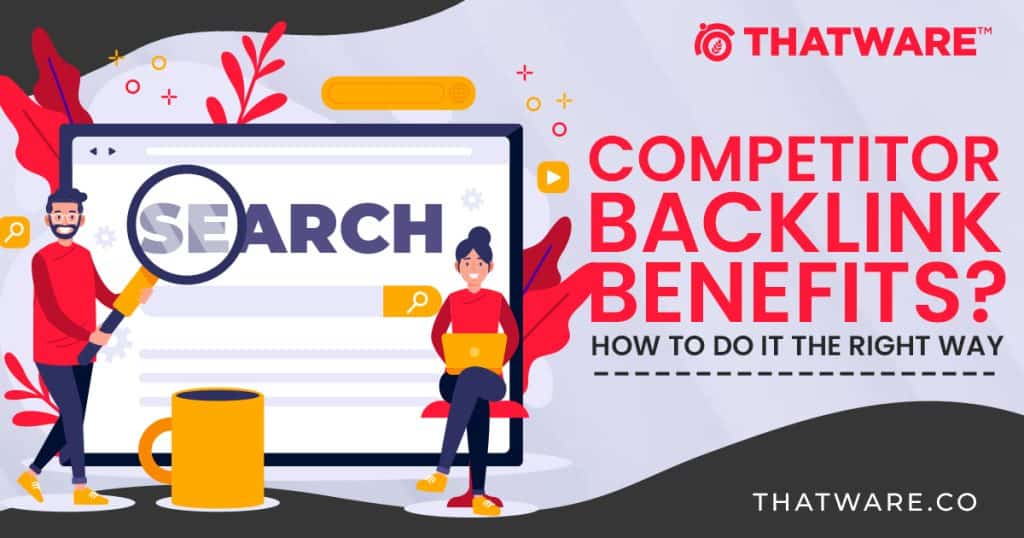 Also, several studies have found that the volume of high-quality links forms a positive correlation with ranking.
However, the fact that our Competitor has a good volume of links, is not necessarily a bad thing.
It allows us to find them and loot them. But before we do that, let's talk about the types of competitors we should be aware of.
There are two types:
Domain Level Competitors
These are the websites that compete with you on the SERP for all the target keywords that you are currently targeting.
Using SERanking we uncovered such competitors:
Unsurprisingly we can see sites like Moz, backlinko, semrush and neilpatel as listed as competitors.
Of the above sites, only webfx and neilpatel.com are direct business competitors, the rest are simply ranking for more keywords than us.
Do note that Domain level competitors are not necessarily business competitors. Only that they rank for more keywords than us. Hence sites like moz, backlinko, search engine journal are indirect competitors.
It is important to pick out all these competitors on an excel sheet and mark them as being "Direct" or "Non-Direct".
The aim will be to loot backlinks from them!
Page Level Competitors
These are competitors that, although do not compete with you on overall more keywords, however, they rank higher than you on individual target keywords.
For example, we want to rank for the term "advanced SEO services". If we put this keyword on the SERP, we obtain the following results.
Notice how brands like SEOGenics are ranking above us. Not counting Fiverr as it is just a Freelancer Website.
Hence SEOGenics is a page-level competitor.
Similarly, we put our most important target keywords and find out the competitors that are ranking above us on a page level. We also mark who is our "direct" competitors and who are not.
Enough talk of Competitors. Now let's get into the tactics of how to acquire competitor backlinks.
Competitor Backlink Acquisition Methods
Reveal Link Building opportunities using Competitor Home Page Links
If you look at the anchor text report for our domain, you will notice that most backlinks use branded terms for anchor text.
This is because people like to link out to brands in general through the brand name.
Thus analyzing our competitor backlinks can help us know where are they getting mentioned.
If we check the anchor text report for webfx. (It's good if we do this for a direct competitor as previously marked among the list of competitors).
Click on the top anchor text that is branded, and you will immediately find all the websites that are mentioning them.
You can export these domains and find out useful link-building opportunities by outreaching them.
Find your Competitor's Guest Posts and Then Write for the same sites
There are a few ways to find competitor guest posts, but in my experience, the best way is to use Google advanced search. We only have to identify an author among the competitors who regularly published blog posts.
We use the following string in the Google search bar.
"Author name" + "guest post" -site:competitordomain.com -site:https://twitter.com
Here's the result we get for the author Benjamin Brendall.
Also you can surface some more results by entering another search string.
"Author name" + inurl:author
Find Easily Replicable Links by Using the Ahrefs Link Intersect Tool
The link intersects tool of Ahrefs provides additional easy backlink opportunities. Essentially the tool does is find domains that link out to 3-4 of your competitor domains simultaneously. If the domain can link out to all of those domains then it can link out to you as well.
We call them small link hubs and these can be very fertile lands for link farming.
Let us imagine we are a website that sells "quadcopters"
Go to the Link Intersect tool -> enter all of the domain-level competitors (from the spreadsheet) -> select "all of the below targets" -> Show link opportunities.
In this instance, we find 14 domains that link to all of our competitors.
In this case, we found all forum links with two junk as well. All in all, there are 12 Forum Links. And guess what these are niche forums as well.
Hence these types of forums have our customers. Hence as a business, we would definitely like to promote in these traffic hubs.
But wait, we can widen the search even further: just run the search with the Link Intersect Tool set to show sites linking to ANY of the domains.
Tools -> Link Intersect -> Enter domains -> Set to "any of the below targets" -> Show link opportunities.
This time we get a lot of link-building potential opportunities
Finding these link hubs can add a wealth of off-page value to your SEO campaign. We already got forum backlinks. But we can also obtain
News sites/blogs covering your industry;
Industry-specific portals/communities (e.g., inbound.org for marketing);
Quality industry-specific directories.

Steal Backlinks from Page-Level Competitors
If you want to get a particular page to the top of Google, the best technique would be to steal backlinks from the top-ranking competitors for the target query.
For example for the query "advanced seo services", I can put SEO Genics in the SEO Ranking Backlink checker report and find the list of backlinks linking to that page.
I immediately get 15 Backlink opportunities. Looking at the sites it doesn't seem to get a backlink from them would be that difficult.
Final Thoughts
Stealing Competitor Backlinks is the best way to nab some great Backlink opportunities. However, outranking competitors by solely doing competitor backlinks might not be possible.
In reality, we usually get 20-30% of your competitor backlinks. Hence it is important to combine competitor backlinks strategy with other link-building tactics to make more backlinks than your competitors and outrank them!