Error codes that come into the 5XX range define errors with the server. If you visit a website, your browser publishes a request to that website's server. If there is an issue with the site's server, a 5XX error code is frequently delivered.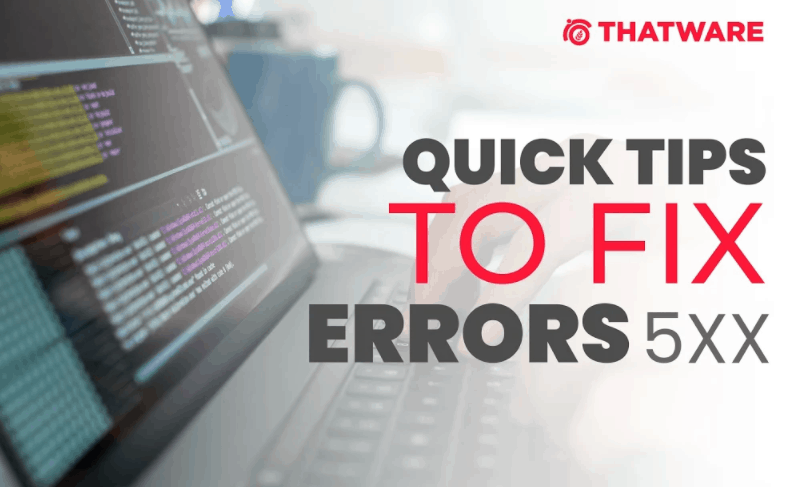 These errors happen when the server recognizes it has come past difficulty or is inadequate to give the request. A piece of information should be given, demonstrating why the fault has happened and whether it is a persistent or passing issue.
Tips to Implement
5XX error messages often deliver server-side errors where your website's server has been failing in delivering a request, for any reason. Usually, this implies that the obstacle does not lie with your website, web connection or computer, and also often not it can be okay to observe that server maintenance is carried out to resolve the problem.
A 5XX Error is an error produced through the server, not the website. They are obvious in any operating system so you may notice this type of error message when using a desktop computer, tablet or mobile. Server errors are often exhibited inside the internet browser window just as web pages arrive. 5XX errors are server-side indicating the difficulty is not likely to prevail within your internet connection or device. There might be an error with the website server.

In the event that there is a problem with something at your end, there are some simple steps you can take before inquiring further for guidance and aid. It is essential not to overlook 5XX error messages when they appear. Not only does it harm the user's activity but they aren't bot-friendly either. Search engine robots like well-maintained websites so it's essential to study and fix site errors as you notice them. The tips are quite easy to implement once it has been understood completely.
Generally, 5xx error codes show that an error or unresolvable request happened on the server-side, whether that is a proxy or the source host. The server was capable of identifying the error and thus will not reflect the possibly malformed response to the consumer. These error codes are applied as an answer to any request method and come into two categories, 5xx errors from your manager and other 5xx glitches that Cloudflare produces when errors contacting the origin are encountered.
This tip marks both types of 5xx errors. Catching a 500 server error can be pretty challenging if it is located only on one page, particularly when you are the proprietor of a website with thousands against thousands of pages.
Moving through and examining solely every page would consequently not only be amazingly time-consuming, but it would also be very expensive if you're managing a company.

Except you're lucky adequate to have a user notify you against discovering a 5xx error, the odds are that accept it is on a pretty significant page, it may take weeks or even months ere you find that you possess one or multiple 500 errors. To hurry up the method of distinguishing them you can practice various SEO tools like OnCrawl, Moz, Ahrefs, etc.
Remarkable extra services, such as Serpstat, can present you with a one-page audit. Accomplishing so is necessary, as continual 500 errors can not only change SEO performance, but they can block users from entering your site. When Google gets a 5xx error on a site, it can reduce a page's ranking or lower it from the index, as such errors may create an adverse user experience. These errors have the most serious repercussions on SEO.
They are the most challenging errors to mend. It's difficult to determine the exact query they show and its most uncomplicated solution. Also, usually, you can't solve these issues by adjusting the page code and you may require to implement it to developers or server administrators for guidance.
Nevertheless, you should, and also must fix them as search engines don't desire 5xx errors at all. A search engine can't drag and examine your site if it receives 500 and 503 errors. This also indicates that 500 error codes can create a bad user experience and negatively influence the site's ranking and indexing.

Of course, your ranks will not fall as promptly as a 5xx error arises. There have to be many cases of 503 responses over a week or two ere the page is extracted from Google's index. And here you have the chance to fix them. Seldom it can be tough to pinpoint the origin of a 5xx error, and they can happen if files are missing or misleading, if there are conflicting upgrades, or if there are flaws within scripts.
If you discover that you have a 5xx answer, there are a few affirmations that you must carry out prime:
Reload the page at the time the issue was only momentary.
Review the error log at the site.
Hold any changes or upgrades to the method that you have taken out lately and roll them after until the problem is resolved.
It's also meriting examining any plugins that you have lately installed. Again, rollback any newly installed plugins until the matter is settled. Enhanced software might also be a culprit, and failed upgrades, missing files, or file degradations can quickly cause 5xx responses.
If you've newly upgraded your software, try uninstalling the upgrade and attempt over. New topics and plugins can also be inconsistent with new software, so attempt pinpointing the problem by deactivating the plugins one by one till the issue is concluded.

Server-side scripts can further cause problems. When 500 issues take place some steps can be succeeded. Verify if the server permissions are accurate. Grants for a PHP or CGI script must be set to 0755 (-rwxr-xr-x). If the server can join to external services, there can be a PHP timeout. Reconsider your timeout controls and error handling. But, these can be hard to find, so the answer could be to simply eliminate external connections.
A 5xx server error is an error that occurs when the server doesn't achieve a request. It's quite hard to detect and repair each event of these errors, but search engines don't desire them, particularly 500 and 503 errors. To counter de-indexing, use SEO tools to check your site and identify 5xx errors in the future. You can fix faults using three main approaches which are already mentioned above.