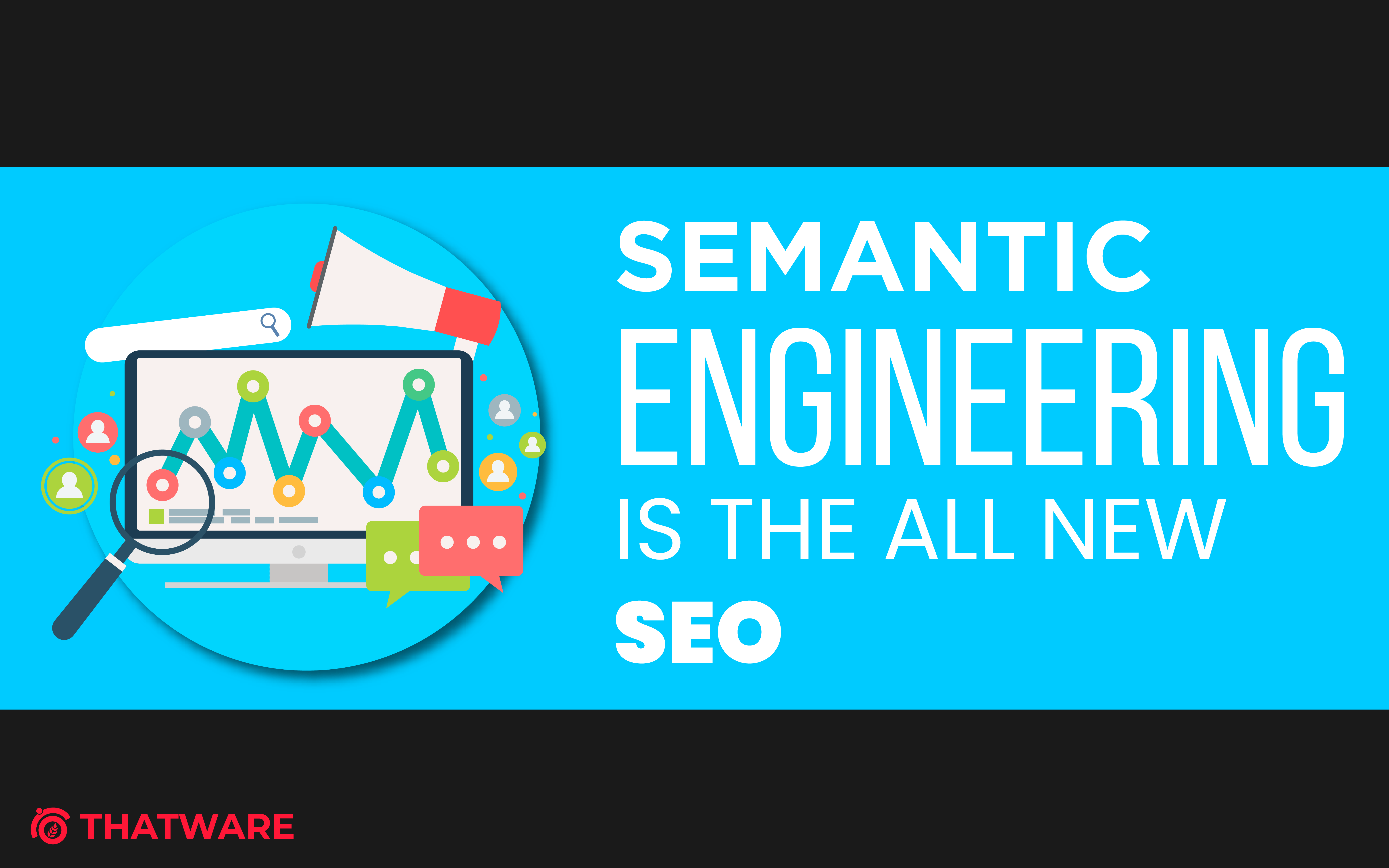 Sematic SEO are the search engine optimization strategies that enable the search query to produce meaningful results to the customer through knowing the purpose behind that question. Semantic search results provide the consumer with contextualized information by not limiting it to the search query's specific keywords, but rather establishing a link to it.
The main idea of semantic engineering is to incorporate language tags and meta-data that are interrelated to the main topic into the text so that the search engine can react to the specified query semantically for a particular question even if does not correlate to same keyword. This methodology utilizes artificial intelligence (AI) technologies to create a vocabulary cloud around a specific topic depending on the meaning and intent behind a search query to improve the central theme and user experience.
What is Semantic Engineering? Is Semantic SEO is the New SEO?
Semantic engineering is the process of search engine optimized content creation around a particular topic rather than the same keywords. 
Compared with traditional media, the digital world is changing quite quickly and emerging technologies and strategies are being introduced to establish the most attractive experience for users. In 2011, Google and other large search engines begin utilizing semantic SEO Natural Language Processing Techniques (NLP) and Artificial Intelligence (AI) tools and techniques to classify users' search purpose.
The goal of the consumer is enhanced by their previous searches to offer the semantic quest for the UI a meaning. AI tools and techniques are innovated and implemented contributing to the introduction of Semantic SEO in the software industry. The semantic SEO resources often detect some stuffing of black hat keywords whose immoral approaches drive traffic to the website.
Another major trend is the use of keywords from LSI (Latent Semantic Indexing), which is a collection of keywords that are correlated semantically with each other and can help to improve content by semantic SEO. There are many LSI keyword finders and LSI keyword generators that recommend you apply keywords to the content to help it organically creep up to the top SERP ranks on the website.
How Does Semantic Search Impact SEO?

1. Users switching to Voice Search
Semantic search has grown primarily because of expanded voice search. According to research from Stone Temple Consulting, mobile voice commands are now widespread and use voice commands on smartphones other than "regularly" or "quite frequently" among 33 percent of high income households.
Optimizing voice search is very different from traditional SEO, as you need to get to the point for purpose based searches quickly to make the posts much more conversational.
Create content that addresses a typical question clearly and concisely at the top of the page before delving into more specific details. To help search engines appreciate the material and meaning, make sure to use structured data.
2. Emphasis moves from Keywords to Topics
The content created shall not be just revolving around keywords anymore. Therefore, you should talk of broad topics in your field that you will be able to cover in detail. The aim here is to create a content that are extensive, original and of high quality.
Instead of producing hundreds of small, scattered pages each with their own topic, consider creating "ultimate guides" and more detailed content that will be useful to your customers.
3. Searcher intent becomes a Priority
One of the best approaches to targeting keywords is not actually targeting keywords so much as it is targeting purpose. Through analyzing the questions leading people to your page, you will be able to develop a bunch of subjects that are perfect for developing content around.
In order to do this, make a list of keywords and then group them by user purpose. When you grasp the purpose of the searcher, start creating content that discusses their intent explicitly, rather than creating content around specific keywords or broad topics.
4. Focus shifts to User Experience
User satisfaction in an era of semantic engineering should be guiding all of our SEO activities. Google cares for user satisfaction and their software is constantly fine-turned to better understand and satisfy the searchers. SEO practitioners, too, will rely on UX.
For this, boost page speed as much as possible, maintain consistency of your mobile site (especially now that Google gives priority to indexing mobile sites), and keep an eye on metrics such as bounce rate and session duration.
5. Technical SEO matters just as much as Content
The algorithm is not yet smart enough to infer sense or interpretation on its own, even with Google's change from "string to things." Your website also needs to be designed to help Google understand your content.
Keywords – Yes, keywords are still relevant. For common questions and related long-tail keywords that you can integrate into your writing, use a content analysis method. Include keywords, as long as it fits automatically, into your title tags, URLs, text, header tags and meta tags.

Link Building – Authoritative backlinks remain one of the most important cues for the rating. Prioritize material that draws ties, obviously. Also, don't forget to use proper internal connection systems to build profound ties to other valuable content you have developed.

Site Speed – Minify resources, compact files, user browser caching and obey the checklist of Google to maximize the pace of your website.
Horrific and surprising to see how old school SEO tactics such as backlinks, keywords and guest blogging still applicable in 2020 and costing thousands of dollars a month from using those methods of course. These are not working for Semantic Search and Conversational AI any more.
Growth Hacking at Semantic SEO using AI is a new trend. Stop wasting your money, keywords and backlinks on a guest post. Write relevant and useful contents which react to the search purpose of the consumer. Google search now responds to machines and utilizes conversational AI. Currently you just require only two resources namely Google Analytics and CrawlQ Business Analytics.