When the online search was initially provided to Internet users in the 1990s, website owners began vying to be discovered more readily in Internet archives. The rivalry amongst websites became increasingly fierce during the next decade. People will utilize any method to improve their search ranking. Some of these outdated SEO practice strategies detailed below. Google, which is currently the undisputed market leader in search engines, was the first to offer methods for prioritizing high-quality content.
Search engines have been vying for the best results since 1998 and the previous 20 years. That's why they're always tweaking their algorithms and ignoring or banning websites that try to "hack" their way to the top of the search results by posting low-quality content.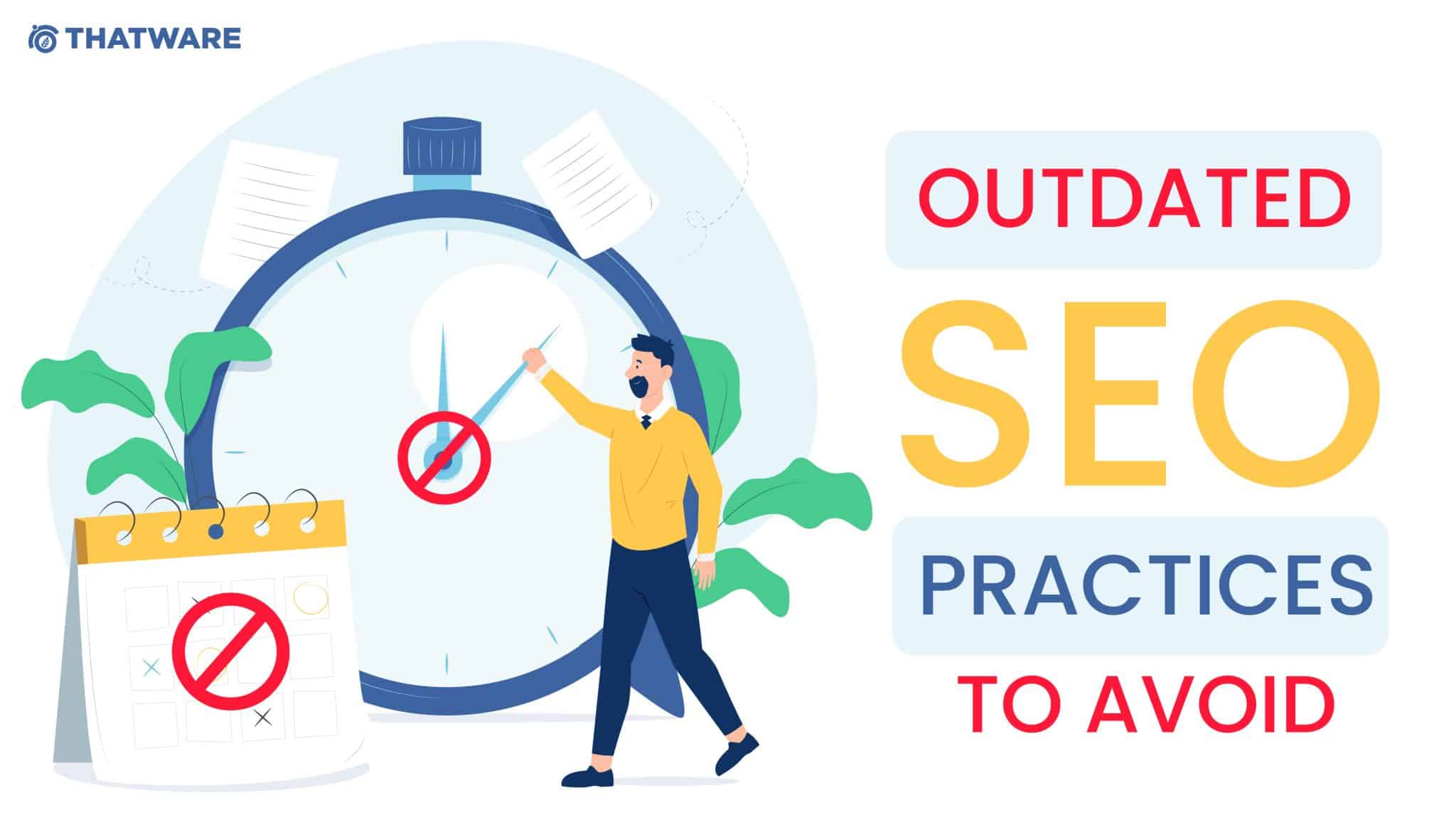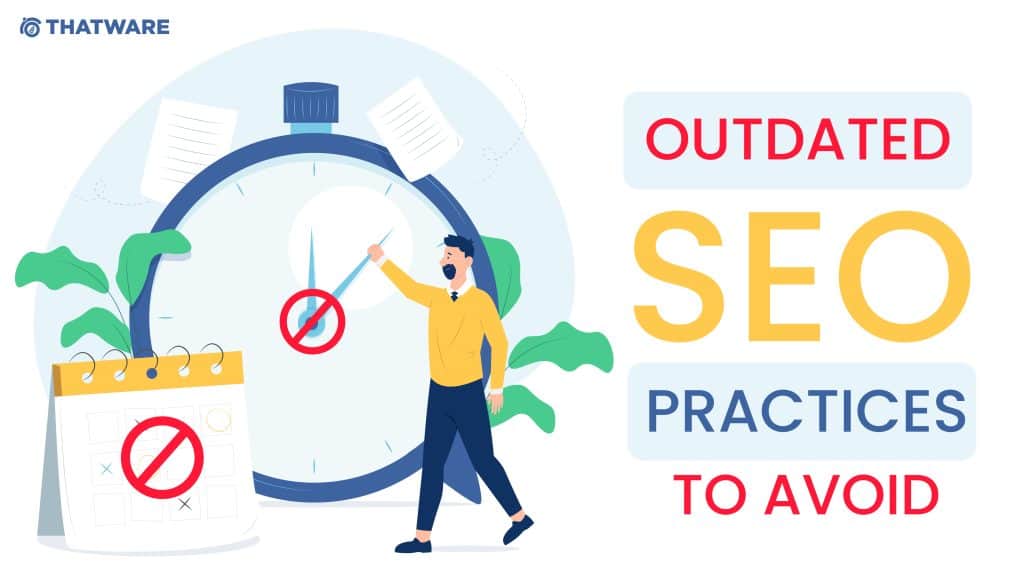 Thankfully, the continual changes are on their way to putting a stop to SEO practices that degrade content quality for a high ranking. Let's have a look at some of these practices:
Keyword Stuffing
Yes, online search is and always has been based on terms. That's why marketers and content creators work hard to maintain the link between content and keywords as apparent as possible. And it was for this reason that the term "keyword density" was coined.
Various publications recommended various optimum densities, ranging from 0.5% (which is good even today provided you employ the phrases organically) to as high as 4%. When a keyword appears four times in every 100 words, is said to be 4%.
Marketers would repeat the keywords in the meta-information or even make the packed text invisible by making it the same colour as the backdrop.
There is no prominent search engine now that does not detect and disregard filled information. You'll be good if you use synonyms or change the wording as long as the article contains information on the keyword/query you want to rank for.
Content re-publication
Hyperlinks assist search engines to travel from other pages to yours when they explore the web. You ask a high-ranked website to publish your content and include a link to your site if you want to improve your ranking.
Search engines quickly realized that consumers saw the same information in many top results, and they took steps to promote valuable and different content. Duplicate content no longer ranks and is frequently tagged as spam.
Duplicating text and rephrasing it
Marketers had to seek solutions as soon as they learned duplicate content was no longer ranking. Rewriting became popular as an SEO technique in the early 2000s. Marketers, faced with the same dilemma as students attempting to deceive plagiarism checkers, came up with the same solution: paraphrasing and rewriting. This approach even allowed copyright infringement lawsuits to avoided by stealing content from competitors.
Plagiarism and duplication checks like WebTool are considerably more advanced these days and can readily identify synonyms and minor changes. Popular search engines use similar algorithms to filter content and produce genuinely distinct pages.
Concentrating on the length of the text
Hundreds of sites have "found the optimum page length" throughout the years: 250-350 words, 1600 words, and a wide range of additional numbers between 300 and 3000. All of the current writing advice suggests writing more than a certain number of words: more than 500 words, more than 1000 words, more than 1900 words, and so on.
The issue was that SEO experts used to take it far too literally. Do you require 1500 words? It's 1500, no more, no less. Other standards defined the optimal paragraph and sentence lengths. These methods, like keyword stuffing, were employed to create inorganic, boring, and occasionally stretched out of proportion.
Today, we place a premium on content quality and strive to provide comprehensive information that is easy to scan. Those portions with design constraints, such as snippets, social media postings, and email subject lines, require a fixed word count.
Spamming Comments
Comment spamming, like republishing content, was formerly thought to be a simple technique to get backlinks. It's still frequently used today. That's why we've had to put the comments on ThatWare Blog on hold until we approve them or flag them as spam.
The number of comments posted only for the sake of the link is staggering. The links are sometimes disguised in the commenter's username, but spam is evident when the remark is incomprehensible. To avoid spam assaults, several publications use "noindex" or block hyperlinks in comments.
Exact Match Anchor Texts
The clickable text in a hyperlink known as anchor text. Search engine crawlers need to notice the text and identify it with the attached link. Marketers in the 2000s used to link precise keywords to links.
When Google first announced the Penguin update, natural-sounding anchor texts took precedence over exact-match anchor texts.
Exact Match Domains
You'd expect to see Nike.com among the top results when looking for a brand name like Nike. That was the way search worked 15 years ago. It was incredibly simple to take advantage of this mechanism. Marketers used to purchase domain names that included all of their top keywords and top search queries.
You could come across seo-advice-for-small-companies.com if you're seeking SEO advice for small businesses. Exact-match domains functioned in this way. Google quickly realized that it was jeopardizing the quality of the top search results and lowered domain names to the bottom of the priority list. You should still optimize the slugs in 2021, but not the full domain.
Optimizing only for text searches
Over the last few years, voice search has become a worldwide phenomenon. Through voice commands, home assistants such as Alexa and numerous desktop and mobile assistants have made searching simple and quick.
The usual text search is still vital, but you'll have to work a little more now since the rules for voice search are a little different. Some of the differences and new regulations may found on our blog titled – "Voice Search Optimization: The Definitive Guide."
ThatWare is concerned about your search engine ranking and has created tools to optimize your content and avoid technical SEO problems.