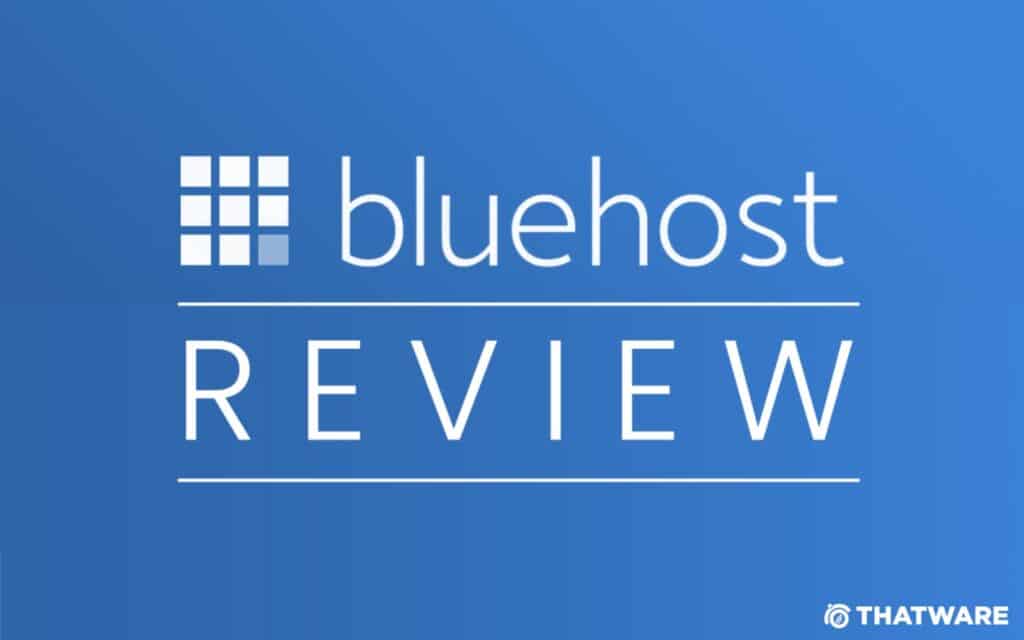 There are innumerable Web hosting companies to choose from and Bluehost is one among them. It was started way back in 1996 by Matt Heaton and Danny Ashworth in Provo, Utah, USA. This makes it quite an old name in the industry. With a staff of 750 people working throughout the day, it is a name on the top. It is also a part of the giant corporation Endurance International Group (EIG) which owns various hosting providers and has a very large market share indeed.
They offer numerous products related to hosting to their users and customers ranging from domain name to shared hosting and even WordPress hosting. So even WordPress recommends Bluehost. They also provide VPN ( Virtual Private Server) . This is something in between the dedicated server and shared hosting. Here you generally share your server with the other clients but there is a virtual separation or a wall between you and them. For those websites that generate tonnes of traffic they also provide a dedicated server. They also provide cloud hosting facilities.
Let us now quickly take a look at the price structure of the various services offered. Shared hosting costs around $ 8.99to $ 25.99 for a month. The lowest price for WordPress optimised hosting is around $ 39.99 per month. It is $ 29.99 for VPN and a dedicated server costs $ 120 per mon the Thus they have services for almost all kinds of budget.
PROS OF BLUEHOST
Like all other Web hosting services Bluehost also has its own pros and cons. The best part about Bluehost is no doubt their services which are best suited and optimised for a WordPress blog and that is why they are recommended by WordPress on their official hosting resource page. Moreover they can easily handle a huge amount of traffic every day of about 20000 per day absolutely without any downtime.  Uptime is really one of the most important aspects to consider while buying a web hosting services. A good uptime is that of 99.93%  but even that is slightly below average. But Bluehost definitely surpasses this benchmark and there is absolutely no need to worry regarding uptime .
Bluehost provides a lot of apps and features for you to take advantage of so that you can get the best services on the web. There is a domain manager if you would choose to purchase and manage many domains through them. You can install and set up numerous content management systems like Drupal and Jumla.
The question then arises that how much resources are offered by Bluehost and the answer is unlimited . One can host endless number of files and use unlimited bandwidth. But they have certain fair usage policies which need to be remembered The limit is however so high that it is same as unlimited. Their CPU limit is also much higher than other hosting services.
Bluehost is also extremely easy to use. It uses ePanel which is by far one of the easiest hosting panels. This year they have even made it suited to the needs of WordPress.
It offers you a free domain name for a year which comes along with your purchase. This is one of the major pros of using Bluehost. Moreover their starter plan will provide you with 100 email accounts and the Plus and Business pro plans come with unlimited email accounts. That definitely sounds good , right? You know what is even greater? If you are totally new and absolutely ignorant about the technical details then also Bluehost makes it a cakewalk for you. Blueflash Launch Support makes it easier for you to get started and the service is absolutely free. You can interact with experts over a phone call. This feature also familiarises you with the tools and options needed for posting. And what is more, the Blue Flash expert team is there to assist you 24*7 no matter where you are. Whether it is about appropriate themes or plugins , you can get all your doubts cleared and problems solved very easily. And if you require more support with WordPress after completing the use of this free service, you need to sign up for WP Live Support at $ 99 per month.
When you sign up for a plan with Bluehost you get the option for getting your very own domain name. This is extremely important in order to build brand awareness and establish trust and proper relationship in business.
Bluehost also provides you with e commerce facilities which means you can easily set up an online store. You also get SSL security for all transactions and a free certificate. You can add an end number of products to your shop and the $ 200 in free marketing credits is a bonus and can be definitely used to promote your business on other social media platforms. Though it is not probably one of the best sites for e commerce and there are some better ones , it is surely a good choice keeping your budget in mind.
Bluehost comes with Spam Hammer, Spam Expert and Apache Spam Assassin which provides you with three layers of protection and males it exceed when it comes to matters of security. It also provides you with free SSL certificate with all your plans. All plans come with the feature of domain privacy which keeps all the information that you used while signing up, secure and private. This prevents hackers from finding out all your personal information and misusing them to achieve their ends. Margaret attacks are very much common on WordPress sites which is really very sad and unfortunate. Bluehost provides Sitelock which prevents these mallard attacks. It provides you protection for your inbox which is provided by a tool from Google known as Postini which gives protection against spam for your emails thereby ensuring that anything found even slightly suspicious does not get an opportunity to enter your inbox. Moreover all your directories are safe which are protected by passwords. You can also easily block access to your site with the help of the option called blacklist IP addresses. Thus in terms of safety you can be very sure that your website is 100% secured and safe from threats.
They interestingly provide you with a 30 day money back guarantee. So you can take a note of their performance from your own personal experience and after that if you do not find their services up to the mark and satisfying , you can always ask for a refund within one month. So if you cancel the plan within 30 days you will get a full refund. But after that the domain fees are not refundable for the period which you have not used . Also a fees of about 16 dollars will be deducted if they had provided a free domain name in the plan used by you. However the benefits and the services provided by them might not at all require you to cancel their plan.
In terms of customer service , Bluehost might not however be the best option in the market. Though they provide all kinds of support including knowledge base, email support and also live chat support. Many customers report that they were unable to get help when they needed it the most even after trying to reach them innumerable times. Certain clients however provide positive reviews. They say that the customer service agents were friendly and helpful and solved their problems easily.
There can be a plenty of other reasons for you to choose Bluehost. It has a very good uptime of 99.99%. If your site is down most of the times, how will your clients access it? Thus uptime is of utmost importance while considering a hosting service. Apart from uptime the load speed also matters very much and Bluehost is the fifth fastest site with a page loading speed of 405ms.
So now let us see who can opt for Bluehost .If you are looking for reliable names in the industry that have a very good reputation, you can definitely close your eyes and go for it since Bluehost is one of the oldest stakeholders in this sector and trust is something that comes with its very name.
If you are a WordPress customer who can spend a few more bucks in order to get professional help and support from a team of WP experts then Bluehost is for you and you can get access to many more features . Both small and large business owners can use Bluehost and if you have a tight budget and are looking for a general purpose shared hosting then you should go for it but you must definitely remain cautious regarding up sales.
CONS OF BLUEHOST
Let us now look at certain cons of Bluehost which you need to be aware of before hiring their services. The most talked about con of Bluehost is its customer service which more often than not gets mixed reviews. Many people say that their support team is not one of the best to rely on. People are not able to reach out to their support system when they need it the most.
Another very disturbing feature is the continuous and endless upsells. You constantly need to buy this feature or that in order to ensure proper and full functionality. This can become very irritating at certain times and you need to take care of this.
Moreover the speed is also not something great to boast about. It has an average speed and lower than most other sites. Anyone would be concerned with speed as it is the most important issue. There are other alternatives like Dream host which provide far better speed.
Bluehost has high renewal rates. Most clients would prefer to pay for some time upfront rather than renewing after every short interval of time. When you pay upfront, you can also save a few bucks. But paying upfront also means that you need to make a long term commitment and that too not just of few dollars but several hundred dollars. If you prepay for a full period of three years it will allow you to enjoy a cheap rate of $ 3.99 per month but then after the expiry of the term you will have to pay extremely high rates of 8 to 9 dollars per month which might be a great burden for your pocket especially if you are on a tight budget.
Another major drawback is that site migrations are not at all free for Bluehost. Certain sites move your current website to their site absolutely for free. However sadly Bluehost doesn't provide any free migrations . They have a onetime cost of around 150 dollars that lets you migrate up to five websites and 20 email accounts. The process might be smooth and won't consume much of your time but the very fact that it has to be paid for is in itself a great disadvantage.
If we consider the WordPress plans of Bluehost, they are very good with regards to the features however they are extremely expensive when compared to plans offered by other sites like Inmotion which has a pretty good plan starting at less than three dollars a month. That is even less than half of the price you need to pay for the lowest WordPress package in Bluehost.
Moreover though there are many useful add ons, you need to keep on installing one thing or the other in order to get proper and smooth functionality.
Another major drawback is that in contrast to other servers you can host your site only in the United States. If by chance your viewers and readers come from other different regions of the world they might not have a very good experience and might be confronted with a dismally slow site and be disappointed thus you may lose on a prospective client.
Their default back up option is not great and is kind of limited. This can be a ploy to push customers to get their paid product. While they do offer backups , these can be considered as just a formality and one cannot really depend on them for daily and automatic backup of their data. You must manually set up and run your own backup via the cPanel and using your own local device. Also any data they backup within the previous 30 days is overwritten and they are not going to take any responsibility for this. Therefore it means that only the very recent backups can be accessed even if those are not the ones you require in order to restore your site. Thus in order to get proper back up facilities you have no option but to invest in their paid premium plan.
They do not offer windows hosting. It is only Linux bases hosting that they offer but this is not much of a problem since Linux is the most widely used for hosting services but it can be a problem for those who prefer Windows.
You also do not get an uptime guarantee. You ideally wish to see a 100% uptime for your site. They offer as good as 99.94 % and this indicates that the site can be down for an average of almost five hours in a year. Though they assure to resolve all problems within 15 minutes if and when they arise.
So if you are someone who has a thriving business like an ecommerce site or you are a blogger with huge amount of traffic every day on your site then Bluehost is definitely not the best option for you and there can be better alternatives.
Frequently Asked Questions
Is Bluehost a good option for beginners?
Ans. It is definitely one among the best for new WordPress users. They might find it very user friendly. It's one click WordPress install might be particularly useful for beginners.
How useful are Bluehost SEO tools?
Ans. They claim to bring you on Google and Yahoo right away but these features are already available before hand for WordPress users and thus paying for this monthly won't get you any extra benefits.
Are Bluehost package extras a necessity ?
Ans. Not all extra packages are required. Only Bluehost privacy and protection package extra services are helpful. There is absolutely no need to take any other package extra as they are not that useful and do not provide value for money.
Which is the best Bluehost plan?
Ans Without thinking twice, you can definitely go for the Plus plan which is the best Bluehost plan because it provides all the Bluehost shared hosting features like unlimited websites, free domain name and free SSL certificate at a more or less affordable price.
Does one own the domain name with Bluehost?
Ans Yes when one registers with Bluehost , one gets full and complete rights to their domain name and they are the legal owners of their domain name .
Is Bluehost best for WordPress?
Ans. Bluehost is suited to the needs of WordPress. It is optimised for WordPress and has a lot of advantageous features but it is a bit expensive compared to some other sites.
How much resources does Bluehost offer?
Ans. They are said to offer unlimited resources which means that you can store and host and end number of files and that means you have plenty of disk space . You also get unlimited bandwidth. But as we have already seen they have certain fair usage policies which is the Bluehost limit. But this is also true that the fair usage policy is so high that you can very well treat it as unlimited. They provide you with a MySQL size of 3 GB which is more than enough and can go on for years. Unless you are using auto script or auto blogging you really need not worry about crossing the limit or if your site doesn't have music or video files then also you need not think much. Their CPU limit is also much higher than other hosting services and they will transfer you to a more powerful server if and when the need arises.
A GUIDE FOR BUYERS
When you are buying a Web hosting service and that too for the first time , things can get very tricky and confusing for you and you might get confronted with all the technical terms and jargon. In such a situation it becomes really difficult to choose and come to a proper decision. So here we will make things easier for you by providing exactly the kind of guidance you require especially if you are a first time buyer.
First of all you need all the tools and equipment to build and professionally design your website. Nowadays you don't even need to hire a Web designer as modern builders will provide you with all the tools to launch your professional website whether you are a pro or a beginner. However you need to remember that most modern Web builders are proprietary which means they cannot provide you with hosting facilities. In this respect Bluehost can definitely be your go to option .
You also need to look out for Solid State Drives which might be a bit more expensive but are way faster and consume less power. SSDs are more dependable and energy efficient modes of data storage. And what is best is that Bluehost not only uses SSDS but also offers free SSD drives with their most basic shared hosting plans. The basic shared hosting plans provides 50 GB while the upper plans for shared hosting have an unlimited storage allowance.
You should also look out for the quality and level of data allowed to transfer between your site, the users and the Internet and this is indicated by bandwidth. Different hosting companies often offer different levels of bandwidth which shows you which one has the most efficient network connections and system. However if you have a small business and do not get a traffic of more than 5000 then you do not need to think much about bandwidth. Any hosting provider will provide you with this minimum requirement and Bluehost can also be a good option in this regard.
Storage is something that you also need to keep in mind. Most of the companies that provide hosting services will offer you with so called unlimited storage but obviously that is going to be accompanied by a lot of restrictions. If you have a small business website and there aren't too many videos and music files on your website then you will probably not require more than even 1 GB. In that case any low cost shared hosting plans will very much meet all your requirements and you need not need to worry much about storage . You are also free to use different cloud storage facilities like Google Drive etc. Which are very efficient and where all the files are hosted for much less amount than one would generally expect.
Another important factor to keep in mind while buying a Web hosting service is scalability . This is nothing but the ease with which your hosting provider handles the sudden spikes in visitors or the seasonal growth and fluctuations in your website . They should have the ability to upgrade to a more advanced plan from a basic one if the need arises that also very efficiently and without any downtime for your website so that your business is not affected at all and your potential clients are not disappointed. For instance a bakery selling pastries and cakes is surely expected to get a sudden surge in customer traffic during the Christmas and New Year and your hosting site should be able to handle this load and should allow you to move to a higher plan with ease and with no downtime. Therefore you should definitely check the scalability of your host before choosing to buy their services . Keep in mind to choose a host that allows you to easily upgrade to VPN if and when the need arises.
You should also be able to access your website from anywhere with ease even if you are not at your workstation. This can even be done from a smartphone. So this is something that you need to remember before buying . Note down the maximum file size since this can very well restrict your ability to upload media files particularly music and videos. Bluehost provides you with an efficient control panel to manage your hosting account very easily. So you can definitely try it out to check if it suits your needs.
The most important thing is undoubtedly security. You need to make sure that your hosting provider makes you acquainted with the required security features. The best hosting providers usually provide a wide range of security products and you need to make a choice as to which one is best suited for the type of website you are planning to run. It is quite natural that the requirements of a blog will be very different from an education portal. You need to have certain spam prevention tools like Spam Hammer for instance and nowadays an SSL certificate is also required. Bluehost can definitely be relied upon and is one of the best in this regard. If you are carrying out financial transactions on your website you need to take care that your hosting site is able to deal with Ddos ( Distributed denial of Service) attacks.
You also need to ensure and take care that the support systems are good and reliable. Whenever any issues particularly technical problems arise, you will need quick and immediate support and assistance. The best hosting services will provide you with 24*7 support by their team of experts so that you can get your business back to normal if something doesn't work normally. A good support system is expected to provide assistance by emails, phone calls and even through chat system which is growing increasingly popular these days. Never forget to properly go through your Service Level Agreement which will give you an idea of the kind of support you can expect to get from your hosting provider. The SLAVE should also be checked to get a fair idea about the uptime you can expect. Now regarding customer support and assistance Bluehost is obviously not one of the best as we have already seen earlier. With regards to uptime it provides a quite average uptime.
What one would not probably think at once is about the location. The closer the location of the site visitors the faster the loading of the page will be for them and the better the experience. If your visitors come from one area then it is well and good and you can always buy a service that has a data centre at a closer location but if they don't come from the same area and are scattered across the globe then you need to make sure that your hosting package has the option of Content Delivery Network or CDN.
Well, the last thing that you cannot afford to forget about is definitely back up. Backups are an extremely important service that you should expect to get from your hosting provider but all companies do not provide this important and invaluable service so you should obviously make sure before buying. Ideally backups should be automatic and take place on a daily basis. Another important thing is that you should be able to access your backups whenever you require and be able to restore your website if there is a problem at any moment. There are numerous reasons why you may require a backup for your website. These include human error, hacking, failure of some or the other component or even fire at the data centre. And back up is both for static files ( like the website files) and dynamic files ( the data base) . The backup can also be done to clod storage of third party like Google Drive. Bluehost is not the best option for backup. But you can go for it if you are working with less data.
CONCLUSION
Now since Bluehost is the part of a massive giant corporation, it is financially extremely strong and therefore cannot end millions of dollars for marketing purposes and this is probably the reason for the tonnes of positive reviews online. But in this review we have tried to provide you with a detailed, in depth and balanced review mentioning in details all its pros and cons and the things that you should definitely keep in mind before purchasing any Web hosting services be it Bluehost or something else.
Bluehost provides various interesting and diverse features. It also has a range of price options for you to choose from. So no matter what your budget is, they have something or the other to offer for everyone and you can definitely check out their offers and packages to find out which one is best suited for your needs and requirements.
Despite some negative feedback most of their customers are kind of satisfied with their services and that is why they have been able to build a strong reputation for their online business for almost twenty five years now which makes them really ancient and dependable at the same time.
Therefore it can be said in conclusion that Bluehost is among the top few and you can take it as a go to option which will allow you to customise your plans based on your kind of website, your requirements and of course your budget . You can just set yourself up in a couple of minutes and get going. What is more you might even get lucky enough to grab some of their best deals and offers which will allow you to save a few bucks. We can say that though Bluehost is not perfect but it provides you with commendable performance and excellent value.