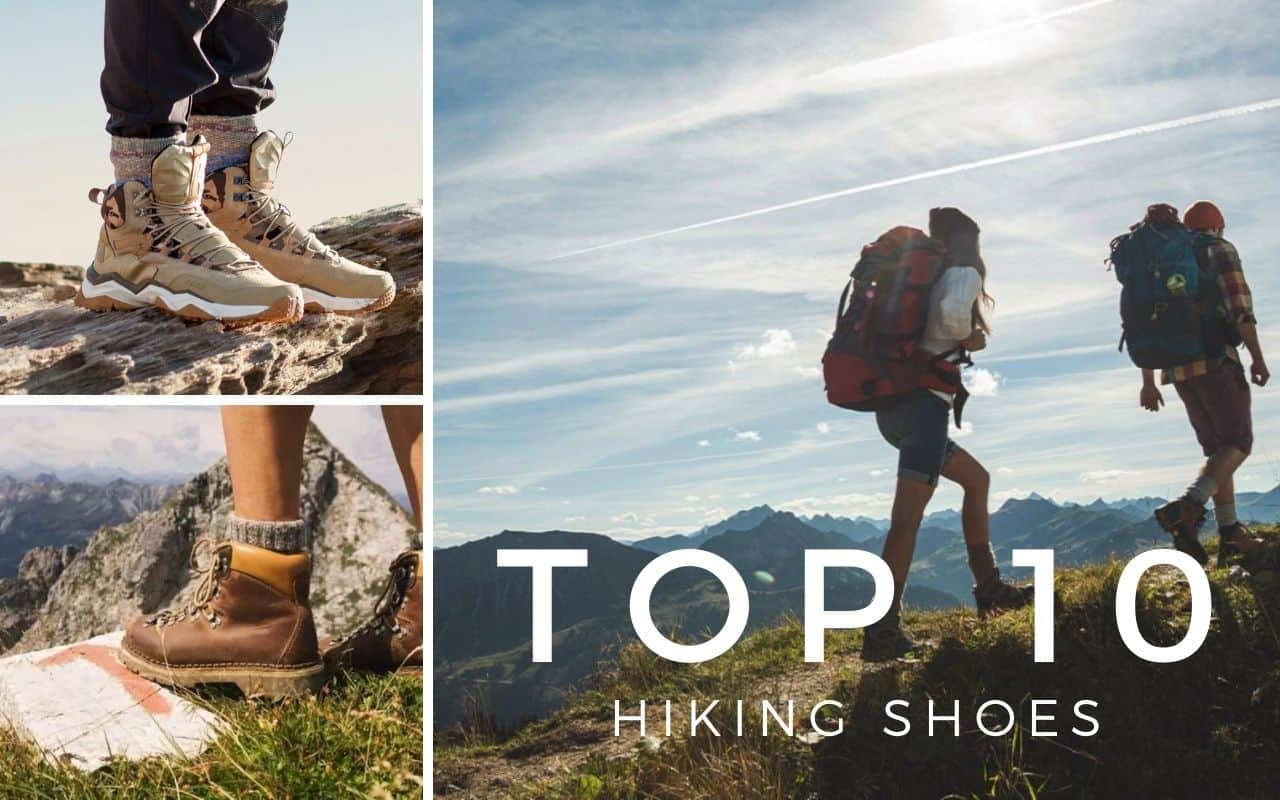 "You require special shoes for hiking/trekking – and a little bit of a special soul as well" – Terri Guillemets.
Hiking is extremely invigorating and enthralling. It is, after all that one adventure sport which -along with keeping you healthy, increasing your stamina and encouraging you to follow a better lifestyle -helps you feel one with Mother Nature.
Now when it comes to trekking, there is plenty of important stuff you need to make sure the trip is one without any barriers. These include, but are not limited to- rain cover, extra water, a water bag for hydration, sunscreen, goggles, and also extra food. But maybe the one thing you need more than anything- a trekking essential you literally cannot do without- is the right pair of hiking/trekking shoes. After all, if you intend on climbing a mountain, slope, or steep trail, you need to make sure you are wearing the appropriate shoes.
Top things in minds of customers before buying a hiking shoe-
Which brands are comfortable?
Which product fits my need?
How to go about buying a trekking shoes?
I am confused with brands , what should I Do?
Check Out 10 Popular Hiking Shoes In India
1. Adidas Men's Ax3 Trekking Shoes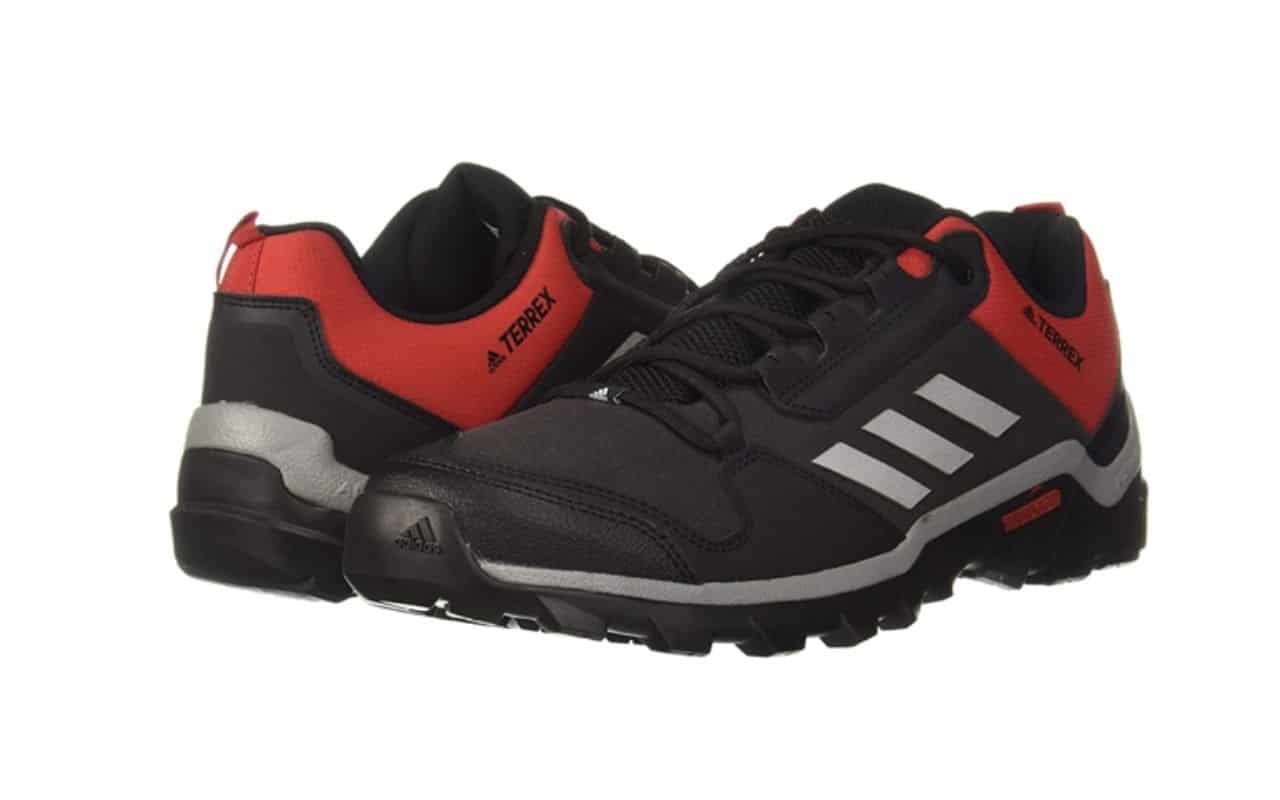 We already understand how renowned and sought after a brand like Adidas is, especially when it comes to footwear. But what you may not have understood is just how long-lasting and versatile their trekking shoes tend to be, especially these Ax3 variants. The mountain grip of this versatile shoe provides sure top footing: mesh underlays with synthesized overlays make it breathable yet sturdy. Coming with 3 months of warranty, the great thing about these shoes is how fast and lightweight they can be, with an EVA midsole providing enhanced (long-term) cushioning, and a high traction rubber outsole providing optimum grip on wet surfaces. In short, these shoes are lightweight, sturdy, and can make sure you don't fall or skid on any slippery surfaces-protecting you from lots of pain (and money!) you'll have to cope with in the circumstance of any unintentional injury.
Features we liked-
• Excellent features
• Light in weight
• Classic looking
• One of the most trustworthy brands
What we didn't like-
• Prices can vary very much depending on the size
2. Wildcraft Men's Trekking Boot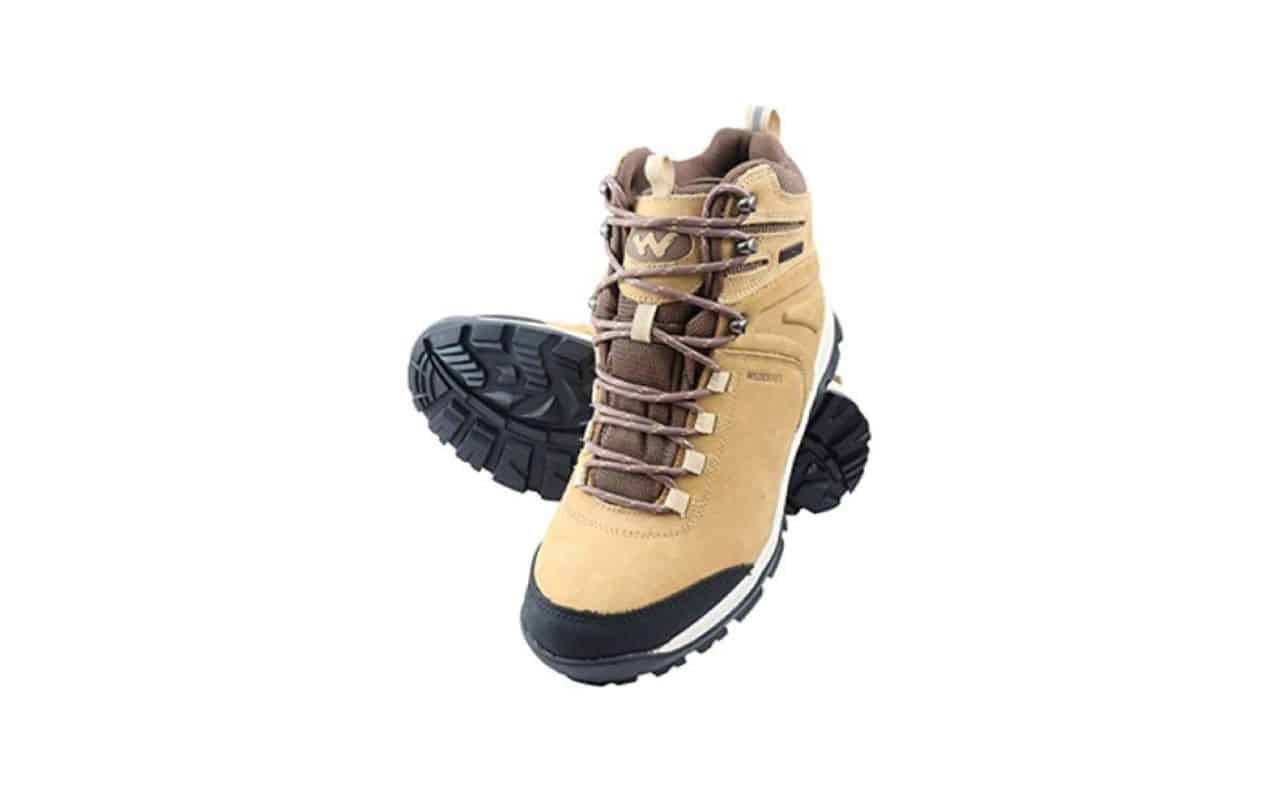 Only one peek at these Wildcraft trekking shoes is enough to make you want to buy them for your next trekking trip. These are after all grandly built, ideally appropriate for every form of landscape, exceptionally robust and also highly comfortable. With different EMI options available, you've got yourself a pair of trekking shoes that will do everything pretty much for you.
Features we liked-
• Attractive looking
• Highly comfortable
What we didn't like-
• Requires Maintenance
•       Heavier compared to trekking shoes
3. Columbia Women's Newton Ridge Plus Quarry Hiking Shoes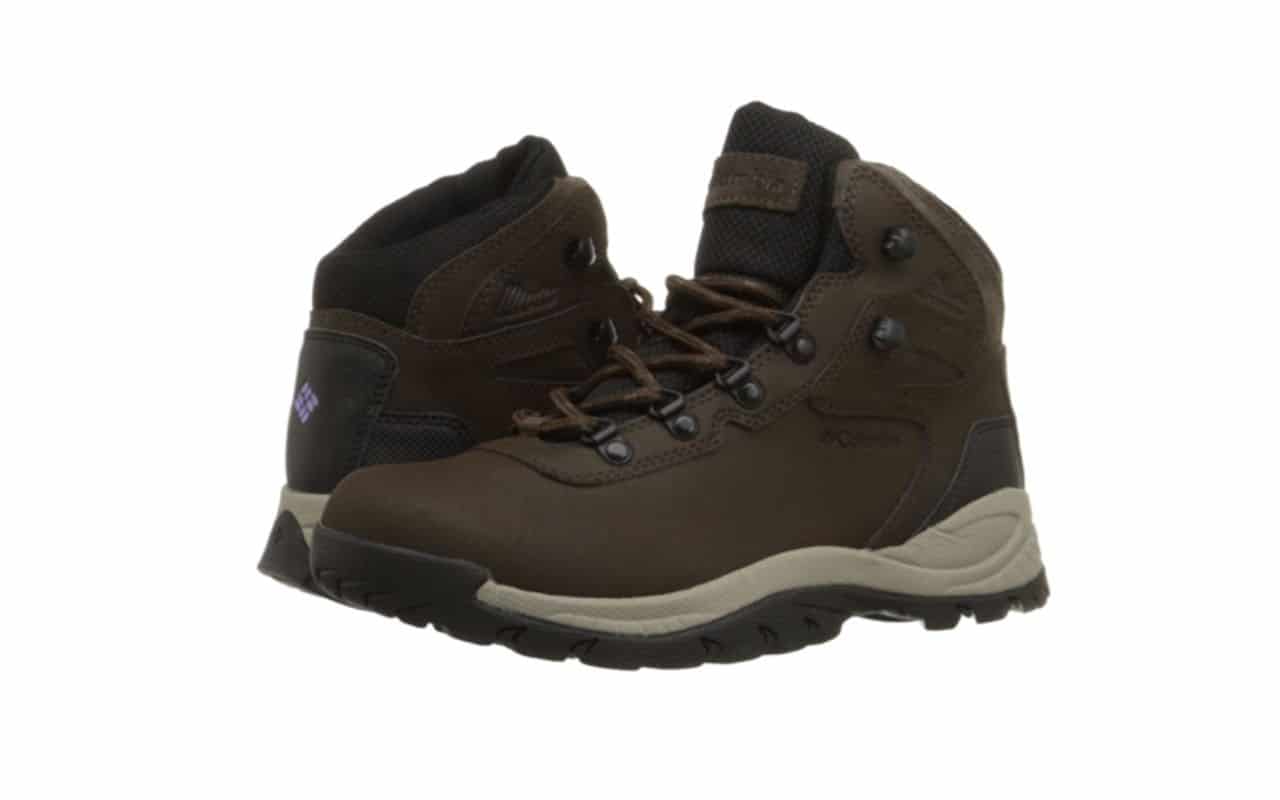 In case you're looking for hiking and trekking women's shoes you don't have to go any further! Newton Ridge Plus Leather Outdoor Hiking and Trekking Sports shoes come with:
• OMNI GRIP is an advanced traction solution with specially devised compounds and treads that ensure stability and proper grip for each terrain. It is meant to grip every surface and is usable in and around water.
• Lightweight TECH LITE midsole provides immediate and long-lasting supreme cushioning and high energy return which improves outdoor performance.
• The lack of a triangular D-ring and Clamshell framework and Sturdy metal lace hooks make fast and easy-lacking.
Overall, the Columbia Sportswear Women's Newton Ridge Plus Hiking Boots will lead you to the trails with confidence and power. With bootie construction, these boots feature waterproof tops made of PU-coated leather and mesh for protection and breathability, whereas the non-marking Omni-Grip, rubber outsoles have multidirectional treads to provide friction and stability on a number of surfaces. Techlite midsoles provide lightweight endurance, shock resistance, and cushioning.
Features we liked-
• The best women's hiking shoes, searching for style and versatility
• Sophisticated lacing technology holds everything tightly and securely
• Quite a sturdy sole, which can be worn anywhere
What we didn't like-
•       Has a considerably longer time of the break-in
4. Columbia Men's Terrebonne Ii Mid Ankle Outdry Leather Outdoor Shoes with Vibram Sole Mud Hiking Shoes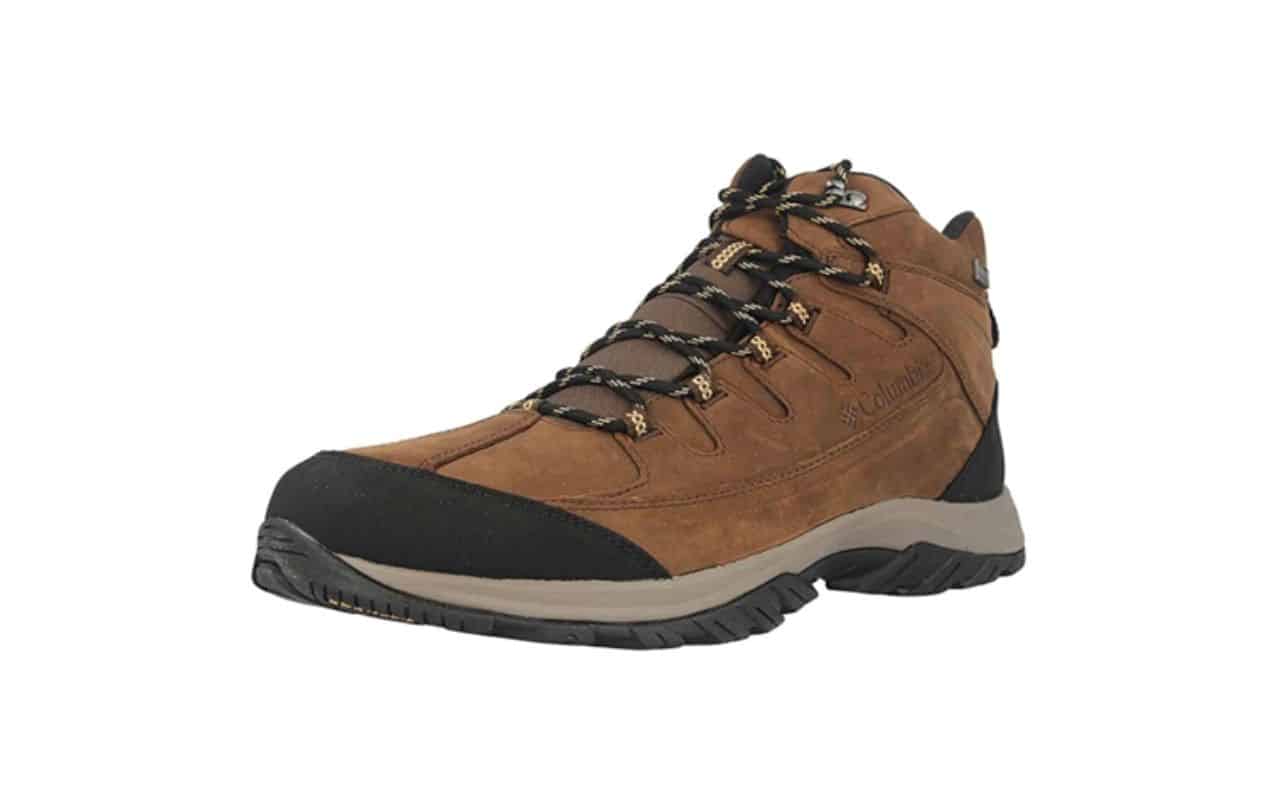 Coming with a 90 days warranty against manufacturing defects, this is an all-weather hiking shoe designed to work in extreme conditions. Featuring a waterproof-breathable full-grain leather and mesh top, excellent midsole cushioning and enhanced outsole durability. Maintaining a solid frame that keeps your feet well secured while offering decent support doesn't always go hand in hand, but you're on the right track if you can shell out the money for Columbia Men's Terrebonne Ii Mid Ankle Outdry Leather Outdoor Shoes with Vibram Sole Mud hiking shoes.
These shoes are one of the most popular high-end hiking shoes on the market and come in mid-top versions if you want extra help around the ankle. However, due to the versatility of which they cater, these shoes have been kept notably distinct from their larger counterpart.
Features we liked-
• Great features that are to be expected at this price
• Extremely comfortable
What we didn't like-
• Too pricey
5. Wildcraft Gabbro 2.0 Trekking Shoes Black/Red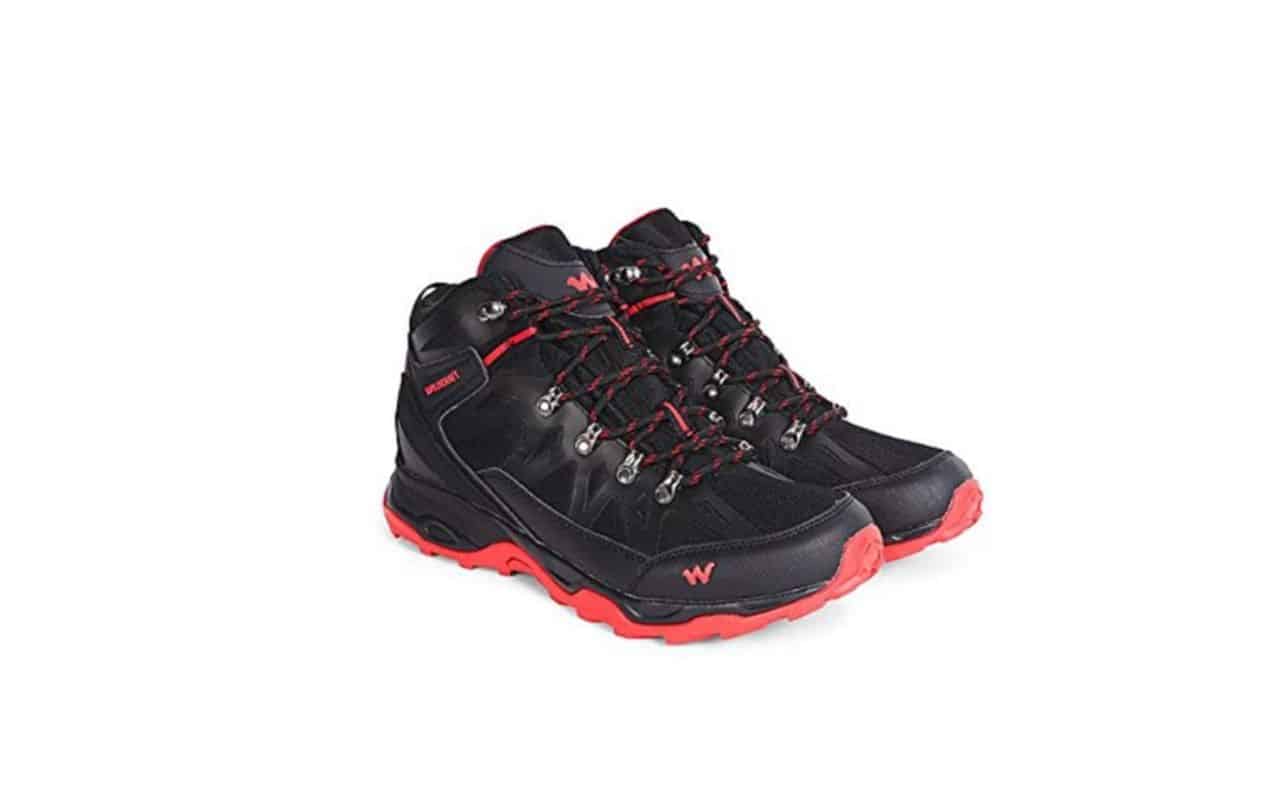 This sturdy unisex trekking shoe features an outsole made in rubber and 4 mm lugs to provide anti-slip & traction on the ground. This pair of waterproof yet breathable shoes has CMEVA midsole for the properties of shock absorption & odor free. So go ahead with confidence and hike. Some foundational features:
• Traction & Grip: Rubber outsole 4 mm lugs for excellent ground traction and slip resistance on uneven terrain.
• Stability & Protection: TPU shank prevents bending of the shoe even if the terrain is uneven. A rubberized counter at the back of the foot is present for protection.
• Waterproof: Breathable upper mesh with waterproof membrane PU material with TPU coverage Up to 5000 cycles of flexing on watery surfaces. Waterproofing membrane up to 80 mm or first eyelet level.
Features we liked-
• Best hiking shoes for wet terrain
• Breathable mesh lining
• Ample protection and stability
What we didn't like-
•       Limited color options
6. Adidas Men's Ax2 Camo Trekking and Hiking Footwear Shoes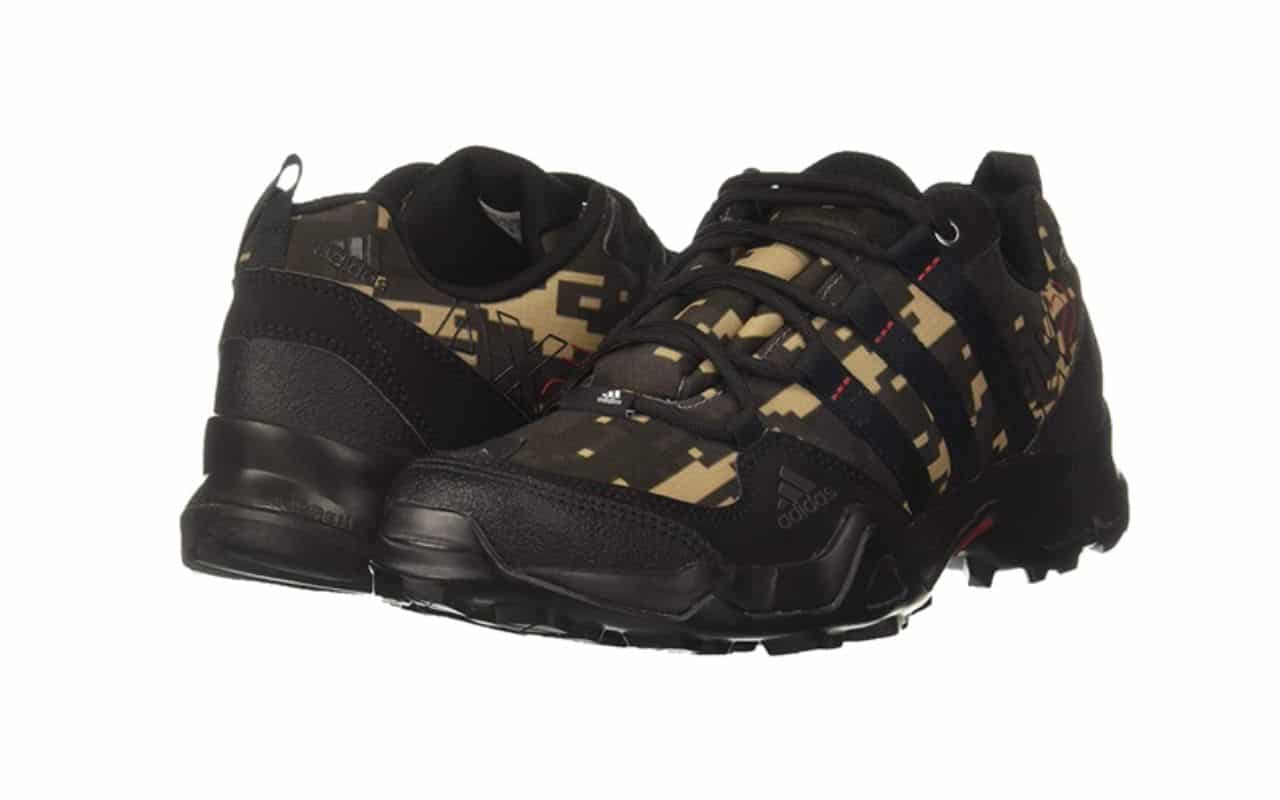 Adidas is the world's largest supplier of athletic and casual wear sports-wear. Adidas sells quality and sport-inspired lifestyle items in areas such as Basketball, Cycling, Exercise and Wellness, Tennis, and Motorsports. Using new technology and creativity in architecture, Adidas constantly develops the dreams and not just the requirements. All Adidas products are engineered to offer great performance, longevity, and comfort. So it's no surprise that there are more than one Adidas shoes mentioned in this list.
The Adidas AX2 Hiking Shoes are a perfect pair to go with if you're a casual day hiker who needs to take them across easy trails in a stylish pair of footwear. These shoes give off an army look because of the graphic print on the outer fabric, so if you find solids bland, these are the ones you should go for.
More specifically, on mild trails, they are fairly easy to wear and have breathable protection, even for those suffering from sweaty feet throughout the year. Besides being stylish, the USP of those shoes is that they're lightweight. This makes them perfect for the hiker who doesn't want a lot of weight on their feet causing them to leave their mobility behind.
Features we liked-
• Reliable as it's a bestseller
• Unique style
• Extremely comfortable
What we didn't like-
•       Size options may be misleading
7. Coasters Unisex Synthetic Trekking and Hiking Shoes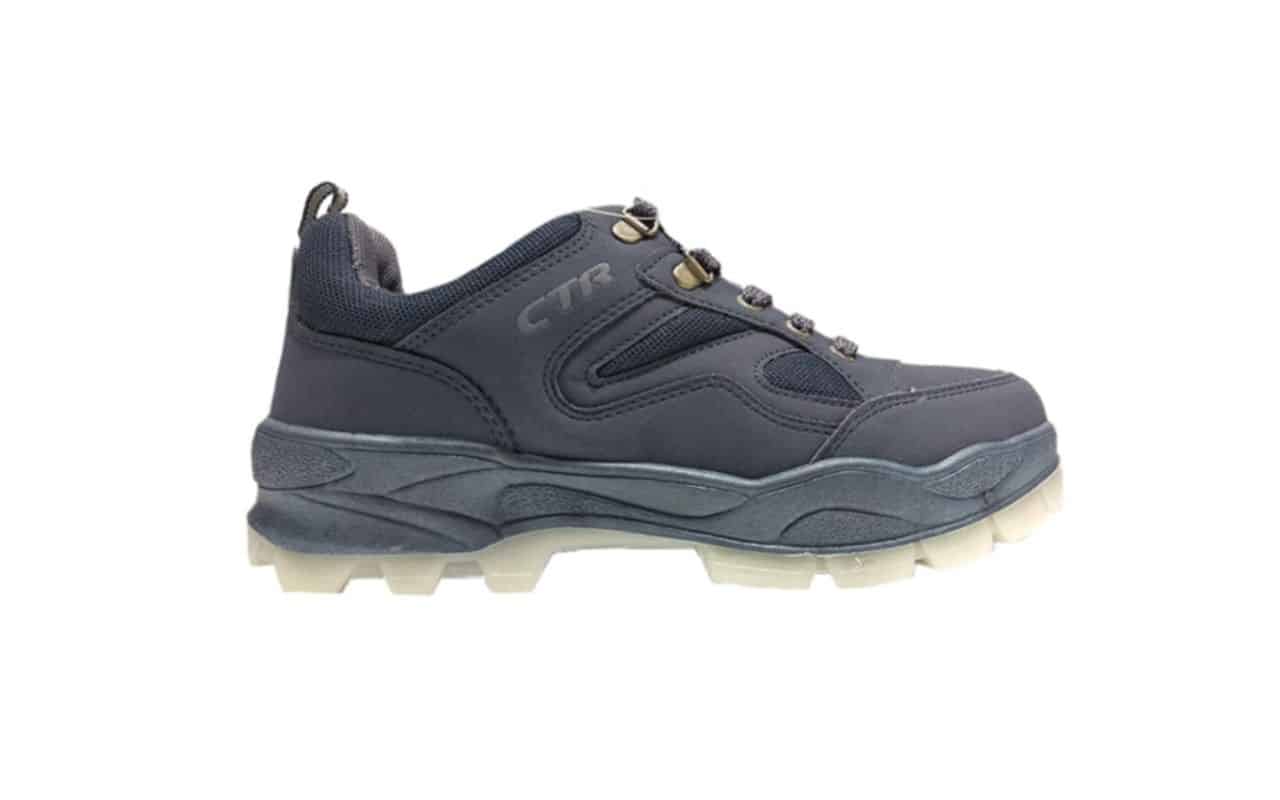 Looking for a pair of shoes that bring together the elusive all-day comfort blend and great support? Buy the Coasters Unisex Synthetic Trekking and Hiking Shoes, and see it's not an illusion.
These shoes are walking shoes straight away and for that reason, comfort comes first. These shoes come with a durable midsole with a little to no break-in time to ensure you get enough help for walking around and doing chores. It's actually the same element, though, that makes it one of the best hiking shoes well within a budget.
This exclusive footwear shoes from the house of Coasters give you the comfort and trendy feel. This shoe features lace-up closing-type crepe sole and comes in green color.
Note that walking shoes lack the sort of friction one would expect from, say, Adidas. But having tried the pair, we can confidently claim they are a great option for more straightforward trails.
Features we liked-
• Great shoes that dual role-play as walking and hiking shoes
• Extremely comfortable for everyday wear
• Durable
What we didn't like-
•       At this price we can't complain but better wet-surface traction would have been great
8. Goldstar Hiking & Trekking Shoes for Men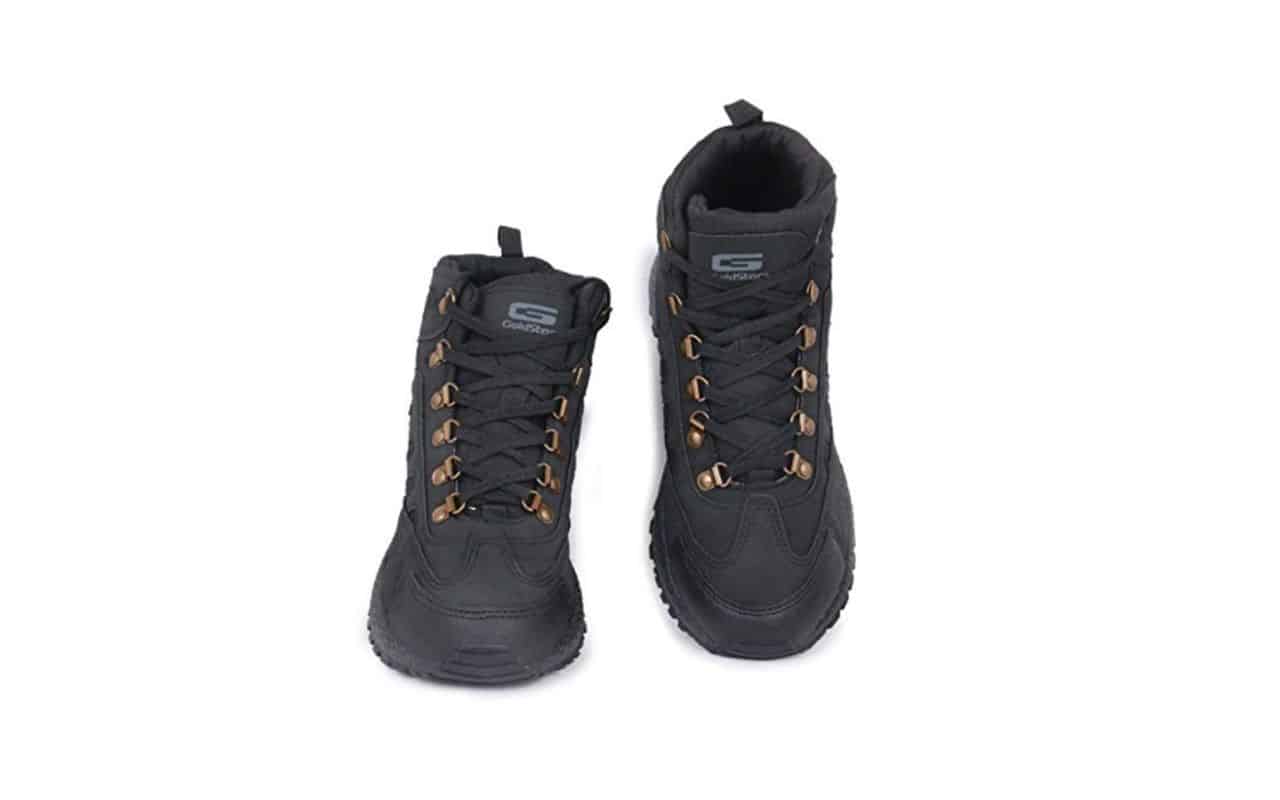 Check out the men's essential summer hiking pair. The men's Goldstar Moab Ventilator Hiking and Trekking shoes is a breathable hiking shoe and is the best match for hiking or biking trails. The Tested Vibram Multi-Sport sole with PVC compound for stability and durability offers maximum bumper safety at the toe and around the foot. In fact, it offers out-of-the-box long-lasting comfort, which means that even after a long day of hiking your feet will feel relaxed and not cramped or stressed.
Features we liked-
• Perfect shoes for a day hike in the desert
• Breathable and very comfortable
What we didn't like-
•       Disintegrate quickly
9. Liberty Army Waterproof Trekking Everest Jungle All Black Shoe
Features:
• Anti-Skid, Anti-Static Cushioning Effect
• DIP PU Structure
• Extra Ankle Protection
• Authentic Soft Leather
• High Flexing Light
• Odor Free
• Oil and Acid Resistant
• Sweat Absorption
Liberty Everest for Mid Ankle Trekking Wear comes with high-quality breathable lining fabrics which help in keeping the feet moist and odor-free. Construction of this footwear as based on a comprehensive survey says that it helps the lasts/shoes to provide maximum comfort with a proper fit. Cushioned insoles are present for extra warmth. Low-density PU mid-sole shock absorbing which provides uniform cushioning and comfort. And during high tension working hours, Light Weight PU gives a feather-light feeling.
The shoe must be used to the purpose it was made for- hiking.
Features we liked-
• Breathable mesh lining
• Ample protection and stability
What we didn't like-
• The laces are not up to the mark
•       No other color option other than black available
10. Adidas Men's Terrex CMTK Ind Trekking Shoes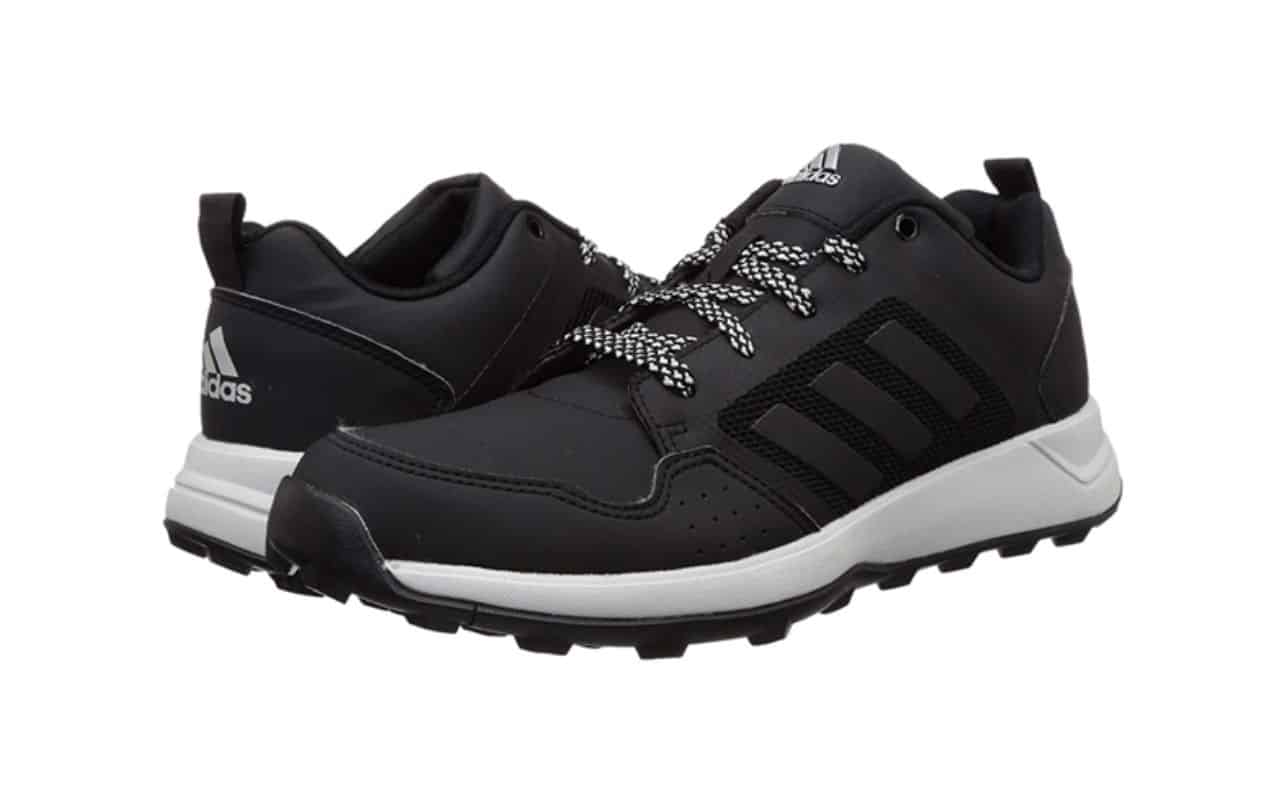 Last but not the least, Adidas Men's Terrex CMTK Ind Trekking Shoes- another pair of the not only most popular but also the most reliable- Adidas! (And no this article has not been sponsored by Adidas, we simply love Adidas!) This is a perfect option for those who want heavy-duty backpacking, climbing, or even mild trekking shoes, becoming a bridge between a runner's and a hiker's desire. Although they're a good looking pair, you'll soon be able to look beyond their looks and get down to their fundamental usage. First of all, these shoes provide the owner with exceptional comfort- something that is not especially well-known about most hiking shoes. Yet you'll be able to bear more weight with these on your feet without risking the chance of losing your grounding.
You should walk wearing these shoes, with your eyes ahead. The top is made from a blend of synthetic and natural materials, which, due to the lightweight breathable mesh protection, offers as much breathable comfort as a pair of suede sneakers. But at the lower part lies the real appeal of these shoes. Both the midsole and the outer sole are filled with features that give additional safety, support, comfort to the different sections of your feet. These shoes all in all are up to as many challenges as you are.
Features we liked-
• Best hiking shoes for water
• Great wet traction
• Remains odor free
What we didn't like-
•       Disintegrates quickly
HIKING/TREKKING SHOES BUYING GUIDE
But before you invest yourself in a pair of trekking footwear, there are a couple of things you need to keep in mind. View them less as restrictions, and more as clear ground rules to obey in order to ensure that you make an intelligent choice:
1. The kind of trek you plan to do: based on the kind of trek you want to do and the kind of terrain you want to walk on- certain shoes would be more rugged, more adaptable, and more versatile than others. Simply put, when you're shopping for trekking shoes, you can make sure you're well conscious of the trek you're going to do, and how challenging, rough, tough, and lengthy it would be.
2. The foundational characteristics of the shoes: All shoes come with varying styles of midsoles, outsoles, and uppers. Often they even come with different kinds of fastenings. So needless to say, you must be completely sure about the basic aspects of the shoes you're planning on purchasing. This is essential as a rubber outsole will be more durable than a synthetic one, an EVA lined insole will also have more cushioning than others, and a fabric upper would be less durable than a synthetic one.
3. The model you chose to go for: Being a brand brat is never a smart thing, the hiking shoes you select must be of optimal quality. And besides, if you don't have the right gear for your trekking, it could turn out to be a risky adventure activity. Thus making sure you opt for trustworthy brands or opt for brands known for reviving hiking footwear, becomes imperative.
With the above-mentioned reasons in mind, let's go through the reviews of 10 popular hiking shoes in India, which will raise the hiking experience to new elevations (pun intended!)
Some feet related facts:
 Most muscles are in your feet. Henceforth, you are expected to wear comfortable footwear.
 Through your feet, the body temperature is controlled
 A maximum amount of nerves end in your feet.
Hiking Shoes Vs Boots: The Difference
We lead off our conversation on the best types of hiking shoes with a clarification that is in most cases left to be desired. Y you might wonder what the point is in writing another lengthy post on trekking/hiking footwear. That is because many of the similarities between the two aren't clear. Isn't boots a type of shoes itself? Right, you ought to be mindful of the differences between the two in this situation.
Two key things lay in the major distinctions between hiking shoes and hiking boots: structure and purpose. And these two are likewise interrelated. In structural terms, the raised collar they have at the ankle immediately identifies them as boots. Many claims that this design helps stabilize the ankle, thus reducing the likelihood of injury to the ankle area.
When you're out on difficult trails, particularly rocky ones, you may get injured because of the additional strain your feet have to adjust to due to the difficult angles that your feet just had to adjust to. But in addition to preventing injuries, the support for the ankle also has another important purpose to serve: such as keeping the creepy crawls out of your feet while you are around them. For this reason, boots are often the preferential footwear for forest hikes. In comparison, running shoes give the neck a skip. But while this may lead to a lack of sufficient security, it is important to remember the reason for both, which is our second point in separating shoes from boots. Hiking boots are heavier, being the preferred footwear for those who set out on multi-day treks, in colder environments, and difficult terrain.
On the other hand, despite their lacking a collar, the right hiking shoes are the perfect option for day travelers, casual trekkers, and the occasional camper. If your hiking needs are limited to simple grasslands to enjoy a beautiful day out in the heat, then hiking shoes would be the best choice out of both.
Furthermore, since they are comparatively lightweight in contrast to hiking boots, hiking shoes keep the feet warm while letting more air in. They still don't place any weight on your feet or even if you're walking around for a longer period of time. If you're on a rocky landscape, on the downside, you could find tiny rocks making their way inside your shoes.
Much like boots, you have to do a good amount of homework to ensure you don't end up picking up the wrong pair in order to choose the right hiking shoes for your needs in 2020. This is because hiking shoes can be as varied as their raised-angled cousins, but you need to get to know market patterns and your own needs well too.
Weight
The primary priority needs to be assigned to the pair's weight so that you feel safe lugging around wearing them the entire day. Although these shoes are designed for shorter journeys, there is no point in missing the fact that you would always be on your feet. That is why the first concern must be the weight of the shoes.
Know that a lightweight pair is not comparable to a flimsy pair due to the advancement in today's shoe-manufacturing technologies. For optimal safety and comfort, most of the weight in the hiking shoes would go into the sole, which is necessary to be like that.
But, while brushing off excess weight, there are many newer models that retain these factors. If you're a minimalist at heart, you might be better off with these, even though you know that they're more expensive.
Material
The best hiking shoes can be made with anything from natural hides to enduring synthetic materials. But while you may choose one to the other, it just isn't limited to your choice alone. The upper material of your hiking shoes may primarily depend on the style of action of which they are intended. So if you intend to pass a variety of brooks over the course of your hike, then staying clear of leather is usually a smart idea.
Nylon fabrics perform well with wet weather conditions of all sorts because they appear to dry faster and more uniformly. Even they experience much less water damage than their counterparts in leather. But certain leather shoes can also be made for the wet surroundings.
We find that leather shoes perform well in cold temperatures in our experience, while nylon is a safer choice if you expect your shoes to sweat a lot or engage in a few splashes.
When you go on a trek or summer trip, nobody can guess where the rains will hit them. Often, the shoe wearer may need to cross many creeks for the mildest distance treks, and it is not always easy to take off your shoes for that. Furthermore, going without your shoes isn't that healthy either, because one fall to your foot could end up ruining the whole plan.
No wonder, though, that most experienced hikers and backpackers choose to have hiking shoes that are waterproof rather than the other kind. Though waterproofing not only keeps your shoes secure from an accidental spill, the extra layer also leads to a longer life.
The only reason some consumers may be holding back from purchasing waterproof hiking shoes is the fear of gaining weight. Yet new waterproofing products weigh not any more than natural ones. Investing in a waterproof pair is ideal for optimal performance.
Air Conditioning
Another important aspect that comes along with the waterproofing. As fine as your hiking shoes may be, they still need to be able to offer the ultimate comfort. And you'll be left with wet, and even smelly feet, without enough air circulation inside the pair. And having your feet trapped inside bad hygiene conditions can lead to infections as well.
You must look for a pair of durable hiking shoes, which are also breathable if you intend to be on your feet for much of the day. Seek for the best performance in mesh linings with the sweat-wicking properties. There are a lot of things to keep in mind on this issue though. Mesh can end up influencing efficiency as it is an essential part.
This ensures the hiking shoes are not best coated in plastic, be they on the outside or inside. In comparison, non-waterproof shoes do more work to keep the feet cold. So if, say, your next hike is in a desert, it's easier to buy this kind for your feet, instead of the breathable waterproof.
Closing
Although laces have always been the preferred alternative, in the last decade, Velcro closure in shoes has squeezed its way into the market. Traditionalists usually opt for laces so they can be changed as well as fastening to help give the feet the type of protection they need.
Sometimes, however, we've been fooled by a pair that appeared to be the finest hiking shoes all-around before we noticed the laces were crazy. Most of us seem to ignore this aspect that plays one of the most critical roles in choosing the right hiking shoes. Look for anti-slip laces, which will encourage you to avoid the horrible task of having to re-attach them every few steps.
Going to the other alternative, Velcro works well as a closing device, and it can also be changed, even if not as much as laces. However, because you are sure in your order by one hundred percent, we will recommend that you save the Velcro for other purposes. With usage and over time, most sneakers would stretch a little, and laces would help tackle a bad fit way better than Velcro.
Traction
A serious hiker must be eager and able to face any type of terrain. But if your trainers aren't exactly up for it, you won't be either. An unexplored trail will lead you over several obstacles, such as tiny rocks that seem to get trapped or kicked up in your foot, slick mud, and huge, edgy rocks that are much tougher to climb without proper protection. Both of these challenging activities will live up to the right outdoor shoes.
And this can only be done with the aid of strong traction, but it is cautioned that a single pair certainly won't contain all the possibilities you might experience up to. Every activity-oriented shoes will be designed on the traction, but the form of traction of exercise shoes and off-road shoes will greatly differ.
Before buying the pair that you want, make sure to search the groove patterns on its underside. The wider the individual grooves, the more protection you can get on surfaces where you are prone to slide. Smaller, more accessible grooves, on the other hand, are ideal for climbing rocks.
Comfort
It doesn't matter how many accessories your shoes will bring in, or how many you could buy at the supermarket. Just buy the shoes if you are secure in them. No-one needs to be left with blisters on their feet in the midst of a trek.
Cost
Lastly, we come to what happens to be (though not ideally) one of the biggest factors for people like ourselves – most common folks. Although some of the choices can be on the pricey side, understand they are only selected because they are some of the very finest. But that doesn't mean there are no affordable ways to get the highest bang for the buck. This guide has plenty for everybody so we're confident you're going to find the right answer for your needs.
Wrapping up
For maximum comfort, this list of the best and popular hiking shoes has been split into parts that include men's and women's shoes and contains only the best shoes that remain unmatched over most styles of trails, including tricky ones. When you're out in the woods, on your own, the right outdoor shoes would be your best friend because you don't want to end up with sore feet or blisters!
So we encourage you to check out your shoe weeks ahead of your scheduled trip in standard conditions and let them go through their break-in time. Also, during the afternoon your feet are at their biggest size, so make sure to buy your shoes around that time. We hope you'll find your pick here, and also have a great trek in it.
How to SELECT THE RIGHT SHOE SIZE WHILE SHOPPING ONLINE:
With online shops becoming more popular, shoppers are increasingly opting for easy online shopping. You will clothe yourself from head to toe without ever going outside. Do not let the fear of picking the wrong size deter you from buying them if you see those unique, most gorgeous shoes online! Instead, just weigh your foot length and rush to take advantage of the new pair of footwear! And how can you minimize the chance of getting the wrong size to get the right size instead? We want to share our experience with you and give you some of the most relevant tips that will definitely help you pick the best shoe size while shopping online.
TIPS to pick THE Right SHOE SIZE WHEN SHOPPING ONLINE:
Length of Foot. Especially measuring the length of your foot is important. Knowing how long your foot is in centimeters, you can quickly locate the sizing map of the manufacturer that will make it much easier for you to buy the correct sizing of your shoes.
The shoe shape, and the foot. It is highly critical that you pay attention to the style you select for footwear. Because the style itself is a bit smaller, shoes with a pointed nose should be preferred in a size greater. If your instep is high, pick shoes on the foot, front, or part of the back, with the zipper. If your foot is exceptionally big, we suggest you avoid pointy shoes.
Half sizes. People also have feet of half sizes. If that's the case for you, pick shoes in your style chart from brands that feature half sizes.
Seasonality. Look out for seasonality. The feet are sometimes swollen during the summer, and often much bigger. But we suggest you always weigh your foot before buying online footwear. Choose a larger size if you're looking for warm winter boots with fur because a cramped foot gets cold even quicker.
Hiking Shoe FAQs
Purchasing a couple of hiking shoes is not similar to buying a new car, but there are also a variety of concerns and doubts that need to be posed before plunging your hard-earned money into something as important as hiking shoes. Here are some of the questions most commonly posed about the best hiking shoes.
Q: Are Hiking Shoes Necessary?
A: Yes. And the following are only a couple of the very many reasons they're needed:
• Uneven ground- Let's begin with the fact that trekking isn't the same as going in the park, biking, or jogging. Such things happen on surfaces that are more or less smooth and paved with either concrete, asphalt, or other forms of paving stone mostly without exception. Usually, hiking takes place on woodland trails which have never known pavement. As such, much of the time the terrain you're hiking on is rocky and covered with gravel, bricks, branches, and tree roots. The stress that comes due to moving from rock to soil to tree root to soil to rock and so on all day long will bring to bear on your feet is immense and there is always the possibility of a twisted ankle. Hence, without the kind of protection that hiking shoes offer you're in for quite a long day.
• Weight – While hiking shoes are not meant to carry you to the peak of Moun.K2, they will carry you to any amount of lower peaks, along the ridges of the mountains and other areas far enough to take any basic medical supplies with yourself at the very least. This could include a burner and a basic nutritional substitute, a versatile torch, rain slicker, dry socks, and more. The added weight that you are having to bear with makes it much more critical that your footwear provides you with solid protection throughout the day. The kind of comfort that you can only get from shoes built for hiking.
• Water – Since hiking is a foot-centered sport, the footwear must be able to withstand any water-related hazards you may find. These involve ponds, puddles of rivers, and downpours. A little stream that crosses the trail will make it seem harmless enough, but fall off a rock and sink your foot into that stream and it might ruin your whole day.
Q: How Are Hiking Shoes Meant To Fit?
A: It is important that your hiking shoes fit correctly if you want to get the most from your outdoor trip. So what exactly does a correctly fitting hiking shoe mean?
Wiggle space-Your toes should not be touching the front of the footwear as you step into your hiking shoes. You must have enough wiggle space; enough to move your toes' tips about a little easier but that's it.
When you lace up your shoes, roll back and forth into them from the toe to the heels, then back again. Perform it several times. If the shoe fits right, your heels will not slip up and down. You can guarantee on blisters when your heel is not tightly placed inside the shoe.
No pinching- your shoe shouldn't pinch your foot anywhere inside the shoe. The fit should be comfortable, not pinching.
If anything else makes you feel as strange or in any way creates discomfort you should try out a different pair of hiking shoes. You can't rely on these issues going off after the shoe break-in. Actually, chances are they will not. Also, try to always wear the type of socks that you'll be wearing on the trail when you buy/try on your hiking shoes to get a precise idea of how they will fit.
Q: Do You Require To Wear Socks With Your Hiking Shoes?
A: There are a few people who wear their hiking shoes and go commando while leaving their socks at home. That way, they tend to get a good feel for the trail and remain cooler too. These are both very questionable arguments but to each their own. Those who want to improve their travel experience will do as most experienced hikers do and find a decent pair of hiking socks to wear underneath their hiking shoes. Hiking socks are usually very inexpensive-including the high-end ones-and they will give you warmth, added comfort, the potential to whisk away humidity, and blister safety.
Q: How To Avoid Blisters?
A: There are a few different preventive steps that you should take to ensure you won't be walking off the trail with a busload of blisters. Firstly, keep your feet dry. When your feet get ever so slightly sweaty, your socks and your shoes' inner lining don't slide against your skin-they're trying to take it with them.
Before hiking, spray the inside of your footwear with antiperspirant and have the moisture-wicking socks on possibly required items list. An at-home hack is to use corn flour in your shoes to keep them dry if you're not using antiperspirant spray or special socks.
Q: What Solutions Are There For Narrow Feet?
A: Once you're trying to get the ideal hiking shoes, having small feet might be a bit of a bummer. Buying hiking shoes if you have big and flat feet is a little better because it makes traction much easier to handle. Looking for unique hiking shoes that are built for narrow feet seems to be the smartest option for you, but it may be hard to come by.
Q: How do Hiking Shoes Improve Hiking?
A: There are a few major areas where they make hiking easier-
1. Trekking
Regular shoes (and hunting/work boots) won't give you adequate traction on Mother Nature's land. Gaining good traction on rocks and loose soil can be really difficult. While everything depends on your balance and stability, your trekking shoes are your next line of protection against slipping and falling.
2. Avoid Blisters
Ever walked in sneakers for way too long, only to realize that you got blisters on your little toes and on the inside of your feet? To the best of, as it happens. Hiking footwear is specifically designed to make it easier to breathe and to reduce the possibility of having blisters once you take them off.
3. They stand up to the Elements
Try hiking in regular sneakers-your hiking shoes have been built to get dirty and dusty, but your regular-wear sneakers were not. Not just that, but when you lose traction, with all the different ways that your legs TWIST and turn during a walk, you'll also ruin your sneakers.
Q: What is the Right Way to Lace Hiking Shoes?
A: Lacing trekking shoes are not like lacing hiking boots, since two distinct kinds of footwear are involved. Trekking shoes are closet to running shoes, rather than to 4-season climbers boots, so you can take the lead by how you usually tie your shoes prior to going for a sports activity. In essence, you want to tie your hiking shoes' laces in a way that offers a custom fit that is elegant without pinching and comfortable without causing your feet to slip up and down within the shoe. There is no magic formula here and it doesn't take reams of knowledge on techniques for exotic lacing. Try a few different ways to lace your shoes before you find one that offers the perfect fit for you.
Q: How to Wash the Shoes meant for Hiking?
A: It is essential to keep them hygienic so as to get the best out of your hiking shoes every time. Cleaning your hiking shoes, particularly those that involved muddy experiences should be done after each excursion. Having your hiking shoes in the best possible condition will prolong their useful life considerably while simply letting them go would mean that you need to buy a new pair once a year or two. Here are the key steps to get the typical pair of hiking shoes washed.
Clean the surface-You can take a few minutes each time you come back from a hike and show off some TLC to your trek's shoes. To begin with, you'll want the big pieces of dirt or mud to displace. This you could do with a wet rag. Using the cloth to clean even the shoes inside. Remember you are just trying to eliminate the big stuff at this stage. You don't want to dip your shoe in the water at that same time.
Although your hiking shoes are possibly waterproof, this does not mean that you can misuse this feature by drenching them in water every chance you get. Waterproof shoes themselves are not designed to always get immersed in water.
Brush the shoes- Remove the laces and treat those areas by using an old toothbrush maybe and some hot water that did not respond to being cleaned with the wet cloth. Letting dirt accumulate in small spaces and seams can only help to damage and scrub out the integrity of the shoe moving forward. Gently dig into nooks and crannies with the toothbrush.
Dry the shoes out- Use a blow dryer to dry your walking shoes after washing them, but you can always avoid the urge to do so. The heat from the blow dryer will only help to accelerate the deterioration of the different fabrics and textures used to make the footwear. In some instances, the outer layer of the shoes become brittle and gradually break or even lose its waterproofing properties. Always let your footwear air dry after washing them and ensure they are as dry within as outside before putting them away or putting them back on.
Reminder: It's a wise practice to clean the inside of your trekking shoes as well as the outside after each trip as we described above. Salt deposition inside the shoes can degrade the materials over time and even annul the waterproofing in areas where the salt deposits are a lot. When the waterproof membranes are blocked with these salty particles, the shoe's ventilation starts to suffer and the next thing you know is that your feet are overheated and muddy. But please make sure to wash off your trekking shoes inside too once you're done cleaning the outside.
Conclusion
Over the decades hiking, shoes have made great strides to the point that it is often hard to tell where the running shoes start falling into the category of hiking shoes. That being said, all of the trekking or hiking shoes reviewed above will suit you well on your upcoming cursors and none of those hiking shoes will require you to make all financial sacrifices to purchase them.
For hairstyling needs of both men and women hair dryers are an essential tool. They not only help you to style your hair the way you need them but also blow dry your hair as soon as possible your out of the shower.
Hair dryers are better than permanent waving products for they allow for stronger hair shaping. So if you're in search of a quick tool to blow dry your hair or style it as per your needs, a hair dryer is a must buy.
This article will serve as a buying guide to you, where you'd get to know all about buying a hair dryer and the best hair dryers you can buy at the right range and comfort you at home.
Top things in minds of customers before purchasing a har dryer-
Which product is best for my need?
Which are he trending brands in the market?
Is it safe to use hair dryers?
How to know more about hair dryers?
Table of contents
(I)The top ten hair dryers in India are-
1.Wahl 5439-024 Hair Dryer
2.Havells HD3151 Hair Dryer
3.Havells HD3201 Hair Dryer
4.Syska HD 1610 Hair Dryer
5. Philips HP8120/00 Hair Dryer
6.Panasonic EH-ND21 Hair Dryer
7.Vega Pro Touch VHDP-02 Hair Dryer
8.Philips HP8100/60 Hair Dryer
9. Havells HD3101 Hair Dryer
10.Panasonic EH-ND11A Hair Dryer
(II) Top things to be kept in mind before purchasing a hair dryer
(III) Top hair dryer brands in India
(IV) FAQ regarding the best hair dryers in India.
Following are the top 10 Hair Dryers in India:-
Wahl 5430-024 is India's bestselling hair dryer which comes with enhanced Tourmaline technology, to impart professional and classy look to your hair, making your hair shine effortlessly. This makes Wahl 5430-024 to the top of our list-
Pros:
The hair dryer is of 2000W.
It comprises of 2 heat and 3- speed settings to impart professional quality to your hair.
In order to give the hair a glossy and long-lasting shine, it uses Tourmaline technology.
3 attachments, 2concentrators and 1 diffuser makes it handle frizz effortlessly and mends your hair, making it healthier.
A cold shot button is available on the hair dryer preventing damage caused to hair by heating.
Wahl provides you with a 1 year warranty on this product
The product is prized at a price between the ranges of 2500 to 3000 on Amazon.in, although some may feel it's a bit heavy on the pocket but it is very effective as a hair dryer being extremely efficient and causing minimal damage.
Cons:
The hair dryer is a bit heavy in weight
Looking for a budget friendly yet feature loaded hair dryer for both efficient working and styling at the same time? Then the Havells HD3151 Hair Dryer is a must buy option for you to embark on-
Pros:
The hair dryer is of 1200W imparting a salon type hair finish and professional hair drying look for all days.
According to the user's convenience, the hair dryer is suitable for all type of hairs, be it cool, warm or hot airflow; since it comes with 3 adjustable temperature setting.
The minimal heat exposure protects the hair from unwanted damage and ensures uniform distribution of heat to your hair, making it dry quicker.
If you're looking for an easy to carry hair dryer then this is the perfect one, as it has a foldable handle, making it easier to pack, store and commute as per your convenience.
The honeycomb inlet at the back of the hair dryer gives you a tangle free hair drying experience you never had before.
Having a hanging loop makes it easier and convenient for storage.
Retain your wanted hair style by using the cool shot button at the end of your styling regime, which is available on the hair dryer.
Havells gives you a 2-year warranty on this specific product.
The product is priced at 750-1000 at Amazon.in, which ensures not to be heavy on the pocket.
Cons:
You may face an issue with the durability of the product
We have Havells HD3201 Hair Dryer 3rd on our go to list for a complete hair system at a budget, allowing to style your hair as per your needs most effortlessly and conveniently-
Pros:
The hair dryer imparts a salon type hair finish and professional hair drying look for all days is just for 1500W.
According to the user's convenience, the hair dryer is suitable for all type of hairs, be it cool, warm or hot airflow; since it comes with 3 adjustable temperature setting.
If you're looking for an easy to carry hair dryer then you can choose this one because it has a foldable handle, making it easier to pack, store and commute as per your convenience.
Having a hanging loop makes it easier and convenient for storage.
A cool shot button is available on the hair dryer.
Havells gives you a 2-year warranty on this specific product.
The product is available on Amazon.in for 1200-1300 making it budget friendly.
Cons:
Durability of the product may be an issue.
Syska's budget friendly HD1610 Hair Dryer which comes with both cold and hot shot button has made it as the 4th option on our list-
Pros:
The hair dryer is of 1200W.
The product comes with 2 speed and heat settings for optimal usage and daily hair care.
This hair dryer has a foldable design for the convenience of the user making it easier for storage and portability.
It protects the hair from excess heat due its advanced overheat protection.
The hair dryer comprises of fine heat balance technology which not only prevents the heat concentration but also distributes hot air evenly, making the hair dry gently.
The presence of a narrow concentrator gives great and flexible styling experience.
Being equipped with a big wind inlet allows the reduction of air swirl for quiet, quick and efficient drying.
Syska gives you a 2-year warranty on this specific product
The product is prized at a price between the ranges of 950- 1500 on Amazon.in, which is a very affordable option for a great hair dryer.
Cons:
The length of the wire being short may be an issue.
5th in the list we have Philips HP8120/00 Hair Dryer is one of the most efficient hair dryers recommended for all hair types from curly to straight –
Pros:
The hair dryer is of 1200W is for gentle and smooth blow-drying experience.
It comprises of 3 speed and heat settings lets you style your hair the way you want to.
It also comprises of a concentrator nozzle imparting precision while drying your hair.
A cool shot button is available on the hair dryer.
For storage and portability it comes with a foldable handle making it travel friendly.
Philips gives you a 2-year warranty on this specific product.
The product is available on Amazon.in for 1000-1300 which is easily available and pretty affordable.
Cons:
The cool shot function might not be effective enough.
Number 6th on the list stealing the show with its looks and features being adept is Panasonic EH-ND21 Hair Dryer, which actually promises you a shiny, glossy, salon finished look at home.
Pros:
The hair dryer is of 1200W with a 1.8m long wire makes your hair drying experience convenient and fuss-free.
It features 2 heat and 3- speed settings with two hot and one cold setting. This makes you choose between options you want to use depending on your hair type.
The hair dryer comes with a Healthy mode feature, keeping the airflow at 50degrees, which dries your hair faster without letting it get damaged.
It also comprises of a quick-dry nozzle concentrator nozzle for focused airflow making the drying process more effective.
A cool shot button is available on the hair dryer.
This hair dryer has a foldable design for the convenience of the user making it easier for storage and portability.
Panasonic gives you a 1-year warranty on this specific product.
The product is prized at a price between the ranges of 1200 to 1500 on Amazon.in, which makes it more pocket friendly.
Cons:
The cool mode being slow may be an issue.
Vega Pro Touch VHDP-02 Hair Dryer is the perfect hair dryer suitable for all family members and all hair types, giving you your desired results, which makes it to be the 7th on our list-
Pros:
The hair dryer is of 1200-1800W makes your hair drying and hair styling experience a hit.
The safety automatic overheat cut feature enables maximum protection to your hair.
It comprises of 2 heat and speed settings with a removable end cap is a plus point.
A cool shot button is available on the hair dryer.
The product is designed with safety automatic overheat cut out feature.
The hair dryer contains a removable end cap making it easier to clean and a cord guard with a hanging loop for easy storage and portability.
Having 2 concentrator and detachable nozzles imparts precision air control feature and great styling.
Vega gives you a 2-year warranty on this specific product.
The product is available on Amzon.in within the product range of 1500-1800, making it a pocket friendly option to go for.
Cons:
You may face an issue with the durability of the product.
If you are looking for a gentle drying hair dryer within a budget to cater to all type of hair lengths be it small, medium, or long; then your go to option is the Philips HP8100/60 Hair Dryer, which is 8th on our list-
Pros:
The hair dryer is equipped with a 1.5m cord, and a 1000W with optimum level of airflow.
It comprises of 2 heat and speed (low and high) settings in order to ensure gentle drying.
A concentrator nozzle for focused airflow is available on the hair dryer.
The thermo protect feature is unique for this product.
The compact design of the hair dryer makes it easy to handle.
For convenient storage it comprises of an easy storage hook.
Philips gives you a 2-year warranty on this specific product
The product is priced at the range of 799-899 at Amazon.in making it a budget friendly option.
Cons:
The product lacks a cool shot button for long or thick hair.
9TH on our list is Havells HD3101 Hair Dryer imparting professional hair care and styling experience for all hair types and giving your hair salon like touch-
Pros:
The hair dryer allows optimum airflow with 1200W.
The product comprises of 2 adjustable temperature settings – the warm and hot airflow.
In order to distribute heat uniformly throughout your hair and prevent damage the hair dryer has an advanced heat balance technology.
In order to ensure that your hair doesn't get entangled unknowingly while drying the dryer has a honeycomb inlet on it's the back-side.
For flexibility and convenience a 1.6m long power cord is provided.
For convenient storage it comprises of an easy storage hook.
Havells gives you a 2-year warranty on this specific product.
The product ranges in between 775-850 on Amzon.in , which is also budget and eco-friendly option.
Cons:
The product lacking a cool shot button may be an issue.
Imparting shiny, glossy and salon-like finish to our hair Panasonic EH-ND11A Hair Dryer is the last but not the least on our list-
Pros:
The hair dryer is of 1000W inducing optimum airflow.
The product comprises of 2 adjustable temperature settings – the warm and hot airflow.
For powerful airflow it has a Turbo function for better drying effects.
Panasonic gives you a 2-year warranty on this specific product
The product is available on Amazon.in between the price ranges of 650-700, making it extremely pocket friendly.
Cons:
The product lacks a cool shot button.
(II)TOP THINGS TO KEEP IN MIND BEFORE PURCHASING A HAIR DRYER-
In our fast and tedious life a hair dryer becomes an essential daily used product, for the purpose of hair styling and also hair care. While purchasing a hair dryer we just follow the brands and reviews, however that is not enough, as you should buy you perfect hair dryer based on various factors such as wattage, hair type, attachments, multiple settings etc. Following are the top things that would help you keep in mind before you go to buy a hair dryer –
The wattage is an indication of the power of the hair dryer and therefore you should consider that higher the wattage, the more heat it will be producing and hence be quick enough to dry your hair. There is no hard and fast rule regarding the wattage of the hair dryer, you can purchase one with wattage between 1300W-1850W.
However a higher wattage hair dryer is preferable for ones having thick, dense or curly hair. If you purchase a higher wattage then it would be wise to turn down the heat but still maintain power, but this would not be the case with a low wattage hair dryer.
The control over the airflow is conducted by higher speed and heat settings in a hair dryer, thus you get more control over the airflow, and you can select as per your convenience. For thick and coarse hair higher heat setting is recommended. And for thin and fragile hair lower heat setting is recommended. To prevent over-drying if your hair is only damp and not wet use the low-heat setting. Style your hair as per your needs with the different speed settings.
Balanced heat distribution is given by hair dryers with ceramic coating as they emit non-damaging infrared heat. It helps the hair to dry from both outside and inside.
With ionic dryer water molecules are broken down for faster drying and also retaining the moisture content in the hair for healthier and long-term outcome. Ionic dryers condition and reduce frizz by helping neutralise positively charged ions in the hair.
In order to make your hair look shinier use tourmaline dryer which has a gemstone coating which contains minerals that naturally emit negative ions and infrared heat, making your hair shine. It also helps your hair to endure much higher levels of heat without damaging your hair.
In order to prioritise the portability and comfort of usage use a lightweight hair dryer , which is not only flexible in terms of targeting your whole head evenly but is also easy to store, use and travel handy.
-A) DIFFUSER-
Having a diffuser in a hair dryer is very useful because instead of concentrating the heat in one area, it distributes it evenly, diffusing the airflow and gently drying the curls, without blowing them out. This makes it an ideal hair care accessory. Also it helps to lift and separate hair boosting its natural texture.
-B) Concentrator-
It helps you to direct air to a targeted space, making it useful foe better controlling, for if you'd like to blow-dry your hair straight, with a brush you'd be able to do it perfectly. Those with long hair usually benefit with a concentrator attachment because it can easily reach the entire hair length and direct the heat efficiently and accurately.
If you want to add shine and get a long-lasting look, the cool shot button provides you with the exact blast of cold air helping the style to look perfect. It is used to set the style and used usually after styling to have a great look.
If you're looking for a travel handy and portable hair dryer then a foldable handle is a must feature the hair dryer should contain.
To use a hair dryer in a foreign country while travelling use a dual voltage hair dryer. Different countries use different voltages and hence the hair dryers should be able to adapt the voltages of different countries, for example in India 220Volts is used, while in USA its 110Volts.
(III) TOP HAIR DRYER BRANDS IN INDIA-
For those who have hardly any time to sit and compare through a wide range of brands and hair dryers before picking up the one , take a quick glimpse at the following list , which contains the go to top hair dryers brands in the Indian Market, and all of them being easily available on Amazon.in and choose wisely :-
In the styling equipment's, Philips always calls for a high position, being one of the most bought hair dryers in the county. Philips hair dryers are usually light weight and easily hand able. Philps offers hair dryers based on varied ranges in wattage, and are very travel friendly. Philps hair dryers are also small, compact in design making it easy to store and carry. The wide range of hair dryers are meant for all types of hair from thin too thick to straight to curly. The hair dryers are easily available online and as well as offline, being easy on the pocket and also being expensive and offering maximum output and minimum damage.
Syska is the second most bought hair dryer ranges in India in 2019. Syska has thoroughly maintained its quality control, price range, and assured service to its satisfied customers. Having compact and foldable design imparts an easy to store and carry feature, making it travel friendly. The secret of Syska hair dryers are the optimum utilization of energy, enabling efficient drying and styling your hair effortlessly. The concentrator enabled feature in the hair dryer makes it maintain the moisture level in the hair precisely for better styling. Having a good warranty service makes it more reliable and also covers internal damages as part of the warranty.
Havells India limited is India's leading manufacturer producing a wide range of hair dryers. The brand has successfully satisfied numerous customers in terms of cutting-edge technology and imparting quality based products. The Havells hair dryers are made with perfect balancing technology offering durability, drying and styling the hair all at the same time. The evenly imparted wattage ensures optimum use of energy and provides even and gentle airflow leaving your hair smooth and shiny. The honeycomb inlet feature is unique for Havells hair dryers which gives gorgeous and rich look to any type of hair, also protecting the hair from dandruff and dust. Thus most customers go for Havells hair dryers as their go to solution without much thinking.
In terms of beauty, styling and cosmetic products, Vega is a leading brand. Among its varied products, Vega's hair dryers are affordable and also a go to option by many trusted customers across India. What makes Vega hair dryers unique is the presence of a professional AC motor, which helps in promoting speeded up airflow and makes drying hair a quicker process. The presence of diffuser, nozzle ,cool shot button makes it a very easily adjustable hair dryer for all hair types from thin to thick. The automatic overheat cut out feature is also exclusive for Vega hair dryers, and its optimum wattage user makes it a good option for energy consumption. Hence Vega hair dryers give you a commendable and handy option within a budget friendly range.
If you're looking for hair dryer that will suit your hair type Wahl hair dryers are a must on your list. Being energy savers it comes with variable speed options which can be adjusted according to high and low needs. Most of the hair dryers have been designed with advanced Thermo-protect temperature regulator technology, which provides for optimal hair drying, thus ensuring protection of your hair from overheating and damage. The durable nature of the hair dryer makes it different from other companies' hair dryers.
The Nova is a relatively new brand but even though it renders optimum quality. Nova hair dryers are made with perfect balancing technology offering durability, drying and styling the hair all at the same time. The evenly imparted wattage ensures optimum use of energy and provides even and gentle airflow leaving your hair smooth and shiny. Overheat protection feature of the hair dryer makes it a damage preventive hair dryer, with releases the excessive heat from the device. Also the unique heat balancing technology allows hot air to be distributed evenly throughout the hair, reducing the fizziness in the hair and making entangling of the hair almost impossible.
If you're in search of a high quality hair dryer at a pocket friendly range then Panasonic hair dryers are your best options. The hair dryers by Panasonic are stylish, compatible, strong, and latest in technology and also are very easy to use. The heat balance technology allows for even distribution of heat over the hair to prevent damage. For a quicker and efficient using with different heat and speed settings, this brand offers great quality of hair dryers. The dryer is widely used by both men and women and caters to all types of hair types. The long wire makes it an easy to use and affordable hair dryer. Having a good warranty service is also one of the perks why customers opt for this brand.
(IV) FAQ REGARDING BEST HAIR DRYERS IN INDIA:-
(Q1) What is a hair dryer?
Ans: – Hair dryers are a must as per the modern inventions of the 21st century for every household. It is not only an essential item for use in our fast-forward lives for women but also for men, who have been using it extensively.
However technically speaking, a hair dryer is an electronic device that blows cool or dry air in order to dampen the hair in a speedy manner. The hair dryer serves a double purpose of not only to dry the hair but also to style it the way the user demands it according to their hair quality and quantity. Many stylists use hair dryers to change certain looks or impart professional touch to the hair. With more days going by modern day hair dryers are becoming more and more innovations, with different kinds of function and new features being updated on them, for example the cool shot button, you can adjust the temperature and the air blowing out of the hair dryer. The hair dryers range from being portable and unique to being easily equipped and handled.
(Q2) How do I use a hair dryer?
Ans: – It totally depends from one person to another as to how they use their hair dryers. Usually hair dryers are used by people who have medium or long hair length, however there is no hard and fast rule as people with short hair also use hair dryers. Modern hair dryers are equipped with multiple settings and can be adjusted according to the power and temperature required. The ranges vary from anywhere between a powerful to hot or cool and gentle hair dryer as per your convenience. If you have thin, weak or brittle hair it is suggested that you use the cooler version .You must be careful enough not to cause long-term damage to your hair and if required refrain from further using it on a daily basis and keep it only for special occasions.
Always remember to keep your hair dryer a safe distance from your head, and move the hair dryer at equal distances around your head until your hair is completely dry, frizz free and smooth as you want it to be. If you're in a rush to go somewhere or you're being late for work, then remember to adjust the settings to a higher suitable power.
(Q3) Does the quality of the hair dryer matter?
Ans: – To be honest, it definitely does, as a good quality hair dryer would remain intact for a long time than a poor quality one which might breakdown after a few usages. And a good quality hair dryer would ensure far better results in styling and hair care treatment.
(Q4) Are hairdryers safe?
Ans: – This would depend and vary from one user to another. Like other electronic devices hair dryers should be used wisely, if used in the wrong way it will adversely affect your hair's nourishment and care, but if done correctly it will be very useful for your hair.
(Q5) Is it better to let your hair dry naturally?
Ans : – If you feel your hair dryer is causing side effects which keeps you more worried about the cons rather than the pros of the innovations of technology , then you might consider opting out and not using it at all.
However the key lies in using your hair dryer in a perfect way according to the Department and Institute of Hair and Cosmetic Medicine at Yonsei University in South Korea, who state that using a hair dryer actually benefits your hair than harming it.
(Q6) Is air drying hair bad?
Ans: – It depends on the user, because if you dry your hair very closely, there is a chance to burn your hair. But using the hair dryer from a safe distance will give you the desired results without causing any damage to your hair. Therefore using it wisely is the key.
(Q7)Should we use a hair dryer daily?
Ans: – Using the hair dryer daily might lead to damaging your hair, causing breakage, drying out and thinning of your hair, therefore it is wise to limit your using the hair dryer for special occasions only. For daily use try drying your hair naturally in a partial way and then use the hair dryer. A wise and balanced use of hair dryers will help in avoiding any unwanted damage to your hair.
(Q8) Should I buy an expensive hair dryer?
Ans: – Depending on your usage you can opt for an affordable and budget hair dryer too. The use of technology varies between an expensive and affordable hair dryer. The expensive hair dryers usually generates gentle heat, whereas the budget ones tend to generate harsh heat. Therefore in order to make the hair dryer more hair care friendly people choose expensive hair dryers over the budget ones. Therefore it is always wise to opt for a powerful yet a budget friendly hair dryer from a reputed brand.
(Q9) Can a hair dryer reduce frizz?
Ans: – Temporarily a hair dryer can help reducing frizz. Which means that until the dryer is being used the frizz remains under control. However it does not provide a permanent solution to reduce frizz, which can be done by using other hair care products like shampoo and conditioners.
(Q10) What makes a hair dryer powerful?
Ans: – The powerfulness of a hair dryer depends on its wattage, therefore the higher the wattage the better the results of the hair dryer. Thus it is advisable to use a hairdryer with minimum 1800W.
(Q11) How do I choose a hair dryer?
Ans: – Choosing a hair dryer can be quiet tricky. Understand your requirements, situation and budgets, and then go for the hair dryer you think is perfect for you. Keeping your hair quality, hair style and hair care needs in mind you should go for a hair dryer.
(Q12) Should I use a hair dryer for curly hair?
Ans: – Having curly hair has its own set of pros and cons, and definitely calls for high maintenance, keeping in mind its temperamental and unpredictable nature. Often at times curls can be tender, volatile and also fragile, hence needing full care and attention to maximise their potential to look great. Curls are usually sensitive and many things can damage them, excessive heat being one of them.
If you tend to use the hair dryer from very close quarters on your hair, it tends to break the bonds of the hair making it more fragile and also damages the hair follicle, cuticle and strips away all the moisture from your hair keeping it extremely dry. The hair protein is also affected which in turn affects the hair growth in future. Hence it is simply advisable not to use the hair dryer on curly hair every day. Using hair dryer on curls is recommended, only on the cool setting mode and maintain a safe distance from your hair, which would ensure the best health of your hair.
(Q13) How to use a hair dryer diffuser?
Ans: – A diffuser is a special function enabled on the hair dryer, with circular heads and sponges which imparts unique function. Ones having straight hair do not usually have much need of a diffuser, however if you have curly hair then diffusers do help you to circulate the air around your curls and add shine and more definition to your hair, leaving a natural gorgeous finish.
Keep certain things in mind if you want to use a hair diffuser. You have to dry out your hair gently with a towel and leave it to air dry normally for around ten minutes, and only after that start wielding the hair diffuser. For the next step keep brushing your hair gently, which would add a soothing affect to your hair, and frizz free your hair. Turn your hair to the side and remember to set the diffuser to a low power cool setting. Take a section of your hair in your hands, holding it for a few seconds. Try repeating the same process for a couple of times until you've done covering your entire head from side to side, through the entire process. If you want maximum curls in your hair repeat the process.
In order to get a professional salon touch look, flip your hair towards the front and diffuse it for a minute or two; this will add some volume to your hair. Use of a curl preserving serum to keep the hair looking gorgeous and flawless throughout the day is recommended.
Conclusion
Well , now we have got an in-depth understanding of hair dryers ,its variants and its usage. To choose the best product in the market, it's always advisable to back it with in-depth research and then make a purchase. Be smart and wise !