Are you posting the same content over and over?
If you are, you will not likely engage more social media audiences.
According to LinkedIn, brands that post weekly will get twice (2x) the lift in engagement with their content.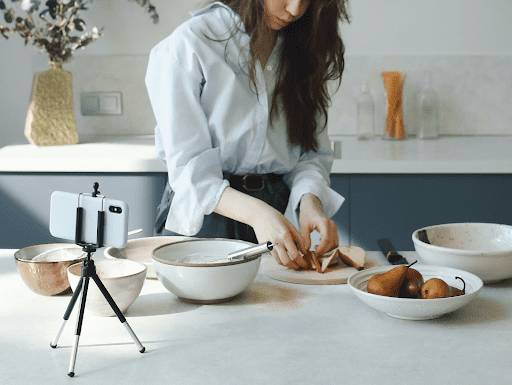 However, effectively engaging more Facebook or Instagram users takes more than setting a regular content posting schedule.
You need to create various social media content types that your audiences can't help but engage with—from memes to live events.
The more engaging your content, the better you can connect with your audience and increase your conversions and sales.
Start with the five social media content types below to help boost your audience engagement.
1. User Generated Content (UGC)
UGCs are content pieces other users create (usually related to your brand or products) that you can repost with proper credits to the original creator.
UGCs are great for engaging your social media audiences because the content pieces can:
Show real-life experiences with your brand, products, and services.
Encourage interactions between you and the creators, including their followers.
Inspire other people to create user-generated content for a chance to be featured on your social media feeds and pages, getting them more exposure.
Expose your brand to more audiences across social media channels since UGCs are highly shareable.
Help your business nurture trust with potential customers.
Plus, sharing UGCs is free.
You only need to invest in connecting with other users and developing a UGC strategy to amplify your social media audience engagement efforts.
GoPro is a pro at sharing UGCs. The brand fills its Instagram feed with amazing shots from GoPro users, like the post below.
Image source: instagram.com.
Remember to include hashtags in your shared UGCs to make them more visible and discoverable. It helps get the content to wider audiences.
For instance, include branded and relevant IG hashtags in your Reels when sharing UGC Reels.
Fill your social media feeds with original, unique, and creative content from other users.
This way, you won't have to do too much work (creating new content) while promoting your brand and engaging potential customers.
2. Product promotions
Promoting your products on social media doesn't always mean selling aggressively to your audiences.
The key is to strike a balance between conveying your product as a solution to your audience's problems and highlighting its unique features and benefits.
Essentially, you want to market your products and other offers without being too "sales-y" by creating engaging promotional content.
For instance, popular testing software LambdaTest promotes its YouTube channel by sharing a simple yet compelling graphic of its content offerings.
Image source: instagram.com.
You can emulate the same approach when creating your product promotion posts on social media.
Include other details and elements in your posts to give your audiences a good idea about what you're promoting, such as:
Short videos
Eye-catching photos
Product benefits
Discounts, promotions, and pricing
Learn reliable content writing tips to create engaging copy for your product promotion posts.
3. Ask Me Anything sessions
Interacting with your social media audiences in real time is one way of engaging them and winning them over.
Some of the best ways to provide real-time audience interactions are through live Ask Me Anything (AMA) and Q&A sessions on Facebook, YouTube, and Instagram.
Run live AMAs to answer your audience's burning questions on brand or product-related topics or anything your audiences want to know about your company, offers, and services.
For instance, you could host a live AMA to answer questions about how to purchase SEO articles to educate your audiences while promoting your SEO marketing services.
The live AMA on Instagram below is a good example of leveraging AMA sessions to address audience questions and facilitate interaction.
Image source: instagram.com.
It's an excellent way to foster deeper relationships with followers and draw in passive audiences.
Invite your followers to ask you questions to get the ball rolling.
Also, facilitate your AMAs and Q&As through the following:
Live streams
Video responses
Carousels
Blog posts
Status updates
A successful AMA or Q&A helps you connect and build trust with your audience, which is always great for engagement and conversions.
4. Videos
Videos are popular social media content formats because they are fun and easy to consume.
Plus, videos can convey visuals, emotions, and your main messaging better than plain text and static images, making them more attractive and engaging.
Draw more attention to your brand, products, and offers and get more audience engagement opportunities with:
Short-form videos (less than two minutes)
Long-form videos (more than two minutes)
Instagram Reels
Facebook and IG Stories
TikTok videos
YouTube videos and Shorts
Videos are also great for turning technical or long content into bite-sized, compelling formats.
For example, you can post an Instagram Reel to share quick, helpful tips on developing a content-tracking approach for fellow marketers and your followers.
Create social media videos on product features, tutorials, customer reviews, and other content to educate, entertain, and engage your viewers.
Ilia beauty's Instagram Reel customer review is a good example.
Image source: instagram.com.
Determine the social media networks your target audiences use frequently and create videos that fit or complement the specific platforms.
5. Polls
What is the easier and more effective way to encourage audience interaction?
Sharing boring content that every other brand also posts
Posting engaging polls and quizzes
See how this poll got your attention and made you think?

That's how effectively polls can capture your audience's interest while enticing them to interact with your content.
With the right strategy, social media polls can be excellent for driving audience engagement.
An interactive Facebook, Instagram, and Twitter poll can help you better understand your audience's preferences and ideas.
It's a subtle and more fun way to gather customer or audience data.
For instance, clothing brand and retailer Aeropostale posts IG Story polls about two different styles of jeans.
Image source: instagram.com.
It's a great way to encourage audience engagement while slipping in a bit of market research.
You can also run polls to involve customers in your brand or product development process and hop on conversations about trending topics.
It's one way of connecting with your audience better and building trust.
Spice up your social media content for more engagement
With how fast trends and audience interests shift, coming up with fresh social media content ideas can be tricky.
The key is to have your ear to the ground and create a solid content strategy that helps you churn out engaging content seamlessly.
Try this guide's recommended social media content types to start you off and come up with more post ideas that boost your engagement.