FinTech, or financial technology, is a fast-expanding industry that includes a variety of companies, from online payment processors to peer-to-peer lending platforms. A strong online presence for FinTech brands is essential given the rising digitization of financial services. Search engine optimization, or SEO, is key in this. We'll discuss the difficulties FinTech brands face with SEO in this article and offer doable solutions.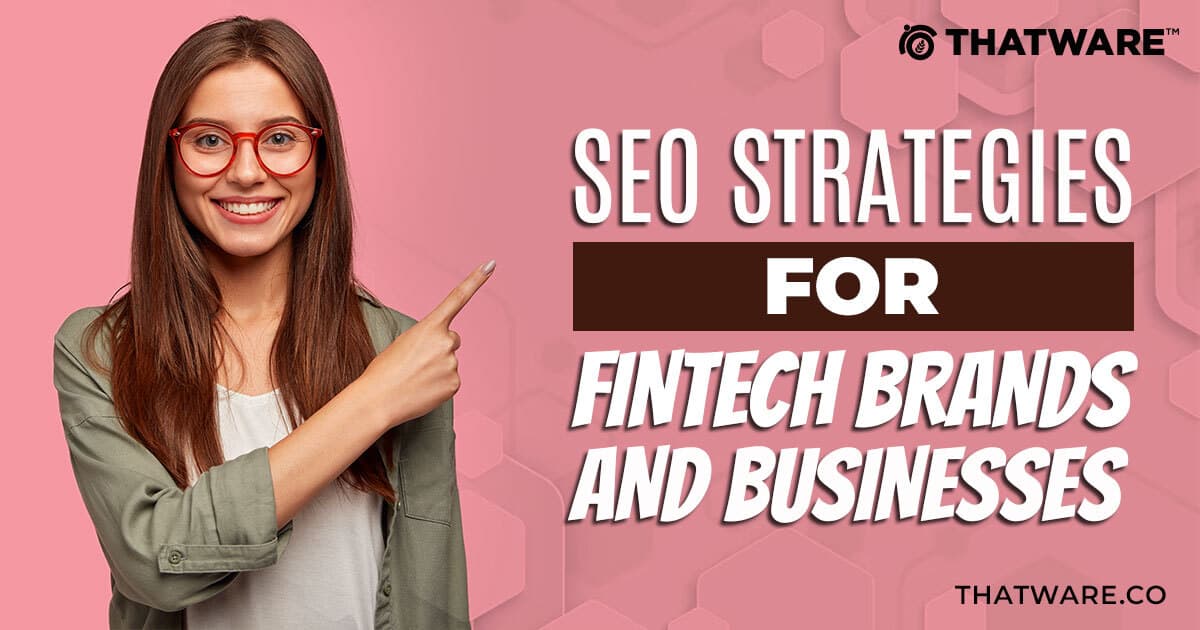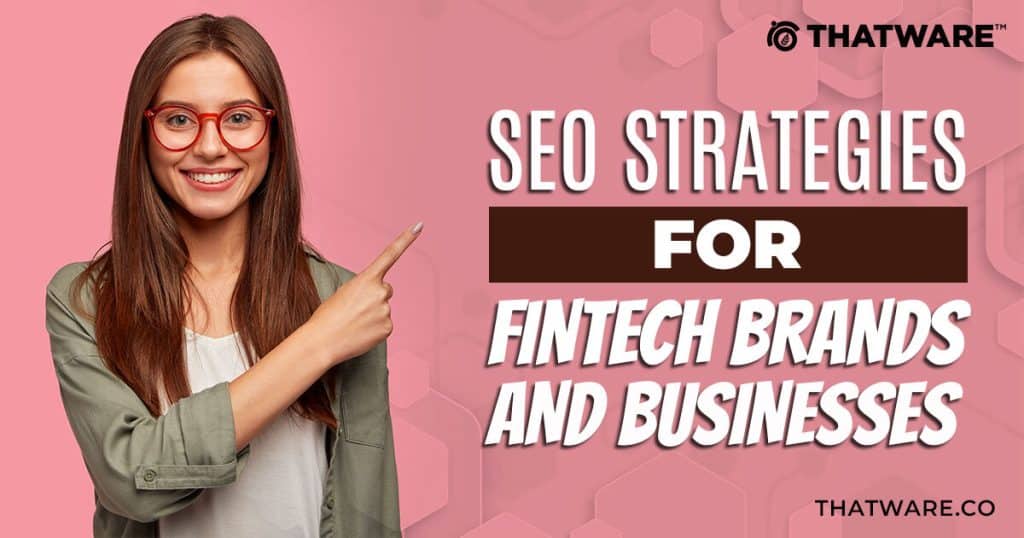 ⭐️What is FinTech and Why Do FinTech Brands Need SEO?
The term "financial technology," or simply "fintech," refers to the application of technology to the delivery of financial services and goods. FinTech companies provide a range of services via online platforms or mobile applications, including payment processing, lending, insurance, and investment management. Due to an increase in the use of digital financial solutions by consumers and businesses, the FinTech sector has seen tremendous growth recently.
Finance brands require SEO (Search Engine Optimization) to raise their online presence and draw new clients, just like any other sector. A website's content and architecture are optimized through SEO to appear higher in search engine rankings (SERPs). Financial companies may enhance their online visibility, drive more organic traffic to their websites, and eventually grow their customer base by putting SEO methods into practice. A solid SEO strategy is essential for success in the fiercely competitive and quickly developing FinTech sector.
⭐️Common Challenges in SEO for FinTech Brands
⭐️Acquiring Links is Quite Difficult
Getting high-quality backlinks is one of the typical SEO issues faced by FinTech brands. Backlinks are crucial for SEO because they tell search engines that the information being linked to is worthwhile and relevant to other websites.
Nonetheless, getting backlinks might be challenging for FinTech brands. According to a study by Siege Media, the FinTech sector has a high Link Difficulty Score of 68, making link acquisition challenging. As a result, building backlinks in the FinTech sector is more difficult than in other sectors.
Many factors are contributing to the high acquisition difficulty. For example, financial bloggers, who are frequently considered to be possible link sources, are frequently hesitant to recommend FinTech goods and services that they haven't thoroughly investigated.
Furthermore, many financial websites are hesitant to link to competing FinTech brands as a result of the intense competition in the financial industry. Besides, websites referring to FinTech products and services must confirm their reputation and authenticity before linking to them because they frequently deal with sensitive financial information.
⭐️Influencer Marketing from Financial Bloggers Can be Costly
It is hardly surprising that FinTech brands are using influencer marketing given how prevalent it has gotten over time. The expense of working with financial bloggers, however, can be extremely high for FinTech companies.
For many FinTech brands, it might be more practical to put money into alternative tactics, including producing good content or launching focused advertising campaigns. To prevent squandering money on useless alliances, it is also essential to make sure that the influencer's audience matches the brand's target market.
It's also crucial to keep in mind that some financial bloggers might not be the greatest choice for particular FinTech brands. Hence, before utilising influencer marketing, it is crucial to conduct extensive research and carefully weigh the advantages and disadvantages.
⭐️High Competition in Financial Sector
Due to the fierce competition in the financial industry, it is challenging for FinTech brands to stand out and draw organic visitors.
To compete in the extremely competitive financial business, FinTech brands need to differentiate themselves by offering distinct value propositions, such as more ease, better rates, or more innovative products.
Furthermore, it's crucial for FinTech brands to concentrate on developing a solid online image by utilizing client testimonials, social proof, and thought leadership. FinTech brands can position themselves as industry leaders and draw more organic traffic by producing high-quality content that meets the demands and pain points of their target audience.
Keeping up with the most recent SEO trends and best practices is essential for FinTech brands to stay competitive in the market. FinTech companies must modify and optimize their websites and content in accordance with the ongoing algorithmic changes made by search engines. This involves making a website more user-friendly for mobile devices, speeding up the site, and utilizing schema markup to improve search visibility.
⭐️Gaining Initial Organic Leads Can be Tough Due to Trust Issues
Building trust with potential clients is one of the biggest SEO difficulties that FinTech brands confront.
Financial brands must focus on establishing credibility and trust in their SEO approach to overcome this obstacle. This can be done by producing helpful, high-quality material that responds to frequent queries and worries that potential clients might have.
Social evidence like client testimonials and reviews is another technique to increase trust. FinTech companies may prove their dependability and inspire confidence in prospective customers by displaying positive testimonials from pleased clients.
Moreover, website security and data privacy should be given top priority by FinTech brands. FinTech companies can assuage the anxieties of prospective clients and establish trust by putting in place industry-standard security measures and making their data privacy policies explicit.
Finally, collaborating with reputable financial institutions or influential members of the sector can also assist to increase reputation and confidence. FinTech brands may prove their authenticity and win the trust of potential customers by drawing on the experience and reputation of these partners.
⭐️Complex Products and Little Scope for Product Uniqueness
The complexity of many FinTech products can make it difficult for companies to set themselves apart from rivals. This may make it even more difficult for brands to distinguish themselves in a crowded market and discover distinct selling features.
FinTech companies can focus on producing consumer-educational content to address this issue. This may aid in building a devoted consumer base that is more likely to interact with the brand and spread the word about it.
Businesses might also think about introducing fresh features or services that aren't already on the market to set themselves apart from rivals.
⭐️Actionable SEO Strategies For FinTech Brands and Industry
⭐️Technical SEO Should be First Priority During Initial Campaign
The cornerstone of any effective SEO campaign is technical SEO, which is crucial for FinTech brands because they often have few pages. In fact, less than 10,000 pages constitute the majority (99%) of websites for FinTech companies. Hence, it's crucial to address any technical problems that already exist, such as broken links, sluggish page loads, and inaccurate information, during the initial campaign.
By doing a full technical SEO audit, FinTech brands may discover and repair any website issues that might be harming their search engine results.
Furthermore, it is possible to optimize on-page technical problems such as meta descriptions and tags to increase click-through rates from search engine results pages.
⭐️Make Sure to Keep Track of your Link Value
Obtaining high-quality backlinks is one of the most difficult SEO tasks for FinTech brands. Nonetheless, due to the difficulties in obtaining them, backlinks have a high value for FinTech brands. The return on investment (ROI) of a link campaign should be considered when determining the worth of a backlink.
By dividing an investment's return on investment by its cost, ROI is computed. The worth of the link in terms of its influence on search engine ranks, traffic, and eventually the money is the benefit in the context of link building. The price includes the time and materials needed to get the link.
To calculate the value of a link, we can use a simple formula:
Link Value = (Estimated Revenue from Link ÷ Total Cost of Link Acquisition) x 100
For example, let's say a FinTech brand spends $5,000 on a link-building campaign and estimates that the link they acquire will generate $50,000 in revenue over the next year. Using the formula above, we can calculate the link value:
Link Value = ($50,000 ÷ $5,000) x 100 = 1000
In this case, the link value is 1000, which means that for every dollar spent on the link-building campaign, the brand can expect to generate $10 in revenue.
It's vital to keep in mind that a link's worth might change depending on a variety of elements, including the authority of the linked website, the link's connection to the FinTech brand, and the context in which it appears. Nonetheless, FinTech businesses may make sure that they are allocating their money as effectively as possible by analyzing the ROI of a link development strategy.
⭐️Run Advertisements for Initial Lead Generation
While SEO is a good technique to create organic leads, the process can be drawn out. Running adverts can be a successful tactic for FinTech brands that need to achieve early momentum rapidly. By raising brand awareness, advertising can help you connect with potential clients who might not be actively looking for your products or services.
Consider employing targeted ads that are concentrated on particular demographics and interests to achieve the maximum ROI. You may precisely contact your target demographic using Google AdWords or social media platforms like LinkedIn and Facebook.
Furthermore, generating captivating ad language and imagery can aid in grabbing potential clients' attention and motivating them to interact with your brand.
⭐️Using your Funding Journey as an Opportunity for PR
A FinTech brand's fundraising cycle might be used as an opportunity for PR and link building. When startups acquire money, they can produce press releases and announcements that are distributed to the appropriate financial bloggers and media sites.
To gain more visibility, FinTech brands can also work with thought leaders and influencers in the sector. The company may communicate with potential clients and investors using social media while also sharing its funding route.
FinTech brands may increase their exposure and enhance their reputation in the market by using their funding journey as an opportunity for PR and link development. Over time, this may result in an increase in organic traffic and conversions.
⭐️Build Links from Relevant Alternate Niches
Finance brands can also benefit from increasing their link profile and improving their SEO by acquiring links from relevant alternative niches. FinTech companies can partner with other sectors that serve a comparable target market or provide related goods and services.
To provide value-added services to its clients, FinTech brands can also work with financial institutions like banks or credit card companies. These can include co-branded financial goods or credit cards that are sold to both brands' clients. A wider audience may be reached and brand recognition in the FinTech sector can be built with this kind of relationship.
Financial brands can broaden their link profile and increase the quality of relevant traffic to their website by constructing links from relevant alternate niches. Additionally, this might help the company develop a reputation as an industry thought leader and win over new clients.
⭐️Build Financial Tools that Can Act as Link Bait
Financial companies might benefit from creating solutions that can serve as link bait to draw links and raise brand recognition. To provide value to users and entice them to share the tool, tools with low time to value, like calculators, might be developed.
Users can calculate their monthly mortgage payments or how much they need to save to meet their retirement objectives by using a mortgage calculator or retirement savings calculator, for instance. To draw in additional customers, these tools can be shared on social media platforms as well as embedded on the company's website.
Making sure that financial instruments give accurate and trustworthy information is crucial. The tools should be simple to use, mobile-friendly, and easy to navigate. Regular tool updates are also necessary to guarantee that the data is still current.
By building meaningful financial tools, FinTech brands may gain backlinks from relevant websites, enhance their online visibility, and promote themselves as thought leaders in their sector.
⭐️Create a Content Marketing Strategy that Answers Questions
Financial brands who want to boost their SEO must have a content marketing strategy that provides solutions. "What", "when", and "how" type topics are crucial in the financial sector since they frequently come up when consumers are considering purchasing a financial product or service. Brands may not only offer value to potential customers by providing answers to these queries in high-quality content, but they can also raise their visibility in search results.
It's critical to consider every phase of the buyer's journey, from awareness to contemplation to decision-making, when developing a successful content strategy. This entails offering potential customers introductory content that exposes them to the brand, instructive content that enables them to weigh their options, and persuasive content that persuades them to choose the brand.
Using a range of information types, such as blog posts, videos, infographics, and interactive tools, is also crucial. Brands may interact with their audience in a variety of ways and provide a more immersive experience by offering a variety of content kinds.
To maintain the website's content's relevance and audience utility, it's crucial to update and renew it frequently. This not only keeps clients interested and returning for more, but it also helps to preserve search engine presence.
⭐️Make Sure to Include Credible Sources, Authors or Citations in the Content
Financial topics are often called Your Money or Your Life topics, which means that they have a big impact on the readers' lives. Because of the need for accurate content about finance, it must be reliable and trustworthy. To establish trust and authority with the readers, it is crucial to include credible sources, authors, or citations.
In addition to citing sources, make sure you also invite credible guest authors or embed quotes from experts in the financial industry. This helps to enhance the credibility of the information being shared. Readers are more likely to trust and engage with content when they see authoritative figures contributing to it.
The reputation of financial content creators can be enhanced by including credible sources, authors, or citations. This can help them get a loyal following, build their brand authority, and rank higher in search engines.
⭐️Have a Flawless UX and UI Design
Whenever it comes to digital marketing, the objective is conversion. A well-designed website can greatly improve the conversion rate of any online business. To design a flawless user experience, it's crucial to have a great user interface.
Visitors can easily navigate your website with an intuitive and user-friendly design. The user experience is enhanced by this. They are more likely to take the desired action, whether it's making a purchase, filling out a form, or subscribing to a newsletter.
A website's design can have an impact on how a visitor perceives a brand. A website that looks outdated, cluttered, or difficult to use is more likely to leave without conversion. However, a sleek and modern design can make a brand look more trustworthy and professional, which can increase the chances of visitors converting.