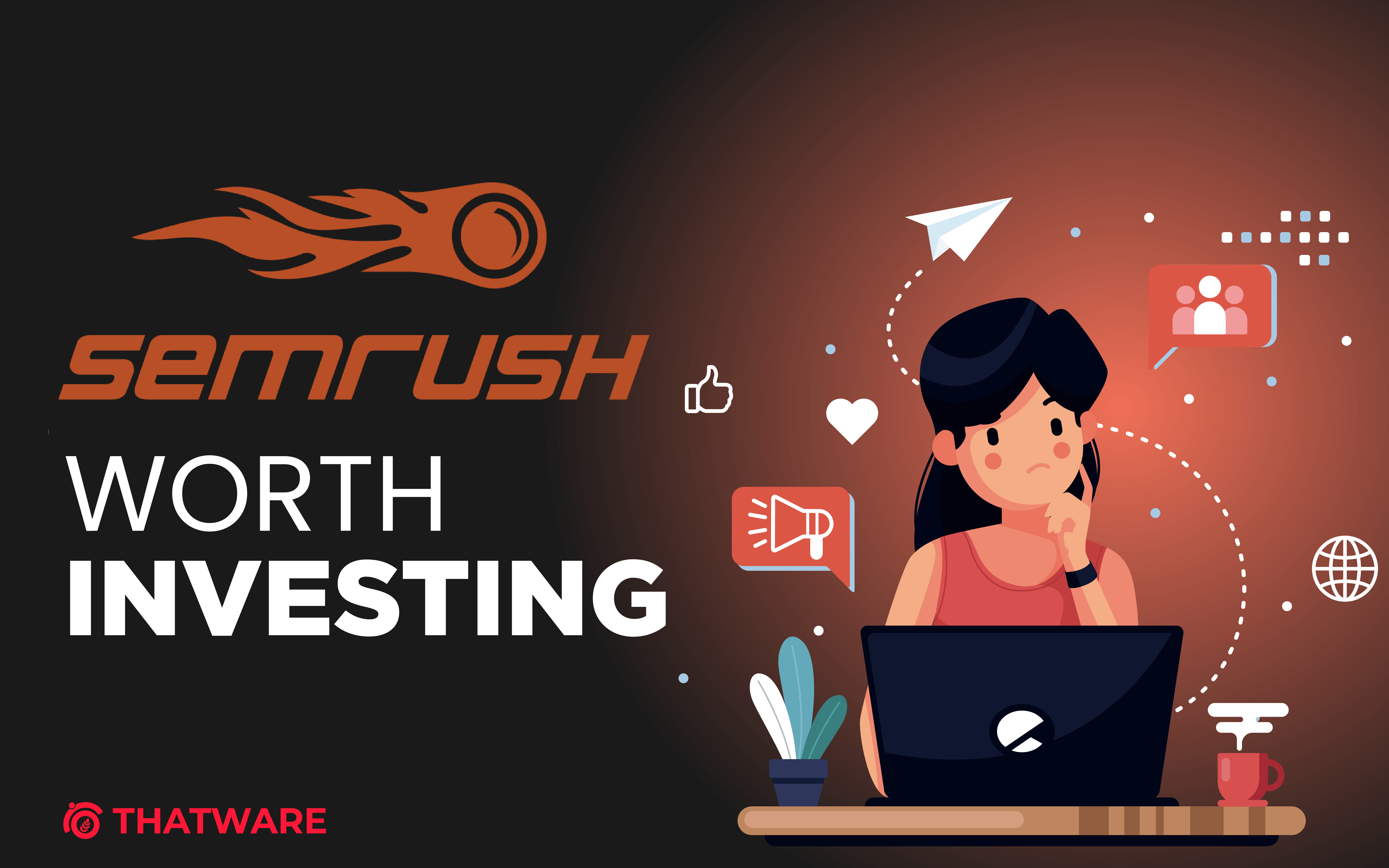 When any IT company puts its money, it has to make sure that the software fulfills three fundamental requisites: efficiency, time management and security. SEMrush is a software as a service company based in Boston which has these key functionaries which put it as one of the leading software in the IT sector.
Some of the key functionalities of SEMrush
•    Keyword research is being more effective i.e. in a content marketing plan SEM used identification tool to identify the keyword phrases that are likely to get you the most search traffic.
•    Comparatively analyses competitive intelligence i.e. SEM tool helps you to analyze the traffic that you are getting, whether it is paid or organic. Moreover, SEM has the function of keeping you updated about the speed of progress and traffic growth over the last 12 to 24 months. SEM can see if your traffic is getting better or worse, and how you are ranking on Google, on a real-time basis.
•    One step forward than your competitor SEM allows you to get a deeper look at your competitors as well as at the keywords that they get most of their traffic for. Once you get a grip of the keywords used by your competitor you can focus on the keywords which give you a competitive advantage in respect to others. To understand and compete with your rival SEM rush allows the user to build a very successful content marketing strategy which filters out the keywords which already one has used and also strategize based on an understanding of the competitor's strategy and targeting the new and existing traffic. 
•    Establishing new keywords as stated earlier SEMs look into what keywords others are using to give you a comparative advantage. Moreover, SEM helps you to establish to promote and find new keywords. For example, "strategic dilemma"  will show many more keywords will be displayed that are relevant to it, such as "strategic vision," " strategic content marketing case studies," " content strategic marketing success" etc. 
•    Progress made The SEM programming software can track your current and past rankings. In writing a blog or establishing a blog it is very important to take a note of your progress as well as the ranking of your closet competitor. SEM helps you to track your current status as well as the status of your closet rival. 
•    Finding new traffic SEMrush not only gives you new traffic to work with, but it also makes sure that your present and existing traffic remains as before. In the new SEM system which is rolling in the market from 2013, there is the feature called analyzing or tracking your domain, what it does is to find out the subject or the blogs for which you want to track your keyword positions for, compare the results with those of your competitors, connect to Google Analytics or Google Search Console to add the keyword to be tracked and get any additional information. The tool allows you to add 20 top keywords to be tracked from a text file or from the information that you retrieve from Google Analytics or Google Search Console.
•    Opportunity for getting money Any IT Company or blogger will try to earn online from Ads, it is only possible through an effective display of ads on your blog and to look for other ads through new Ads feature which is relevant to the viewer. What it does is to look for business over the internet that is paying for ads on pay per click based on your keywords
•    Other advantages are like an Effective Guest Blogging Strategy, performing backlink analysis and finding out better advertising opportunities.
Besides the pitfalls, one should also analyze into the drawbacks of SEMs and then conclude it.
• Price- An amateur who is just trying to get a foot in the blogging market or a startup company must be aware of its high prices and how effective it could be for a beginner. If anyone is just trying to set its own business, SEMrush will get costly for them. Its pro version will cost Pro – Rupees 7154 monthly / Rupees 71542.49 annually, Guru – Rupees 14313monthly / Rupees 143127.049 annually and Business – RS 28252monthly / Rupees 286297annually respectively.
• Limited search filters – The software cannot filter by the city; only by country, a limitation that again forces the use of additional software.
• Support- There is no 24/7 support system in SEMrsuh
• Organization of tool and Presenting the data Though SEM has many tools in its program sometimes it is difficult to find the tools that are essential for a particular program.
• Affectability Keyword/traffic volume accuracy. Sometimes, the frustrating thing about SEM rush is that it will set off the historical trends or domains, especially when you already searched the history and saw the exciting domain.
• Managing the key list word – There is a lack in organizing and list management in terms of ad hoc keyword research. You have to use another software like an Excel file to organize manually. So SEM must update in terms exporting the list automatically.
The direct competitor of it is the pros of Google Analytics which is a free tool and gives a lot of valuable segmented breakdown of Google, whereas a potential user or an average user makes use of the SEM tool so that he can do the SEO work more swiftly and efficiently. The USP of SEM software is that performs easily and tries to make the blogging as simple for amateur bloggers or the bloggers who do not have any agency behind him. The user must make the use of its key work tool to find a competitive edge over its rival, while it also enabling users to craft the best strategy and direction for their needs.SEM rush is very helpful for an internet marketer, blogger or for an online business startup company owner who will have a grasp of the keywords which are being used by the competitor to get the most traffic and finding better opportunities for advertising. Further, SEMrush performs comprehensive SEO audits to protect you from Google algorithms and helps you create a much better link building strategy.